A lot can happen in 90 days.
Like, you can start shrinking…finally! Because you found a healthy eating plan that actually works. I found Trim Healthy Mama, and at this point, I've been on plan just over 90 days. And I can NOT believe the difference – in the mirror, in my clothes and on the scale since I started the plan a few months ago (read my original review of Trim Healthy Mama).
This month, I also decided to take part in a #noweighnovember challenge and not weigh myself for the whole month. Because a number on a scale does not define who we are…and I sometimes found myself seeking validation from that thing a little too often. Since it is notoriously inaccurate (it's not digital and depending on how I stand on it, or where it is on the floor, it gives a different number each time I step on. I have to get on and off several times and "average" the number!) that is just plain silly of me.
Then I realized my 90 day "trimmaversary" fell in the middle of November. What to do? Do I weigh anyway? Skip it and weigh in December? Write an update post with just pictures? I had weighed on November 1, before deciding to do the challenge…I was so close to leaving one "decade" (like 180s, 170s, etc.) and entering a weight range I had not seen in decades and I did not want to wait until December to see that! So when I saw that I had broken through into the next weight range, I decided to take the challenge. I didn't want to break it, but…
90 DAYS ON TRIM HEALTHY MAMA IS A BIG DEAL, FOLKS
I've never stuck with any diet for long, mostly because I didn't see results. Or it was too hard to follow. Or I felt deprived and punished. Or there was a cheeseburger and fries…So how have I been able to stick with this plan, and actually love it? Read on to find my top reasons why:
1. TRIM HEALTHY MAMA DOES NOT FEEL LIKE A "DIET"
When I first saw the book, I wondered what in the world I had just gotten myself into. Trim Healthy Mama is a BIG book. I wondered if I could figure it out and stick to it. There is a learning curve, but once I figured out the basics I began "freestyling" pretty easily. Being a "dump cook" by nature, it was pretty easy to just throw together meals once I figured out what made an E, S or FP. It's all about keeping your carbs and fats in the right proportions and keeping the sugar out. If you're not a dump cook or find cooking challenging or are just one of those people who need structure and plans, Trim Healthy Mama is still right up your alley. Just don't ask me how that actually works, since that is just sooooo not me! The Trim Healthy Mama groups on Facebook are a great source of information, so be sure to join them!
THM now has a new, updated (and slimmer) plan book that is easier to follow!
What is freestyling? I asked on the THM Beginners group how to define freestyling to someone not familiar with Trim Healthy Mama and got this great response from Ellen:

"I think of it this way. Instead of having a schedule for E, S & FP meals, you just eat what your body is desiring. For instance; I'm really tired this morning, I will eat E, I'm not too hungry at lunch, I will eat FP, I'm craving comfort food, I will eat S. So on & so forth. It takes time to hear/understand what your body is telling you. Most people begin THM with a schedule then naturally flow into free styling."
2. TRIM HEALTHY MAMA HAS HELPED DISCOVER WHAT WORKS FOR ME
Years ago, I did the Atkins thing, so I knew that low-carb works. But, the severe restrictions on carbs made that diet too hard to stick to – I did not enjoy it at all. I was losing weight, but constantly felt deprived and punished. Plus, all the math involved was just no fun! You know, counting every single carb…subtracting fiber…having to plan out what you eat all day so you don't go over a ridiculously low number of carbs. Kind of takes the joy out of eating.
What I've discovered on Trim Healthy Mama is that rice is not my friend. Even super healthy soaked brown rice is not my friend. But quinoa is my buddy. And sweet potatoes, even though I think potatoes should be deep fried and dunked in ketchup or smothered in cheese…never sweet (they are especially delicious alongside Salmon with Blueberry Sauce). And spaghetti squash, people! That stuff is amazing! The portion amounts they recommend leave me satisfied and I no longer experience that ucky feeling after eating a carb-laden meal. I just feel good. And I don't have to do a lot of math, which makes cooking and eating much more enjoyable.
3. TRIM HEALTH MAMA HAS HELPED ME TAKE CONTROL OF FOOD
Realizing that I am not a slave to food, that I am in control of what goes into my body, has been incredibly liberating. Part of this is just finally getting to the place, mentally and emotionally, where I can say "No, we are not going to eat that way anymore." I'm not going to let my Inner Toddler dictate to me what I put in my mouth. I was even able to go to a birthday party, not be tempted by some of my favorite foods and have two small bites of cake and I was completely OK with that. That, folks, is nigh unto a miracle of Biblical proportions. Trust me.
Yes, cheeseburgers and fries taste so good. Ice cream is soothing and makes me feel happy. Spaghetti and garlic bread is like a big, Italian hug. But while those favorite foods provide immediate satisfaction, the end result is always feeling tired, high blood sugar, high blood pressure, and added pounds. Eating the Trim Healthy Mama way has shown me that I can still eat many of my favorite foods AND feel good and lose weight. I just need to make a few simple adjustments in how I prepare them:
When I want…
Check out my Trim Healthy Mama Pinterest board for these and more great recipes!
OR order a copy of the NEW Trim Healthy Mama Cookbook for even more great recipes and tips.
4. TRIM HEALTHY MAMA HELPED ME FIND AN AMAZING APP – YouFood (formerly TwoGrand)
I'm not getting any compensation for promoting YouFood, just so you know. But this tool has been an integral part of my success on Trim Healthy Mama. It's like a combination of a food diary and Instagram. You can take photos of your meals (or use a text entry if you are so hungry you dig in and forget to take a picture!), keep track of water consumption…it even has a goal feature that will calculate how much water you should drink for your weight…exercise and your weight progress. The community is super supportive, encouraging and a great source of inspiration for meals. The developers are amazing and great at communicating with users and work hard at improving the app, with some great features in the works. They also send out an Email of Awesomeness each week that I look forward to reading – it's full of encouragement and great weight loss stories as well as very inspiring meals. Read more about the great features of YouFood in my review.
I love, love, love this app! It has helped me discover that I feel better when I don't eat as much dairy, my body often says "I'm hungry" when it really means "I'm tired", and I'm becoming a bit "carbophobic" and need to adjust that unhealthy attitude. No matter what diet plan you follow, this app is terrific for keeping track of healthy and not-so-healthy habits. If you join, look me up and follow, I'll follow back! I'm @OhSweetMercy.
5. TRIM HEALTHY MAMA HAS HELPED ME SHED POUNDS AND INCHES
By now you are probably thinking "OK, great. But are you actually losing weight following the Trim Healthy Mama plan? JUST HOW MUCH WEIGHT HAVE YOU LOST?" After all, most people who go on a diet do so to lose excess weight. Oh yes, I certainly have! I've quit measuring myself regularly because I completely suck at it. I'll be honest. But a better judge is how my clothes fit. Or don't, actually. I have an accumulating stack of clothes that are just huge on me now. The other day, I was playing Wii Tennis with Mister and my pants, that I was wearing with a belt, fell down. I'm so glad that didn't happen in public somewhere!
It was also my birthday that day, and I went shopping at a local consignment store that was having a ladies night out sale. The jeans that fell off of me were a size 18, and had been too big for several weeks, to be honest, but it was what I had to wear so I wore them. I was praying I'd get into a size 16. I left there with 2 pairs of jeans that were a size FOURTEEN and two pairs of pants that were 16. I can not tell you the last time I was in that size. A looooonnnnggg time ago, trust me!
I'm shrinking on top too, although not as quickly as I'd like. But most of my fat is visceral…that very unhealthy fat that accumulates in the middle, around all your organs. That will take some time, and I'm trying to be patient about it. I still was able to buy an XL shirt instead of some number of X and a size L coat instead of XL or larger. That was the Best. Birthday. Ever.
I've been able to stay true to the #noweighnovember challenge and have no idea if I had shed any more pounds. And that's ok.
The last few days have been very hard…I so wanted to weigh myself, especially on my birthday since I have gone from a size 18/20 (and 2X in tops) to a 14/16 (and XL in tops). So, I weighed myself this morning. I didn't know what to expect…but was hoping for at least maintaining the weight on November first. And even though the number on the scale does not define me, it was so wonderful to see another four pounds gone since then. That in 90 days on Trim Healthy Mama, I have said goodbye forever to 21 unhealthy pounds. Adding the ten I had shed just prior to Trim Healthy Mama, that makes 31 pounds gone this year! That is the most weight I have ever lost at one time in my life!
And to really drive home the difference Trim Healthy Mama has made in my body, I'm going to share some pictures. Some of which are not very flattering. But this is where I started and where I am today:
While losing the pounds is wonderful, I am not on this "diet" to look like a fashion model. I just want to be healthy and be around a long time for my family. Part of being healthy is reducing the weight, part of it is having a healthy attitude toward food, and part of it is having a healthy attitude toward myself – both the body I'm living in and the choices I make.  Trim Healthy Mama has been an answer to prayer, for it has truly transformed my life. I am now only about thirty pounds from where I'd like to be…which is so encouraging! I never thought I'd lose the 70 or so pounds I wanted to lose, but now I see that it is not only possible, but probable! And not hard at all to do.
Order your own copy of Trim Healthy Mama here!
And now…back to the #noweighnovember challenge. Because that scale is not the boss of me. I think I need to get a new scale…like this one!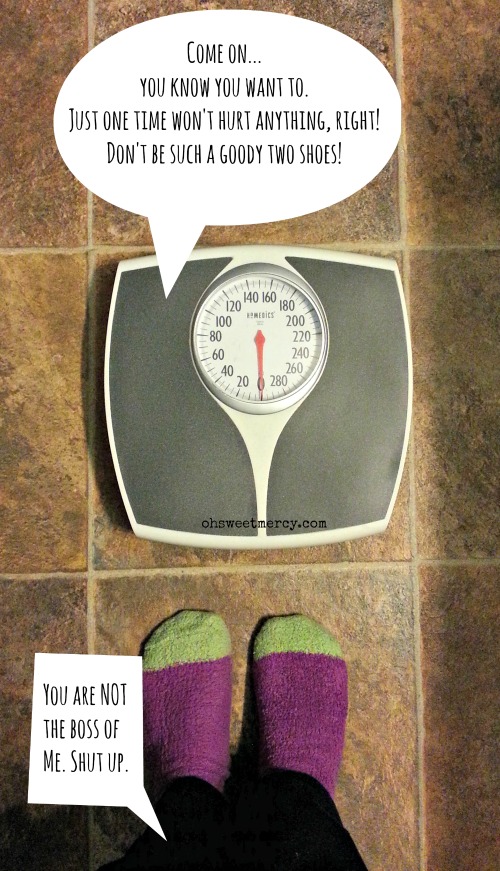 This post was shared on the From the Farm Blog Hop!