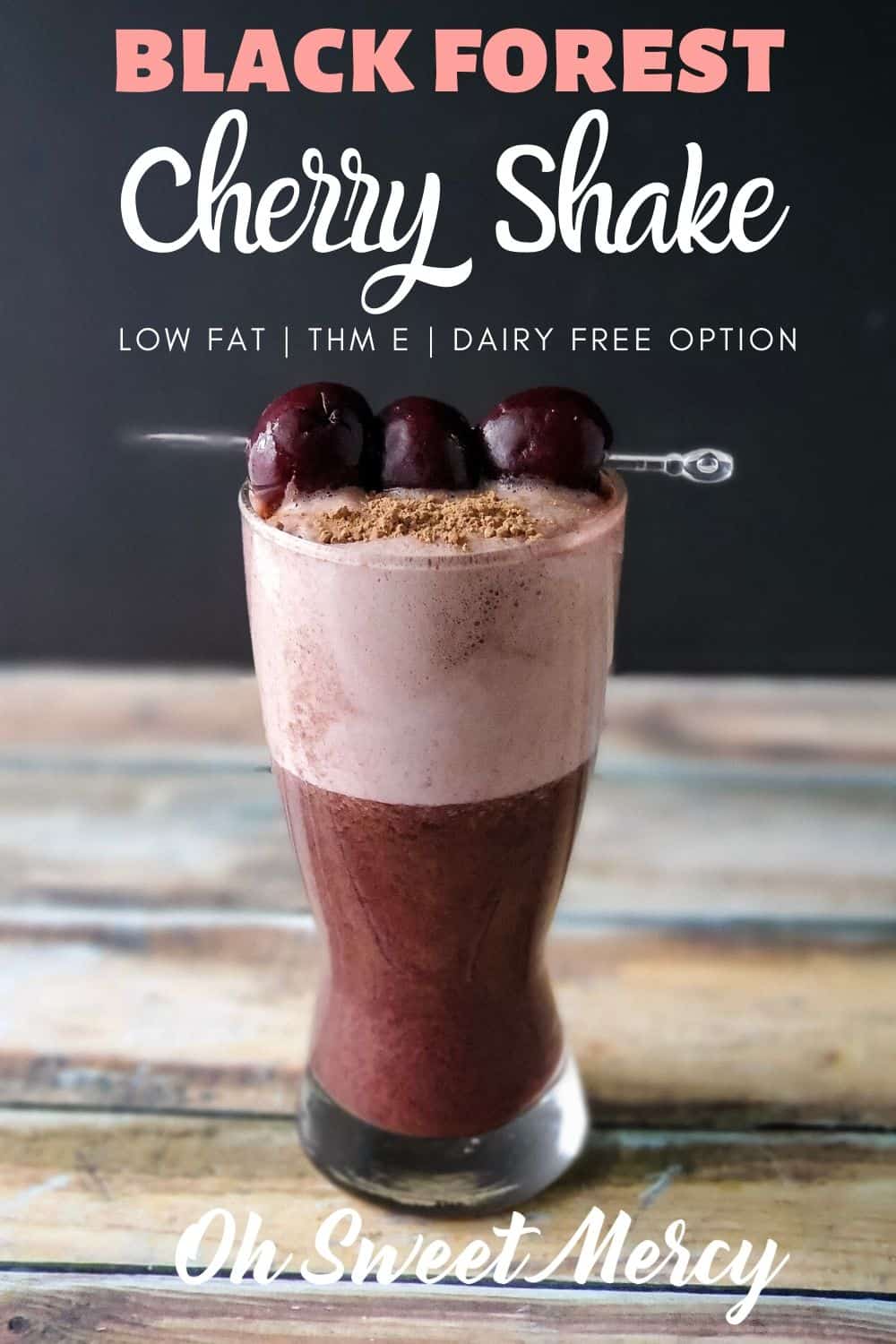 ---
Enjoy the rich, chocolatey goodness of black forest cherry things without all the fat and sugar! My easy Black Forest Cherry Shake makes a delicious THM E dessert. Or, add protein and make it a quick meal.
---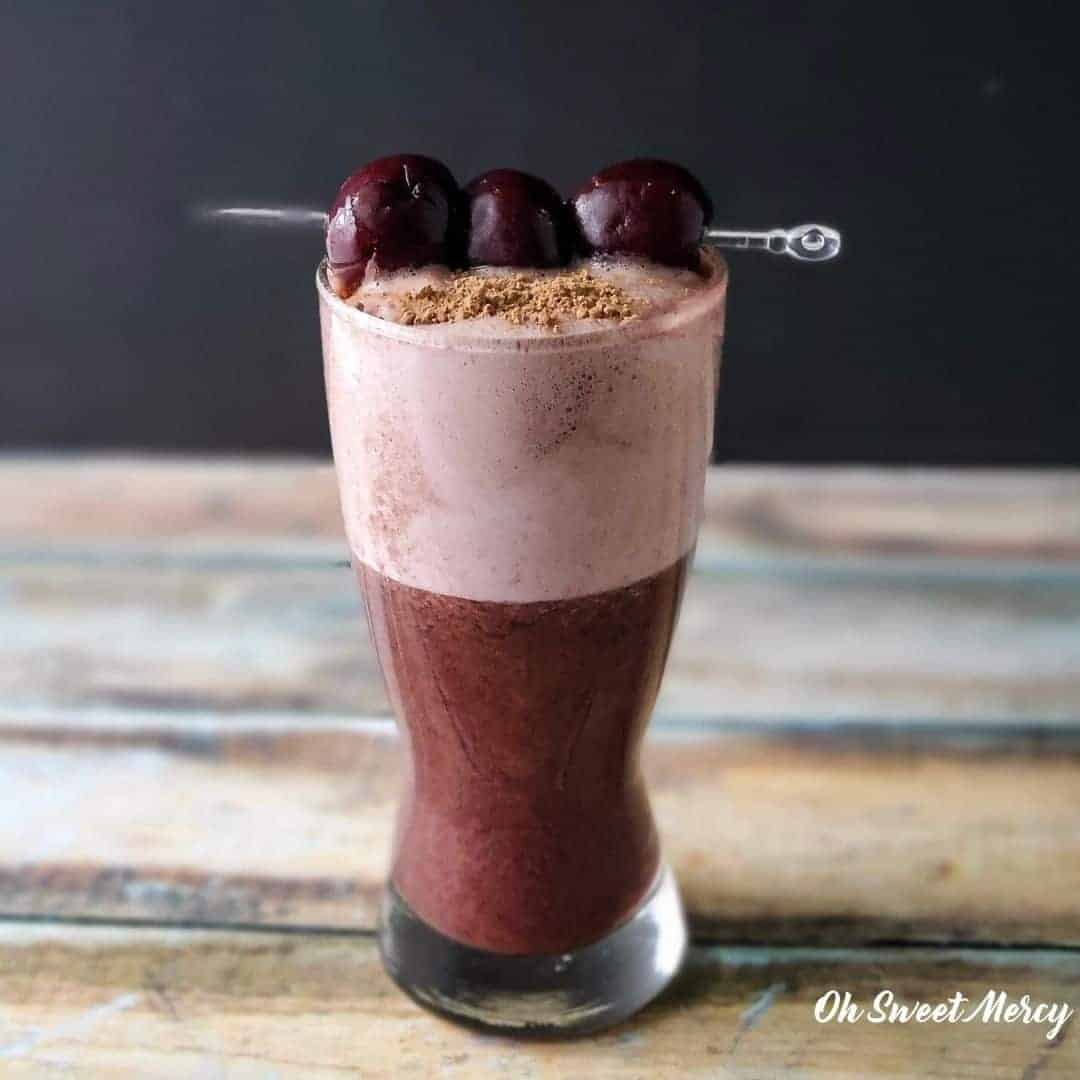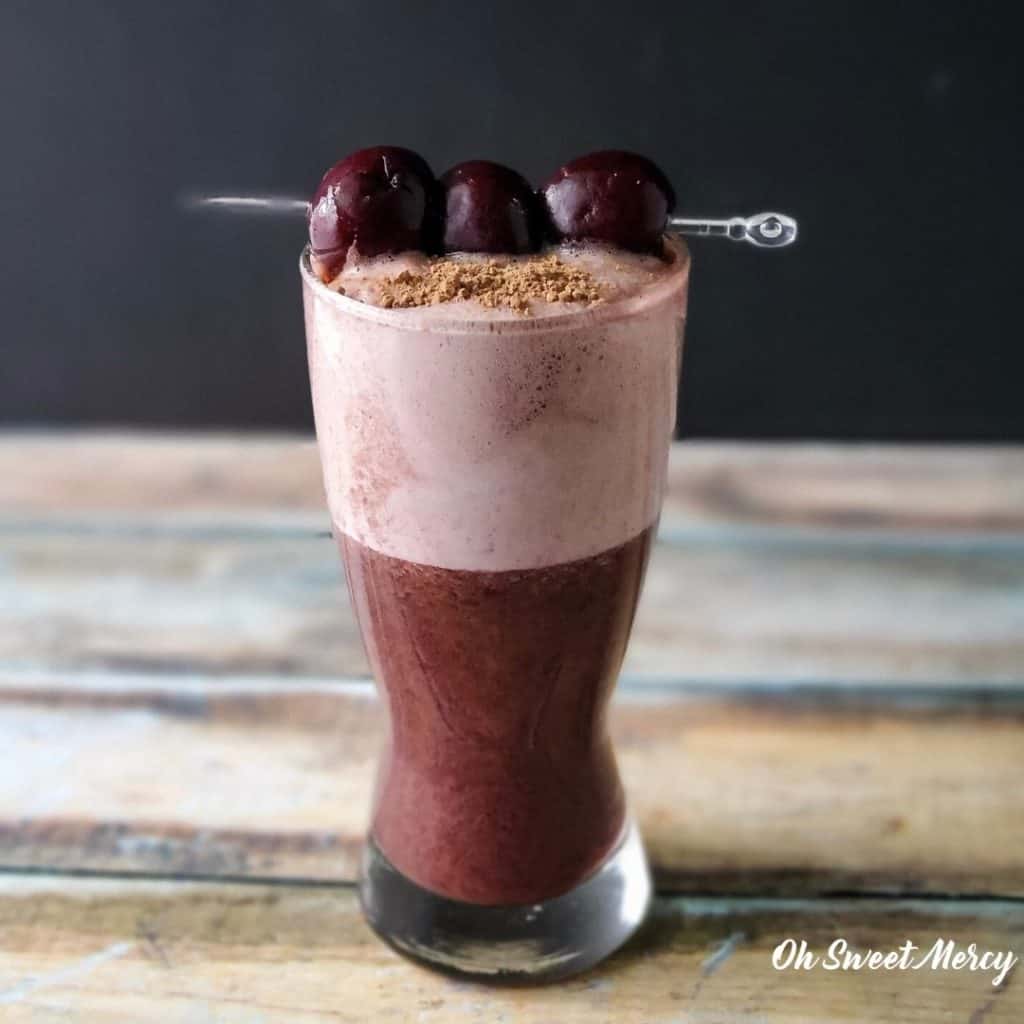 Many years ago I made a Black Forest Cherry cake from a German cookbook. It was phenomenal.
It was also full of fat, sugar, and carbs. The eating of which over many years is what contributed to my need for Trim Healthy Mama.
I love that on the THM plan I can typically find easy ways to eat my favorite flavor combinations in a healthier, slimming way.
Reasonable amounts of healthy carbs eaten in moderation are nourishing to our thyroid and adrenal glands. Women, especially, need them! The trick is in how we eat those healthy carbs.
Cherries are a THM E fruit on the plan. That means they're higher in natural carbs and should be paired with very low amounts of fat for best weight loss results.
That doesn't mean no flavor or fun, though! I mixed up an easy, low fat, Black Forest Cherry shake for you to enjoy.
Need more beverage ideas? Take a look at my Beverages category and find something new to sip on today.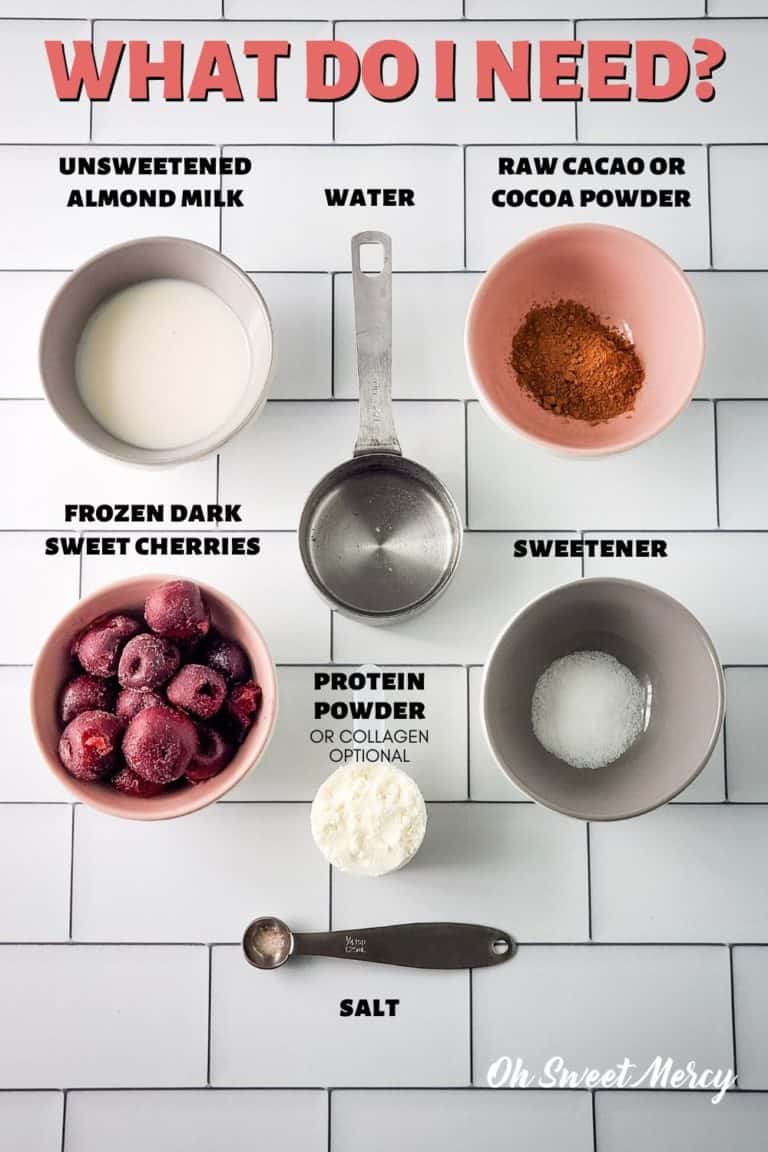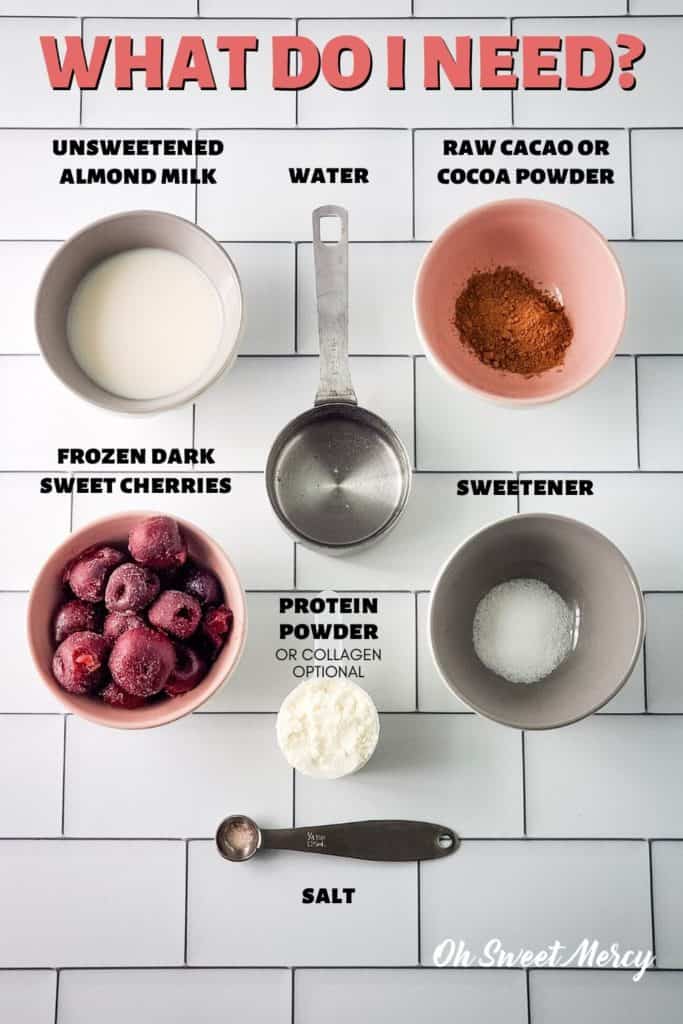 Benefits Of Cherries.
Cherries are beautiful and delicious. My favorite are the dark sweet cherries. I've never been a fan of the bright red canned cherry pie filling or maraschino cherries in fruit cocktail, though.
Looking into some of the benefits of cherries, I was surprised to find that they…
…can help you sleep better as they contain natural melatonin.
…are loaded with antioxidants that help fight cancer.
…help fight inflammation.
…can help prevent gout attacks.
That's great news if you're having trouble sleeping, experience aches and pains, or just want to prevent some serious health concerns.
I also use raw cacao powder in this shake, which is healthier than regular cocoa powder (and one of the stars in my Superfood Chocolate Shake). But, regular cocoa powder is perfectly OK to use in this shake!
How To Fit My Low Fat Black Forest Cherry Shake Into Your THM Meal Plan.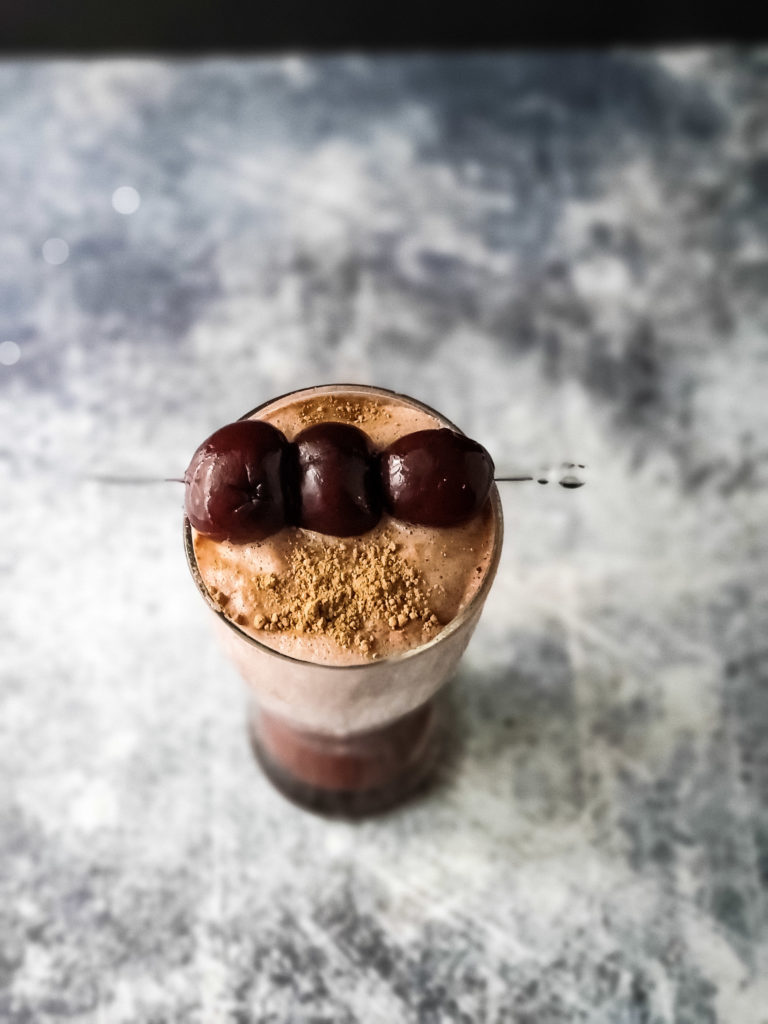 Since these dark, delicious, health-packed little gems are an E fruit, keep the added fat in your shake low!
I've chosen to use half almond milk and half water for the "mama size" shake below but you can use a full cup of almond milk, if you like. Just be sure the total fat doesn't go over 5 grams.
Here's a few ways to fit this into your THM meal planning:
Make with protein powder or collagen for a quick and easy meal when you're very busy or not very hungry.
Enjoy a "baby size" shake as a dessert after a light E meal – no need to add protein if you had enough in your meal
Enjoy a full size shake, without the protein, to fill you up after a Light E meal.
Or, enjoy as a Crossover by adding a couple teaspoons of MCT oil or enjoying after a THM S meal.
Own It!
The first time I made this, it was good but I thought it turned out too chocolatey (is that even a thing??) and too sweet.
Well, the chocolate seemed to overpower the cherry flavor, anyway.
Sister thought it tasted great! So, if you like lots of chocolate flavor and have a big sweet tooth, add a bit more cocoa and sweetener.
I made it again with less of both and it was just about right for me. It's easy to make it to your preferred sweetness and chocolate level. I've given a range of amounts for both the cocoa/cacao powder and sweetener.
Have you been craving something Black Forest Cherry flavored? I hope you enjoy!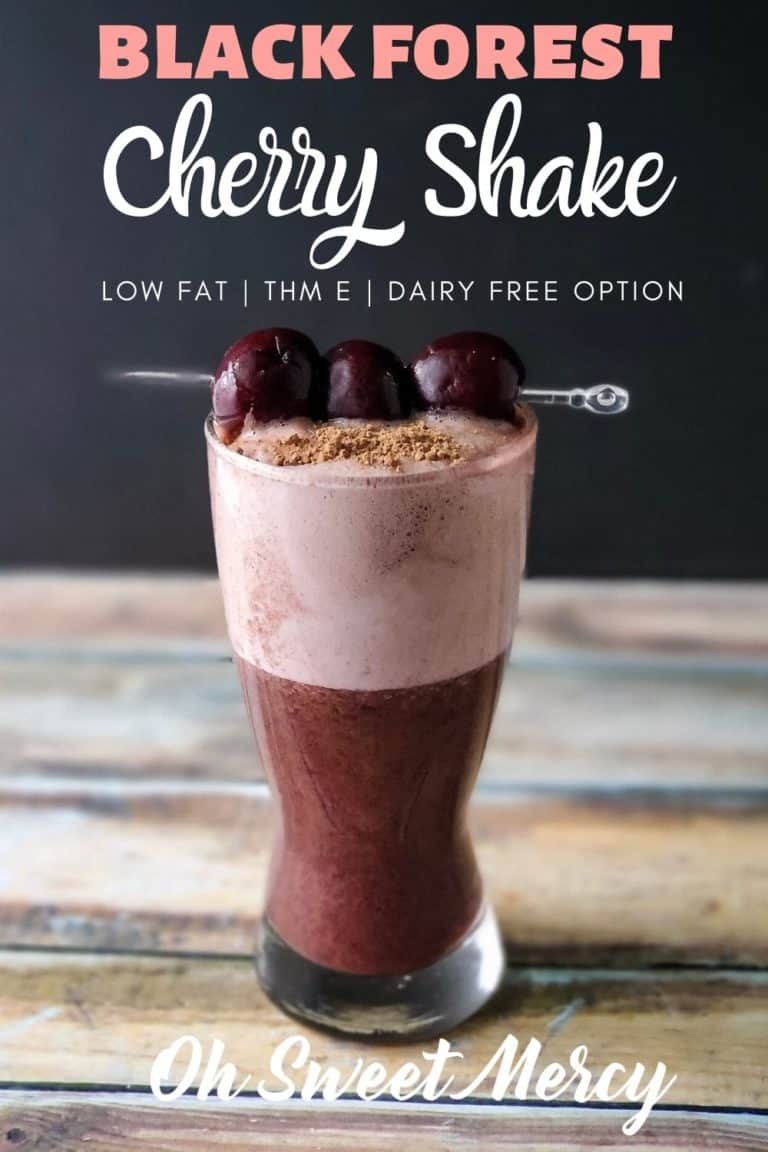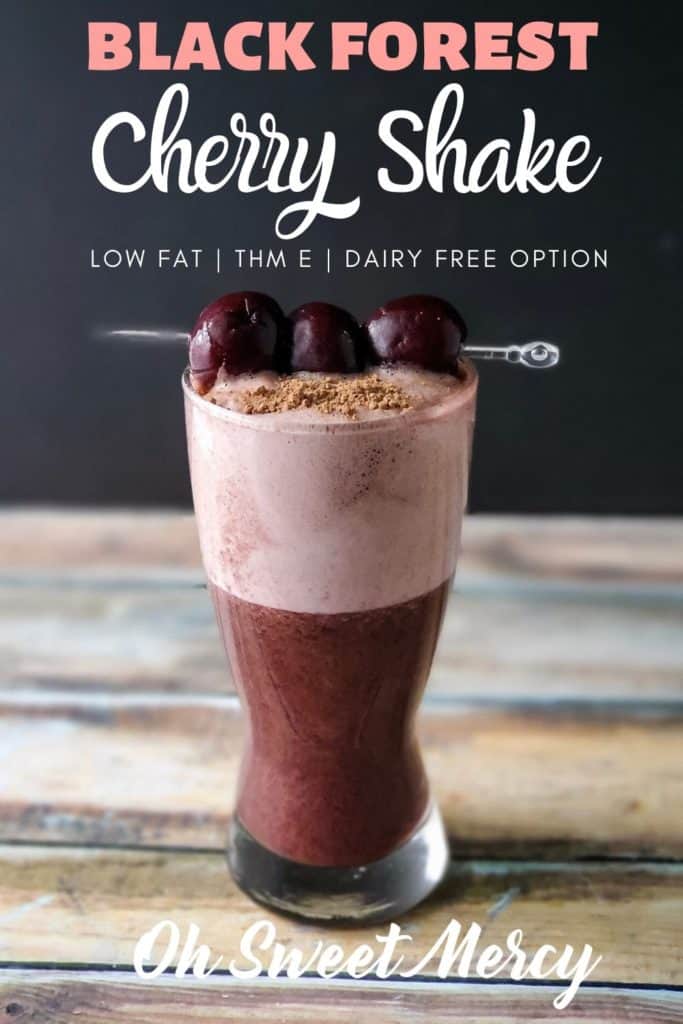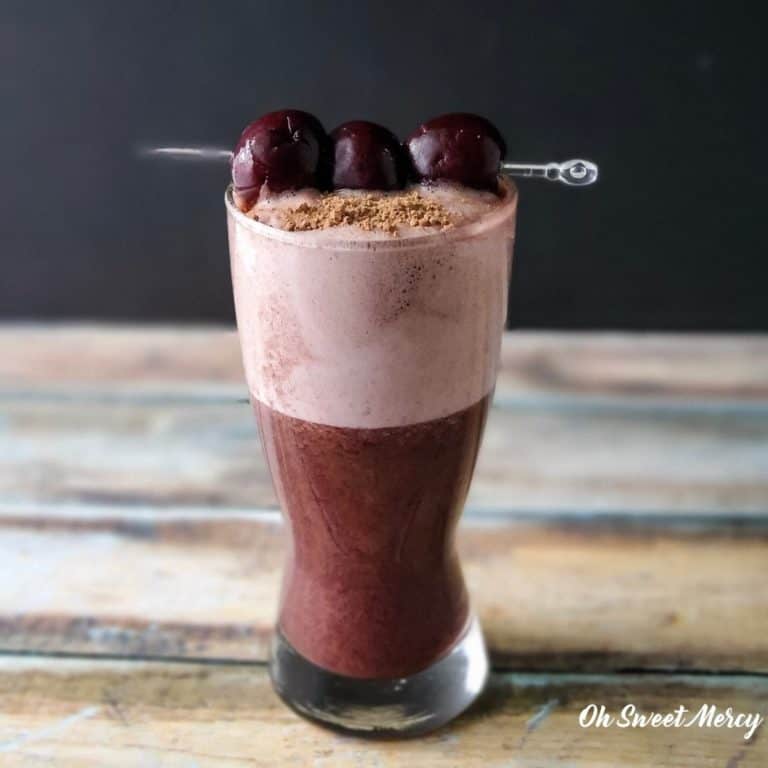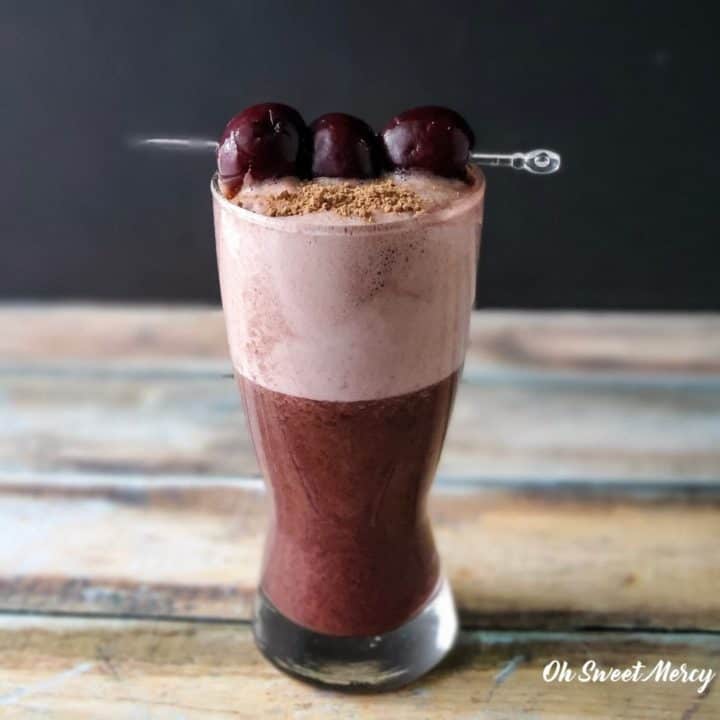 Black Forest Cherry Shake | Low Fat, THM E
Yield: 1 serving
Prep Time: 5 minutes
Total Time: 5 minutes
Rich and chocolatey without all the fat and sugar, enjoy the flavors of black forest cherry things in an easy and healthy shake. THM E friendly!
Ingredients
Mama Size Shake
1/2 cup unsweetened almond milk
1/2 cup water (or omit and use 1 cup almond milk)
1 to 3 teaspoons granulated stevia (or preferred sweetener to taste)
1 cup of frozen dark sweet cherries (pitted)
1 cup ice cubes
Baby Size Shake
1/4 cup almond milk
1/4 cup water (or omit and use 1/2 cup almond milk)
1 to 2 teaspoons cocoa or raw cacao powder
1 1/2 teaspoon granulated stevia (or preferred sweetener to taste)
pinch of high mineral salt
1/2 cup frozen dark sweet cherries (pitted)
1/2 cup ice cubes
1/2 scoop THM Pristine Whey Protein Powder (or other on-plan protein powder or collagen - optional)
Instructions
Add almond milk, water, cocoa powder, sweetener, salt, cherries, and ice to blender.
Pulse several times to get things moving, then blend on high until completely smooth.
Add protein powder, if using, and pulse several times to combine.
Sprinkle cocoa on top and enjoy.
Notes
I've given a range of measurement for both the cocoa/cacao powder and sweetener, start with the lower end of the measurements and adjust to your tastes, if desired.
NUTRITION NOTES
Nutrition information given is for Mama Size Shake, baby size is about half.
Recommended Products
As an Amazon Associate and member of other affiliate programs, I earn from qualifying purchases.
Nutrition Information:
Yield: 1 serving
Serving Size: 1
Amount Per Serving:
Calories: 207.4
Total Fat: 2.5g
Saturated Fat: 0.4g
Trans Fat: 0g
Unsaturated Fat: 1.5g
Cholesterol: 0mg
Sodium: 136.1mg
Carbohydrates: 26.9g
Net Carbohydrates: 21.6g
Fiber: 5.3g
Sugar: 18.6g
Protein: 23.6g
Nutrition information is approximate and based on the best knowledge available at the time of recipe publication. Your results may vary due to differences in ingredients. You can make your own calculations if this recipe does not include nutrition info by using an online calculator such as https://recipes.sparkpeople.com/recipe-calculator.asp