---
Slow-baked in a French oven, this braised chipotle chili will fill your home with savory aromas and your belly with warming comfort. It's perfect for chilly days that beg for hoodies, hot beverages, and snuggly blankets. Trim Healthy Mamas can make this to suit S (low carb) or E (low fat) Fuel Types, making it a versatile family-pleasing dish. And if you're wondering what a French oven is, I've got the answer for that so keep reading!
---
Fall has finally arrived to my neck of the woods (I think). As I type this I am snuggled up in a warm hoodie, have my wool socks on (and my sock monkey slippers), and cup of hot nettle tea is steeping beside me. We haven't turned on the furnace yet but I'm sure that will happen soon.
I can hold out a lot longer than hubby though. Isn't that what sweaters and blankets are for? 😉
Chilly Days Call for Chili, of Course.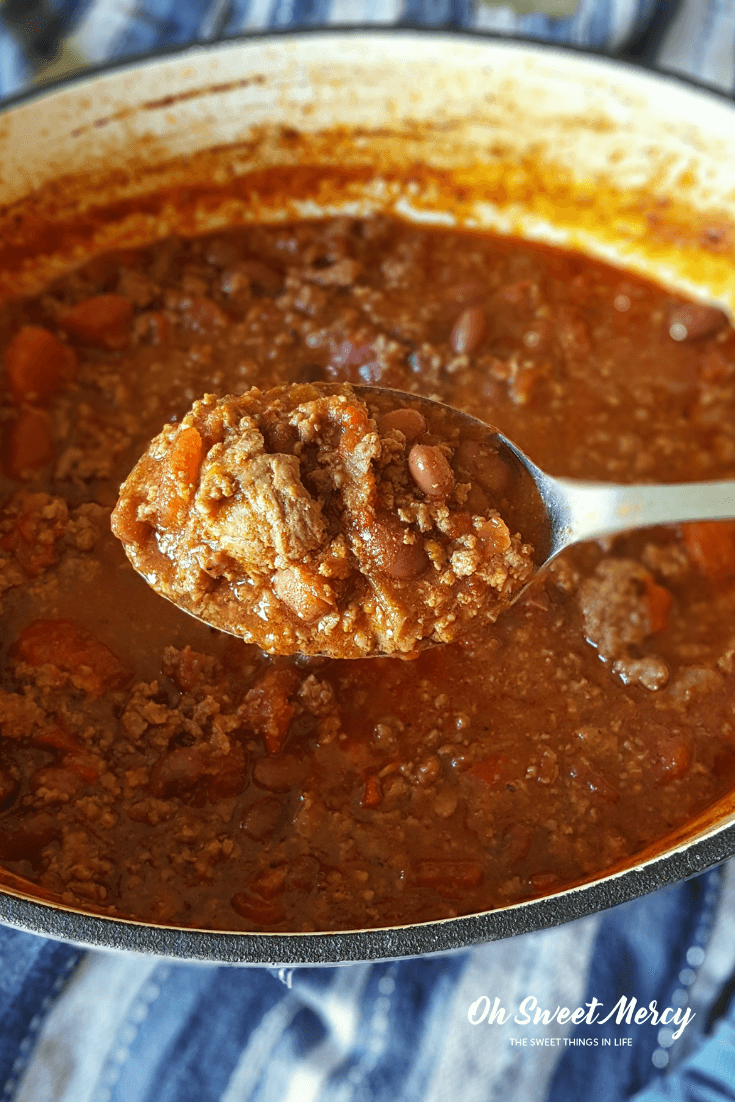 Cold days also call for warming comfort foods. This braised chipotle chili is perfect for just such days. Days when you want to fill your home with the savory aroma of beef swimming in spicy chipotle and tomatoes — can you just imagine walking in the door to that?
My husband noticed this deliciousness when he came home from work. And he was not disappointed at supper time, either. The kids thought it was too spicy…and I even restrained myself. But hubby said it's got just the right amount of heat, on the verge of being too spicy.
Beef Roast or Ground Beef?
Most braised chili recipes use a chuck roast. As luck would have it, I did not have a roast. Like I'm going to let that stop me, of course — I just used what I had on hand, which was ground beef.
It turned out so well that I can't wait to try this with a good beef roast! But, using ground meat also means it's super easy to change up your THM Fuel Types. Simply substitute lean ground turkey or chicken breast for a THM E (and be more liberal with the beans).
Then, fill your French oven with peppers, onions, tomatoes, garlic, some chipotle pepper, and a spicy all-purpose seasoning (like this one from FreshJax or one of their spicy blends in this gift set) and let your chipotle chili simmer slowly in a lower-temp oven for several hours.
What Is A French Oven?
My friend has a beautiful Le Cruset pot that I try not to envy adore. They are just gorgeous and perfect for braising. When I looked it up on Amazon I about fell over. Definitely not in my budget at this time!
Le Cruset does have others that are not as pricey, I guess it's the color? But, even the lower priced pots are out of my budget.
Then, I happened upon this lovely thing at Aldi. It said French Oven on the box and of course I wondered what was the difference between a French oven and a Dutch oven. Upon opening the box, I saw an oval-shaped enameled cast iron pot.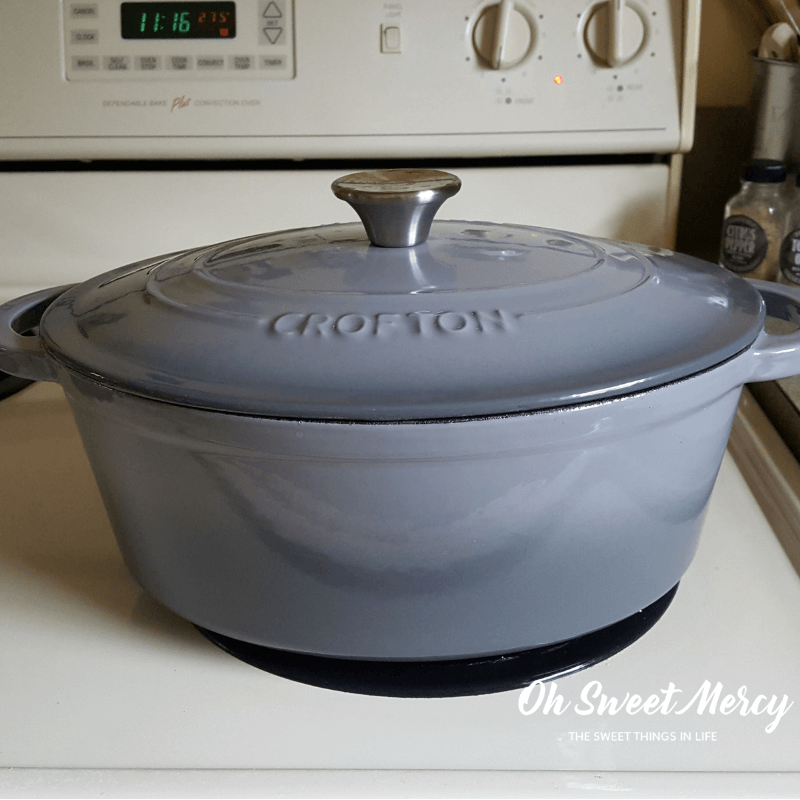 Maybe French ovens are not round like Dutch ovens? Surely there's more to it than that.
And, there is. A Dutch oven is a cast iron pot whereas a French oven is an enameled cast iron pot. My friend's Le Cruset pot, which I'd always considered a Dutch oven, would technically be a French oven because it's enameled. But according to this post at The Kitchn, a French oven is really just a type of Dutch oven.
The shape, of course, has nothing to do with it.
How to Make Braised Chipotle Chili (Plan Ahead).
While there are quicker methods to make chili, and you can certainly use a slow cooker, if you have a French oven I highly recommend giving this oven baked chili recipe a try. If you've got the time you won't be disappointed!
An enameled cast iron pot is also better for cooking acidic foods like tomatoes. Cooking acidic foods in a regular cast iron pot can harm the seasoning.
This homemade chili will take several hours to braise so make sure you get it in the oven in plenty of time before your meal time!
If you need something quicker, try my Quick and Meaty Instant Pot Chili.
[bctt tweet="Something magical happens to chili in a French oven when it's braised low and slow. Come find out! #thm #recipes #lowcarb #healthy #chili" username="OhSweetMercy"]
First, set your oven to 275 degrees. Add some fat or oil to your French oven, coating the bottom well, before heating it. Then slowly heat the pan over low to medium heat.
Next, you'll briefly saute a mix of peppers and onions then add ground beef to brown. Add freshly pressed garlic and when the beef is browned, add your tomatoes, beans, and seasonings.
Finally, put the lid on and pop that pot of deliciousness into the oven for about 5 hours.
You can also bump up the oven temp a bit to 375 and do a shorter braise — 3 to 3.5 hours instead. I like the 5 hours at 275, it's not quite as hot when you pull it out of the oven so you can get to eating more quickly 😉
All in all, this took maybe 30 minutes to prepare. If you have your ground beef already thawed you're one step ahead of me!
Spicy Chipotle Chili or Not?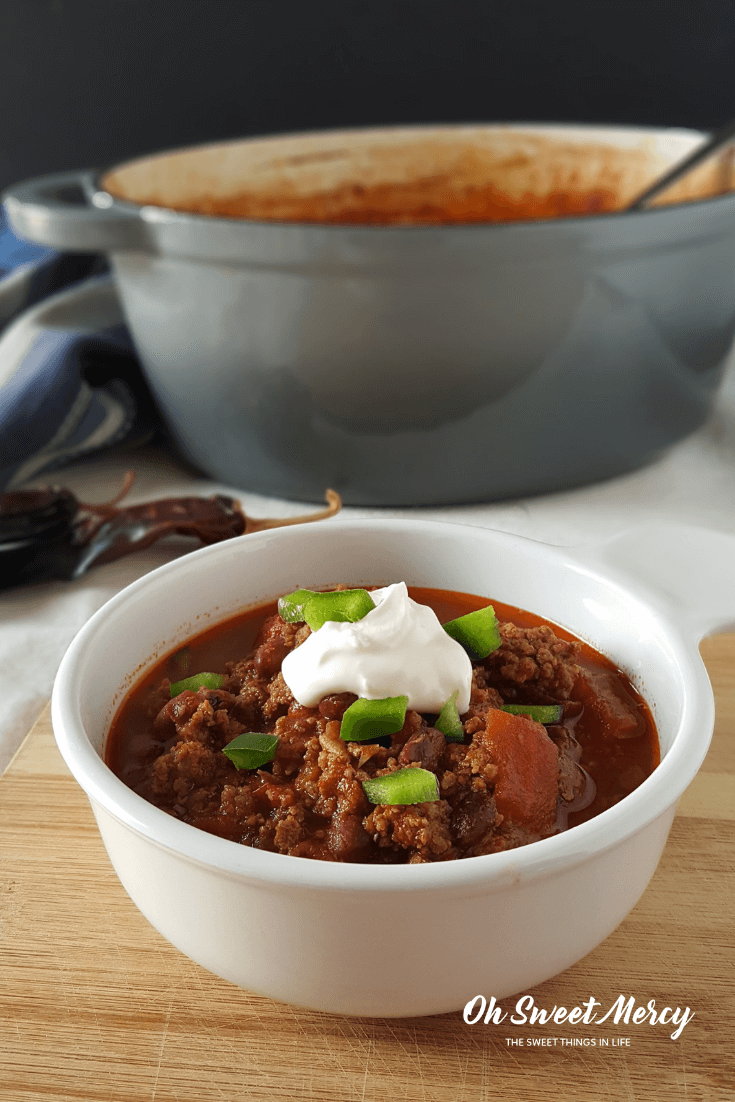 My daughter swears I have burned off all my taste buds. I really did restrain myself when adding the FreshJax Spicy All Purpose seasoning and the chipotle chili powder! You can cut back the spicy seasoning initially and taste your chili after a few hours. Then add a bit more if you think it needs it.
I really loved this delicious chipotle chili! And, as you probably know, it's better the next day. This oven baked chili recipe easily fed my family of 4 with leftovers. We each had one bowlful, so if your crew goes for seconds you might not have leftovers.
You can double this chili recipe easily enough, just make sure your French oven is large enough (or use two if you're so blessed). My Aldi Crofton French oven is 4.6 quarts and was not filled to the brim so you really could get a bit more chipotle chili in there.
Adding more tomatoes and beans will also stretch your ground meat (my hubby just really prefers a meaty chili). Just remember to adjust your seasonings if you add more ingredients!
Do You Have A French Oven? Will You Try This Braised Chipotle Chili Recipe In It?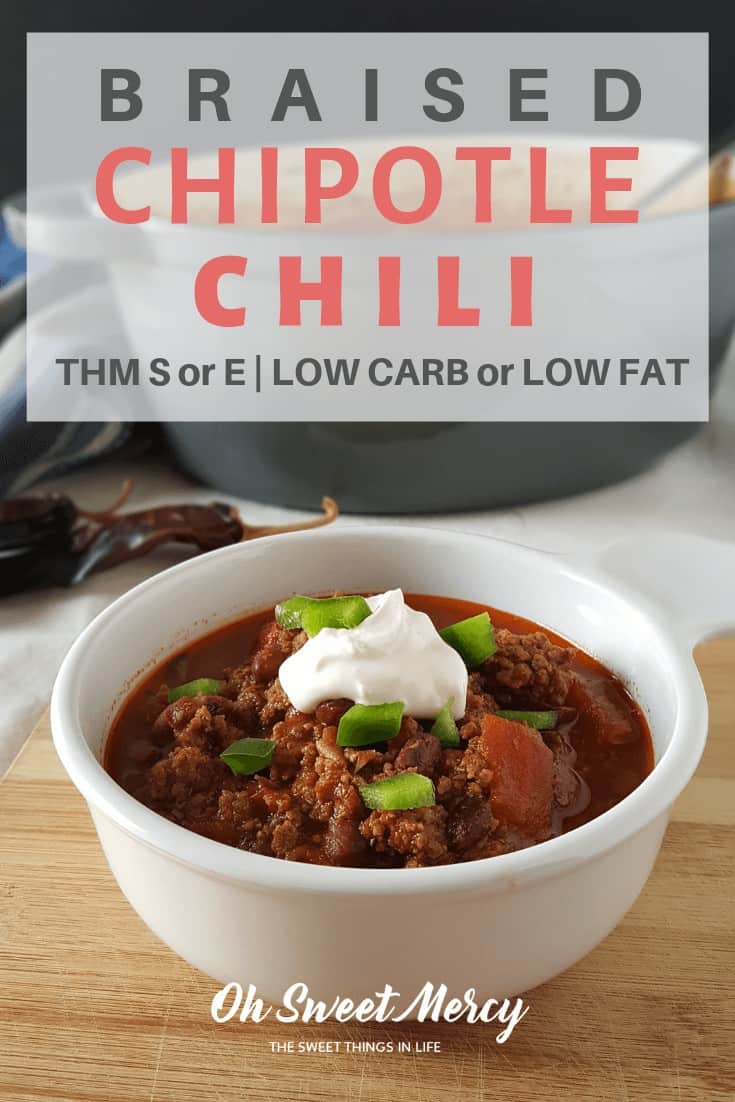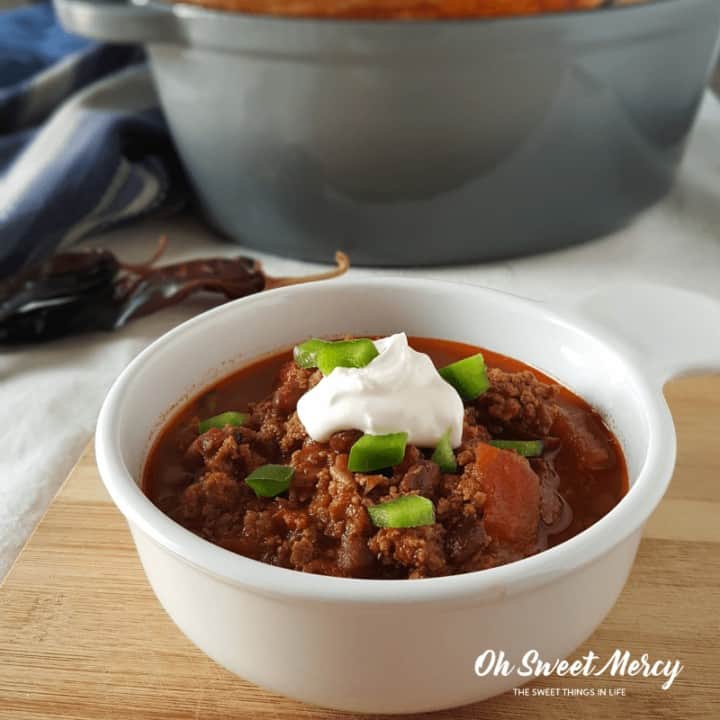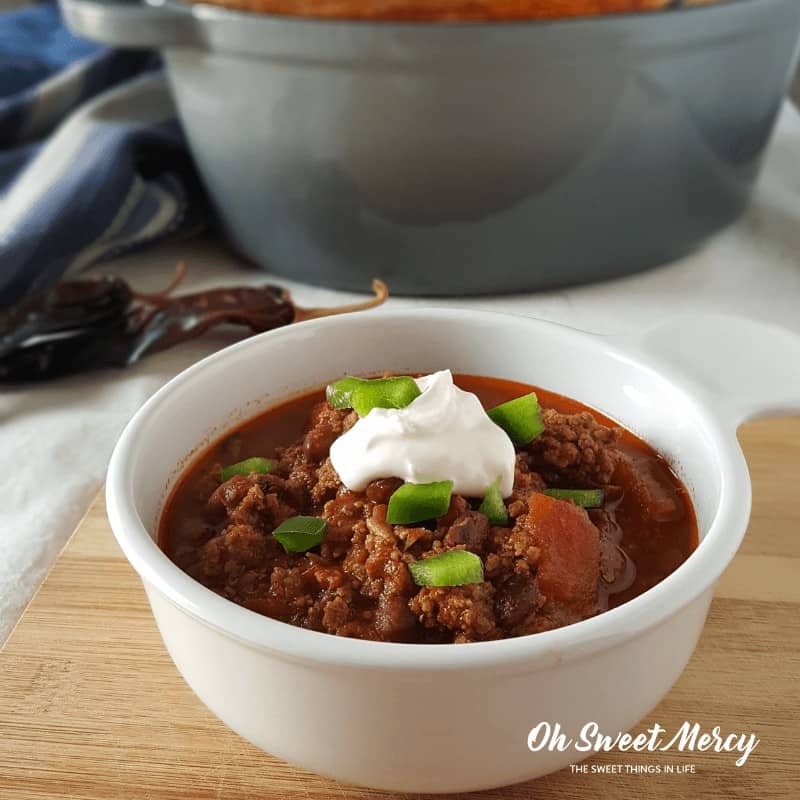 Braised Chipotle Chili | THM S or E
Yield: 6 servings
Prep Time: 30 minutes
Active Time: 5 hours
Total Time: 5 hours 30 minutes
This braised chipotle chili is slowly simmered in a low oven, filling your home with savory aromas and your belly with warming comfort. It's also a versatile family-pleasing recipe for Trim Healthy Mama plan followers - make it S (low carb) or E (low fat) style!
Ingredients
2 cups 3 pepper and onion blend
2 pounds lean ground beef
1 teaspoon black pepper
3 cloves fresh garlic
28 oz can diced tomatoes
8 oz tomato sauce
1 1/2 cup cooked red beans (see notes)
1 tablespoon balsamic vinegar
Instructions
Preheat oven to 275 (or 375 for shorter braise time)
Coat the bottom of your French oven (enameled Dutch oven) with buttery coconut oil or healthy fat of choice.
Heat pan over low to medium heat, when hot add pepper and onion blend and saute briefly.
Add ground beef, salt, and black pepper, and cook until browned.
Add garlic and cook for a couple more minutes.
Add tomatoes, beans, remaining seasonings, and balsamic vinegar and stir well.
Taste and add additional salt or other seasonings as desired (but remember flavor will change as it slowly cooks).
Put the lid on the pot and place the pot in the oven.
Braise for 5 hours, stirring a few times (or 3 to 3.5 hours if doing the shorter braise).
Taste and check seasoning/spice level after a couple hours or so, add more if desired.
Serve and enjoy!
Notes
THM S Style Notes:
You can leave out the beans if desired, but don't add more.
Serve with a big, leafy green salad and my Garlic Biscuits or Gwen's Nest Corn Muffins.
NUTRITIONAL INFORMATION SHOWN IS BASED ON S STYLE PREPARATION
THM E Style Notes:
Use very lean ground meat (1 tbs of fat is still ok, for 6 servings that's half a gram of added fat per serving but you can also use cooking spray or less fat).
Add more beans if you want!
Serve with an E side such as my Baked Kale Tots or a slice of sprouted bread (and don't forget the non-starchies).
Recommended Products
As an Amazon Associate and member of other affiliate programs, I earn from qualifying purchases.
Nutrition Information:
Yield: 6
Serving Size: About 1 1/2 cups
Amount Per Serving:
Calories: 323.6
Total Fat: 15.7g
Saturated Fat: 7.5g
Cholesterol: 93.3mg
Sodium: 523.6mg
Carbohydrates: 8.9g
Fiber: 2.1g
Sugar: 5g
Protein: 31.8g