---
Isn't anything better dipped in chocolate? That's one reason why you'll love my low carb chocolate covered cheesecake bites! Fair warning though, it's hard to eat just one. Storing them in the freezer means you can't hork down the whole batch in one sitting 😉 They also make a great party food, especially for the Trim Heathy Mama crowd!
---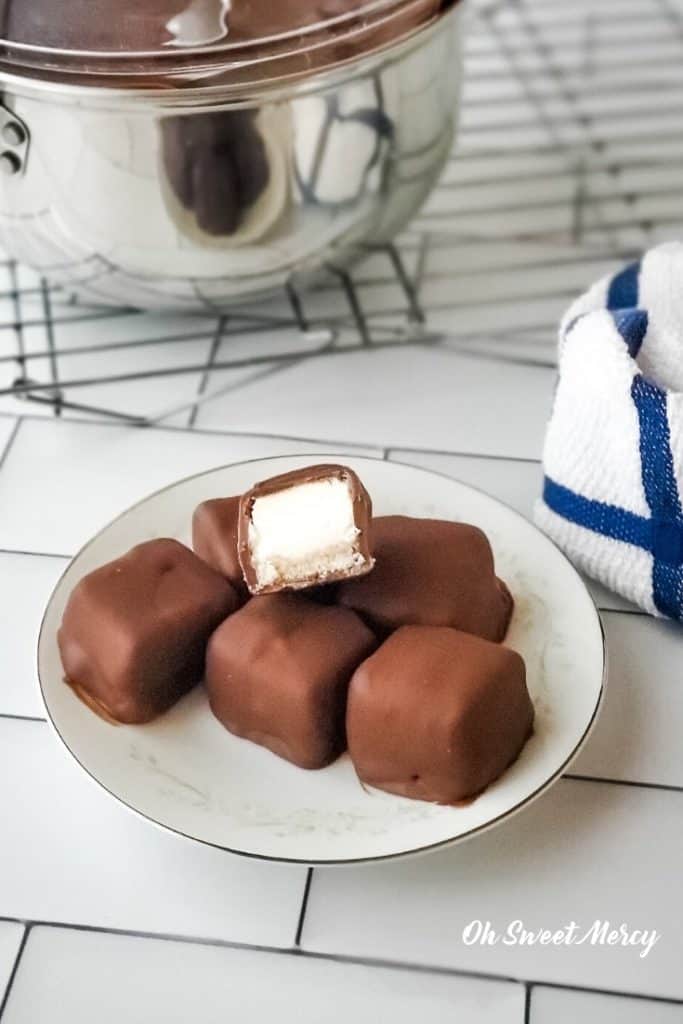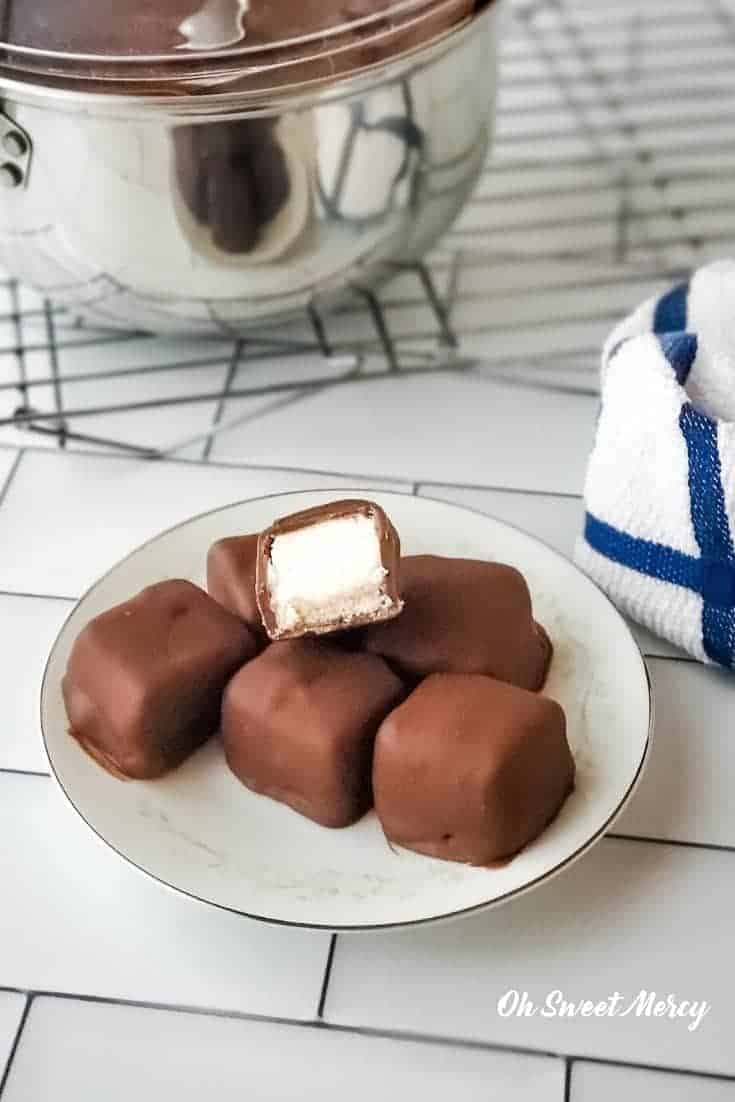 I'm a sucker for cheesecake. And chocolate. So it's only natural to combine the two, in my opinion. Have you been looking for an on-plan recipe for cheesecake bites dipped in chocolate?
Well you're in luck! I've done just that!
And, while there is a bit of baking (just for the crust) my sugar free chocolate covered cheesecake bites recipe is otherwise no-bake. It does take a bit of time to make these, why add more to it…right?
Thank You, Lord, For Sugar Free Chocolate Chips!
Now, by sugar free chocolate chips I mean those of the healthier variety. That means sweetened with stevia or a combination of stevia and erythritol. Not the gut-shredding fake sugars like malitol or possibly cancer-causing sweeteners like aspartame.
Many grocery stores these days carry Lily's or Bake Believe sugar free chocolate chips. I even have a little local store that stocks quite a few Trim Healthy Mama products, including their Trim Healthy Chocolate Chips (which are amazing, btw)!
If your belly can't handle the Lily's or Bake Believe chips you may find the THM chocolate chips much more kind to you. They only contain organic Cocoa Bean, organic cocoa butter, erythritol, stevia, vanilla bean, and organic sunflower lecithin.
It's often the inulin in other brands that causes tummy upset. Can't do erythritol or stevia? Keep reading for my alternative!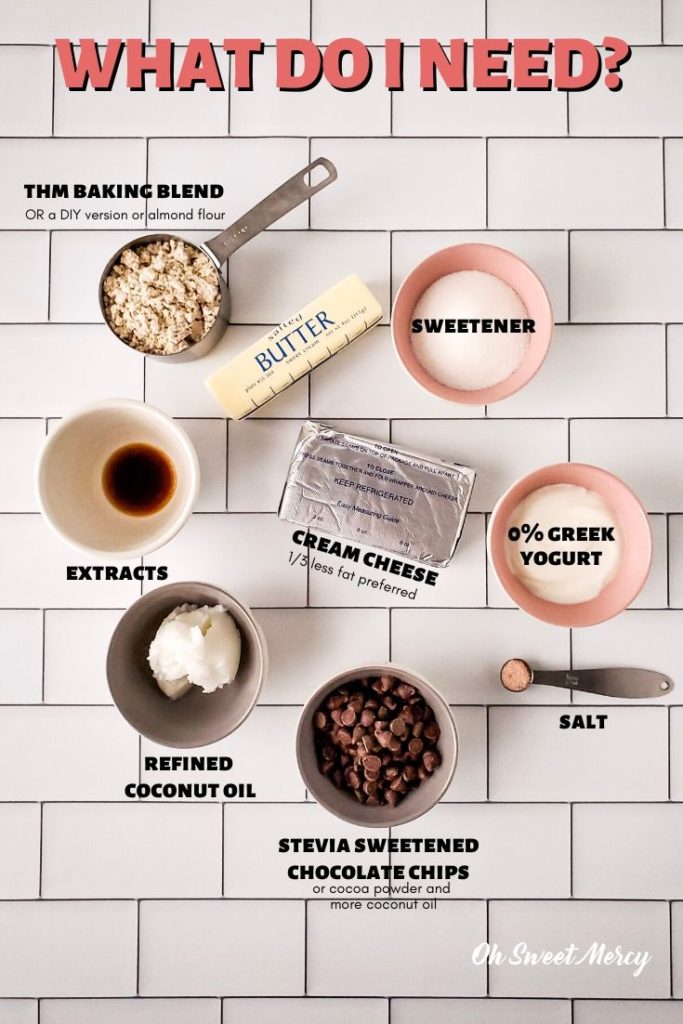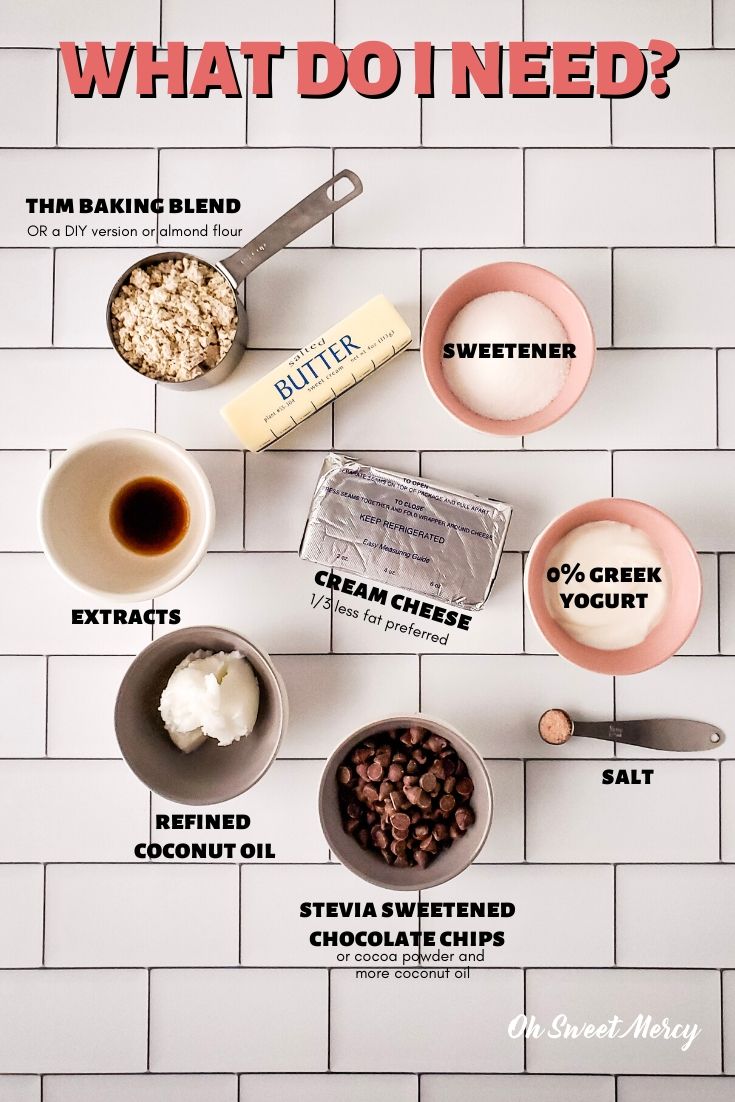 What If I can't Find (or Afford) Stevia Sweetened Chocolate Chips? What If I Can't Use Erythritol Or Stevia?
Sadly, many good-for-you products are often pricey. If you can't afford (or find) the chocolate chips I mentioned above, no worries! I've also tested my chocolate coated cheesecake bites with a coconut oil and cocoa-based chocolate coating.
While I find the purchased sugar free chocolate chips coat better, the coconut oil based chocolate coating worked pretty well. It also has the benefits of:
Made with just 5 ingredients (or 4, if you prefer)
Use your preferred sweetener if you can't handle erythritol or stevia
No unwanted ingredients (you're in control!)
Melts quicker
See my tip below in the Make The Chocolate Coating section for using this instead of chocolate chips.
Want more THM friendly dessert options? Check out my Desserts and Sweets category!
How To Make Chocolate Covered Cheesecake Bites.
Step 1: Bake The Crust
I've included 2 options for you. First, use Trim Healthy Mama Baking Blend (or a DIY version you love). This lightens up these decadent treats just a bit.
Second, use all almond flour. This makes a bit heavier treat but still on plan!
Simply melt butter, mix your dry ingredients together then press into an 8 x 8″ baking dish. Bake until golden brown, around 15 minutes or so.
Let it cool completely OR until just warm to the touch if you're in a hurry. That should be around 20 to 30 minutes at room temperature.
Step 2: Make The Filling And Freeze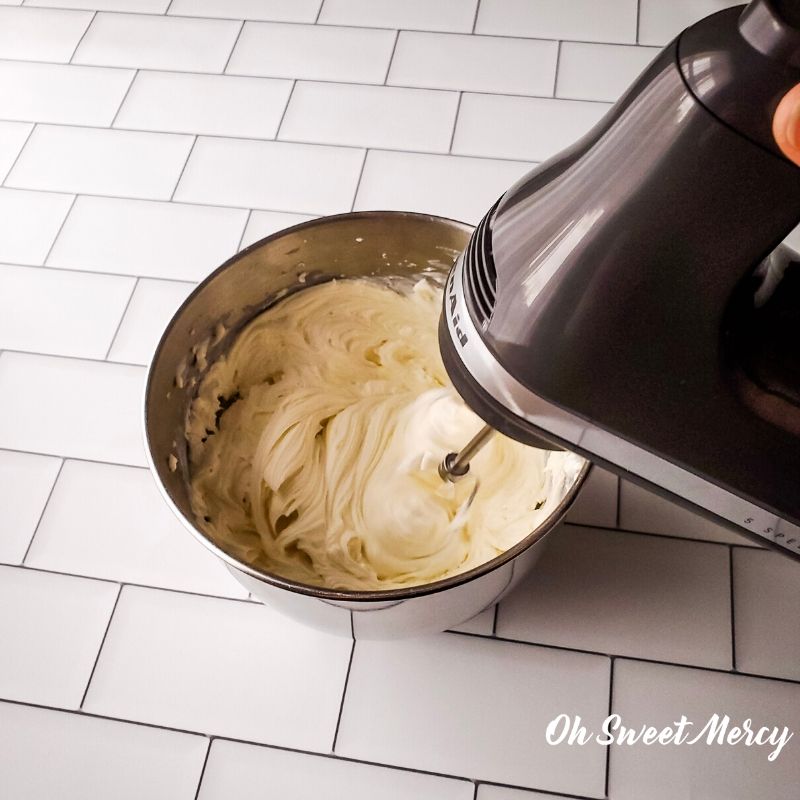 While your crust is cooling, make the cheesecake filling. I use 1/3 less fat cream cheese but regular cream cheese is also fine.
I also include some plain, fat free Greek yogurt. Since this is a Heavy S treat, reducing the fat a bit makes it just a tad less heavy.
Balance is a good thing, right?
Mix together the cream cheese, sweetener, yogurt, and and any flavor extracts you prefer.
When the crust is cool enough (barely warm), spread the cheesecake filling over the crust and pop into the freezer for at least 2 hours or overnight.
If freezing overnight plan a little extra time the next day. Right out of the freezer it's hard to cut but softens fairly quickly.
Step 3: Make The Chocolate Coating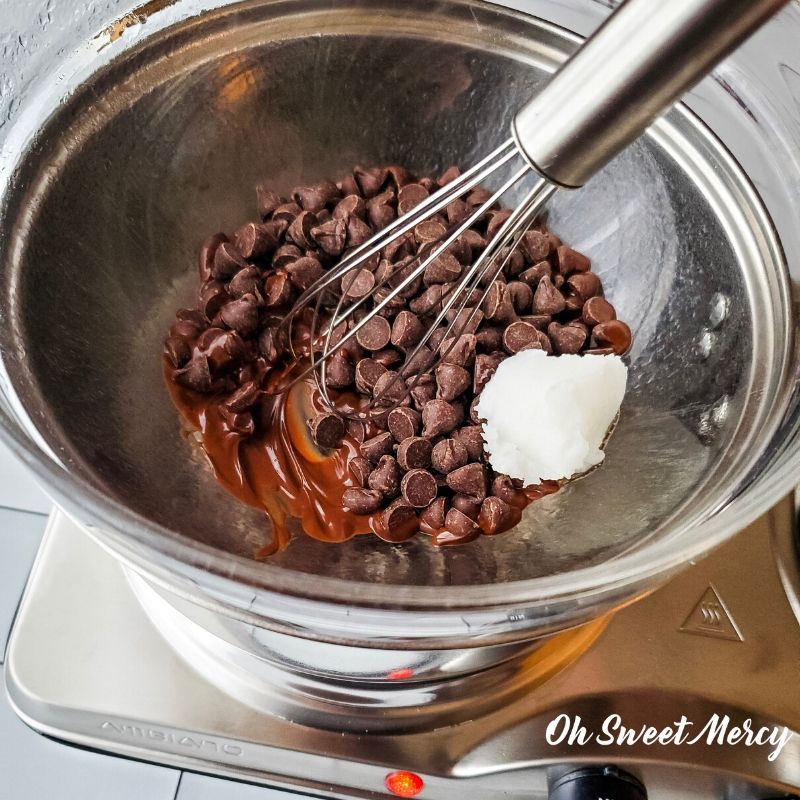 Right before you're ready to start dunking your cheesecake into chocolate, make the chocolate coating.
If you're using chocolate chips, add them and some coconut oil to a double boiler and stir or whisk until completely melted.
No double boiler? No problem! Take a small sauce pan and find a heat-safe bowl (or a smaller pan) that fits in the top of the pan. You'll need enough room underneath to add water without it touching the bottom of the bowl or pan on top.
I use a sauce pan and small glass Pyrex bowl myself.
Not using chocolate chips? The process is basically the same: add your coconut oil to your melting setup and melt the oil. Then whisk in the remaining ingredients until smooth.
TIP: allow this chocolate coating to cool and thicken slightly for better coating. Otherwise you'll need to do a second coat if you want them to look nice.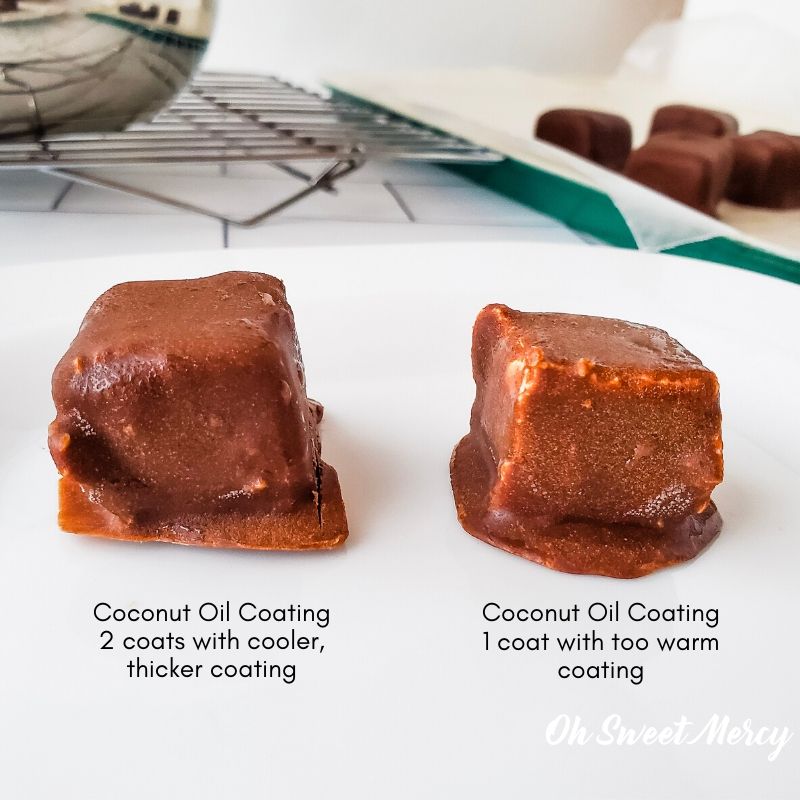 Step 4: Cut Cheesecake Into Bites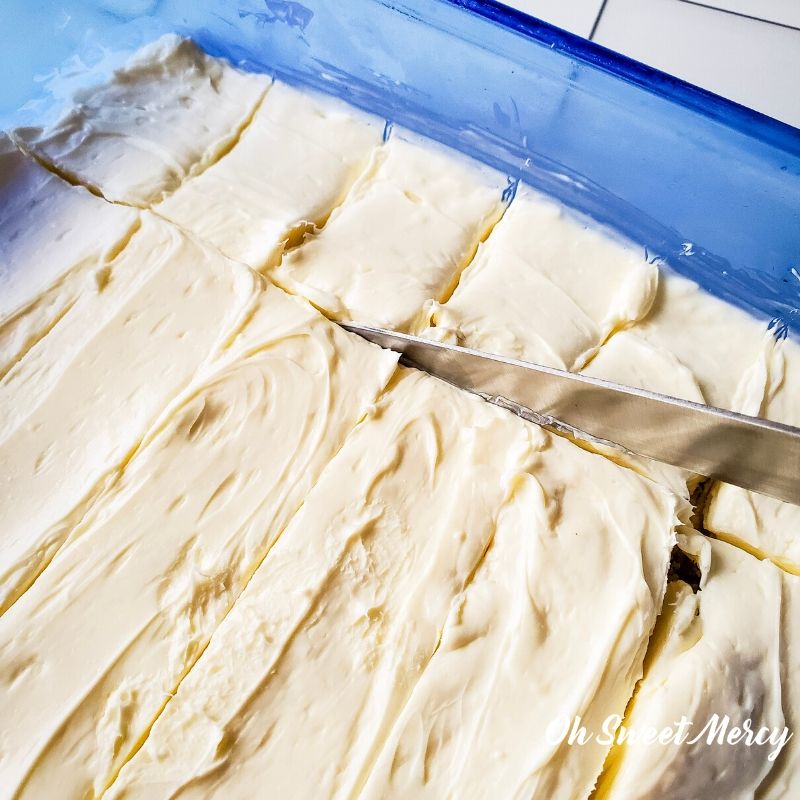 Remove the cheesecake from the freezer. Using a sharp knife, score the top where you want to cut. If you mess up, take your finger and rub the score marks away then start again. Don't ask me how I know that…>cough<
Gently cut the cheesecake into bite sized pieces. I do 1 row at a time to keep the cheesecake as frozen as possible. For the best results in coating your chocolate covered cheesecake bites, the bites need to be very cold!
You can get 36 generous bite sized cheesecake pieces in an 8 x 8″ baking dish. Or cut them smaller and get more. They are a bit harder to cut nicely when very small though.
Step 5: Dip Cheesecake Bites In Chocolate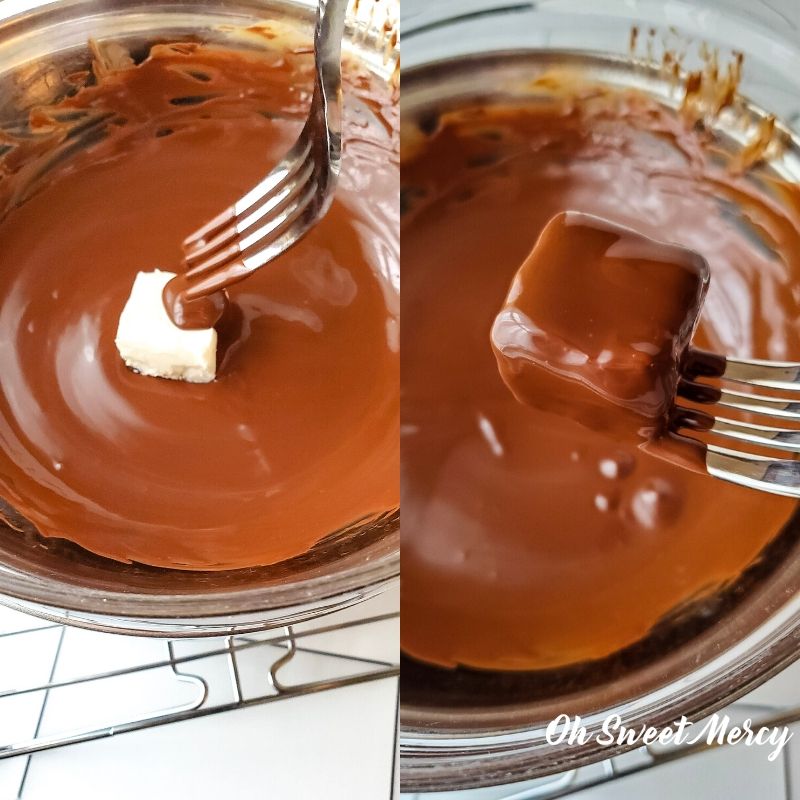 Drop a bite into the chocolate coating, making sure all sides are well coated, then remove with a fork. Allow the chocolate to drip off for a moment, tapping lightly on the side of the bowl. Place on a parchment or wax paper lined cookie sheet.
Repeat until they're all coated. You'll likely have chocolate coating left over. Pour into a small mold (or candy molds) and refrigerate or freeze for a quick chocolate snack later.
You may enjoy them right away, refrigerate, or freeze for later in an airtight container.
How To Fit My Chocolate Covered Cheesecake Bites Into Your THM Meal Plan.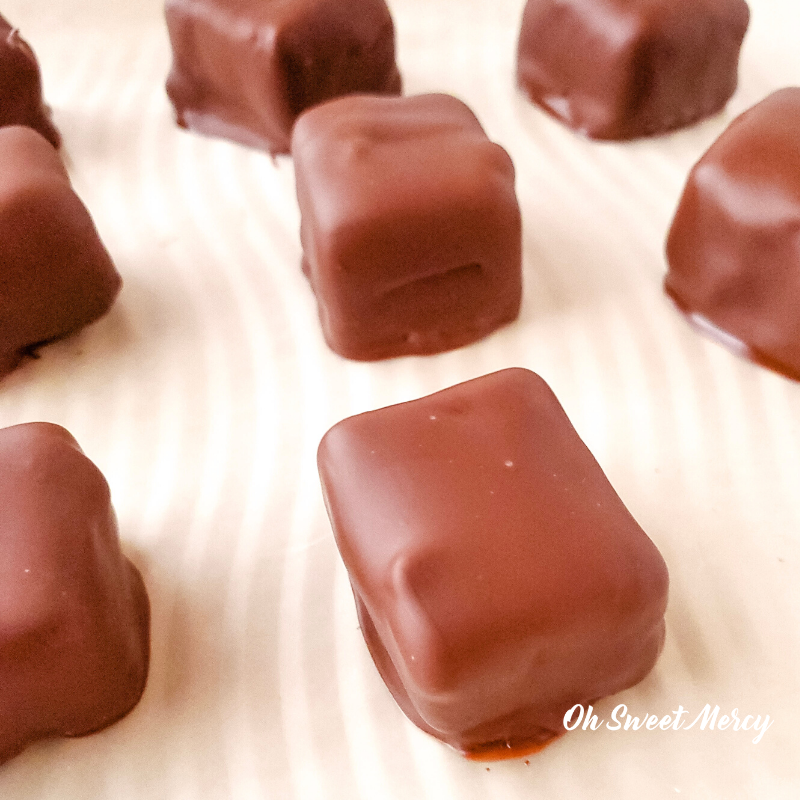 These wonderful, glorious, decadent chocolate covered cheesecake bites are a Heavy S on the THM plan. They're made with cream cheese, butter, and nuts (if you're using almond flour crust). That means they're heavier in fats and calories.
While we don't focus on calories, balancing our meals and snacks so we're not only consuming foods heavy in cream cheese, nuts, and fats is part of what makes THM work so well!
Since these are a Heavy S, it's best to eat them after a Light S or Fuel Pull meal if you want them for dessert.
For a Light S meal, try chicken breast instead of dark meat and skip recipes with a lot of cheese and heavy cream.
For a Fuel Pull meal, how about lean baked fish and some steamed veggies?
After an E meal, you'll turn your E into a Crossover with these so keep that in mind. Crossovers are still on plan, just less conducive to weight loss!
Finally, they're the perfect party food — especially if there are other carb-conscious eaters attending! Or, if you're going somewhere that is not necessarily THM friendly, bring a few along to ensure you stay on plan.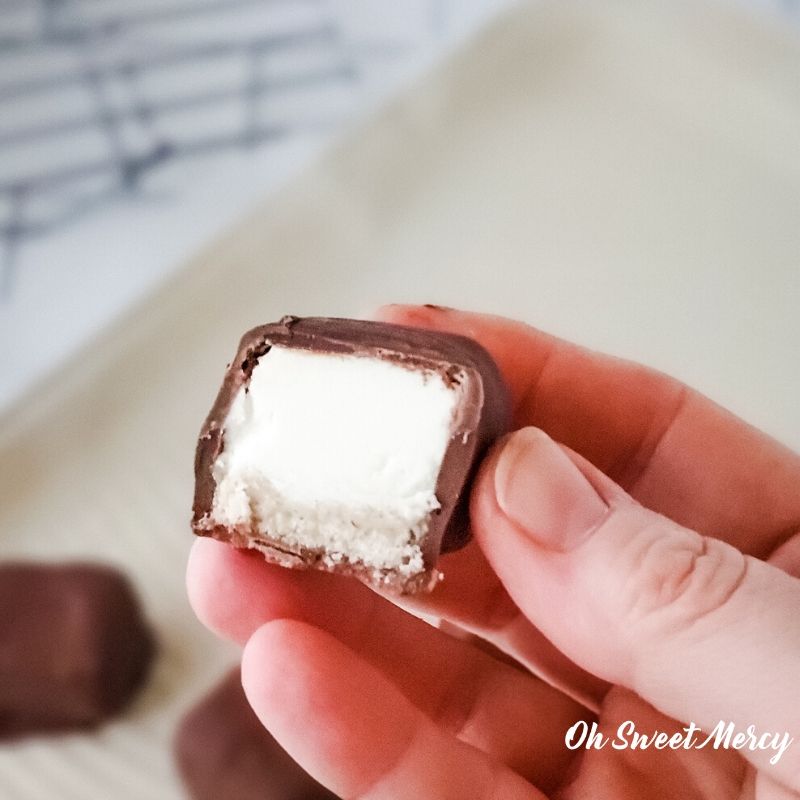 How To Store Your On Plan Cheesecake Bites.
Keep your mini chocolate covered cheesecake bites in the freezer for best portion control. They are hard to eat frozen so you can't just wolf down a dozen at once (even though you'll want to!).
They don't take long to thaw though! Get them out before you sit down for supper and they'll be ready for a tasty dessert.
Planning them as a snack? Get them out of the freezer about 15 minutes before you want to have your snack.
Otherwise, keep in the refrigerator in an airtight container. If they don't get gobbled up in a hurry they should be good for at least 5 days. I haven't had any around long enough to test that though 😉
Have You Been Dreaming Of Chocolate Covered Cheesecake Bites?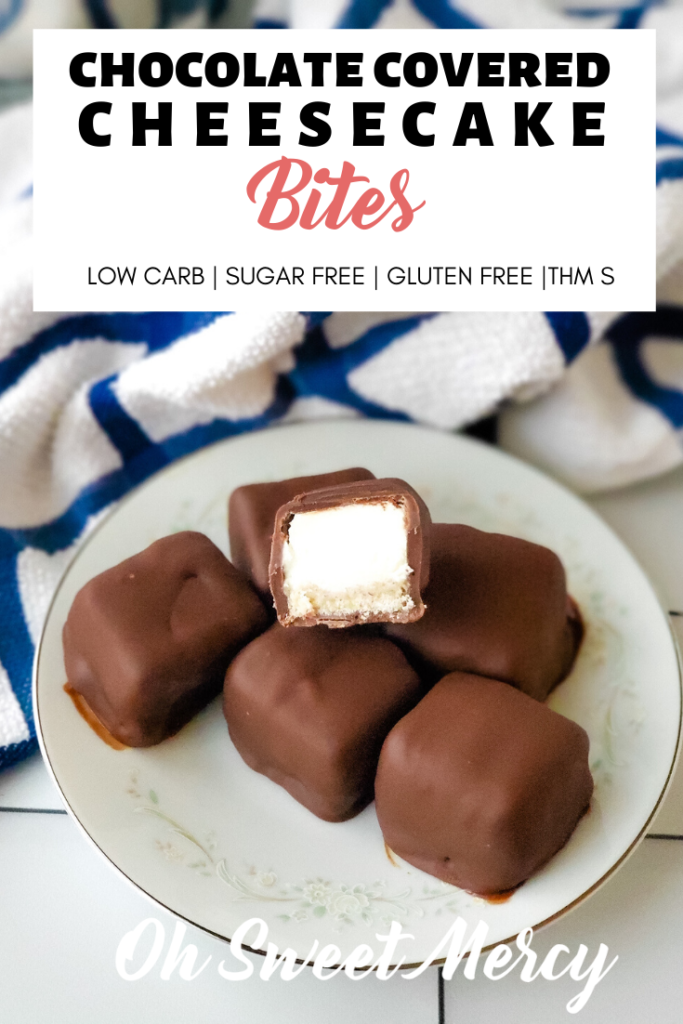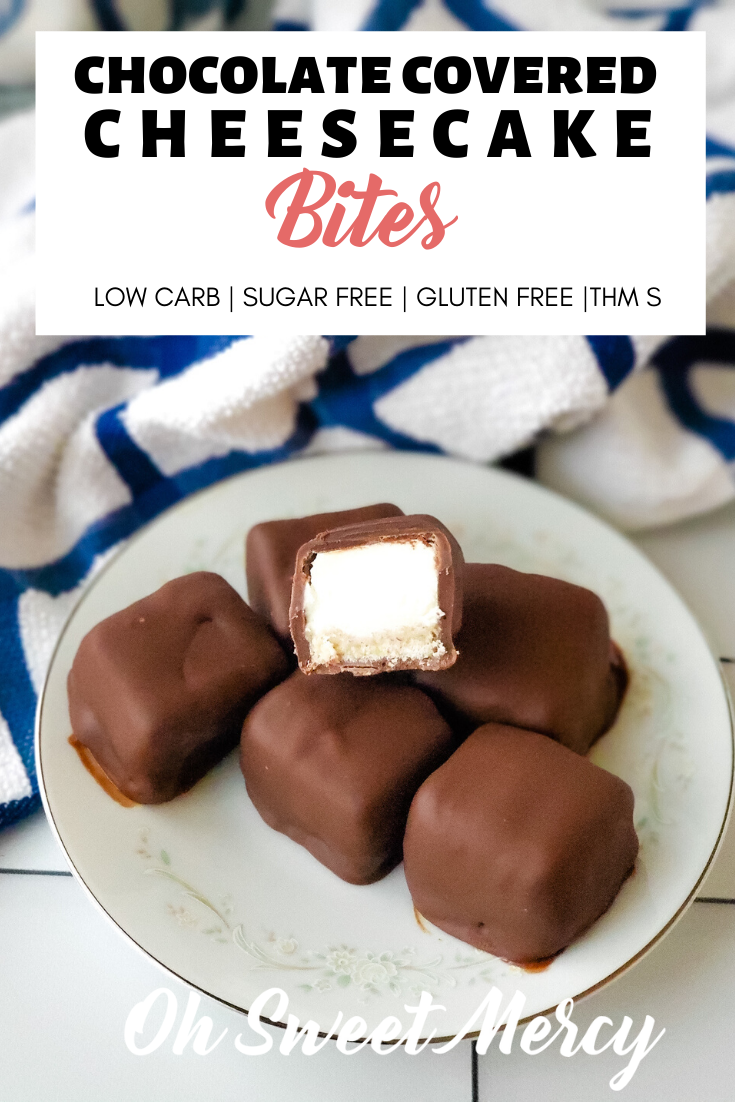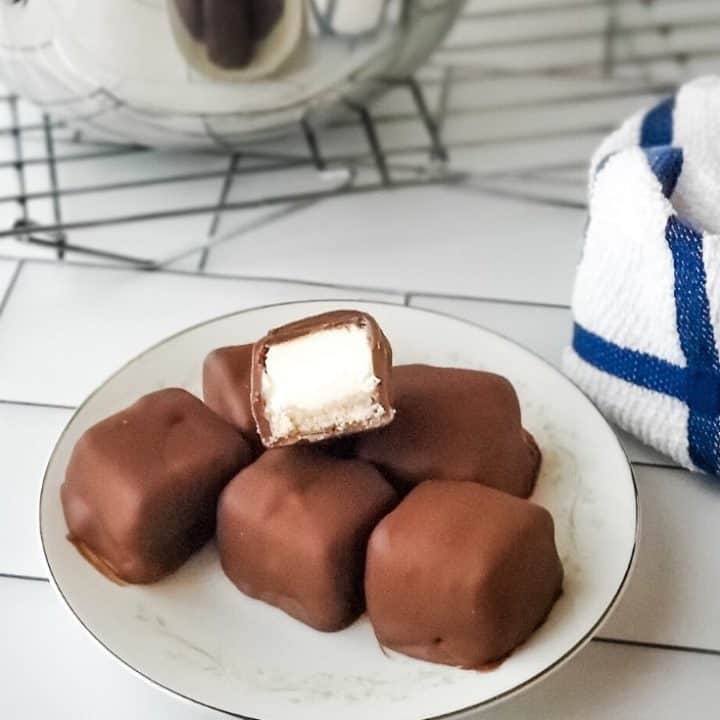 Chocolate Covered Cheesecake Bites | Low Carb, Sugar Free, THM S
Yield: 36
Prep Time: 1 hour
Cook Time: 30 minutes
Additional Time: 3 hours
Total Time: 4 hours 30 minutes
Rich creamy cheesecake bites covered in sugar free chocolate, what could be better? Use stevia sweetened chocolate chips or my recipe for coconut oil based chocolate coating if you prefer.
Ingredients
For the Crust
Cheesecake Filling
2 - 8 oz packages 1/3 less fat cream cheese (or regular)
1/4 cup 0% Greek yogurt
1/4 cup Pyure or equivalent amount of preferred sweetener, to taste
Chocolate Coating with Stevia Sweetened Chocolate Chips
14 oz stevia sweetened chocolate chips (about 2 1/2 cups)
2 tablespoons refined coconut oil
Coconut Oil Chocolate Coating
1 cup refined coconut oil
1/2 cup cocoa powder
2 tablespoons Pyure, powdered (measured before grinding) or preferred sweetener to taste
1/8 teaspoon high mineral salt
2 Tablespoons heavy whipping cream (optional)
Instructions
Make the Crust
Preheat oven to 350 degrees
In a small bowl, combine Baking Blend (or almond flour) and sweetener and mix well.
Add melted butter and mix well until all dry ingredients are incorporated.
Press into bottom of an 8 x 8" baking dish
Bake in preheated oven for 15 minutes or until golden brown.
Almond flour crust may take a few minutes longer.
Allow to cool at least 30 minutes or until completely cool before adding filling.
Make the Cheesecake Filling And Freeze
In a mixing bowl (I just wipe out the bowl used for making the crust for less dirty dishes) beat together the cream cheese, yogurt, sweetener, extracts, and salt until well combined and creamy.
Evenly spread filling over cooled crust.
Freeze for 2 hours or overnight. If freezing overnight it will be a little harder to cut so plan a little extra time.
Make the Chocolate Coating.
If using chocolate chips:
In a double boiler (or heat safe bowl placed over pan of boiling water) add chocolate chips and coconut oil.
Whisk together until melted and smooth.
Remove the pan from the heat but keep the bowl over it to keep the chocolate liquid enough for coating.
If using coconut oil and cocoa powder:
In a double boiler (or heat safe bowl placed over a pan of boiling water) add coconut oil and melt.
When coconut oil is fully melted, whisk in cocoa powder, sweetener, and salt until fully incorporated.
Carefully remove the hot bowl from the pan and place on a heat safe surface.
For best results, allow the coconut oil to cool and thicken to a slightly runny hot fudge consistency. Alternatively, put the bowl in the fridge or freezer for a few minutes, checking frequently until the right consistency is achieved. Whisk in any harder pieces of chocolate if needed.
Cut and Coat the Cheesecake Bites
Remove the cheesecake from the freezer and score the top with a sharp knife. You can get at least 36 bites (6 by 6). Very small bites are hard to cut well so I don't recommend going too small.
Gently cut through the cheesecake, 1 row at a time, separating each bite carefully.
Put the bite into the bowl of chocolate coating and using a fork, coat completely.
Remove the bite with the fork and allow the excess chocolate to drip off, tapping lightly on the side of the bowl if needed.
Place the coated bite on a parchment or wax paper lined cookie tray.
If using the coconut oil coating, you may need to dip a second time if it's too runny.
Enjoy right away or refrigerate or freeze in an airtight container for later.
Notes
Make sure the cheesecake bites are mostly frozen when as you work with them. They're much easier to handle that way. If you kitchen is warm, keep them in the freezer or just take a few out at a time.
Remember THMs, this is a Heavy S treat. Totally on plan, just be sensible!
Nutrition Notes:
Nutrition information is calculated for 36 servings using Lily's Milk Chocolate Chips and is accurate to the best of my knowledge. If you use something else for the chocolate coating the info may change.
Recommended Products
As an Amazon Associate and member of other affiliate programs, I earn from qualifying purchases.
Nutrition Information:
Yield: 36
Serving Size: 1 bite
Amount Per Serving:
Calories: 97.9
Total Fat: 8.1gg
Saturated Fat: 3.3g
Unsaturated Fat: 0.4g
Cholesterol: 12mg
Sodium: 74.8mg
Carbohydrates: 8.1g
Net Carbohydrates: 4.1g
Fiber: 4g
Sugar: 0.2g
Protein: 2.3g