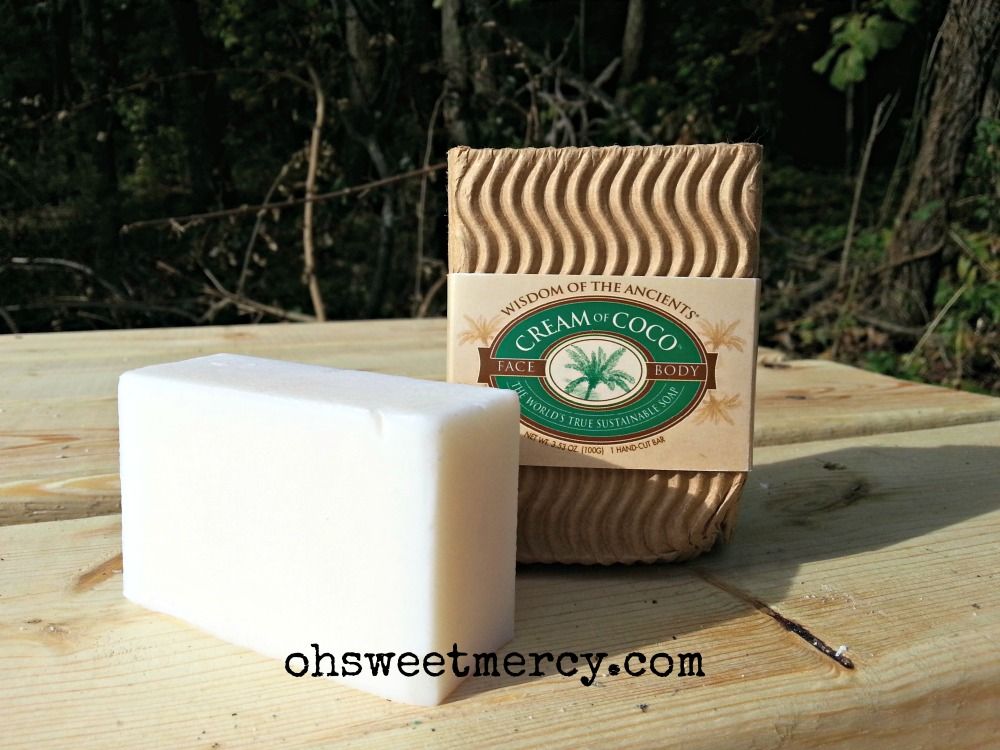 Recently, I was asked to try and review Wisdom of the Ancients Cream of Coco Soap. I love the chance to review products and since I also like to bless others with giveaways, I asked if they would also send a bar to give away. They did, I tried it and here's my review. You can enter the giveaway at the end of this post!
I had never heard of this soap before, but the information included in the email I received asking me to review this Cream of Coco soap stated the following:
Cream of Coco Soap is hand-cut
Cream of Coco soap is made from an edible nut from Mbocaya
trees – only grown in Paraguay, and then combined with three other simple
ingredients. (learn more about it here)
Cream of Coco soap is eco-friendly
After doing a little research online I also discovered that Cream of Coco Soap is made from a completely sustainable production process! From a product image on Amazon (that packaging was different than what I received):
The outer soft shell of the nut is burned to power the factory, the oil is pressed from the nut and provides the rejuvenating and cleansing properties of the soap and the remaining pulp is fed to the livestock. This soap is restorative for your skin and the planet.
Cream of Coco Soap is also claimed to be gentle enough to use on your hair. Since we went camping for Sukkot last week, I had a perfect opportunity to test this soap, and that claim. And there were some beautiful surroundings for a product photo shoot!
What I Liked About Wisdom of the Ancients Cream of Coconut Soap
THE LATHER! I could not believe how much this soap lathered up! So much so, in fact, that I asked a friend where we were camping if they had soft water there. She thought they did, but I never did find out for sure. We have softened well water at our home, but I got some non-softened water from outside and it still lathered luxuriously.
THE WAY MY SKIN FELT AFTER USING IT My skin was super soft and just felt very clean. Not coated, oily or sticky like some soaps I've used. Even the next day I still felt very clean.
YOU REALLY CAN WASH YOUR HAIR WITH IT I was skeptical about the "you can wash your hair with Cream of Coco Soap" claim, but I was pleasantly surprised to find that it did a great job of cleaning my hair. Not only was my hair clean, but it was very soft, too. I've had troubles with some "natural" cleansing options with my hair (partly due to the nasty, hard, city water we used to have, I now believe) and often my hair would feel terrible – coated, rough, tangly, or greasy. My hair was soft and clean after using Cream of Coco Soap. It's a wonderful cleanser from head to toe, which makes it perfect for camping or backpacking.
A LITTLE GOES A LONG WAY Since it lathers so abundantly, only a small amount is needed. I rub a little on my shower pouf and the luxuriant lather that results is more than enough for my entire body.
IT HAS A SOFT SCENT Cream of Coco Soap has a soft scent, but it's not from any harmful chemicals. I didn't find it overpowering at all and it had somewhat of a nostalgic scent.
IT IS SUSTAINABLY PRODUCED I love the fact that this soap is made with minimal, natural ingredients and produced in a way that protects Creation and benefits the community in which it is produced.
What I Didn't Like About Wisdom of the Ancients Cream of Coco Soap
There is only one thing I don't like about Cream of Coco Soap. It is a somewhat soft bar, so it seems like it wouldn't last as long as my homemade bar soaps that are very hard. You would need to make sure to keep it out of water, as it will most likely "melt" easily. Is that enough for me not to use Cream of Coco Soap? No way! I really like this product, and love that it is really a perfect companion for roughing it in the wilderness or even in a survival type of situation. It is also a great soap to use all the time, not just when you're camping or backpacking.
If you'd like to purchase some of this wonderful soap, you can just follow this link. Cream of Coco Soap will be available for a limited time, so don't wait:
http://www.shopsweetleaf.com/soap-and-body-wash/
If you'd like to win a bar of this wonderful soap, then enter the giveaway below. You can come back daily to earn another chance to enter!
Thanks for reading!