Like this post and don't want to miss more like it? Be sure to sign up for my newsletter at the end!
"You drink DIRT every day? Why do you do THAT?"
This is probably the question I get asked the most. So I thought I'd share my experience with taking diatomaceous earth for the last several months. But, before I continue, please read the following, understanding that continuing to read this post implies that you accept responsibility for your own health-related decisions:
Personally, I believe you are intelligent enough that I shouldn't HAVE to even say that, but we live in an age where it is, unfortunately, necessary to cover one's posterior. That being said, let's get down to the dirt on the dirt – diatomaceous earth, or DE as it is commonly called.
What is Diatomaceous Earth?
Diatomaceous earth is the fossilized remains of marine diatoms. Diatoms are microscopic one-celled algae that are mostly comprised of silica. They are found wherever water is found, even in trees. But the diatoms in diatomaceous earth are marine diatoms, those found in larger bodies of water, that have settled to the bottom.
Formation: Diatomite forms by the accumulation of the amorphous silica (opal, SiO2·nH2O) remains of dead diatoms (microscopic single-celled algae) in lacustrine or marinesediments. The fossil remains consist of a pair of symmetrical shells or frustules.[1]  [SOURCE]
Discovered in 1836 or 1837, it was used in dynamite and filtration applications. The Berekefeld filter, which is made with diatomaceous earth, was successfully used in the cholera outbreak in Hamburg, Germany in 1892. Diatomaceous earth is used in many ways, from filtration, abrasion (toothpaste), industrial, pest control, agriculture and more.
How is Diatomaceous Earth Beneficial for Health?
I had first heard about diatomaceous earth being used internally at my local Tractor Supply Company. I went there to get some diatomaceous earth for my chickens, as a non-toxic solution to parasite and insect control. While eating it sounded totally weird, it really intrigued me, so of course I hop on the interwebs to see what could be found.
The first thing to know about diatomaceous earth, if you want to consume it, is ONLY FOOD GRADE DIATOMACEOUS EARTH IS ACCEPTABLE FOR HUMAN CONSUMPTION. The kind used for pool filters, for example, is heat treated and very poisonous.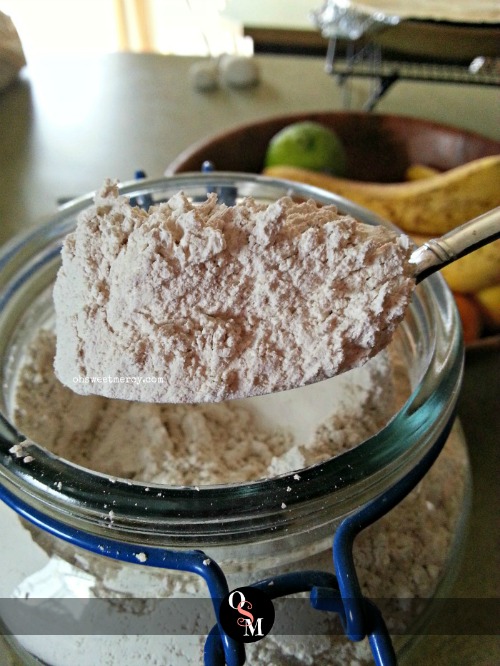 Diatomaceous earth is mostly silica – 89%! Silica appears to be the biggest benefit of diatomaceous earth, as it is vital to many functions in the body. Many of the benefits below seem to be because of the silica content of diatomaceous earth.
Among the benefits attributed to FOOD GRADE DIATOMACEOUS EARTH are:
Lower high blood pressure
Lower high cholesterol
Osteoporosis & joints – enhances calcium absorption, stops pain and can help restore the body's self-repair process
Weight loss – curbs appetite and stimulates metabolism
Detox – heavy metals and radiation
Kills internal parasites
Help strengthen and beautify skin, hair and nails
Hair growth
Teeth and gums – hardens enamel, prevents cavities, prevents bleeding gums and recession. Fights ulceration and decay of bones and teeth and lessens inflammation.
Benefits the lymphatic system
Can help diabetes by promoting synthesis of elastase inhibitor by the pancreas
Anti-inflammatory
[SOURCE]
Diatomaceous earth is an FDA-approved food additive and anti-caking agent in many products as well as a pest control agent to help inhibit insect infestation. You've probably eaten diatomaceous earth already, but in such small quantities that it most likely had no beneficial effect.
Because of its structure, diatomaceous earth is also very effective for detoxifying the body. The crystalline cage structure helps pull out toxins as well as gently scrub your digestive tract as it passes through the body. Watch this informative, short video to see how and why diatomaceous earth works as a full body cleanser!
How Do I Take Diatomaceous Earth?
Many people add it to juice or smoothies. It does have a unique taste that is hard to describe, but I don't find it wretchedly unpleasant at all. Like mushrooms. I'd rather eat a big bowl of diatomaceous earth soup than eat mushrooms any day. It is a fine powder that resembles all-purpose flour – and is often called "fossil flour" – but does not dissolve in water. It will remain suspended when stirred into a glass of water for a short amount of time but will eventually settle to the bottom.
Since I don't drink juice much, or make smoothies (kind of hard to do without a blender!), I just add a heaping tablespoon to a small glass and add about five ounces of water. Stir well and chug-a-lug. Then I be sure to drink another 10-20 ounces of water, plus more water throughout the day. While silica is very essential to good health, it is also known for its drying properties (think: those little packets that say DO NOT EAT – SILICA GEL…yeah, breaking the rules, I know…). Staying hydrated is important, no matter what, anyway.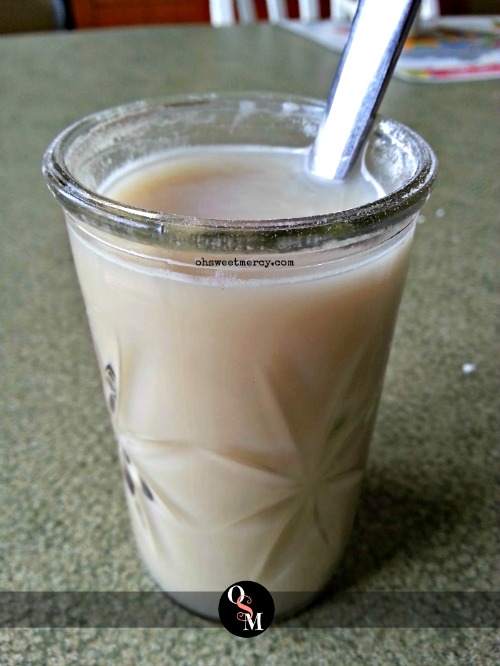 I also like to take my diatomaceous earth first thing in the morning on an empty stomach. I feel like it is better for absorption. I haven't found any commentary regarding that, it is just what seems right to me and so far I have not had any problems.
How Often Should I Take Diatomaceous Earth?
What I've found is that it is reportedly safe to take up to two tablespoons of diatomaceous earth daily. I have not taken more than this, so I can't say if more is harmful or not. I take one tablespoon first thing in the morning and another right before bed, every day…except the few days here and there where I forget.
I have also read that it may be necessary to take a hiatus from time to time, but honestly I have not yet (except the week we were camping for Sukkot, because I forgot to bring it with us). I do notice a difference when I forget to take it, and for that reason I do not wish to stop taking diatomaceous earth, even for a brief amount of time, yet.
It is also worth noting that you may want to ease into the diatomaceous earth regimen. Because of its detoxifying effects, it is possible to experience a "healing" crisis initially – especially if your body is overly toxic. According to this site:
When considering diatomaceous earth as a colon cleanser or detoxifier, one must be aware of the problems that come with getting rid of all the bad stuff in the body. If the body experiences a detoxification too quickly, the body's metabolism will not be able to re-balance as quickly and can cause what is known as a "healing crisis".

During this healing crisis, one may experience various discomforts and inflammation in the body while the immune system is reawakening to fight off toxins and chronic infections that have previously gone unaddressed with a weak immune system. This is a completely normal process that should not be mistaken for other health issues during detoxification.
The first day that I took diatomaceous earth, I did not know that you should "ease" into it. I chugged down a full tablespoon right off the bat that morning. I did not experience the same level of "healing crisis" as I did when I first started drinking water kefir (and was definitely more toxic at that time).
I did however, find myself that afternoon so incredibly tired I could not keep my eyes open. I laid down and took a two hour nap. I almost NEVER do that, unless I'm sick. I subsequently learned that you should ease into it by taking small amounts over a period of several days, and that's what I did. I did not experience any more fatigue or other unpleasant side effects of detoxification.
Will Cleansing with Diatomaceous Earth Result in "Colon Blow"?
If you have ever watched Saturday Night Live, you may remember one of their spoof commercials for a cereal called "Colon Blow." If you haven't, you can watch it right now:
 "Cleansing your colon" may make you think you will be in the bathroom every five minutes. That was not, fortunately, my experience at all. I'm typically a once-a-day person myself, but for the first few days of taking diatomaceous earth I found myself going two or three times. BUT, there was never a time where I had-to-go-right-this-minute.
What I believe happens is that every time diatomaceous earth passes through your colon, it just gently scrubs a little more away. They say the average person has several pounds of fecal matter impacted in the colon. I have to wonder if that is true, since I lost ten pounds not long after starting to take diatomaceous earth (and before I started the Trim Healthy Mama plan)!
How Has My Health Improved With Diatomaceous Earth?
Have I noticed a difference since taking diatomaceous earth daily? Yes, I sure have!
My appetite seems less, especially after increasing to two tablespoons daily
My hair is stronger, fuller, very shiny and grows like crazy. I have cut at least three inches off my hair since I started taking diatomaceous earth and it's still grown well below my shoulders
My nails are stronger
My teeth seem whiter
My mind feels clearer – no more "brain fog"
Combined with Trim Healthy Mama, I have lost 31 pounds this year
I often get compliments about how beautiful  my skin is. I do not wear makeup or use anything other than homemade soap and water to cleanse and occasionally virgin coconut oil if my skin feels dry
I no longer take blood pressure medication
I breathe easier
I just feel good in general, although I do also believe that Trim Healthy Mama has really helped that, I did notice a general improvement in how I felt before starting THM
I don't have fleas (OK this last one is just for fun…Robin!)
What are the Dangers Associated With Diatomaceous Earth?
Diatomaceous earth is highly regarded as a natural pest control option. I can say it worked well to keep my chickens and their area pest-free this summer.
Many people really freak out about diatomaceous earth, even food grade, and say you should never go near it because it's harmful if you inhale it. It should be noted that there is a difference between the amorphous silica in food grade diatomaceous earth, as opposed to crystalline silica, which is known to be harmful to lungs.
Inhalation of crystalline silica is harmful to the lungs, causing silicosis. Amorphous silica is considered to have low toxicity, but prolonged inhalation causes changes to the lungs.[24] Diatomaceous earth is mostly amorphous silica, but contains some crystalline silica, especially in the saltwater forms.[25] In a study of workers, those exposed to natural DE for over 5 years had no significant lung changes, while 40% of those exposed to the calcined form had developed pneumoconiosis.[26]Today's common D.E. formulations are safer to use as they are predominantly made up of amorphous silica and contain little or no crystalline silica.[27] [SOURCE]
Prolonged inhalation seems to be the key factor here. Since I don't snort my diatomaceous earth, I don't feel it is that dangerous to be around. I also use the same common sense approach to flour, corn starch, baking soda and a host of other powdered substances. It's just not healthy to breathe anything but air, really. When mixing my diatomaceous earth with water, a very small puff of DE is released into the air. I don't wear a mask when doing this, but I also don't think that any residual inhalation of that small amount is harmful. That is my own choice, yours may be different. If we were talking crystalline silica, I would absolutely take precautions and/or avoid it.
My personal experience with diatomaceous earth has not  resulted in any harmful side effects. I could not find any conclusive information, other than the wise admonition to not breathe it, to indicate that it is harmful in any way. Obviously, if you have health problems you may want to discuss this option with your doctor. I'm one to make my own decisions regarding my health and don't consult a physician unless I'm very ill or have vital organs falling out…but that's just me.
Where Can I Find Food Grade Diatomaceous Earth?
There are many places to find diatomaceous earth. I buy mine in bulk at a local health food store for $1.99 a pound. An approximately two pound bag will last for months, making it an affordable health supplement choice. You can also order it online from a variety of places.
How Do I Store Diatomaceous Earth?
Keep it tightly sealed in a container, like this one. Label it clearly (so you don't try to bake a cake with it) and don't store it near your flours, especially if you buy in bulk, to avoid confusion. Like many products, keep it out of reach of small children.  I prefer not to store things in plastic containers and use this jar that I found at Goodwill: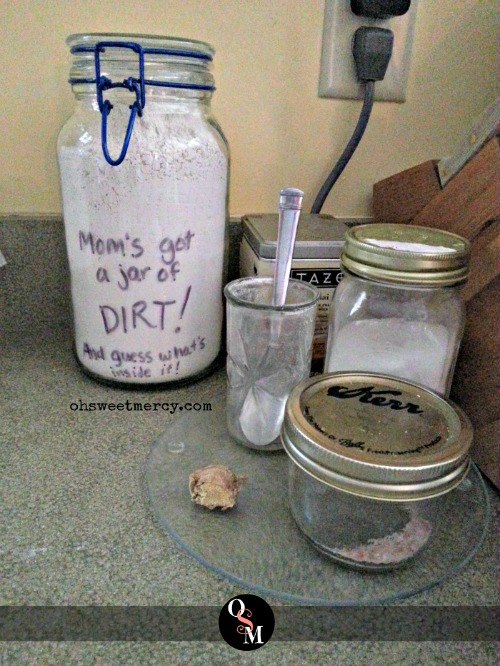 I have found that taking diatomaceous earth is one of the best things I've done for my health. I will, of course, continue to pay attention to what is going on in my body. If at any time I feel that taking diatomaceous earth is not helping, I will quit taking it. But for now, I am very happy with the results and plan to keep on drinking my dirt every day!
Like this post? Pin it to your favorite Pinterest boards!