Like this post and don't want to miss more like it? Be sure to sign up for my newsletter at the end!
Did you resolve to be more green in 2015? 
EcoJarz products are a great way to stick to that resolution. I recently received a lid and straw to review here on the blog AND I'm teaming up with some fellow bloggers to give away an awesome set of EcoJarz products. Keep reading to learn why I love them and how to enter the giveaway.
What are EcoJarz Lids?
EcoJarz lids are, simply, quite genius. They are made of 304L Surgical Stainless Steel and have a silicone gasket. They fit on any jar that either a regular or wide mouth canning jar ring will fit, so you don't have to buy a special glass to use them. If you have empty spaghetti sauce, peanut butter, salsa or just plain old mason canning jars, you can enjoy using the EcoJarz lids. The straw is also made of stainless steel.
They are a healthier alternative to plastic options as they do not contain:
BPA
Phthalates
Chemicals that will leach into your drinks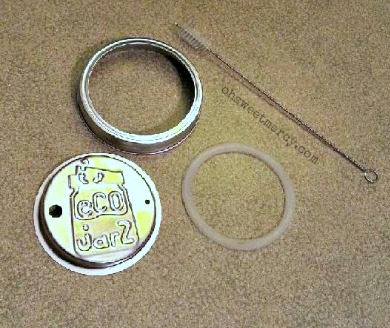 They are  a great way to green your life! No plastic to get tossed into the landfill. EcoJarz products are also responsibly made. You'll also save money not buying plastic straws. EcoJarz also has many more products to make reusing mason jars fun, practical and easy.
EcoJarz products are all dishwasher safe, and the brush to clean the straw is great! If you drink smoothies often, you will appreciate being able to clean the straw well. Right now I'm mainly drinking water, tea and GGMS but some day I hope to have a blender again so I can make smoothies. The straw is wide enough that sipping a smoothie should be no problem.
How Do I Use My EcoJarz Lids and Straw?
The EcoJarz lids and straws are very simple to use. Simply place the lid on the jar and screw it on with the included jar ring. Pop in your straw and sip away. I received the wide-mouth lid to review, but they come in a regular-mouth size as well.
I drink a LOT of GGMS (Good Girl Moonshine – here's my favorite recipe), and while it is super healthy, the ACV in it can be a little hard on the tooth enamel. I happen to like my teeth and want to keep them healthy so sipping my 'shine through a straw is the best way to do that.
My GGMS jar is a repurposed jar of some sort, and it's a regular-mouth size. It's a little too tall for the straw to sit in the jar like it should, but the jar fits in the cup holder in our Jeep and it's a nice size for my smallish hands to hold so I don't mind at all.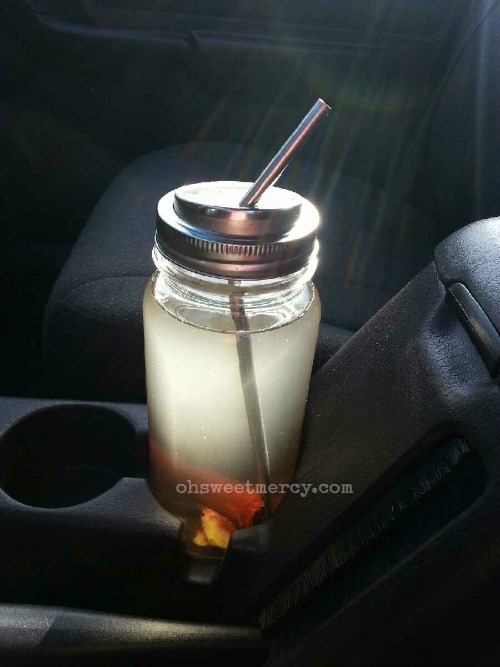 Since I try to drink a gallon of water a day, mason jars with EcoJarz lids make that easier. I fill up four quart jars with water and GGMS (at least one jar is GGMS, sometimes I drink two quarts of this a day) and keep them on the kitchen counter. I can easily see at a glance how much water I have had, or need to drink by the end of the day.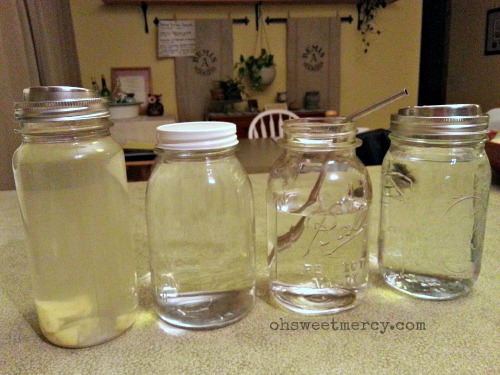 I really love the idea of EcoJarz lids – helping to reduce the amount of trash and exposure to harmful plastics and chemicals by reusing simple glass jars. I have seen plastic lids and straws that are made to go on mason jars. While they also serve the purpose of reducing trash and many claim to be BPA-free, I wouldn't buy them. Stainless steel is more durable and will far outlast any plastic. And, I'm learning, BPA-free plastics don't have BPA, but can contain other harmful chemicals that can leach into your drinks.
Now, are you ready to win a set of these awesome EcoJarz products? Keep reading and enter the giveaway below…
Would you like to win a set of EcoJarz for your Green 2015?
The ladies from the From The Farm Blog Hop have teamed together, partnered with EcoJarz to bring you this giveaway. Start your New Year Off in a Greener Way!
Jar Lover's Gift Set Giveaway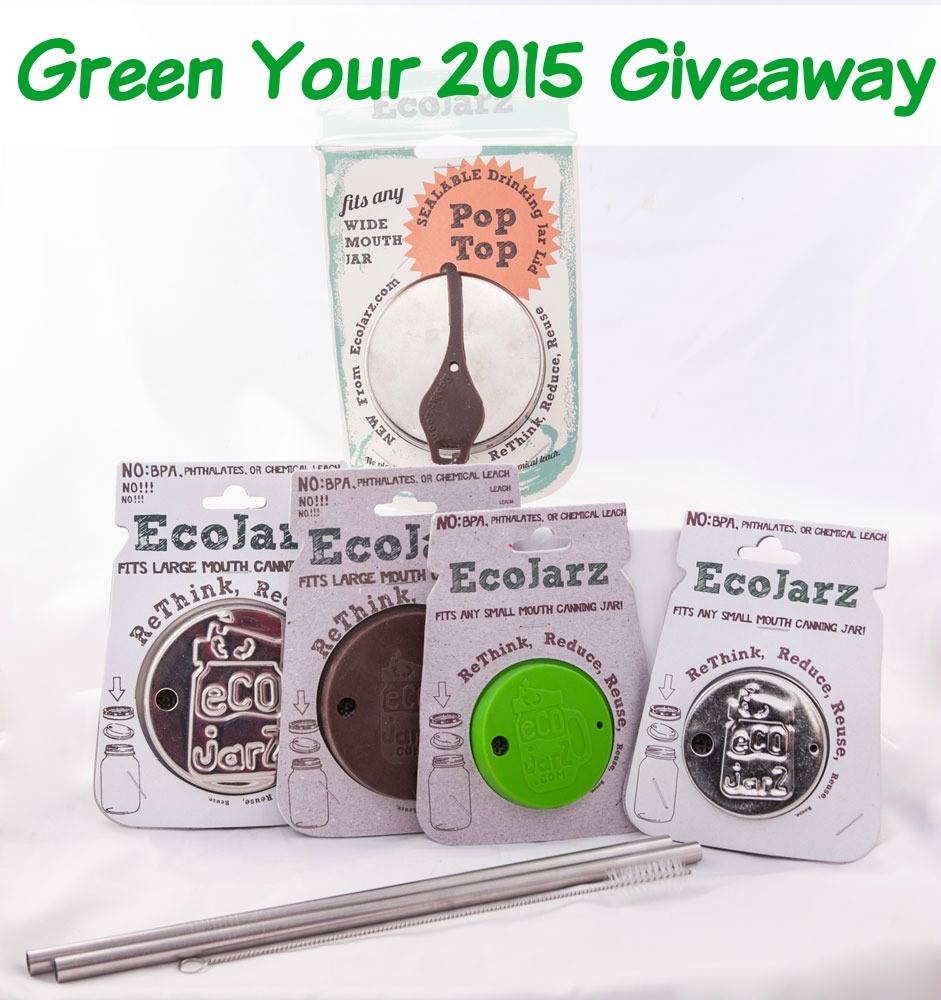 What better way to green your drink that to use a glass mason jar? Most of us already have the laying around, so let's put the to daily use! This jar lover's gift set will give you enough jar tops to turn your favorite jars into your favorite drink holders! Comes with 4 Classic Lids (a wide-mouth coffee lid, small-mouth green lid, and a wide and small mouth stainless steel lid), a PopTop, 2 Smoothie Straws, and a Straw Cleaner. To get your chance, enter below
Winners Notification
Winners will be notified by email at the end of the giveaway, and will have 48 hours to respond, if a winner does not respond within the 48 hour time frame they will be disqualified and a new winner will be chosen, the new winner will have 48 hours to respond or be disqualified for a new choice, until we get a proper winning response.
Enter Giveaway