Like this post and don't want to miss more like it? Be sure to sign up for my newsletter at the end!

If you make your own laundry detergent, you might also want to save money on fabric softener. I love making my own laundry detergent, but when it comes to homemade fabric softener, I've been less than impressed. I also figure if I'm saving a ton of money on detergent, I can 'splurge' a little on the softy scenty stuff. I love clothes and sheets that smell delicious…I don't think I could voluntarily give up fabric softener that makes my clothes smell terrific!
Are Homemade Fabric Softener Recipes Really Saving You Money?
You've probably seen recipes for homemade fabric softener that use hair conditioner, water, and vinegar. I tried that once, but I wasn't that thrilled about it. While shopping one day, I decided to calculate the cost per ounce for the hair conditioner vs. a name-brand fabric softener.
I was shocked to discover it was actually cheaper per ounce for the name-brand fabric softener than for the bottle of cheap hair conditioner I had bought at a discount dented-can place! Then I had the bright idea of using regular fabric softener instead of hair conditioner in the homemade fabric softener recipe. The result was surprisingly pleasing.
Keep Your Favorite Brand of Fabric Softener! Stretch it Out!
My favorite fabric softener in the world is Suavitel in the yellow bottle. I bought a 150 oz (1.17 gallon) bottle for $7.47 at WalMart on July 16, 2009. As of this posting (May 30, 2010), I have used the last of the straight fabric softener to make another batch of the homemade. I probably have half a batch left. So, that $8 bottle of fabric softener has lasted over 10 months!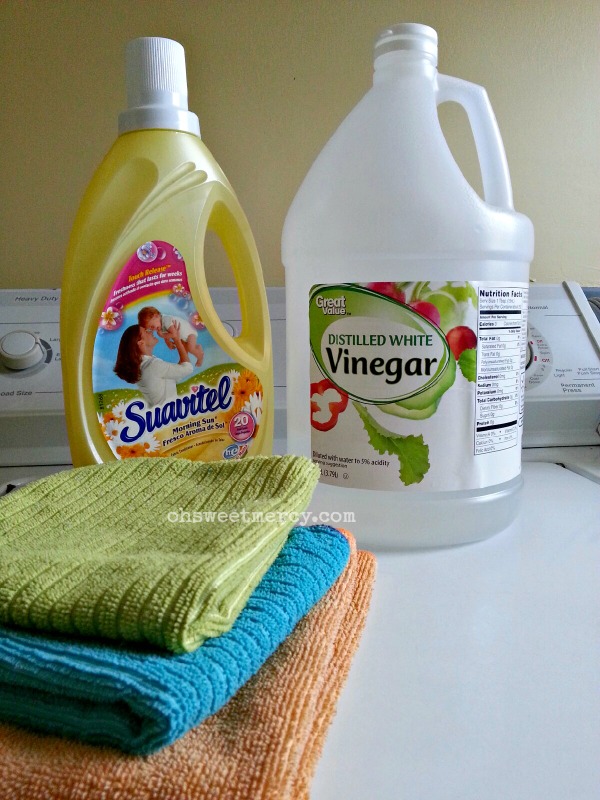 How well does it work, you ask? I think it's terrific! It still softens the clothes and leaves enough of that delicious, sunshiney yellowy scent behind that I can smell it on the clothes, even several days after washing. Plus it's diluted enough that it doesn't gunk up the fabric softener dispenser in my washer. I love it!
How to Make Your Favorite Fabric Softener Last Longer
ingredients
3 cups distilled white vinegar
2 cups fabric softener (or hair conditioner – one regular size bottle is almost 16 oz)
6 cups water
method
Mix together, but don't shake or it gets all foamy. Store in an airtight container or old fabric softener bottle(s). I took an old vinegar bottle and marked the sides for how much of each ingredient so I wouldn't have to measure it each time. Now, since the Big Bottle of Fabric Softener was finally emptied, I keep it in there after I mix it. We got a new washer with a dispenser so it's easier to measure that way. I just use a capful per load, more or less depending on my mood or the load size.
A Way to Wean Yourself From Chemicals, Too
Since I originally wrote this post, I have been more aware of the chemicals in our lives. My son is very sensitive to many chemicals in foods. I suspect he is also sensitive to the chemicals in our environment.
I may not be able to do anything about the farmer across the street spraying his crops, but I can reduce or eliminate our exposure to chemicals in our immediate environment (our home) by choosing not to use commercial products and opting for natural alternatives instead.
Just a few years ago I thought I could never give up fabric softener, but now I hardly ever use it. I've found that the softy, yellowy, sunshiny scent I loved so much is now an affront to my olfactory nerve! It's just too much.
If you're "not there yet" but want to be, using this recipe can help you "wean" yourself from commercial products. Over time, you may find that you prefer your clothes to just smell naturally clean to the artificial "clean" smell you've been used to. I now use dryer balls in my dryer and find vinegar to be a very good laundry helper – both for softening and odor removal.
Don't Forget to Pin This Easy Fabric Softener Recipe to Your Favorite Frugal Tips Board!