We had a Super Bowl party at our house this year, but I just came for the food.
Well, ok, time with family was part of it too. But I really don't see the point or attraction of football. I can think of about nine million other things to do besides watch football. Like eat yummy foods. That's always way more fun than organized sports for me.
If eating was an organized sport, I'd be its Number One Fan. I'd paint my body in team colors and have one of those big foam hands…holding a fork, probably. I would be all "Go Team!" and follow the event like it was the most important thing to ever happen in all of history.
So what does this have to do with Low Carb Baked Cheesy Beef and Pepper Dip? It was my contribution to the evening's smorgasbord of delights. And, I might add, it was a basket…or goal…or touchdown…or whatever it is you yell when your team gets a point. It was good!
When you're trying to make choices that fit with your healthy eating plan, making something yourself is the best bet.
Sure, I could have bought some pre-made concoction instead of making it myself. It would have been one less thing to do in preparation for welcoming guests into my home. While babysitting my two year old grandson. Who was in fine form that day. But he's sooooo cute! And he did help me cut the peppers for the dip. A most important job!
He calls me "Amma" and I heart him! He's a great little sous chef.
This creamy, baked cheesy beef and pepper dip is super easy to make, even between your sous chef pulling things out of the cabinets and the loony lab puppy doing her crazy antics.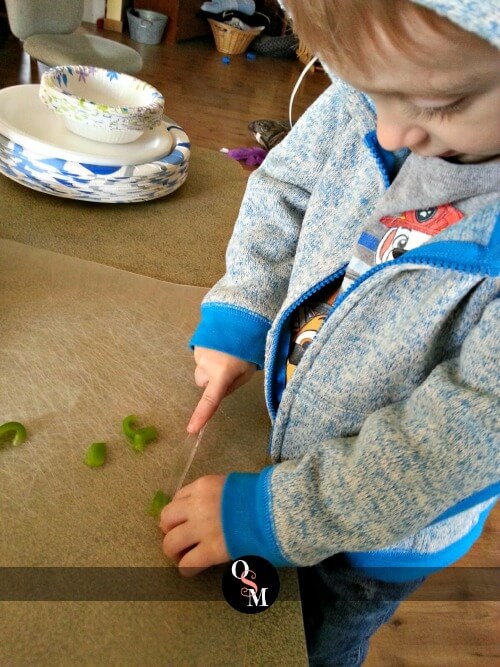 If I'd really been on the ball, I would have mixed this up the night before and got it all ready to bake. I did not, but it was still super easy to make.
Just mix all the stuff together, put it in a baking dish and bake it until it's hot, bubbly and golden brown on top. You can do that even when chaos is reigning all around you. Trust me on that one! But if you do think ahead, mix it up and throw it in the fridge until it's time to bake it.
Trim Healthy Mamas, this one is a glorious S.
You can eat this with "crackers" made from low carb tortillas or lavash breads (like Joseph's Lavash, a plan-approved item)…just brush the lavash with olive oil, sprinkle with kosher salt or other seasonings and bake for about five minutes at 400 degrees. They burn quickly though so watch carefully. And be mindful that one serving is HALF a lavash bread, and will fill your carb allowance for an S meal because it is considered a "frankenfood."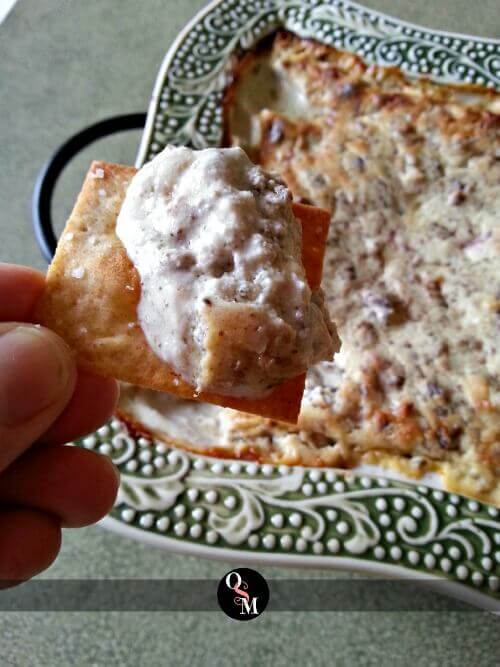 While those crackers will taste wonderful, a better way to eat this dip is to use veggie dippers, like fresh bell pepper strips, green onions and celery, or homemade flax or other practically zero carb homemade crackers. You'll find some great recipes in the new Trim Healthy Mama cookbook!
You know what else you can eat this yummy Cheesy Beef and Pepper Dip with? A spoon. No carbs to worry about there, let me tell you.
The Philly Cheesesteak Dip that wasn't
When I originally came up with this recipe, my mind was thinking "Philly Cheesesteak Dip." After sitting down to craft this post and doing a bit of research, I realized that this is NOT a Philly Cheesesteak dip!
Not being from Philly, I had no idea what a genuine Philly Cheesesteak really was…so I read about authentic Philly Cheesesteaks. Turns out that they are traditionally made with either Cheez Wiz (which I can NOT endorse in any way, shape or form!), American or Provolone cheeses and come either with or without fried onions.
My Baked Cheesy Beef and Pepper Dip had none of those things, plus the addition of bell peppers. The last thing I want to do is upset lovers of authentic Philly Cheesesteaks, so I gave this recipe a name more befitting it's character. Although something like OH SWEET MERCY THIS IS GOOD DIP is accurate…
I'm still thinking about Philly Cheesesteak Dip though, so I'll be working the magic in the Oh Sweet Mercy kitchen to see what I can develop.
Because I love cheesy. Probably way too much. Don't you?
Let's make some Low Carb Baked Cheesy Beef and Pepper Dip!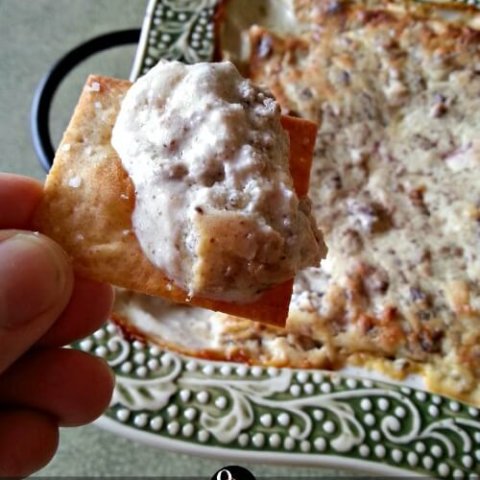 Low Carb Baked Cheesy Beef and Pepper Dip
Yield: approx 5 cups
Prep Time: 10 minutes
Cook Time: 30 minutes
Total Time: 40 minutes
This rich, creamy, Baked Cheesy Beef and Pepper Dip is perfect for parties. Trim Healthy Mamas, use low carb dippers or even better NO carb dippers like non starchy veggies (or a spoon, those are gluten free, too!). This dip is so good, no one will know it's "diet" food!
Ingredients
2 8-oz packages Neufchatel cheese (1/3 less fat cream cheese)
1 16-oz sour cream
1 tsp salt
1/2 tsp black pepper
1/2 c shredded parmesan cheese
2 oz shredded monterrey jack cheese
1 c chopped red onion
1 green bell pepper, seeded and chopped
3 cups shredded beef roast, cooked shaved beef, or ground beef. (or 1 (24-oz) can of beef, drained and excess fat removed)
Instructions
Preheat oven to 350 degrees
In a bowl, mix cream cheese and sour cream until well combined
Add salt, pepper and cheeses and mix until combined
Stir in onion, bell pepper and beef
Put into a baking dish and bake at 350 for 30 minutes or until golden brown and bubbly throughout
Recommended Products
As an Amazon Associate and member of other affiliate programs, I earn from qualifying purchases.
Nutrition Information:
Yield: 20
Serving Size: 1/4 cup
Amount Per Serving:
Calories: 228
Total Fat: 17g
Saturated Fat: 9g
Trans Fat: 0g
Unsaturated Fat: 6g
Cholesterol: 70mg
Sodium: 272mg
Carbohydrates: 4g
Fiber: 0g
Sugar: 2g
Protein: 14g
Nutrition information is approximate and based on the best knowledge available at the time of recipe publication. Your results may vary due to differences in ingredients.
If you like this Low Carb Baked Cheesy Beef and Pepper Dip, pin to your favorite Pinterest board right here: