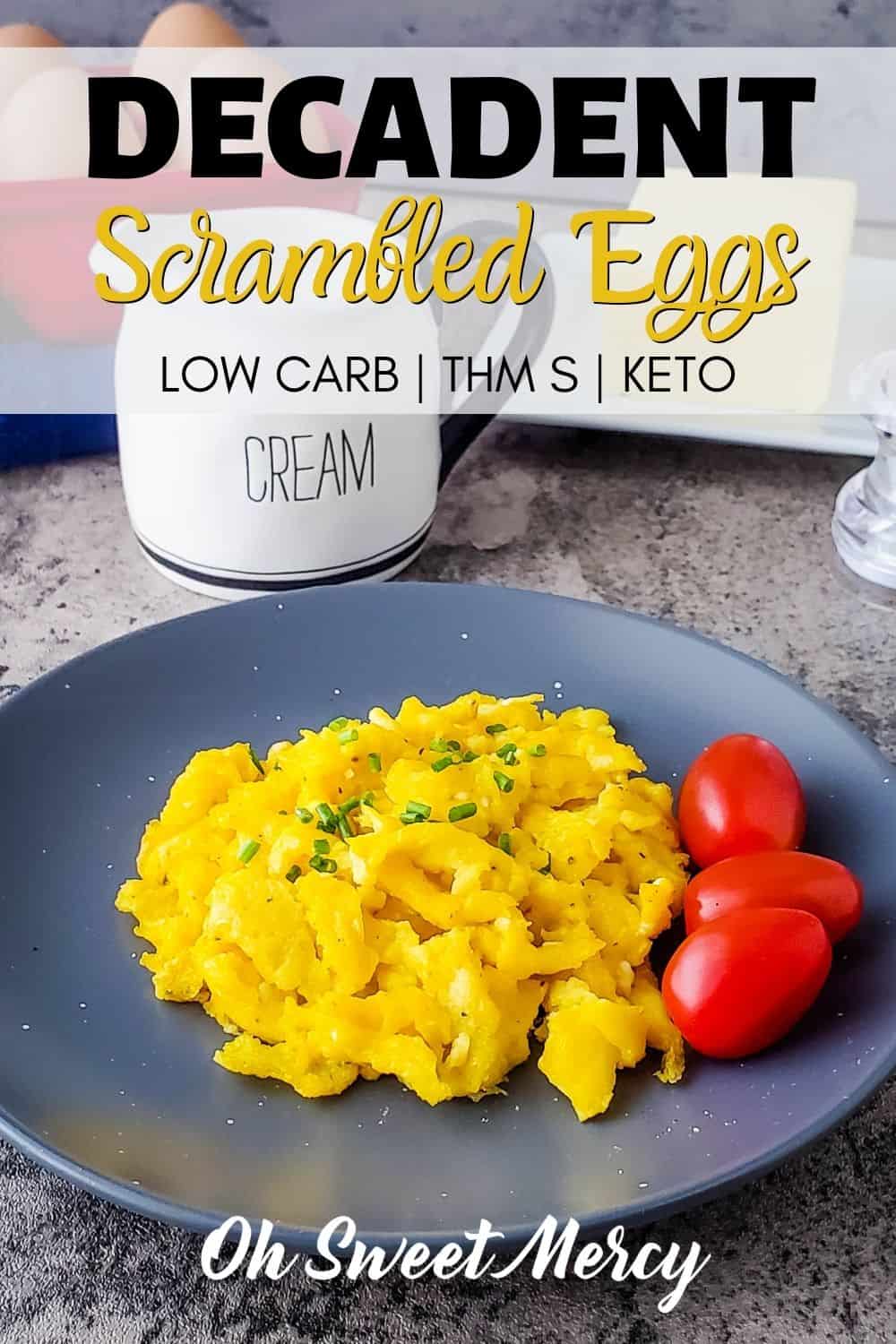 Jumping to the recipe? Please come back and read when you have the time, I include helpful info in my posts like how to fit my recipes into your THM meal plan! Get notified of new posts by signing up for my newsletter at the end of the page. Thanks for stopping by!
---
Scrambled eggs are such a simple dish but these aren't your average eggs. They're infused with rich Irish butter and cream and make a decadent, low carb breakfast treat for the Trim Healthy Mama (or anyone, really).
---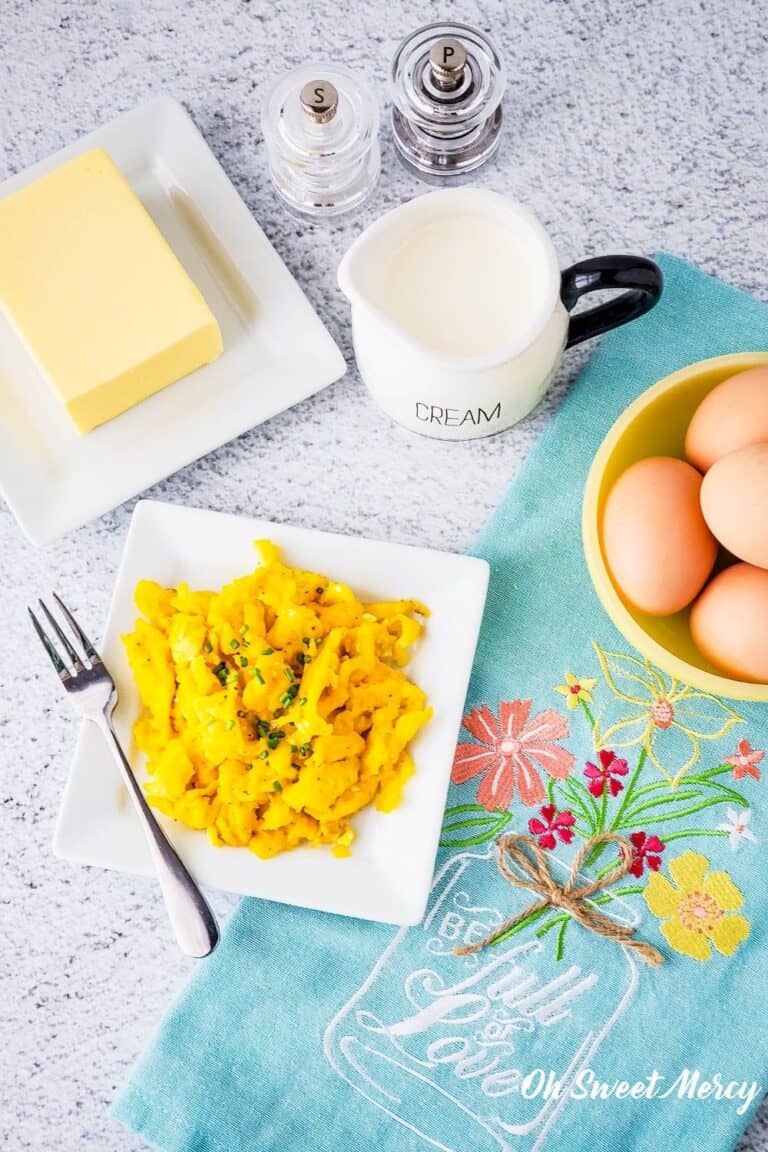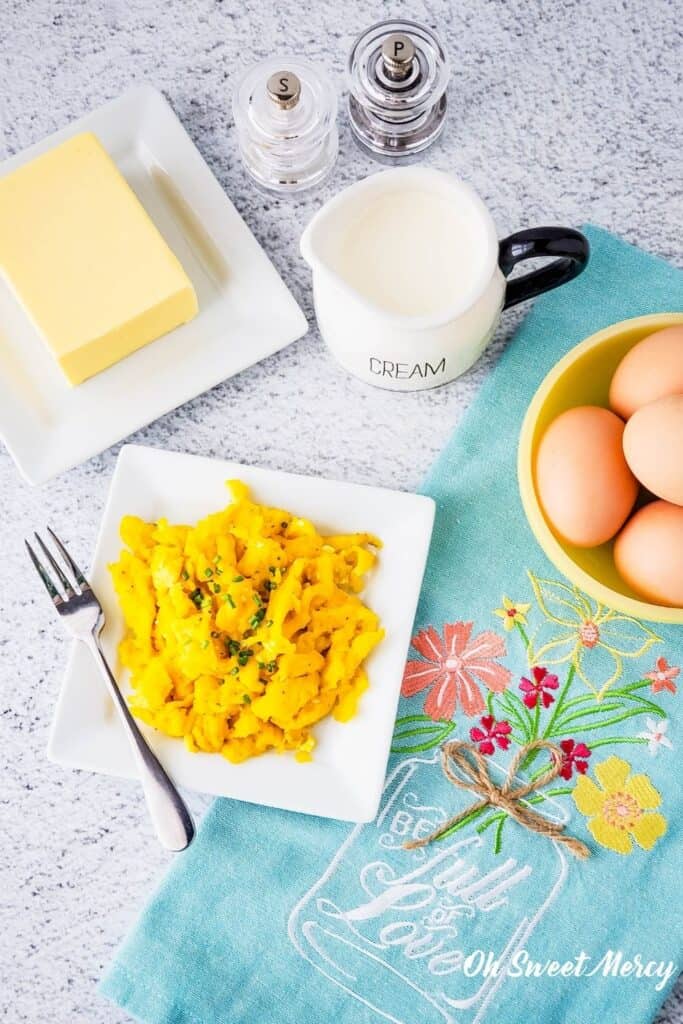 This is more of a technique than a recipe, really.
But, don't deny yourself some indulgence with these rich eggs now and then. Unless you're on a strictly keto diet, or doing an "egg fast," you probably don't want to make your morning eggs this way every day.
Well, you might want to, but just because we can doesn't mean we should, right?
Right.
The terrific thing about making low carb eggs this way? Unless someone at your table has a dairy allergy, everyone will love them.
And, while I've never tried them using dairy free butter or cream, I can't see why it wouldn't work if you did have a dairy allergy to consider.
No one will suspect this is a diet recipe, either!
What Do I Need For This Recipe?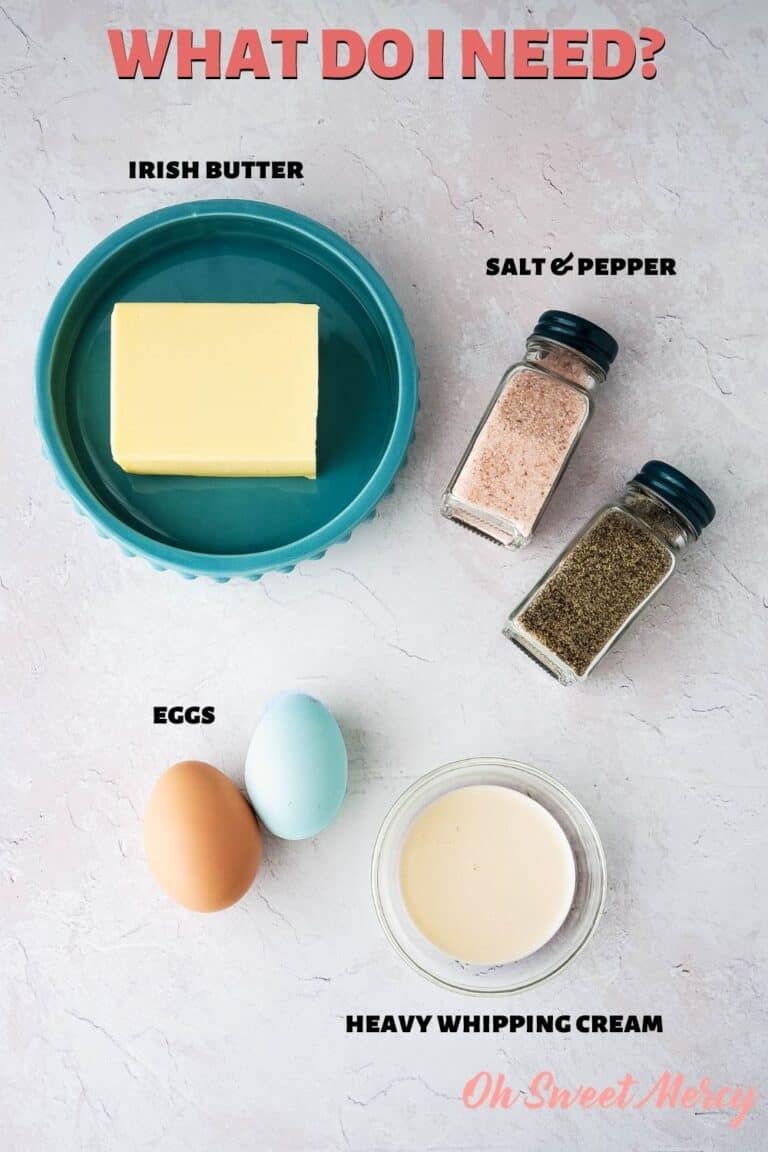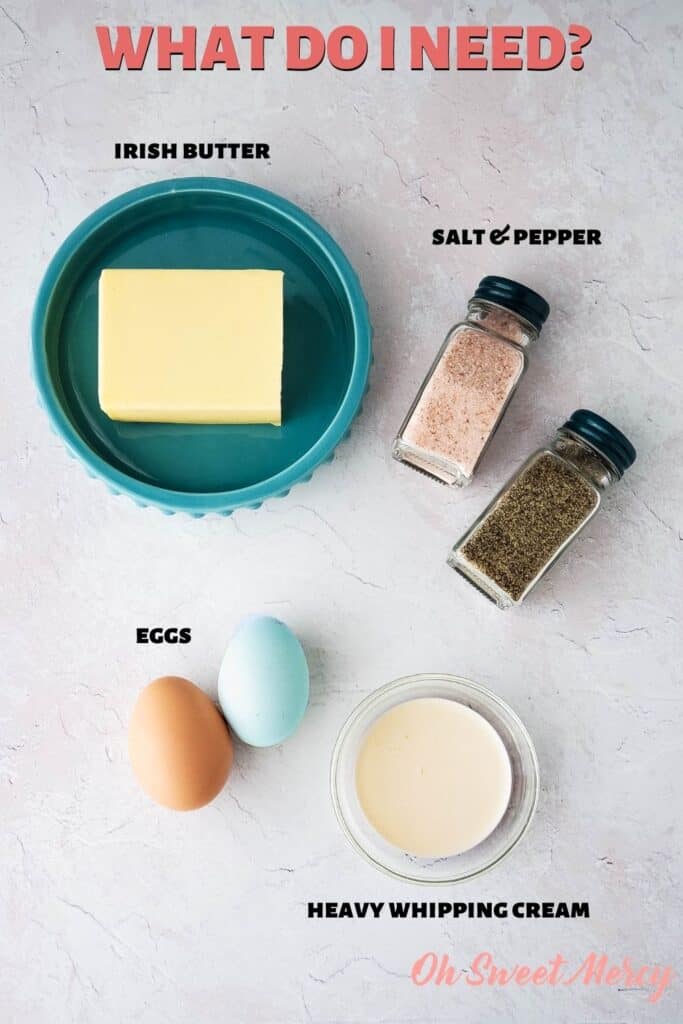 It couldn't be more simple, or quick and easy, than this:
Eggs
Butter (preferrably Kerry Gold or other Irish-style, grassfed butter)
Heavy cream
Salt and pepper
That's it! You might wonder how such a simple list of ingredients elevates this humble easy breakfast to decadently amazing, but trust me here.
How To Make Decadent Scrambled Eggs.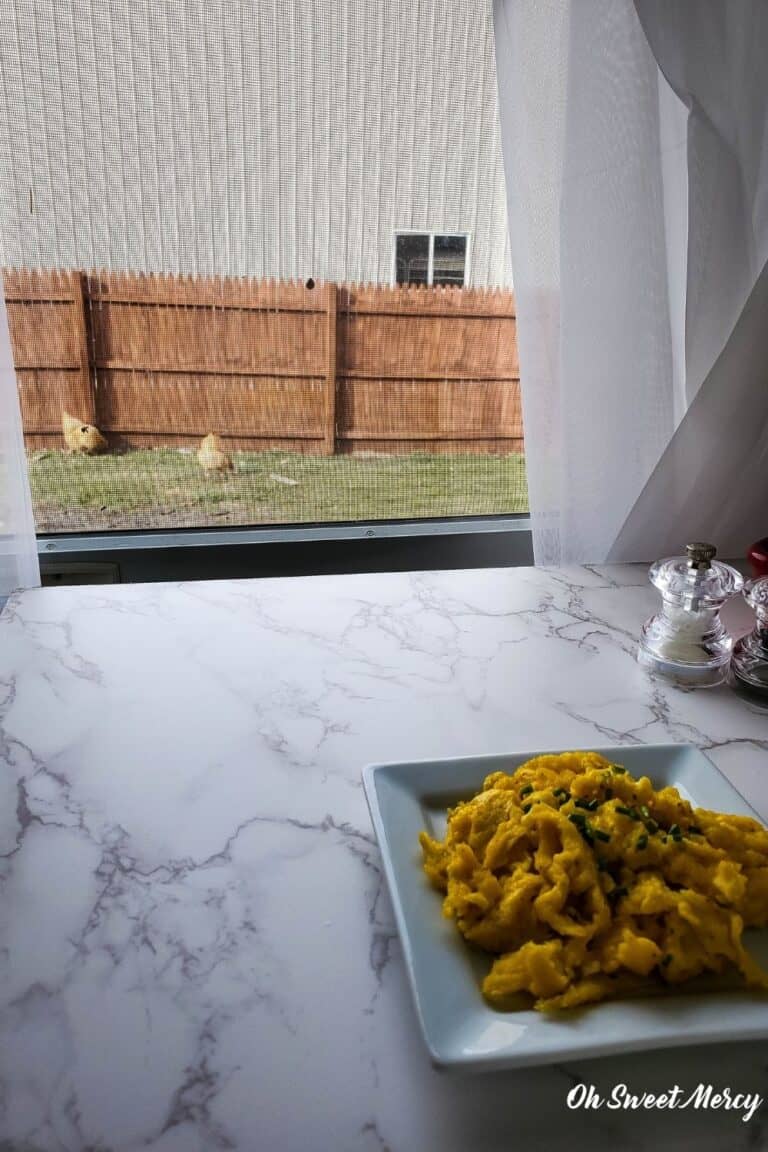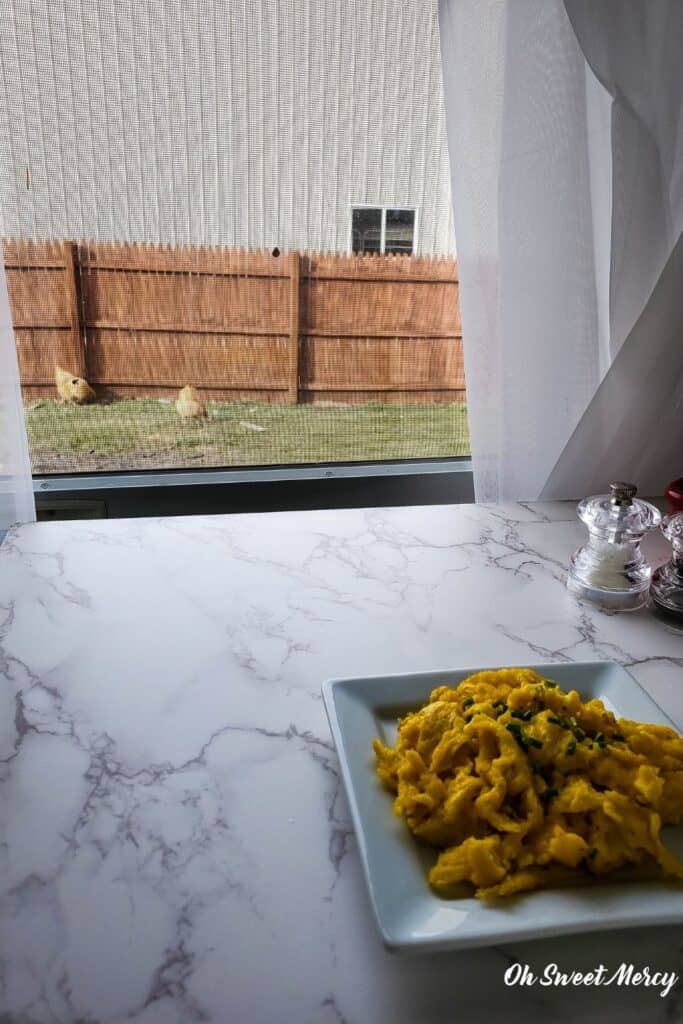 The eggs in the photos in this post are very yellow. I did not Photoshop or edit them to be more yellow! They're from my fat, happy hens who free range in my back yard.
Eggs, in all forms, taste best in a cast iron frying pan – at least to me, anyway. Feel free to use any pan you like cooking in, of course.
You'll want to heat your cast iron pan first, and while you're doing that whisk your eggs until they're nice and foamy.
When your pan is hot, add the butter and allow it to melt.
Then, stir in the cream and continue stirring until it starts to bubble a bit.
Next, pour the eggs into the hot butter and cream. Let the beaten eggs start to firm up, then gently push the cooked eggs to the center of the pan. The uncooked eggs will run off.
Keep doing this until they're as done as you like.
These keto scrambled eggs remind me somewhat of how my step-grandma made them when I was very young. I never asked her how she made them, perhaps this is how.
How To Fit This Recipe Into Your THM Meal Plans This Week.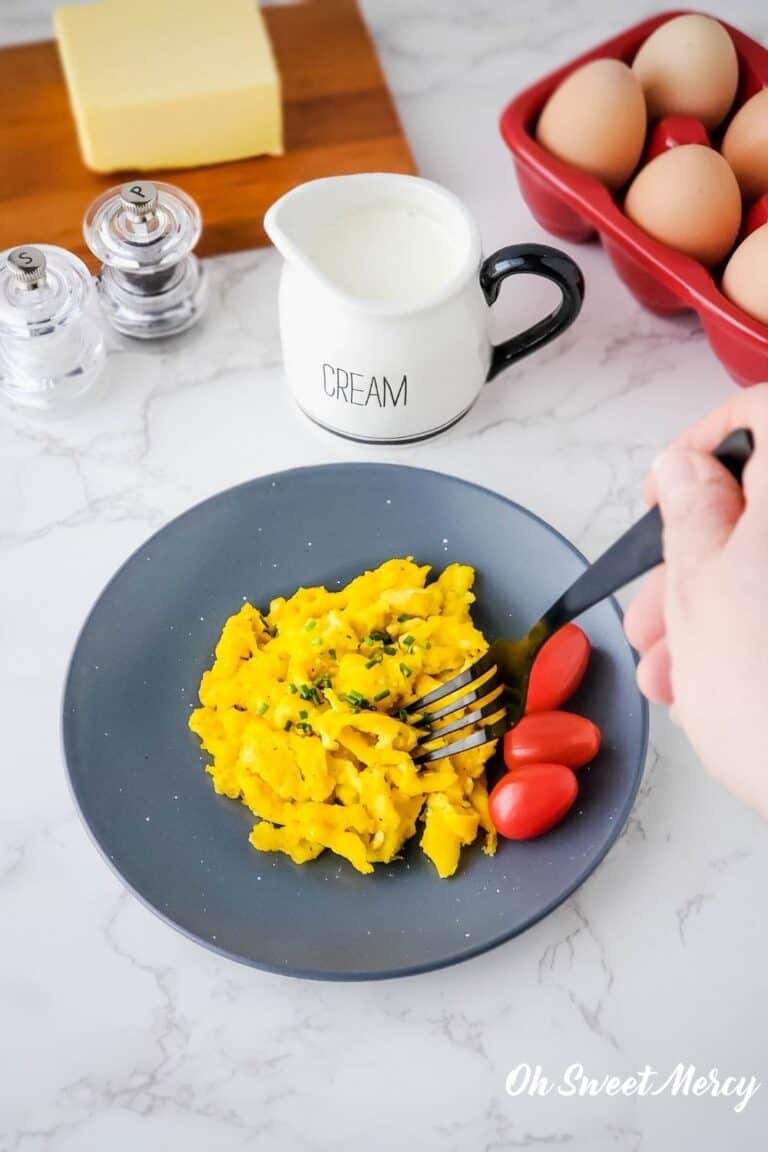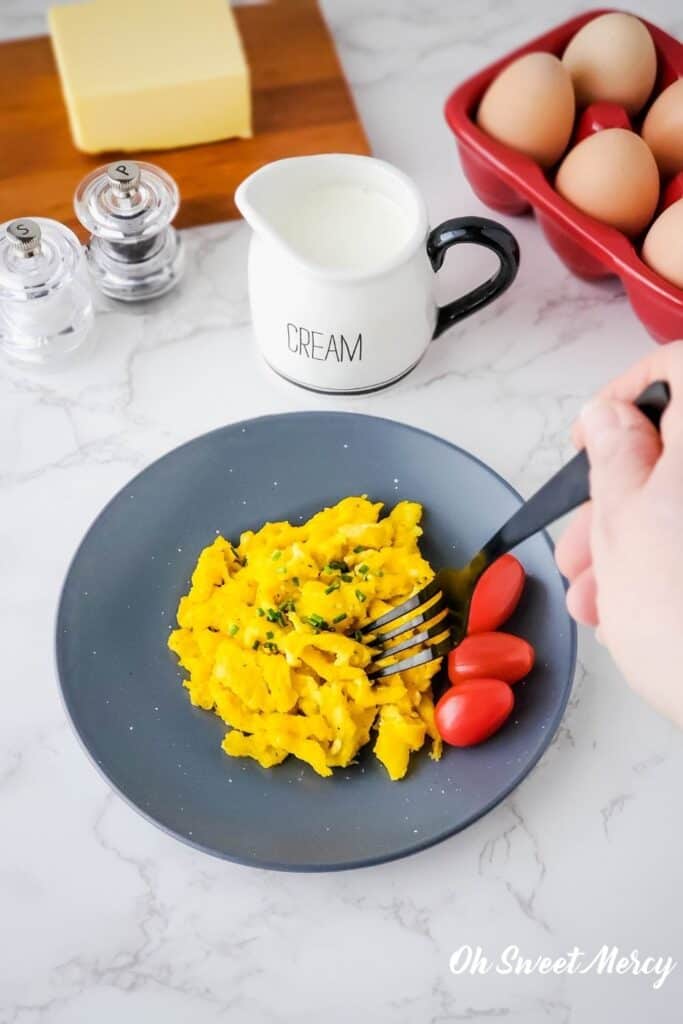 When it comes to easy breakfast recipes, this one doesn't get much easier.
Since we're using whole eggs, butter, and heavy whipping cream, we most definitely have a THM S meal here.
Keep your carb count (that's total carbs minus net carbs) to 10 grams or less.
Enjoy these low carb scrambled eggs…
With fresh berries for a pop of sweetness.
Wrapped in a low carb tortilla, Wonder Wraps (page 204 in the first THM cookbook), Slimming Sandwich Wraps, or Low Carb Masa Wraps.
Topped with hot sauce or kimchi.
With sliced or cherry tomatoes and other fresh, non-starchy veggies.
With a slice of sprouted wheat toast (turns your meal into a THM S Helper, or 2 slices for a Crossover).
This is also a perfect keto breakfast option! I love that so many keto friendly recipes also suit the THM lifestyle.
On Trim Healthy Mama, we just want to balance out these heavy, luxurious, and decadent fats with lighter meals. THM E and FP meals and snacks are lower in fats and a terrific way to balance out meals like this throughout your week.
Have you ever tried making eggs this way? I hope you give it a whirl and think they're as amazing as I do.
More Egg Recipes For You.
Need more egg recipes? I've got these tasty recipes for you to try:
Sister's Simple Savory Egg Salad
Creamy Low Carb Sriracha Egg Salad
How To Make An Egg White Omelette That Looks Like The Real Thing
PIN IT!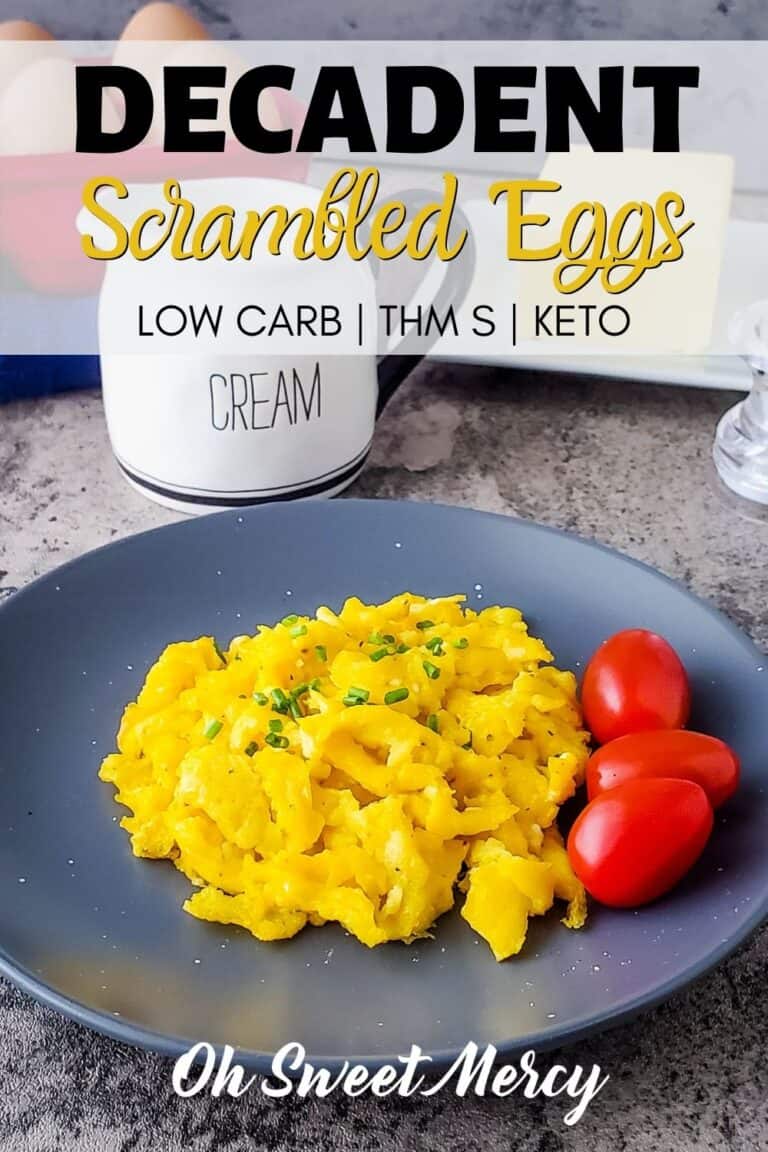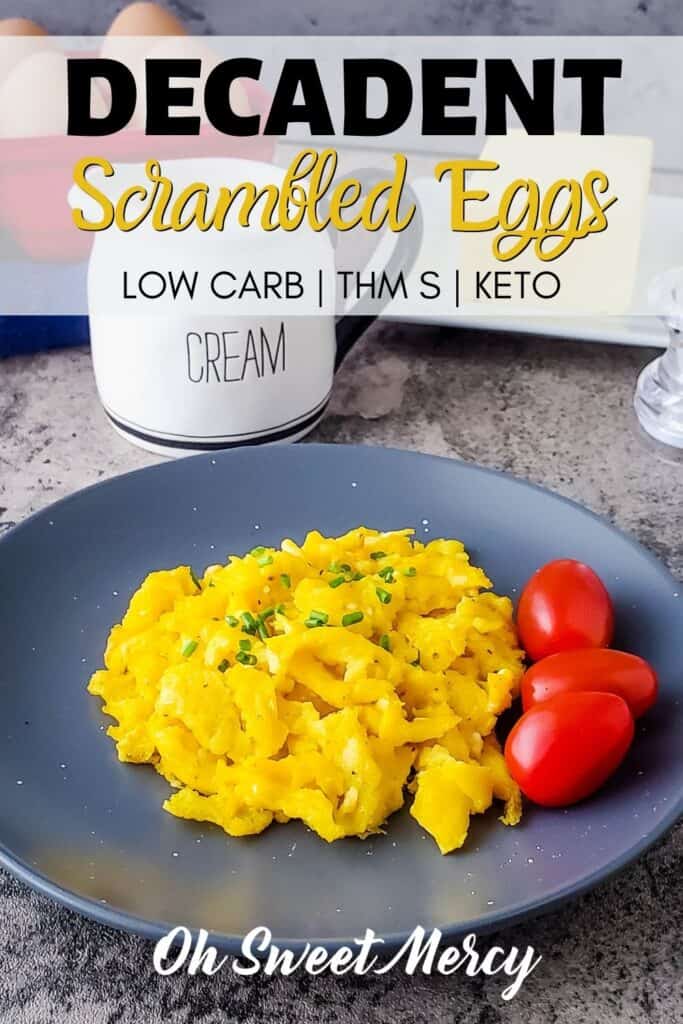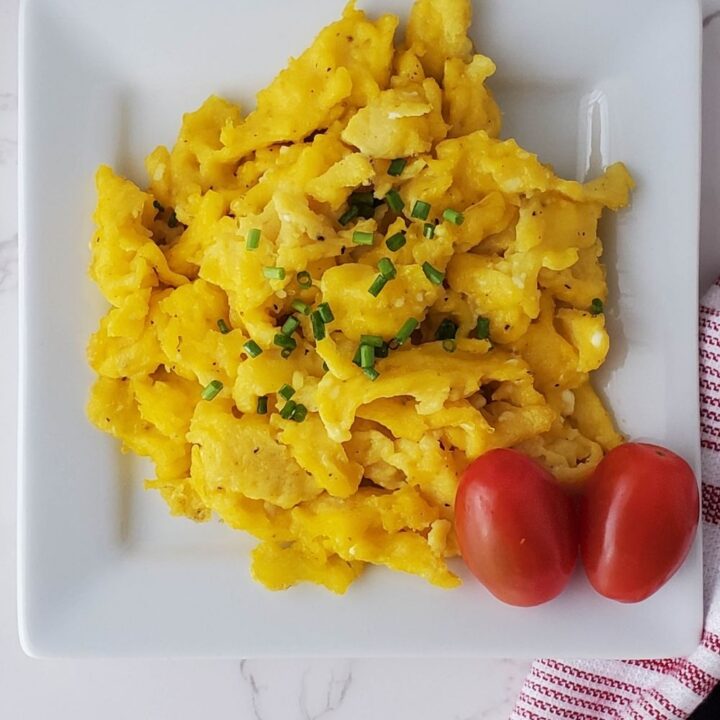 Decadent Scrambled Eggs | THM S, Low Carb
Yield: 1 serving
Prep Time: 5 minutes
Cook Time: 5 minutes
Total Time: 10 minutes
Rich, decadent scrambled eggs are perfect or THM S or keto breakfasts. Super easy to make, too!
Ingredients
2 eggs
2 teaspoons butter
2 teaspoons heavy whipping cream
Salt and pepper to taste
Instructions
Heat a cast iron skillet or other pan over medium heat.
While pan is heating, whisk eggs until foamy.
Add butter to pan to melt.
When butter is melted, add cream and stir until heated and beginning to bubble.
Pour beaten eggs into pan and let them firm up a bit.
Push the cooked eggs into the center of the pan, allowing the uncooked eggs to run off.
Continue doing this until the eggs are as cooked as you prefer.
Recommended Products
As an Amazon Associate and member of other affiliate programs, I earn from qualifying purchases.
Nutrition Information:
Yield: 1
Serving Size: 1
Amount Per Serving:
Calories: 245
Total Fat: 21g
Saturated Fat: 10g
Trans Fat: 0g
Unsaturated Fat: 9g
Cholesterol: 404mg
Sodium: 200mg
Carbohydrates: 1g
Fiber: 0g
Sugar: 1g
Protein: 13g
Nutrition information is approximate and based on the best knowledge available at the time of recipe publication. Your results may vary due to differences in ingredients. You can make your own calculations if this recipe does not include nutrition info by using an online calculator such as https://recipes.sparkpeople.com/recipe-calculator.asp