The photos in this post right now are from my pre-THM days. The shredded beef taco filling is an S, just be sure to use on-plan options for tortillas and you're good to go. I'll be updating this post soon!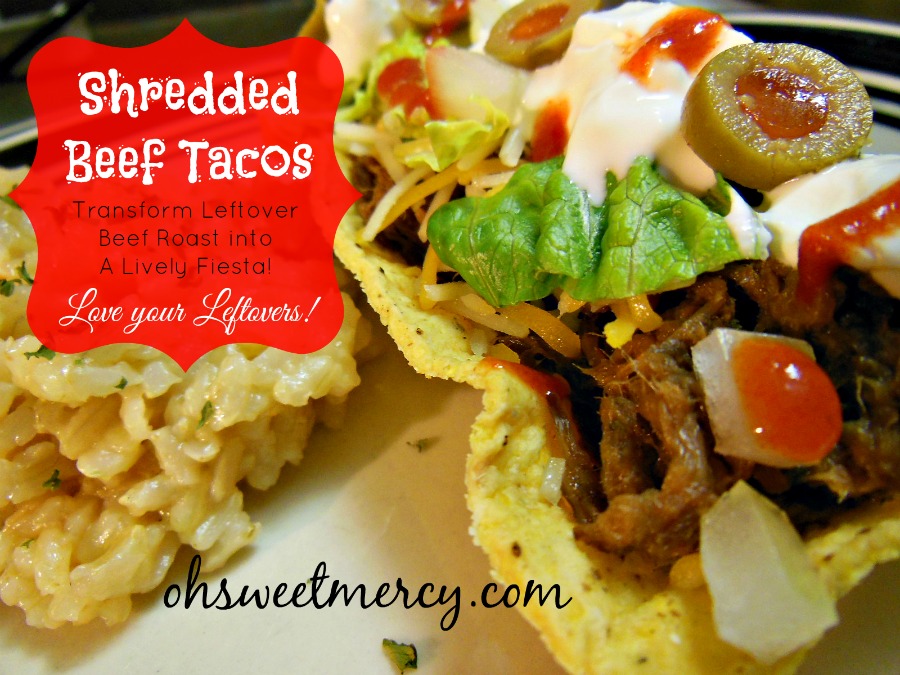 Some people hate leftovers (my daughter won't touch them unless it's mashed potatoes or rice), some love them. Either way, when you end up with leftovers, you need a plan to use them up or more than likely you'll end up throwing them out. Not only is it a waste of food and money, but it's also a waste of your time. I'd never considered that before, but it hit me today that throwing out leftovers that you spent time cooking wastes your precious time. You could have made less, saving time in preparation and cooking. I don't know about you, but I consider time to be a very precious commodity. It's something you can never get back once it's gone.
Unless you're a Time Lord. Which I'm not. But boy, wouldn't that be cool!
This past week, I purchased a lovely arm roast at our local butcher shop with the intention of eating half of it for a meal and using half for another meal. That leftover beef roast became Shredded Beef Tacos to go with Crock Pot Soaked Brown Rice, Mexican style. I'm not exactly sure if it's authentic Mexican style, but years ago when I was working and my daughter was little, my babysitter made rice that she just absolutely loved. The babysitter was married to a Mexican man and made a lot of Mexican foods she learned to cook from her mother-in-law. It's easy and delicious!
Since I wanted something simple, and the beef roast was already so flavorful, I didn't want to monkey with it too much. the butcher shop seasoned it for me when I purchased it, plus I cooked it in coffee and soy sauce – which sounds weird but oh is it divine! I was really wanting to use my Homemade Taco Seasoning for these Shredded Beef Tacos, but then I discovered I was out of chili powder. I did a little searching, then whipped up my own chili powder…who knew? I'll be sharing that recipe with you for the next Make it Myself Monday so be sure to check back.
Here's how I made these delicious Shredded Beef Tacos:
Put my leftover beef roast in a sauce pan with the juices left from cooking in my crock pot. As it warmed up, I shredded it with a fork.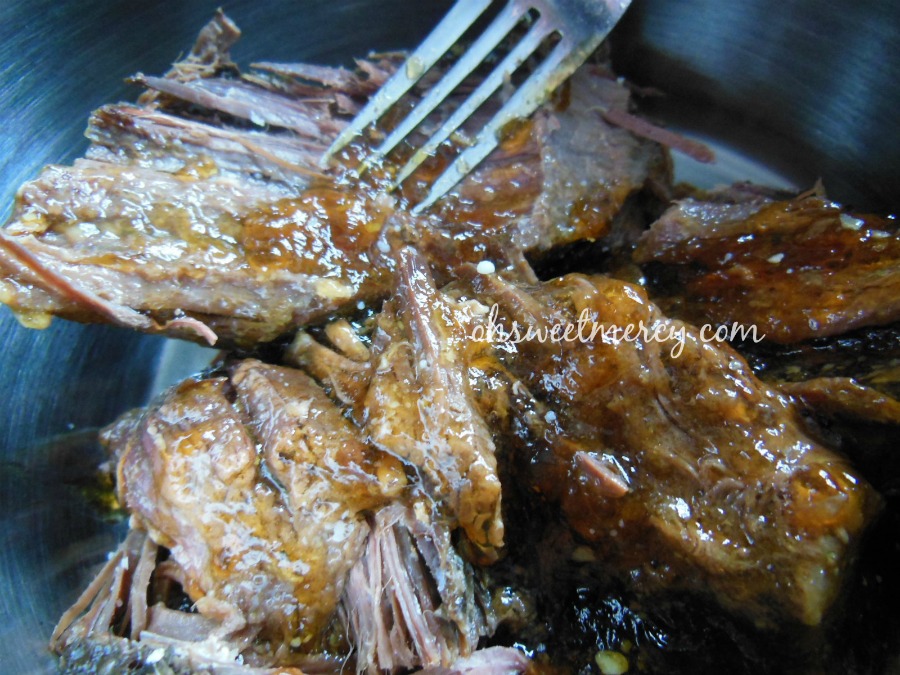 Then, I added two ingredients…Homemade Chili Powder and Chunky Mild Salsa. That's it. It was so tasty! Not spicy, so if you like spicy you can add your favorite heat.
I let it simmer for a while while I was waiting for the Crock Pot Soaked Brown Rice, Mexican Style, to finish. That was super easy to make! Just add a bit of ketchup to the crock pot and stir well before putting the lid on and letting it cook.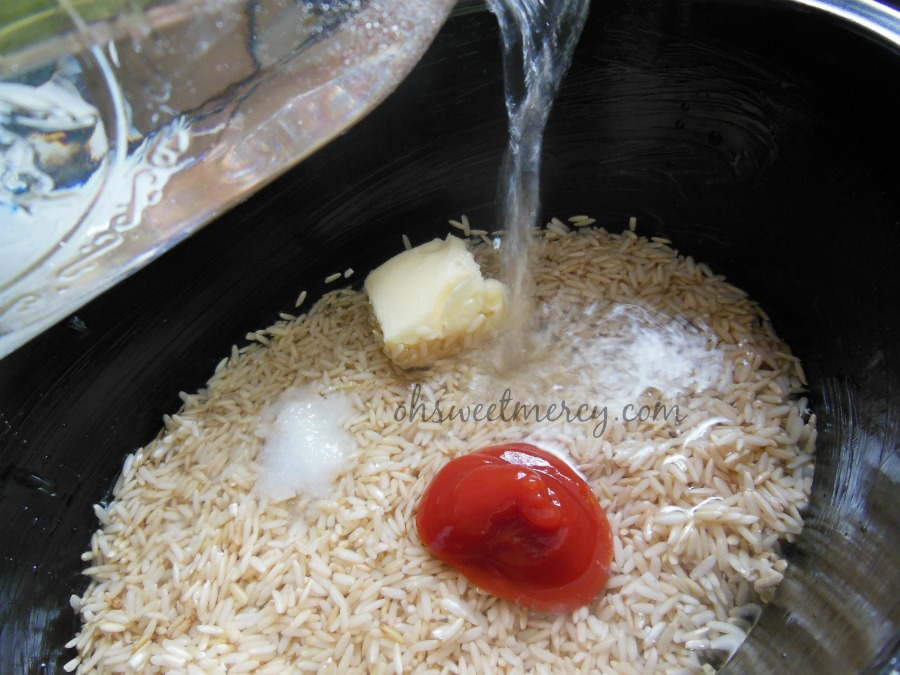 Now, you probably wonder why that is "Mexican Style." I don't know how authentic it is, I just know that a lady I knew who was married to a Mexican man used to make this rice that my daughter just LOVED. I believe she said she used a chicken flavored bouillon with tomato added to it. I don't use bouillon anymore, so I just add a squirt of ketchup (normally I would use a nourishing chicken stock instead of water, but I don't have any at the moment). My daughter loves it, so that's good enough for me! Be sure to check out how to make Crock Pot Soaked Brown Rice, it's really easy.
We top our tacos with cheese, lettuce, sour cream, onions, tomatoes and green peppers most of the time. In the dead of winter like it is now, I don't bother with buying tomatoes, and I didn't have any peppers so it was kind of bare bones toppings this time. Regardless, they were very tasty! Even if I did "ruin" mine by putting green olives on them.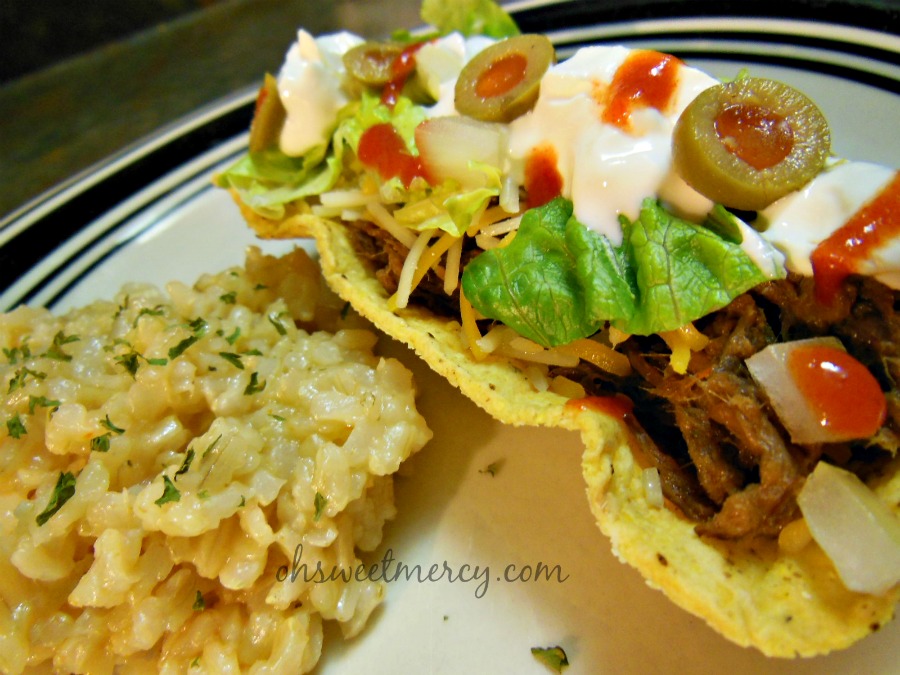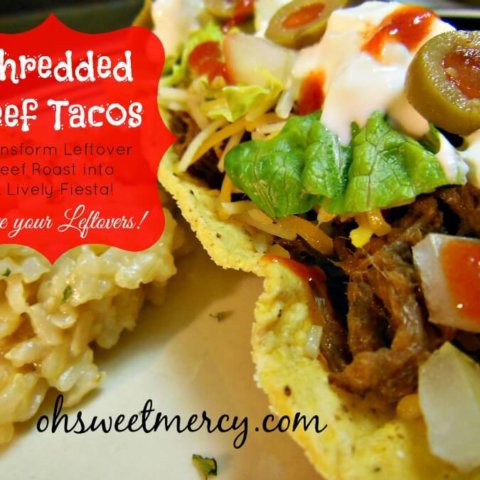 Shredded Beef Tacos | THM S, Low Carb
Yield: 6-8
Prep Time: 5 minutes
Cook Time: 20 minutes
Total Time: 25 minutes
Super easy, four ingredient Shredded Beef Tacos recipe using leftover beef roast
Ingredients
1-11/2 pound leftover beef roast
3/4-1 c beef broth (save from cooking roast)
11/2 tsp chili powder (or more to taste)
1/4 cu chunky salsa
taco shells (use on-plan options for THM)
favorite taco toppings
Instructions
In a medium sauce pan, warm the beef roast and broth, shredding the meat as it warms
Add chili powder and salsa
Simmer until most of the liquid has cooked out
Put in taco shells and top as desired
Notes
I used an arm roast that had been seasoned from the butcher shop where I purchased it. If your roast is not very seasoned, you may need to add salt and pepper and maybe garlic or onion powder to taste.
Nutrition Information:
Amount Per Serving:
Calories: 0
Cholesterol: 0mg
Sodium: 0mg
Carbohydrates: 0g
Fiber: 0g
Sugar: 0g
Protein: 0g
Using up your leftovers will save you money and time, as long as you remember to use them! I use a handy chart on my refrigerator to help me remember what I've put into the Bermuda Triangle refrigerator. FREE Download: Leftover Tracker!
Do you do leftovers at your house?