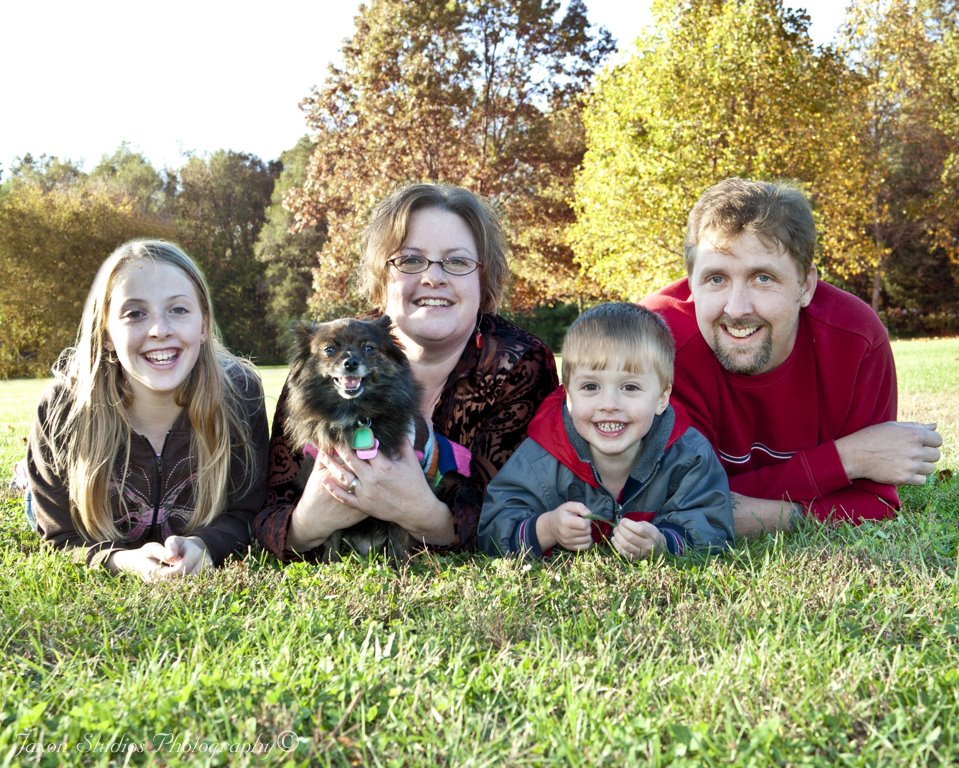 This photo is very out of date! I'll update with a new one soon.
My family is…my family.
We are not your typical American family by choice. We all have a few warts and nuts, by genetics and choices made. But I wouldn't trade any one of them for all the money in the universe. Each one has enriched my life in so many ways and I would not be who I am today without their presence in my life. I am truly thankful for my family!
I am married to my high school sweetheart.
We did have 13-yearyear separation before we figured out we should have just stayed together in the first place, though. He is my best friend and I love being his wife. We don't always see eye-to-eye on things, but I have learned that submission is not being a doormat or never being heard, it is about leaving the responsibility for decisions up to him. He has wisely learned to value my opinion and input, and overall we make a pretty good team.
The oldest of our children is my 26 year old stepson.
He is married to a terrific woman, and they recently added our second grandson to their little family! Big sister is still little, though, she's not quite three yet. It's been such a joy to watch him be a daddy, and I appreciate the great influence his wife is on him. And their kiddos are just so sweet! Their daughter is a spunky little thing, and their son is such a little cuddle bug.
Next is my 24 year old stepson, a Marine!
He was stationed in California…a zillion miles away, unfortunately. He's no longer enlisted, but the Southwest stole his heart and he's still a zillion miles away. But we're very proud of him! He's a daredevil at heart, a drummer and very intelligent. Thanks to the USMC, he has gotten to travel to some pretty amazing places. I don't think he'll ever "settle down," but if that's what makes him happy, that's ok with me.
Then we have my 22 year old stepson.
He is an avid hunter and loves being a "redneck". He and his lovely wife blessed us with our first grandchild – a boy, of course! That's how they roll in this family. He's a hard working provider for his family as well as a volunteer firefighter. She is a nurse and a very good one at that. Their little guy is turning 4 already. He's smart, spunky, and handsome!
The only girl in the mix is Sister, our 16 year old daughter.
My husband's family is full of boys. So when the ultrasound tech told me we were having a girl, I refused to believe it until I saw for myself. Yep, she's a girl. She has a sweet spirit and continually amazes me with her mature and profound insights into life and the world in which we live. She loves to read, draw and has recently started writing stories for fun. She also crochets and knits like a boss. Yahweh used her to turn me back to Him, and I don't know what I'd do without her.
The baby of the family is 9 year old Mister.
Mister is a seriously spirited little guy. He wears me out, mostly, but is a never-ending source of hugs and kisses. He loves people the way Yeshua does – passionately and without reserve. He loves science, machines, weather and taking stuff apart. And he rarely stops moving. He's learning to play the guitar and I'm so excited to see what Yahweh has placed in him develop and grow.
Our little dog Chloe, too.
She is a half Pomeranian, half Yorkie mix and is an amazingly good dog! Sometimes she barks too much and leaves hairballs on the floor, but she doesn't eat much and is a nice cuddly lap-warmer when you want to curl up on the couch and read a book. She's also gotten pretty gray, especially in the last year because of…
The big, black, Lab — Taylor Maid Too.
Since hubby is also an avid waterfowl hunter, we had to get a duck dog. We got her as a pup and she instantly stole our hearts. She got way bigger than we'd hoped she would and she's earned her nickname, Turd. She can be so aggravating, but then she looks at you with that face. Those eyes. And you just can't stay mad at her, no matter how many rolls of toilet paper she shreds.