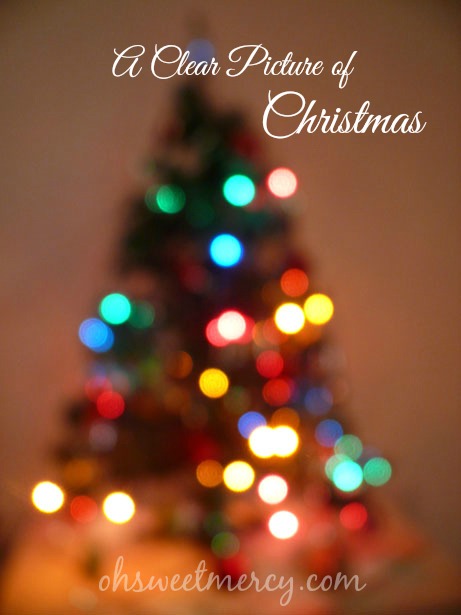 It's been quiet on the blog in the last week or so. I've been busy with homemaking and homeschooling duties, but also have seemed to have contracted a terrible case of writer's block. This week, I realized it's because I need to write a post that I don't want to write. So, I'm going to write it anyway and get it done…
We're not doing Christmas anymore. Or Easter.
There, I said it. Do I sense a collective gasp? Do I perceive the flabbergasted cries of "what sacrilege is this?" That is what I expect, perhaps I will be surprised.
Now, before you lambaste me for eschewing the most important days on the Christian calendar I am going to say that our decision not to celebrate these holidays does not imply that you should follow suit. That is entirely a personal conviction. It is between you and the Father. I'm also not going to beat you over the head with a Bible, or a Torah scroll, and I sure hope I'm not wrong in expecting the same courtesy from you.
Recenty, at a new Bible study that I've started attending twice a month, one of the ladies shared about reading a blog post by someone who wrote about why they didn't celebrate halloween. It wasn't a preachy, condemning post but merely listed their family's reasons for not participating.
Light bulb.
That's what I need to do with this post. Share the reasons our family has decided not to participate in these traditional holidays and leave it at that. You can choose to disagree if you like. You can also choose to study the matter for yourself, as I did.
We grew up with Christmas, and I have fond memories of making Christmas cookies with my mom, fun family gatherings at grandma's with the cousins, delicious feasts at which could be found my Aunt Kathy's famous cranberry salad in the white and blue covered dish. Some years, she'd bring something else and I'd always be disappointed. Waking up early and opening presents. It was fun, and the highlight of the year for a kid.
When I was pregnant with our daughter, we had decided we weren't going to "do Christmas" because we had learned about the history behind the tradition. And yet, somehow we ended up doing it anyway. I have fond memories of our kids opening presents and the sad, Charlie Brown Christmas tree that we had for years that looked much better once we got it decorated.
I remember trying to establish new traditions with our blended family. Like watching A Christmas Story, one of our family favorites. Hiding money in a jar of candy and having the kids guess how much candy was in there with the closest guesser getting the candy and the money. Making some very architecturally challenged gingerbread houses…from scratch…because I was determined to make them the old fashioned way. Honestly, if you're going to make gingerbread houses, do yourself a favor and just use graham crackers. Or buy a kit. Just trust me on that one!
I had always questioned why we celebrated the birth of Jesus on December 25, when nobody really knew when he was born. And why does the Father not give us when He was born, if it's something He wants us to celebrate? Later on I learned that He was most likely born during the Feast of Tabernacles, or Sukkot, which is in late September/early October depending on the year. That made the December date even more puzzling. Another one of those things that just didn't add up for me. As I began to question everything about my faith I also began to realize how blindly we follow traditions. We're not taught history or cultural context in church and miss out on so much understanding. I earnestly sought to discover the truth and what I found was that truth and tradition don't always agree.
You may have heard that Christmas has its roots in paganism, and reason that since you are not a pagan, or you are doing it to celebrate the Savior's birth, it doesn't matter. If you're comfortable with that, then that's fine for you. We are just not comfortable with that any more. God clearly tells us in His word how He wants to be worshiped and what days He wants us to celebrate. He says He does not want to be worshiped in the manner that pagans worship their gods, and we are not to adopt the customs and traditions of the pagans.
If you research the history of Christmas, you will find that it was never a Christian holiday. It was, basically, an assimilation of pagan customs and traditions into the Church in order to appease people that demanded it and encourage pagans to convert to Christianity. After studying and praying, we just no longer believe that you can slap a "Christian" name on something that God (the same God that we love to remind others never changes, is the same yesterday, today and forever) says He hates and forbids and that makes it OK. It just doesn't make sense to us, regardless of what the Christian community says it now means. What it means to us is not the issue – the issue is what does it mean to the Father?
Some Christians talk about how we have redeemed Christmas. On the surface it sure sounds good. After all, we are redeemed by believing in Christ. But, what does redeemed actually mean? When something is redeemed, it is recovered or bought back – something that was lost is found again. That implies that the thing had to have been in someone's possession in order for it to be lost. Christmas didn't belong to Christianity, it is a pre-Christian holiday, and its pagan practices were condemned by God. In fact, it was, at one time, illegal in this country!
And, how do we redeem anything? It is Christ's atoning death on the cross that redeems. It strikes me as a rather arrogant statement to say that we redeem something. That we somehow now have the authority, and audacity, to declare what God has always considered profane to now be holy. God is the one who decides what is holy. And holy means set apart – it can't be the same as what the rest of the world does or it would not be holy.
This short video does an excellent job of following the history and pagan customs from which Christmas began. Passion For Truth Ministries also has a great teaching called Truth or Tradition (or try this link to Truth or Tradition on YouTube), as well as a terrific two-part teaching by 119 Ministries called Sunburned. Both of these teachings also reveal the pagan roots of Easter.
I would like to encourage you to watch these. You will find that when you begin to peel back the tradition, you start to get a clearer picture of Christmas. The question then is, are you OK with incorporating a holiday that began this way into your life? If so, then God bless you and have a Merry Christmas. However, if you feel the slightest bit uncomfortable, I encourage you to do what I did – pray and study. Ask the Father what matters most – what the holiday means to us or what it means to Him. Then be obedient to what He tells you.
Last year, we decided right before Christmas that we would no longer celebrate it, or Easter, anymore. Since it was literally a few days before Christmas, and all the family celebrations, we decided to just not "do Christmas" at home and fill our families in later on. That went better than expected, at the time. Now the holiday is just around the corner and we're catching some flack from some family members. Being a pretty much "all or nothing" kind of person, I am ready to just be done with it. However, I'm also a part of a family with firmly established traditions so it's just not that simple.
We now find ourselves in a position where we want to do what we believe honors the Father while, at the same time, not hurting our families. I had asked my daughter what she thought about what we should do. Her answer? "Mom, the Bible says we're supposed to put God above all else, even our families." Out of the mouth of babes…
**"A Clear Picture of Christmas" Photo Source**