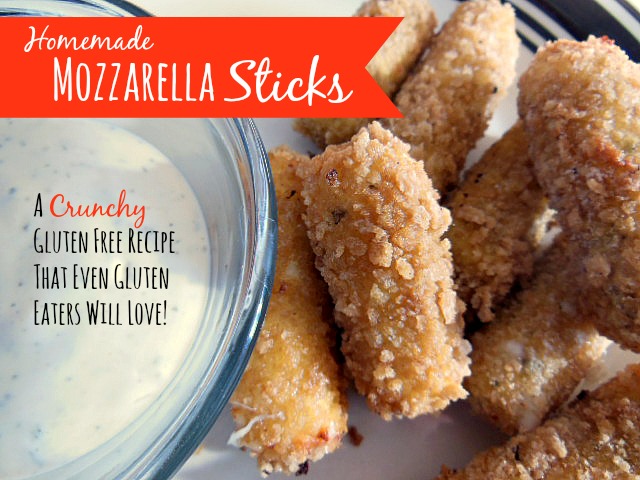 Mozzarella sticks are one of those foods that are usually bought already prepared – either at a restaurant or in the freezer section at the grocery store. I've made them before with mixed results – the breading usually falls off and the cheese disintegrates and you're left with a gloppy mess.
Add in a gluten intolerance and you then resign yourself to never eating those crispy, deep fried cheesy gems ever again. Unless you don't mind paying a small fortune for store bought gluten free versions. I mind very much. Sigh.
But wait! It turns out that a slight technique adjustment will yield darn near perfect homemade mozzarella cheese sticks! Using the same method that I use for chicken strips and nuggets, I discovered that you can actually keep the breading on the cheese stick and the cheese all melty, but contained, inside a crispy golden crust.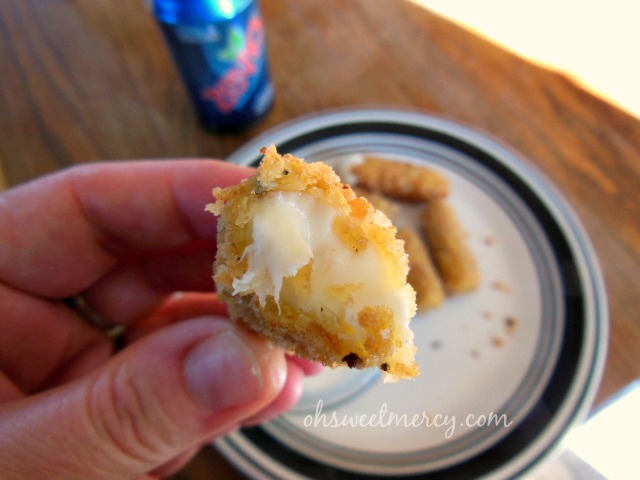 Hanukkah is a holiday in which foods are traditionally fried in oil, to commemorate the miracle of one day's worth of oil lasting for eight days during the rededication of the temple. For Hanukkah this year, I was determined to make homemade mozzarella cheese sticks. I miss them! It's been over a year since I've had one.
The trick to keeping breading on homemade mozzarella cheese sticks, as well as chicken strips, nuggets, or whatever you're breading and deep frying, is very simple. First, completely coat the cheese stick in potato starch. You can use corn starch or flour – but a starch really works best. I'm trying to reduce corn in our diet and have switched to using potato starch. Then dip the coated cheese stick in beaten egg, then back in the potato starch, again in the egg and then roll the cheese stick in bread crumbs. Be sure to bread all your cheese sticks before frying, because it only takes a minute or so to fry them. Getting distracted while breading more cheese sticks can lead to disaster.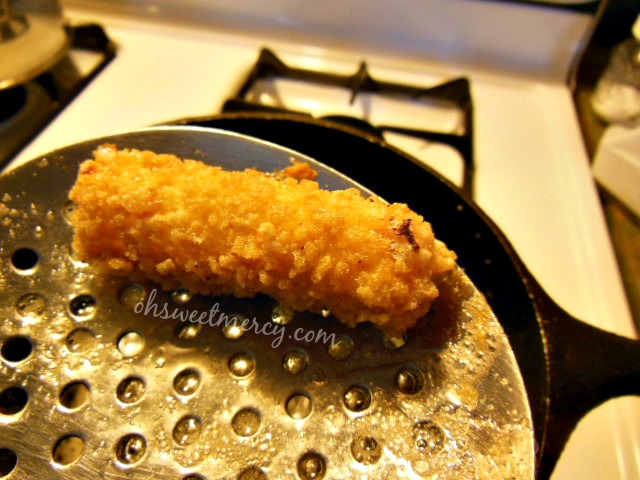 I was excited to discover that these cheese sticks can be frozen after breading and fried with no problems, although I would suggest that you let them thaw a bit first. Or, lower the temp of the oil slightly and fry a bit longer. Otherwise, the cheese is not completely melty in the middle without running the risk of burning the outside.
Serve them with marinara sauce, or my favorite – Kale Ranch Dip. These homemade mozzarella cheese sticks are crunchy on the outside and melty cheesy on the inside. Best of all, they don't cost a fortune! If you've priced gluten free mozzarella sticks at the store lately, you might have passed them up because of the sticker shock. Now when the craving for some crunchy melty cheese hits, you can make them yourself without busting your grocery budget!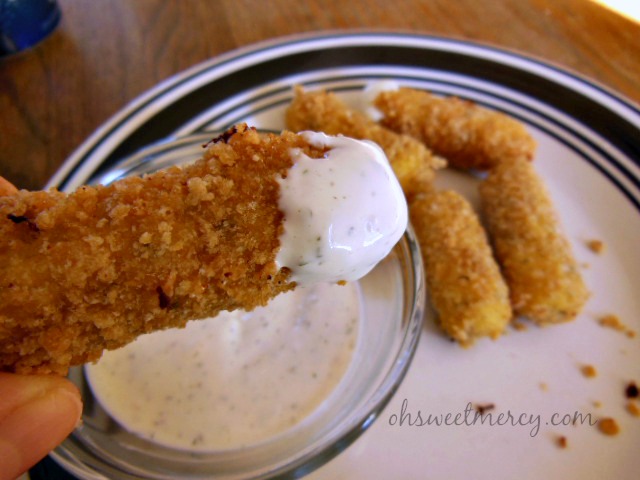 Be sure to have your Quality Control Technician on hand to test the SQ and SL (Stretch Quality and Stretch Length)! Utah State University, in 2002, actually developed a stretch test for cheese. We love science here, so it's certainly appropriate for Mister to take part in this experiment…
Deep frying in oil is something we don't do often because it's not good to heat oil to extremely high temperatures. But once in a while we just really get a hankering for something breaded and deep fried. I use expeller pressed coconut oil for that, because it doesn't have any coconut flavor (although I think chicken fried in virgin coconut oil would be really good). You should absolutely avoid using vegetable oil, and never use olive oil for deep frying.
I have not tried baking these homemade mozzarella cheese sticks, but if you do I'd love it if you'd come back and let me know how they turn out!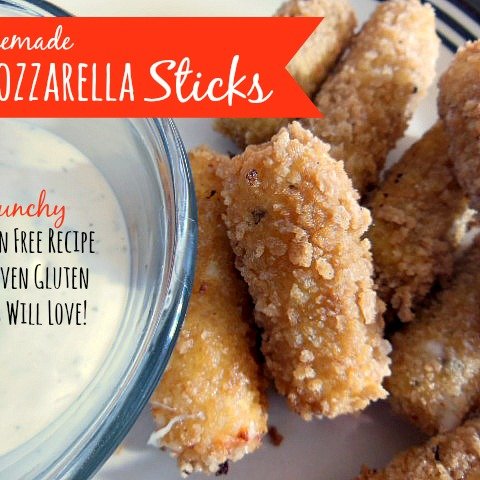 Homemade Mozzarella Cheese Sticks (NOT THM)
Yield: 4-6
Prep Time: 15 minutes
Frying Time: 1 minute
Total Time: 16 minutes
A crunchy, gluten free version that gluten eaters will love too!
Ingredients
12 string cheese sticks
1/4 tsp kosher salt
1/4 tsp garlic powder (more or less to taste)
1 tsp Italian seasoning
pinch of cayenne pepper (or more if you like 'em spicy)
1 c potato starch (or cornstarch or gluten free flour)
1 1/4 c finely crushed rice square cereal or gluten free bread crumbs
2 eggs, beaten
oil for frying
Instructions
Unwrap string cheese sticks and cut each stick in half
Mix together salt, Italian seasoning, garlic powder, cayenne pepper, and potato starch
Coat a piece of cheese stick thoroughly in potato starch mixture, making sure to not leave any part of the cheese stick uncoated
Dip coated cheese stick in beaten egg
Roll in potato starch mixture again
Dip in beaten egg again
Roll in crushed rice square cereal, gently pressing into cheese stick
Refrigerate coated cheese sticks a few minutes until oil is ready for frying
Heat about an inch of oil in a frying pan over medium high heat, or use a deep fryer
Fry for about one minute or until coating is golden brown
Remove from oil and drain on paper towel
Nutrition Information:
Amount Per Serving:
Calories: 0
Cholesterol: 0mg
Sodium: 0mg
Carbohydrates: 0g
Fiber: 0g
Sugar: 0g
Protein: 0g