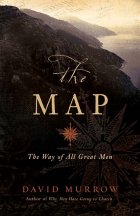 Author David Murrow has discovered an ancient map, hidden within the Gospel of Matthew, that guides a man along his journey of following Christ and being a man…if he can find, read, and follow it of course. This book explains where to find The Map and how to use it to truly become a disciple of Jesus Christ. It also sheds insight on why men often feel out of place or disconnected in the church today.
The book starts out as a page-turner – I couldn't hardly put it down because I wanted to find out what happened next! Murrow describes how he stumbled upon The Map in Matthew and it is suspenseful and full of intrigue and surprises.
The next section goes into detail about The Map and the journeys a man may take during his life and compares this to the Jesus of the Holy Bible, whom as disciples we should emulate. Murrow also talks about the 'feminization' of church, which tends to alienate many men. I had a more difficult time getting through this section, partly because of life getting in the way and partly because Murrow seemed to repeat some of his ideas unnecessarily.
I think this book is very good, but I did have some questions about some of his theories/theology. There were a few things he talked about that just 'didn't feel right' to me, but that only encourages me to investigate further in The Word and seek the advice of my pastor. It could be that, as a woman, I just don't totally understand where he's coming from. However, it did help me to reconcile the apparent contradictions in the words and actions of Jesus…such as he's a gentle lamb, yet He's in the Temple turning over tables and chasing the money changers out.
Murrow does a great job sucking the reader into the story from the beginning, and offering solutions to the problems men face while trying to be a man and a follower of Christ in the world. It gave me a better understanding of the struggles my man faces, too. I definitely recommend this book to any man looking for 'more' at church and in his spiritual walk.
I received this book free of charge as a part of BookSneeze's blogger review program, in exchange for a review. The opinions in this review are mine and receiving the book was not contingent upon a positive review.