What do you mean "clean your dog WITHOUT shampoo"? Why would you even want to do that?
We've got a black Lab. Labrador Retrievers are supposed to have water resistant coats – because their job is to retrieve downed waterfowl for their hunter masters. Anyone who's ever duck hunted knows that if you're hunting ducks you're on or near the water, and the chances of any duck you hit dropping into the water are pretty high.
So you send your faithful, well-trained canine hunting buddy out into that cold water to retrieve them for you. And just like the rest of your hunting gear, you need to keep your Lab's water-resistant coat in excellent shape.
Using regular dog shampoos can strip the natural oils on your Lab's coat that are there specifically to help that water roll off…like water off a duck's back. And the chemicals in most commercial dog shampoos may not be something you want to put on your faithful companion.
But surely you NEED shampoo, isn't it the bubbles that make things clean?
Seriously, how can you clean your dog's coat without shampoo? That just goes against everything we've been told sold by the (bazillion-dollar) pet care industry. I remember watching a daytime talk show years ago and one thing they said has stuck with me ever since – Americans equate bubbles with clean. The truth is, you don't even need bubbles for a product to clean. But we've been conditioned to think that.
The wonderful folks at e-cloth sent me a Cleaning & Bathing Mitt to try out and tell you all about it. I'll admit being a tiny bit skeptical, but enormously hopeful, that it would work as well as they claim. But how in the world is shampoo-less cleaning of a stinky dog even possible?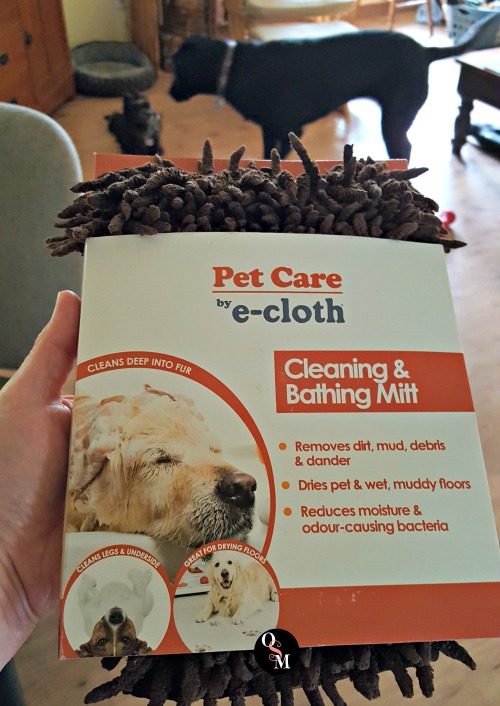 We also have a tiny little Yoranian (Yorkie and Pomeranian mix) who never gets stinky, so I haven't tried it on her yet.
The secret is in the fibers.
E-cloth products are truly amazing. They're made from the tiniest fibers man can make – each fiber is an unbelievable 1000 times smaller than a cotton fiber. E-cloth's fiber composition, fiber size, fiber processing and density of cloth are what make their products powerful cleaning tools using only water.
Each e-cloth is fabricated to have as many as 3.1 million fiber strands per square inch of cloth. Nearly 500 million fiber strands are in each cloth. e-cloth's filaments are so small and so strong; using just water they break up, lift, lock in, and clean deep down into the tiniest grooves and crevices. Dust, grease, oils, grime, dirt and bacteria are quickly and easily removed and locked away deep inside the fibers until the cloths are rinsed or washed. From e-cloth.com
Because water molecules are electrically unbalanced, they are attracted to particles such as dirt and bacteria. Simply wiping the surface with an e-cloth means those fibers suck up the water-coated particles and trap them inside. These cloths were also lab-tested and shown to remove over 99% of bacteria, including e.coli and listeria – all without using potentially harmful chemicals.
I did some "Lab" testing of my own.
We often take the Turd (as she is so affectionately called) down to the lake, throwing training bumpers in for her to retrieve. Naturally, she gets a little soggy and sometimes muddy. Our e-cloth Cleaning & Bathing Mitt does a terrific job of cleaning and drying her off before we hop back into the Jeep. While she's not completely dry, she is dry enough for our cloth-seated vehicle (and quickly dries completely).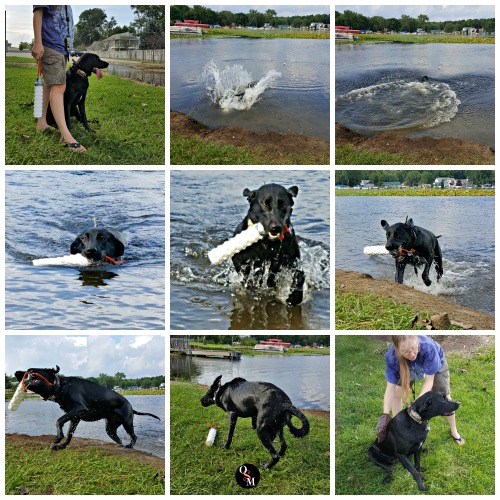 I also did a dry-cleaning test. I wiped her down from head to toe using the dry Cleaning & Bathing Mitt. She was smelling a bit doggy, and I was very surprised to find that after wiping her down with just the dry mitt, no more of that doggy smell remained.
Want one? Keep reading to enter the giveaway below!
How easy is the e-cloth Cleaning & Bathing Mitt to use?
Honestly, that will depend on the temperament and training of your dog, really. In theory, it's unbelievably easy. Just wipe the dog down and voila – clean pup!
Our Lab is 10 months old. She's mostly a pretty good dog, but she's still very much puppy. She doesn't get called "Turd" for no reason, trust me.
When I get the mitt out, she gets excited and thinks we're going to play a game (or go to the lake), and it can be a bit of an ordeal to get her wiped down. Seventy-plus pounds of puppy can be a challenge to wrangle!
With regular use and some treats to entice her to behave (as well as maturity), I'm sure she'll be more cooperative – but it's still not an impossible task (like walking her on a leash). If your dog isn't such a stinker, you'll have no problem I'm sure!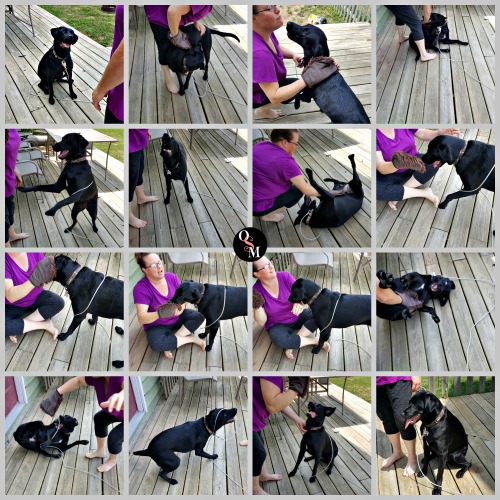 When it comes to cleaning the mitt, simply rinse in your sink under hot water or machine wash. There were no drying instructions included on the package, but the tag on the mitt says no tumble drying (and no bleach or fabric softener).
Another plus to the e-cloth Cleaning & Bathing Mitt (as well as all their cleaning cloth products) is they're guaranteed for 300 machine washes! I'm so impressed with this mitt I'm thinking I need to order another for hubby to keep with his hunting gear so he can wipe down the Turd after they've been hunting (and the one in the house stays there for regular "bathing" and rainy days).
---
Keep up with the latest in e-cloth products and natural cleaning tips by liking/following their social media channels:
Facebook Pinterest Twitter YouTube Instagram
And be sure to sign up for their newsletter! They only send out a couple emails a month to keep you informed of new promotions, and they'll never rent or sell your email.
---
But wait, there's MORE!
There are two sides to the Cleaning & Bathing Mitt. One side has "fronds" and the other looks like your typical microfiber cloth. Use the fronds side for removing mud and moisture (wiping in the direction of hair growth) and to clean deep inside the fur, rub against the direction of hair growth. Use the smooth side for wiping up mud and water on the floor.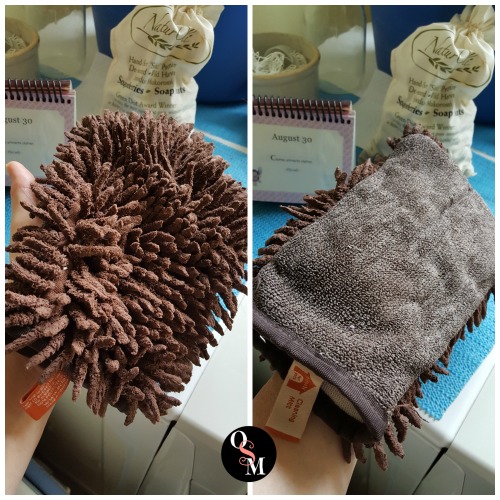 OK, I'm convinced. Where can I get e-cloth Products?
Good for you! Switching to chemical-less cleaning means you're doing something better for your family and the environment. Enter via the GiveawayTools widget at the bottom of this post for your chance to win a Pet Cleaning & Bathing Mitt!
You can also find this Cleaning & Bathing Mitt and many other wonderful e-cloth products on their website, locate a retailer near you, or if you're an Amazon lover like I am you can find this and many more e-cloth products
there [affiliate link – it won't cost you any extra but helps keep this site going, so thank you so much if you use it!]. They have products for every conceivable cleaning need around your home, as well as other items to make your life easier.
Whether you have a Lab's coat to protect or just want to protect your fur baby from harmful and possibly cancer-causing chemicals, the e-cloth Cleaning & Bathing Mitt is a loving choice to make. Not just for your family and fur baby, but also for your environment. It's a great addition to the naturally-minded household!
Like this post? Your friends with pets will too, please share and pin to your favorite Pinterest boards!