---
Smoked Paprika Chicken and Mushrooms is a flavorful, creamy, low-carb dish that's entirely tomato free. Trim Healthy Mamas and low carbers can eat it on its own, over a big bed of fresh greens, or even tucked into a low carb wrap.
---
Here it is, my first official THM Instant Pot recipe!
This amazing kitchen appliance has just stolen my heart. It saves so much time in the kitchen and it's a forgetful procrastinator's best friend…you know that chicken you forgot to get out of the freezer? Pop it in the IP and poof, cooked chicken in no time.
Dinner is saved and you get to bask in the mmmmm's and nomnomnom's of a grateful family. This Smoked Paprika Chicken and Mushrooms ought to do the trick.
There are several recipe development ideas rolling around in my head and I'll get those shared with you as soon as they're ready.
Let's get smoky!
Have you ever had smoked paprika? I'd been wanting to try it for a long time and finally got some from our local organic co-op. The kids thought it smelled like beef jerky and I was giddy with anticipation over all the yumminess I could create with it.
Smoked paprika can be a bit strong, so if you've never tried it before start with a small amount and add more a little at a time, tasting after each addition. It's much easier to add a little than try to take out too much.
I made this Smoked Paprika Chicken and Mushrooms all in the Instant Pot. That means not dirtying up a bunch of pans! I did put the chicken breasts into a bowl and the broth into a mason jar until I was ready to use it but that is all the dishes I dirtied making this recipe (unless you are counting measuring spoons and utensils). That's another plus to the IP!
And honestly, I probably didn't need the mason jar now that I think about it.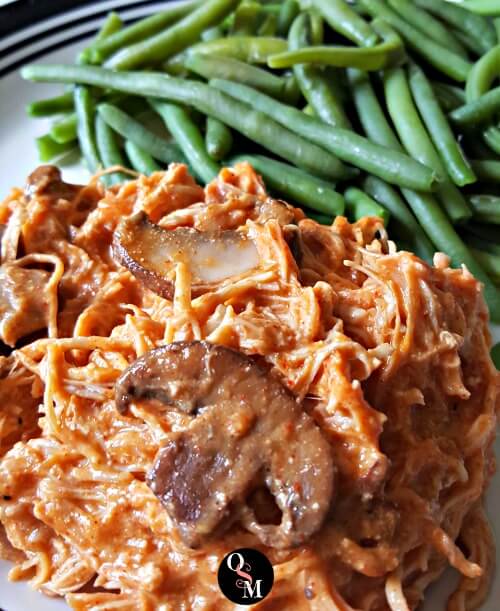 Smoked Paprika Chicken and Mushrooms…1-2-3!
You can make this delicious, creamy THM – S style recipe in three steps. Yes, there may be a few steps to each step, but it's basically doing three things…
1. Cook the chicken and remove meat and broth from the IP when done.
If your chicken breasts are frozen, it will take about 5 minutes longer to cook them. I turn the IP on Saute and spray with non-stick spray or melt butter or coconut oil in the pot before adding the chicken. This also helps the IP to come up to pressure more quickly.
Brown lightly a bit on both sides and season with salt, pepper and onion powder. Put the lid on, turn vent knob to "sealing" and set on Poultry or Manual setting for 10-20 minutes. I did mine for 30 because I was thinking the cook time was 25 minutes. It came out just fine, thankfully, and not overcooked. If your frozen chicken breasts are in a very thick mass, you'll want to definitely go for the longer end of the cook time.
At the end of the cooking time, it is recommended for meats to use NPR, which is Natural Pressure Release, in order to prevent drying. You can speed this process up by placing a cold, wet towel over the lid. It generally takes about ten minutes for the pressure to release naturally. Once the lid is unlocked, remove the cooked chicken breasts and broth, but save the broth for making the sauce.
2. Next, you'll make the sauce.
Turn the IP back to Saute, making sure to adjust to "Less". It gets pretty hot otherwise, which is fine when you need it. Add butter and allow to melt, then add sliced mushrooms and saute until golden brown. Add broth, cream cheese, sour cream, heavy whipping cream and remaining seasonings and whisk together. Thicken with gluccomannan powder.
By the way, I personally find the THM brand of gluccie (gluccomannan) the best I've tried. It seems to be more potent, so you don't need to use as much.
Feel free to use more mushrooms and fresh onion if you like. I'd go with about half a cup of diced onion. I used minced in this recipe because my daughter doesn't like cooked onions or mushrooms and I felt like being nice. She only had one thing to pick out instead of two. You can also use fresh garlic, I just didn't feel like messing with it this time. Two or three good sized cloves should do the trick. Remember…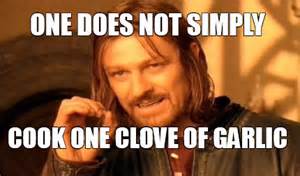 3. Add your cooked chicken breasts back to the pot and shred with a fork.
Mix well to get that sauce covering all the chicken. Let it warm a bit using the saute setting, then serve immediately or turn to "keep warm" until ready to serve.
For quicker shredding, use your hand mixer! I know that sounds nuts but it really does work. In less than 30 seconds you've got shredded chicken.
Since this is a rich, creamy S style dish, keep your carbs low Mamas!
Serve this yummy Smoked Paprika Chicken and Mushrooms over Zoodles (I love to use my Troodle from the THM store to make zucchini noodles!), THM Not Naughty Noodles, Dreamfield's pasta (if that isn't a problem for you) or over a big bed of fresh, leafy greens. You could also roll it up into a low carb tortilla such as my favorite Santa Fe Tortilla Company brand (available at Sam's Club or my affiliate partner here).
This recipe uses no starchy carbs and since paprika is made from peppers, not tomatoes, you have the appearance of a lovely tomato-y sauce without the higher carb content of tomatoes. Isn't that lovely? That means you can have up to ten grams of net carbs with the rest of your meal, such as a low carb tortilla. Or skip the tortilla and enjoy with a salad and a serving of fresh berries for dessert.
Food Freedom is amazingly tasty, isn't it Mamas?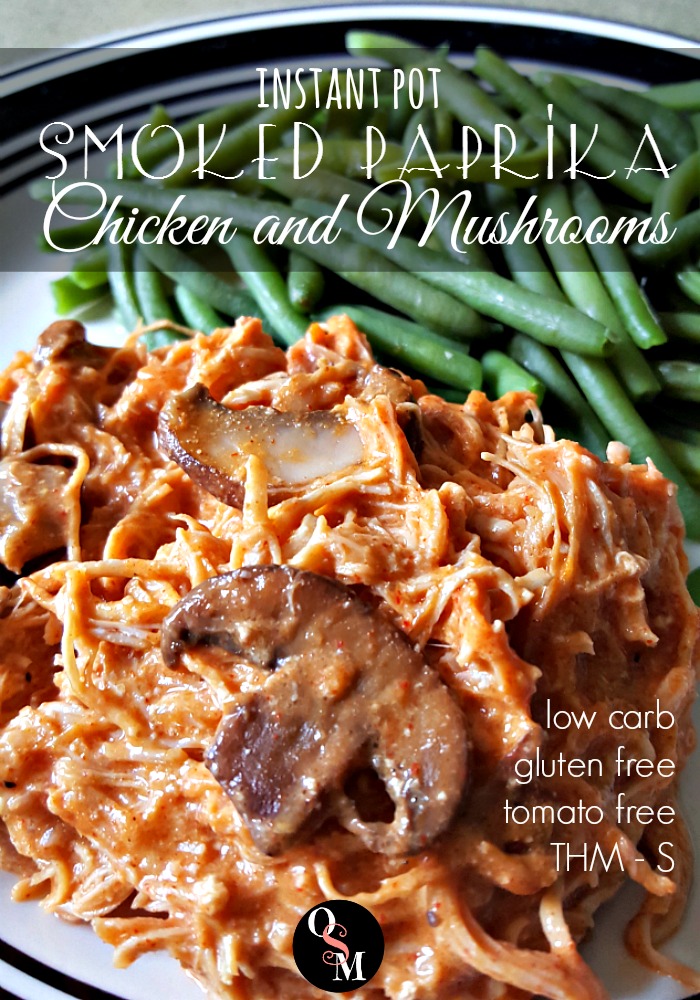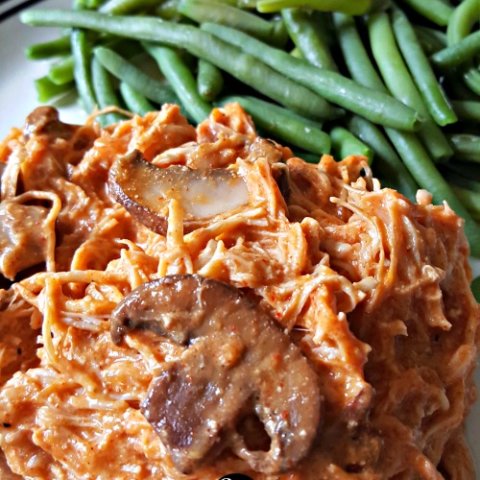 Smoked Paprika Chicken and Mushrooms
This creamy, smoky chicken dish is wonderful served over low carb zucchini noodles, wrapped in a low carb tortilla or just piled on top of a big bed of fresh, dark, leafy greens. A THM S style recipe the whole family will love, easily made in your Instant Pot.
Ingredients
4 mini bella mushrooms (more if desired), sliced
1 Tbs heavy whipping cream
1/4 tsp granulated stevia such as url href="http://amzn.to/2nVtl2Y" target="_blank" rel="nofollow"]THM Gentle Sweet[/url or Pyure Organic Stevia
1 Tbs nutritional yeast (optional)
2-3 tsp smoked paprika
1/4 tsp white pepper (optional)
1 tsp minced onion (or 1/2 c diced, fresh onion if desired)
1/2 tsp pepper, divided
1 c water, plus more if needed
cooking spray or butter
1.5 pounds boneless, skinless chicken breasts (3-4 depending on size)
1 Tbs cream cheese
1 Tbs sour cream or Greek yogurt
1 Tbs butter
Instructions
COOK THE CHICKEN BREASTS IN THE INSTANT POT
Spray pot with cooking spray or add a pat of butter to pot and set to Saute
Add chicken breasts and lightly brown on both sides, seasoning each side with salt, pepper and onion powder
Add 1 c water
Set Instant Pot to either Poultry or Manual setting and set vent knob to "sealing". If chicken is fresh, set for 10 minutes. If frozen, set for 15-25 depending on thickness of frozen chicken.
After cooking is complete, use NPR (Natural Pressure Release) - about 10 minutes.
After lid unlocks, remove chicken and broth, reserving broth.
MAKE THE SAUCE
Put IP liner pot back into the Instant Pot and add 1 Tbs butter. Turn IP to Saute on the Less setting
After butter has melted, add sliced mushrooms and saute until golden brown (also add fresh onions, if using, at this time)
Add reserved broth plus enough water or broth to make two cups
Add remaining ingredients (except gluccomannan or xanthan gum, if using) and whisk together until smooth
Simmer for a few minutes, then add gluccomannan (or xanthan gum) gradually while whisking
When sauce is as thick as you like, add chicken breast back into pot and shred with forks
Mix well and heat a few minutes or switch Instant Pot to Keep Warm until ready to serve
Recommended Products
As an Amazon Associate and member of other affiliate programs, I earn from qualifying purchases.
Nutrition Information:
Yield: 8
Serving Size: 1/8 recipe
Amount Per Serving:
Calories: 213
Total Fat: 8g
Saturated Fat: 4g
Trans Fat: 0g
Unsaturated Fat: 3g
Cholesterol: 86mg
Sodium: 394mg
Carbohydrates: 5g
Fiber: 1g
Sugar: 2g
Protein: 30g
Nutrition information is approximate and based on the best knowledge available at the time of recipe publication. Your results may vary due to differences in ingredients.

Like this recipe? Please share! Pin this Smoked Paprika Chicken and Mushrooms recipe to your favorite Pinterest boards.