---
If you've been a THM for very long, you're sure to come across Briana Thomas. She is a very talented recipe developer and photographer who creates THM-inspired recipes and dearly loved by all! She's just published her second cookbook, Convenient Food, and has so graciously offered a copy for me to give away to one lucky reader! So let's get on with the Convenient Food cookbook review, shall we?
---
Briana's first cookbook, Necessary Food, is filled with healthy, easy to prepare recipes. Many of these are normal fare you'd find gracing any family table but she also includes some that are very unique! It's also filled with ice cream recipes (she's known as the Queen of Ice Cream).
I expected no less from Convenient Food, and was not disappointed at all. We've enjoyed quite a few recipes out of the Convenient Food cookbook! My daughter is new to THM and really enjoys leafing through the book and choosing recipes to try.
Sister says: The recipes are really convenient, easy to understand and follow, and taste good. I love all the dessert options and hot beverages, too.
Sister is my newly-turned 18 year old daughter. She LOVES baking and excells at it, but cooking is not nearly as exciting for her. She can do it, but would rather bake. She's also learning the Fine Art of Throwing Stuff Together, so having the Convenient Food cookbook on hand makes it easier for her to make things.
So far, we've made the following recipes:
Cookie Dough Shake (pg 247)
Birthday Cake Shake (pg 246)
Cinnamon Roll Cupcakes (pg 356)
Chocolate-Covered Cranberry Superfood Shake (pg 236)
Pumpkin Pie Milkshake (pg 269)
Velvety Peppermint Sip (pg 283)
Peanut Butter Cookie Nog (pg 287)
Chicken in Creamy Dill Sauce (pg 108)
Skillet Yumzetti (pg 117)
We've enjoyed everything we've tried so far! I think my favorite is the Chocolate-Covered Cranberry Superfood Shake. Briana says it's unusual and may not be for everyone but she makes no apologies for it. I love it! It makes a HUGE amount, too, and is surprisingly filling for a Low Carb/Low Fat shake.
The only things I didn't care for were adding baking powder to some of the shakes (like the Cookie Dough and Birthday Cake shakes), I could just taste it too much. Sister did not, so it's just a matter of taste preference. Also, the Yumzetti turned out a bit too runny for my taste. I'm not sure why though! I was pretty certain I followed the recipe exactly.
No problems though, I'll just leave out the baking powder when I make those shakes. A bit of gluccie to thicken the sauce in the Yumzetti makes it just right for me.
What You'll Find In The Convenient Food Cookbook.
Great Quality.
Just like with Necessary Food, it is coil-bound which means it lays flat. Definitely a plus when cooking, right? The pages are smooth and durable and fairly easy to turn. The coil binding is pretty large and that can make page-flipping a bit tricky sometimes, but that's the case with any coil that size.
The pages also have color-coded dots on the edge, corresponding with the recipe category. This is really helpful when planning meals!
If you're on the mature end of the age spectrum, you might find the type a tad bit on the small side. I misread a measurement but caught it before actually adding the ingredient. I didn't have my readers on… #middleage 😉
You young folks, I'm sure, will have no trouble reading it! Oh sweet mercy, did I really just type that? When did I get so old?!
Lots of Helpful Hints and Tips.
The Convenient Food cookbook also contains several pages of helps for you. Briana shares tips and info on some of the special ingredients we use in THM style cooking. You'll also find allergy tips, helpful baking and substitution hints, unique ingredients, and insight into how she writes her recipes.
Briana's "Fuel Type" Breakdown.
Obviously, because of respect for the THM sisters' work and copyright laws, Briana can't label her recipes S, E, FP, etc. She breaks her recipes down into:
Healthy Fats (compatible with S)
Foundation Fats (compatible with Deep S)
Healthy Carbs (compatible with E)
Low Carb/Low Fat (compatible with FP, or Fuel Pull)
Healthy Carbs & Healthy Fats (compatible with XO, or Crossover)
A Sweet Glimpse Into The Life And Mind Of Briana Thomas (Burkholder).
Perhaps my favorite part of this book is the This Isn't A Foreward Either, at the beginning of the book. Briana shares a bit about herself, her first cookbook, how she met Dr. Ryan, and her food strategies. I've long admired this young woman so it's really neat to read a bit about her life and how her ingenious, recipe-creating mind works!
If you haven't read their sweet love story, be sure to hop over to Briana Thomas's website and check it out. It's one of the most darling and romantic love stories I've ever heard! I'm truly happy for this young couple and I'm sure they'll have many happy, healthy, and tasty years together. It's in 2 parts, but well worth the time to read! Part 1 and Part 2.
I've also had the honor of meeting her in person and chatting a bit with her. She is so down to earth and friendly and it was a joy to get to talk to her, even if just briefly! It's easy to see why so many love her in the THM community.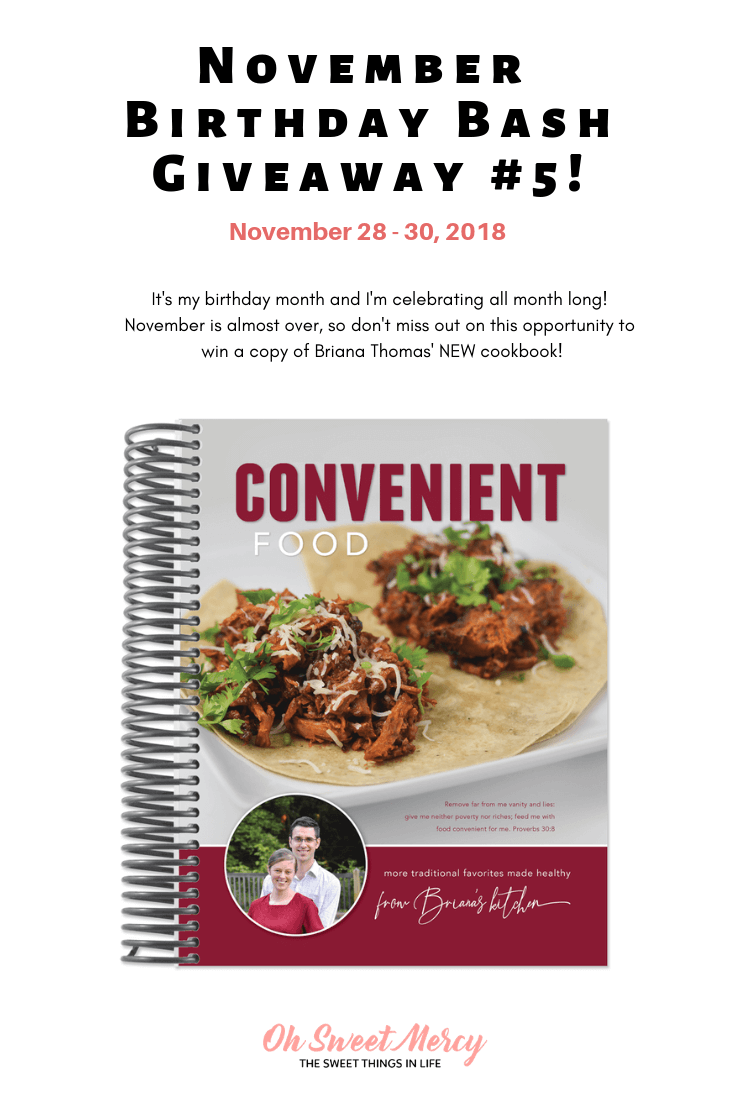 Do You Want A Copy Of The Convenient Food Cookbook?
I'm sure you do, so here's 2 ways to get your own copy.
One, enter the giveaway via the Giveaway Tools widget at the end of this post. I'm so sorry, International Friends, but this giveaway is only open to those in the Continental US. Shipping costs are just too prohibitive. One winner will receive one copy of Convenient Food.
Two, if you don't want to wait, would like to buy one as a gift for a friend, or are seeing this post after the giveaway ends, you can purchase directly through Briana's website. You can purchase Convenient Food, Necessary Food, or both as a set (via her publisher)!
Now, time to enter the giveaway! Best of luck to you!
While the winner will be chosen in December, this is still part of my November Birthday Bash Giveaway Celebration! I'm so thankful and blessed to be connected to a wonderful group of talented bloggers. I hope you're enjoying the giveaways this month!