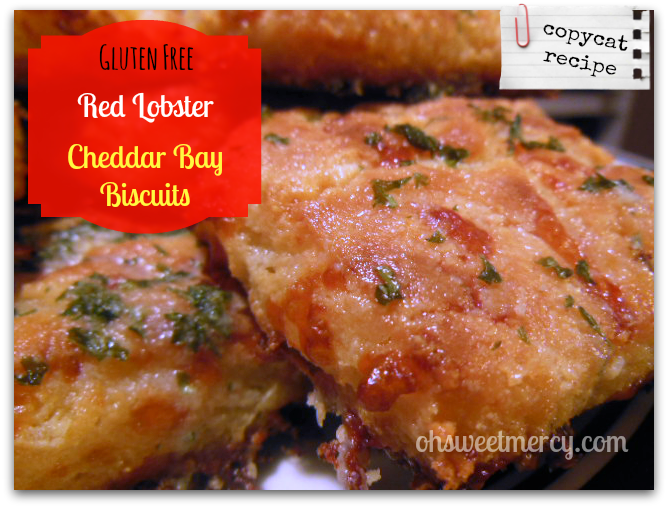 I love me some biscuits. That was one of the hardest things to give up when I went gluten free. And while I don't mind not eating at Red Lobster anymore, I've always been fond of their Cheddar Bay Biscuits. There's several copycat recipes out there, and I recently came across some golden advice to get those lovies just right.
But can you make a decent biscuit with gluten free flour? I've made Cheddar Bay Biscuits before, but this was my first attempt at making gluten free biscuits – I figured it was one of those fundamentally impossible tasks without a bunch of unpronounceable ingredients and an industrial bakery and so never attempted it before now.
Once again, I used the all-purpose gluten free flour from C. C. Dolch Health Foods (no, that's not an affiliate link, I just really love their flour!). It substitutes 1:1, so this recipe can be modified to use regular flour as well. I would love to try a sourdough version some day, as that would make these much more healthy, although I wonder how that would taste. I modified this Southern Buttermilk Biscuits recipe, and followed the technique mentioned in the comments for this copycat recipe.
Since I had learned several years ago the Three Magic Secrets to big tall awesome flaky-layer biscuits (Killer Biscuits, to be more specific), I attempted to use that magic on this gluten free version. I quickly learned, however, that the lack of actual gluten in the flour meant that the dough just wasn't the same. It didn't have that stretchy quality that you find with regular gluten flours.
I was still able to fold the dough, but didn't get the same kind of rise that I used to get on regular, wheat flour biscuits. One bite into these vertically challenged gems, however, and I did not care one bit how tall they were. They were delicious! And almost like what I remember eating at Red Lobster. You could do drop biscuits with this recipe, but I prefer them cut.
The secret to getting these biscuits just like the real thing? Brush them with copycat Red Lobster's Scampi Sauce as soon as they come out of the oven. I didn't have any white wine, so I just did butter, garlic and parsley. They were sooooooooooooo good! I served them with Spaghetti and Meatballs – a special dinner as this was our very last jar of homemade spaghetti sauce, which we were happy to share with Sister's friend. A round of thumbs up made this momma's heart happy!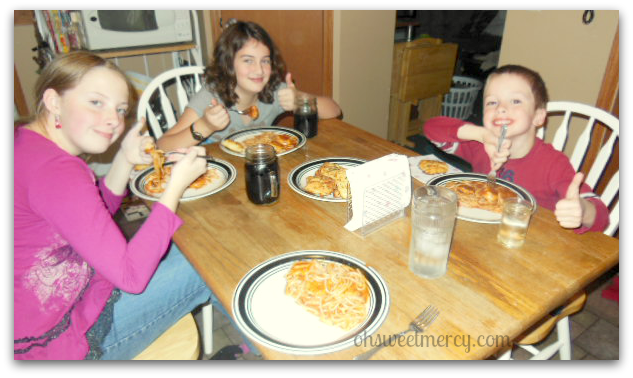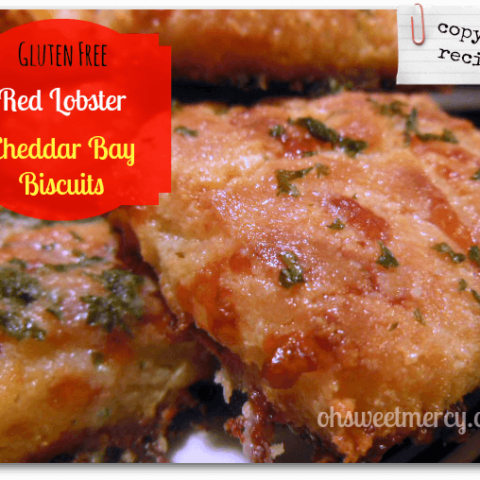 Gluten Free Copycat Cheddar Bay Biscuits (NOT THM)
Yield: 6-12
Prep Time: 15 minutes
Cook Time: 12 minutes
Total Time: 27 minutes
Gluten free version of the popular Red Lobster Cheddar Bay Biscuits, made without biscuit mix.
Ingredients
2 c gluten free all-purpose flour blend, such as C. C. Dolch Gluten Free All Purpose Flour
1/4 tsp baking soda
1 Tbs baking powder, aluminum free
1 tsp kosher salt
6 Tbs very cold butter
1 c dairy kefir or buttermilk
*For Garlic Butter*
4 Tbs butter, melted
1/4-1/2 tsp garlic powder or one clove pressed garlic
1 tsp parsley flakes
Instructions
Preheat oven (and baking stone, if using) to 450 degrees
Combine the dry ingredients in a mixing bowl
Cut the butter into chunks and cut into flour using a pastry blender until you have uniform, pea-sized chunks.
Add the kefir or buttermilk and mix JUST until combined. Add a little more kefir/buttermilk if the dough seems dry, it should be fairly wet
**For drop biscuits, drop dough by spoonfuls onto hot baking stone and place in oven**
**For cut biscuits:
Flour your counter, then turn the dough out and gently pat the dough until it's about 1/2" thick all around
Fold the dough about 5 times. This gluten free dough will be tricky to work with, just go slowly when picking a side of dough up. Using a flat scraper helps. After the final fold, shape into a square
Using a sharp knife or very sharp biscuit cutter, cut your biscuits
Place the biscuits on your hot baking stone, or cookie sheet, and place into the oven.
Bake for 10-12 minutes or until golden brown.
Combine melted butter, garlic and parsley
Brush over the tops of baked biscuits right after you take them out of the oven
Notes
Over working the dough will give you tough biscuits, no matter what kind of flour you use. Work quickly to keep the butter as cold as possible and be gentle when handling the dough.
Have you had success with making gluten free biscuits? Share your tips here!