If you're a Trim Healthy Mama plan follower, this recipe is not plan-compliant. However I will be creating a THM friendly version of this deliciousness!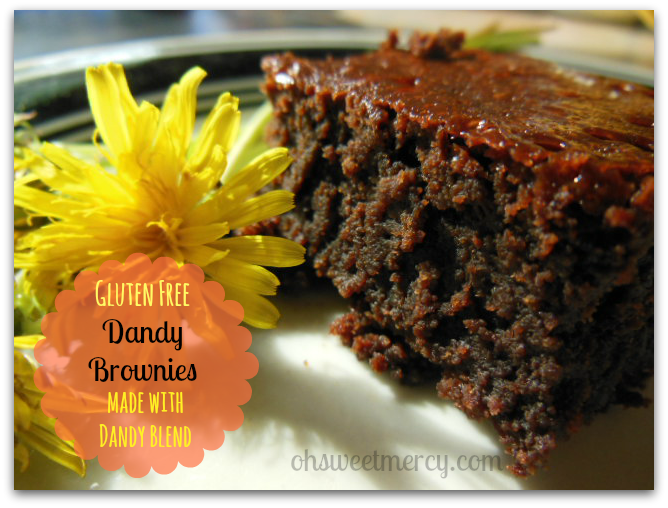 Dandy Blend Is A Delicious Herbal Alternative To Coffee!
It actually even tastes remarkably like coffee, too.
I recently received a sample of Dandy Blend to review, and you can do more than make a cup of "coffee" with it. In fact, you can use Dandy Blend in any recipe calling for instant coffee or coffee. I was very intrigued by this, and my creative juices started flowing as I sipped this lovely beverage.
One treat we love around here is brownies. The dark, rich decadent kind. I've found that adding some coffee to the batter results in a definite wow factor, so I had to try Dandy Blend in a batch of brownies.
Mister, of course, was very willing to help out. And Sister gladly took on the role of Quality Control to ensure the very finest product.
How To Make Decadently Rich Dandy Blend Brownies.
If you have a double boiler, use it! If not, improvise 😉
Take two sauce pans, one bigger than the other (just make sure you can set the smaller pot inside the larger one so the smaller pot is suspended over the water and won't fall in). Put some water in the bigger one (maybe 1/4 full) and turn the burner on to get the water boiling.
Meanwhile, add chopped unsweetened baking chocolate, Dandy Blend, butter, coconut oil and salt in the smaller pan. When the water is boiling, set the small pan in the large pan, being careful not to let it fall into the water.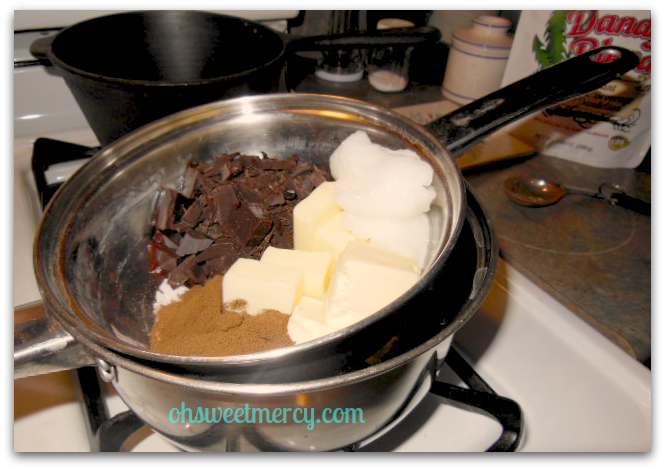 Carefully stir until everything is melted. This only took a few minutes. Remove the small pan and let it cool while assembling the rest of the ingredients.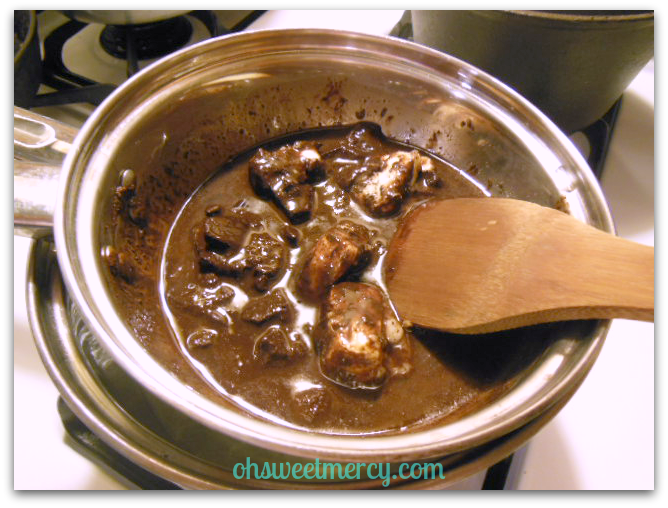 Next, combine your sucanat, eggs, and vanilla and whisk to combine.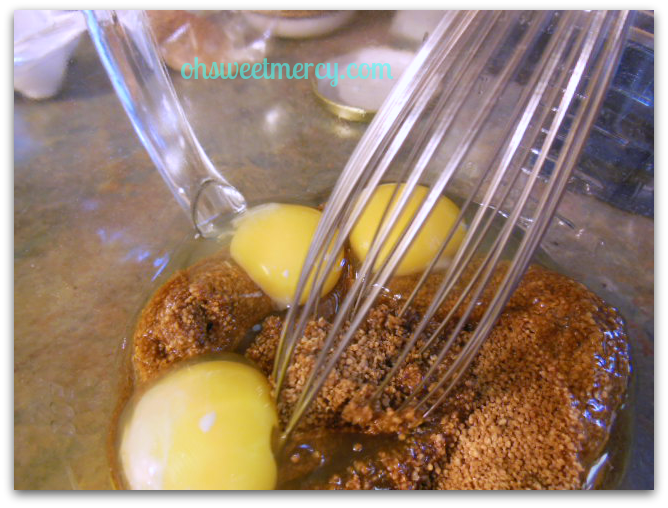 If you have a Kitchen Assistant, this is a great job to delegate.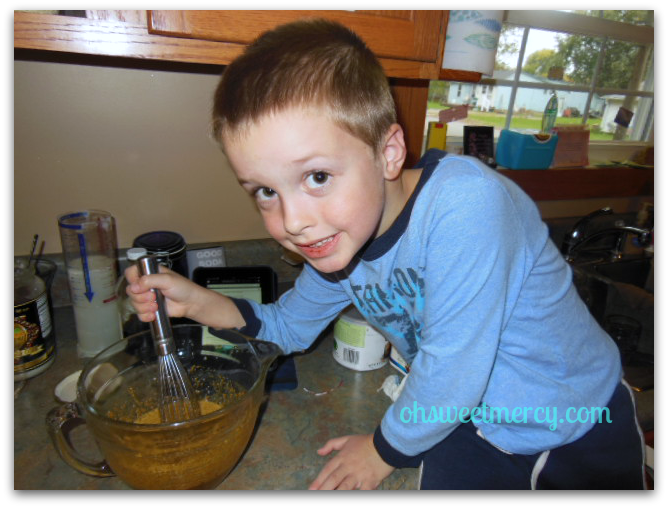 Next, combine the cooled chocolate mixture with the egg mixture, whisking well. Then, fold in the flour just until it disappears into the batter. If you want to add nuts, gently fold them in next.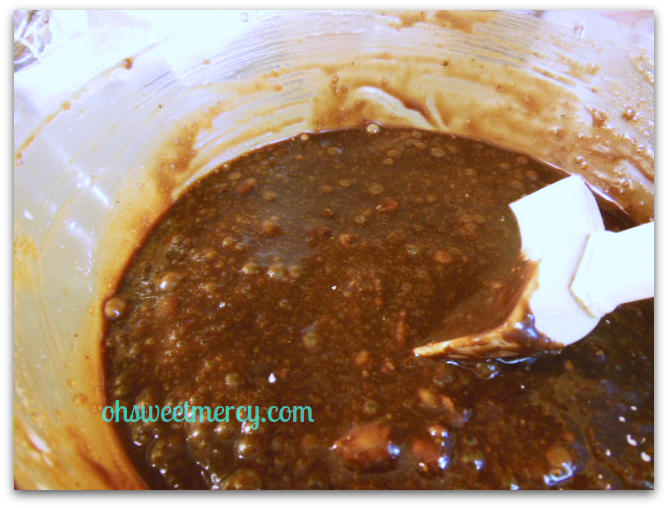 Pour batter into prepared baking dish and bake about 35 minutes, or until it passes the toothpick test. Let the brownies cool for an hour before trying to cut them…if you can wait that long! Actually, they're even better the next day.
Enjoy These Gluten Free Dandy Blend Brownies With A Steaming Mug Of Dandy Blend.
Make yourself a steaming mug of Dandy Blend and savor this dark, rich decadent brownie. Especially if you're having one of those days. It'll make everything all better.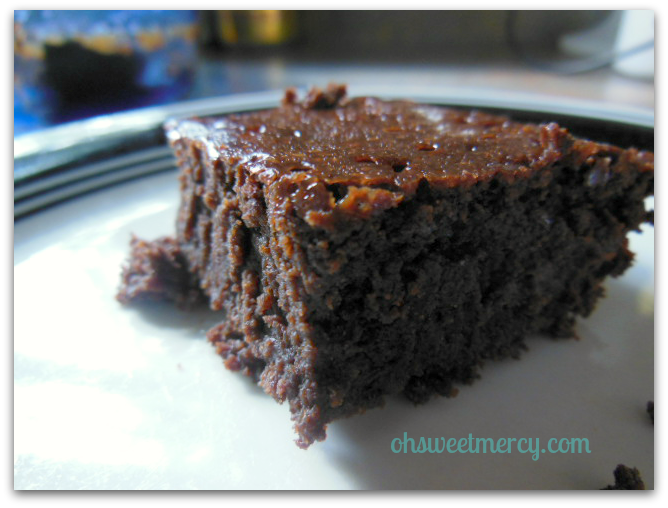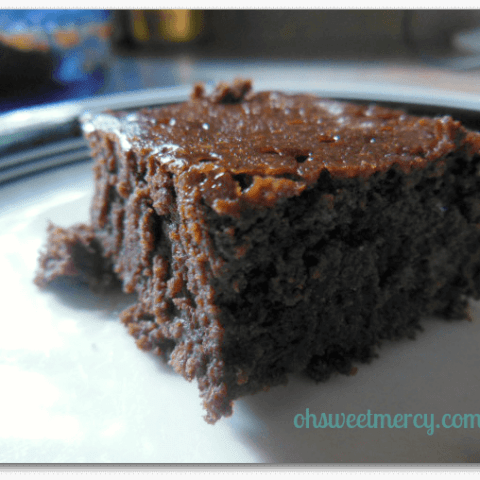 Gluten Free Dandy Brownies
Yield: 12-24
Prep Time: 20 minutes
Bake Time: 35 minutes
Total Time: 55 minutes
Dark, rich and decadent brownies made with Dandy Blend in place of coffee. I use a gluten free flour that replaces regular flour 1:1 so you should be able to use regular flour if you don't need them to be gluten free.
Ingredients
5 oz unsweetened baking chocolate, chopped
3/4 c virgin coconut oil
3/4 c butter
3 tablespoons Dandy Blend
1/2 tsp salt
2 c sucanat
5 eggs
1 1/2 tsp pure vanilla extract
1 1/4 c gluten free all purpose flour
1 c nuts, optional
Instructions
Preheat oven to 325 degrees
In a double boiler, melt chocolate, coconut oil, butter, Dandy Blend and salt. Remove from boiler and allow to cool.
Whisk together eggs, sucanat and vanilla.
Whisk in cooled chocolate mixture.
Gently fold in flour.
If adding nuts, gently fold them into the batter.
Pour batter into a greased 9" x 13" baking dish.
Bake for 35 minutes or until a toothpick inserted near the center comes out clean.
Cool for at least an hour before cutting.
Notes
I used an all purpose, gluten free flour that can be substituted 1:1 in recipes calling for regular, all purpose flour, so if you don't need to make them gluten free just substitute the same amount of regular flour.
Recommended Products
As an Amazon Associate and member of other affiliate programs, I earn from qualifying purchases.