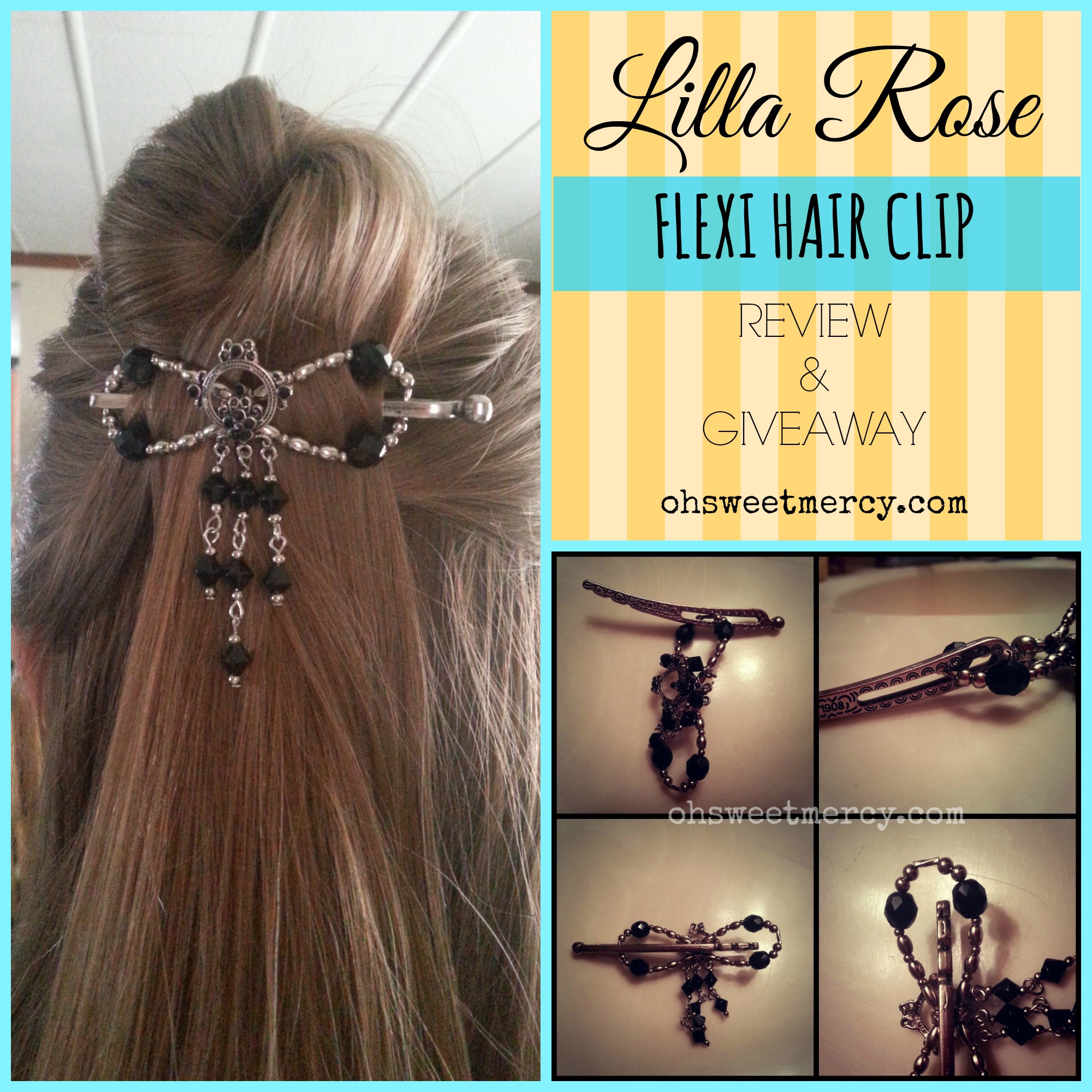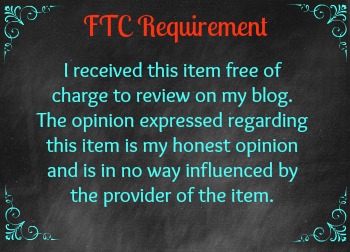 Recently, I met a lovely lady who is also a Lilla Rose consultant. I'm excited to have had the opportunity to try out one of their Flexi Clips and tell you about it! Not only that, but I'm also very excited that I can have a giveaway so you can try one too. There are a few rules with this giveaway, so be sure to read them before you enter.
The Product
Lilla Rose Flexi Hair Clip, Antique Style Dangle Jet, size Small (1-1259)
This product was designed by a determined husband! Read the interesting story of how they went from barely making it to a successful business here.
The Verdict
Since I now cover my hair completely I showed my daughter the style selections and had her choose one. She has beautiful, long hair that is perfect for a product like this – although Flexi Clips work for shorter hair as well. My hair is fine and thin and shoulder length and I could use a Flexi if I didn't cover. I had a hard time deciding on what size…partly because I tend to be indecisive and partly because her hair kind of falls in two different size categories. Angela's Lilla Rose website, His Grace for Our Glory, has very helpful videos on sizing and tutorials for different styles, thank goodness! I chose the small because I felt she would be able to do more styles with it. She was unable to do a couple styles that she wanted to because she needed a bigger sized Flexi, so the next time I order one I will get a bigger size.
The Flexi is really easy to use, once you get the hang of it. Fortunately, it doesn't take that long, but there is a tiny bit of a learning curve which is just mostly getting used to how it feels to work with the clip. When you open the clip, it is "floppy", not like a barrette that is firmly attached at one end. This allows the Flexi to flex to your hair and style, pretty ingenious! But when you're first trying to use it, it's kind of tricky. My daughter had no trouble after a few times and really loves her Flexi.
I was sad that I wouldn't be able to use it myself since I cover my hair completely, but guess what! I actually can wear a Flexi with the scarves I wear on my head! I have a black scarf that is really stark, and clipping my daughter's Flexi on dressed it up a bit. I really like the style she chose, too. We had a hard time choosing a style because there are so many beautiful Flexi Hair Clips.
Overall, I found this product to be well-made and really only limited by your imagination (aside from the obvious factors affecting performance such as hair length and type). There are sizes ranging from mini (perfect for little girls) to mega, so anyone is sure to find a Flexi to suit their needs. The company also offers other hair products such as bobby pins, the Flexi Oh!, hair sticks, hair bands and You Pins. They even offer a lovely variety of badge clips, for those who have to wear badges and would like to wear them with style.
Lilla Rose also offers a business opportunity, for those so inclined. What I like about this business is that you can either do in-home parties or set up at a show as well as simply run an online storefront.
With warmer weather just around the corner (at least in theory!) the Flexi Clip is perfect for stylishly keeping your hair off your neck. I just love the thought of little girl hair so cutely styled with these clips, too! I miss my daughter being a little girl, I must confess. But, I also love how beautiful my lovely young lady looks with her hair styled with a Flexi.
Now, for the fun part! Would you like to win one of these beautiful Flexis (or one of Lilla Rose's other beautiful hair accessories)? Enter the easy giveaway below, but please read the rules first!
The Giveaway Rules:
You must be a new customer, as in completely new to Lilla Rose
You must register at His Grace for Our Glory

One per customer, one per household
Giveaway available to US residents only (Sorry, Canada and International readers!)
You must provide a valid email address
The winner will get to choose any Lilla Rose product up to $16. There, that wasn't so bad, right? Right. So go ahead and enter below and be sure to return for the daily entries! Good luck!