We recently moved out of town to a lovely, serene area near a small lake. It's not the cross country move we had planned a year or so ago, but at least it's out of the county where I was born. Not that it was that terrible a place to live, mind you, I just didn't want to be born, raised and die in the same county. I never used to want to move away from this area, but the last several years I have definitely had a case of wanderlust.
There's the part of me that longs for something different and I fell in love with Arizona. I really, really wanted to move there. I love the mountains and the vastness of it all. The cacti and other desert plants you only find growing in pots around Indiana. Orange trees! To go out and pick an orange, fresh off the tree, for breakfast just sounds wonderful. Even the beige everywhere. It just tugged at something inside.
Then there's the parts of me that would greatly miss what has been my home all of my life. The granddaughter who would miss her grandparents, the daughter that would miss her parents, both natural and in-law. The sister that would miss her brother, even though we hardly ever see each other anyway. The aunt that would miss her nieces and nephews, especially the brand new one because she'd hate to miss seeing him grow up. The stepmother who would miss her stepsons. The grandmother who would miss her sweet grandson terribly. And the mother-in-law (as of May 23, anyway) who would miss the opportunity to develop a relationship with her daughter-in-law. And, of course, the friend who would miss both her oldest and bestest as well as her newest friends.
All things considered, I know it's probably best that we stay here. When I weigh all the things I would miss against all of the new things I have yet to experience, family and friends outweigh adventure by far. Even that ridiculously rotten Dumb Stupid Time I despise so much. My husband said this is the last time we're moving until we move to the nursing home. I don't know what he's planning for his sunset years, but I'm not planning on moving to a nursing home!
I love our new home. It is big enough for the four of us, cute and quiet. There are many things we'd like to do here, but nothing is desperately urgent or in need of major repair. I can take my time settling in (although the boxes and cluttery look everywhere because I don't know where to put anything yet is driving me nuts) and for once, I have the desire to actually "decorate." Normally, I just put stuff up on the walls or shelves because a) I have it and b) that's what I've always done. I'm going to put some thought into it this time, though. I honestly am loving the look of bare walls though. There's a tiny Minimalist trapped inside of me, believe it or not. I long for clear, open space even though I rarely have attained it.
I do have a tiny bit of sanity in the house…one clean corner!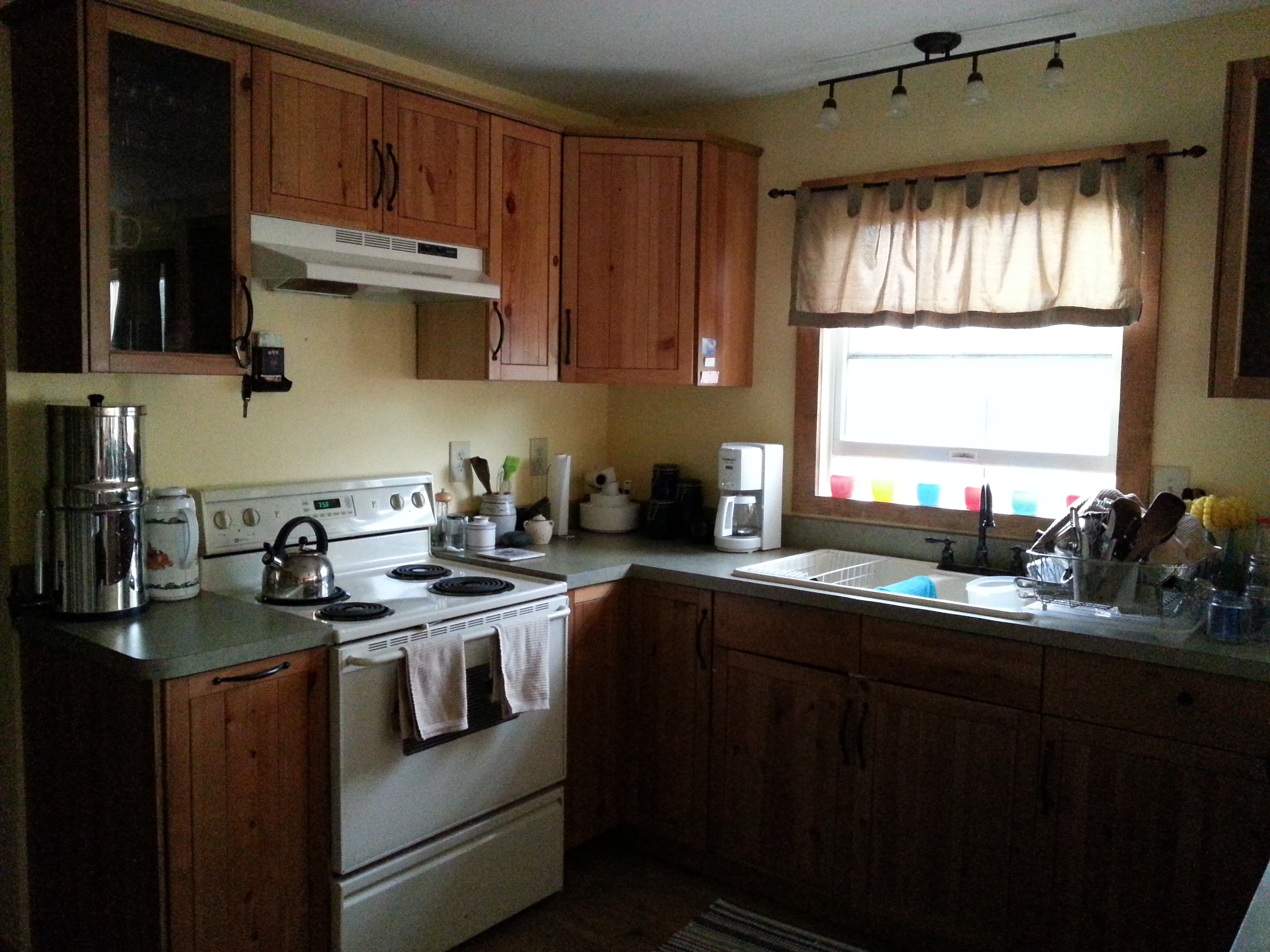 And, because I'm all about being real…here's what the other side of the kitchen and dining area looks like. Yeah.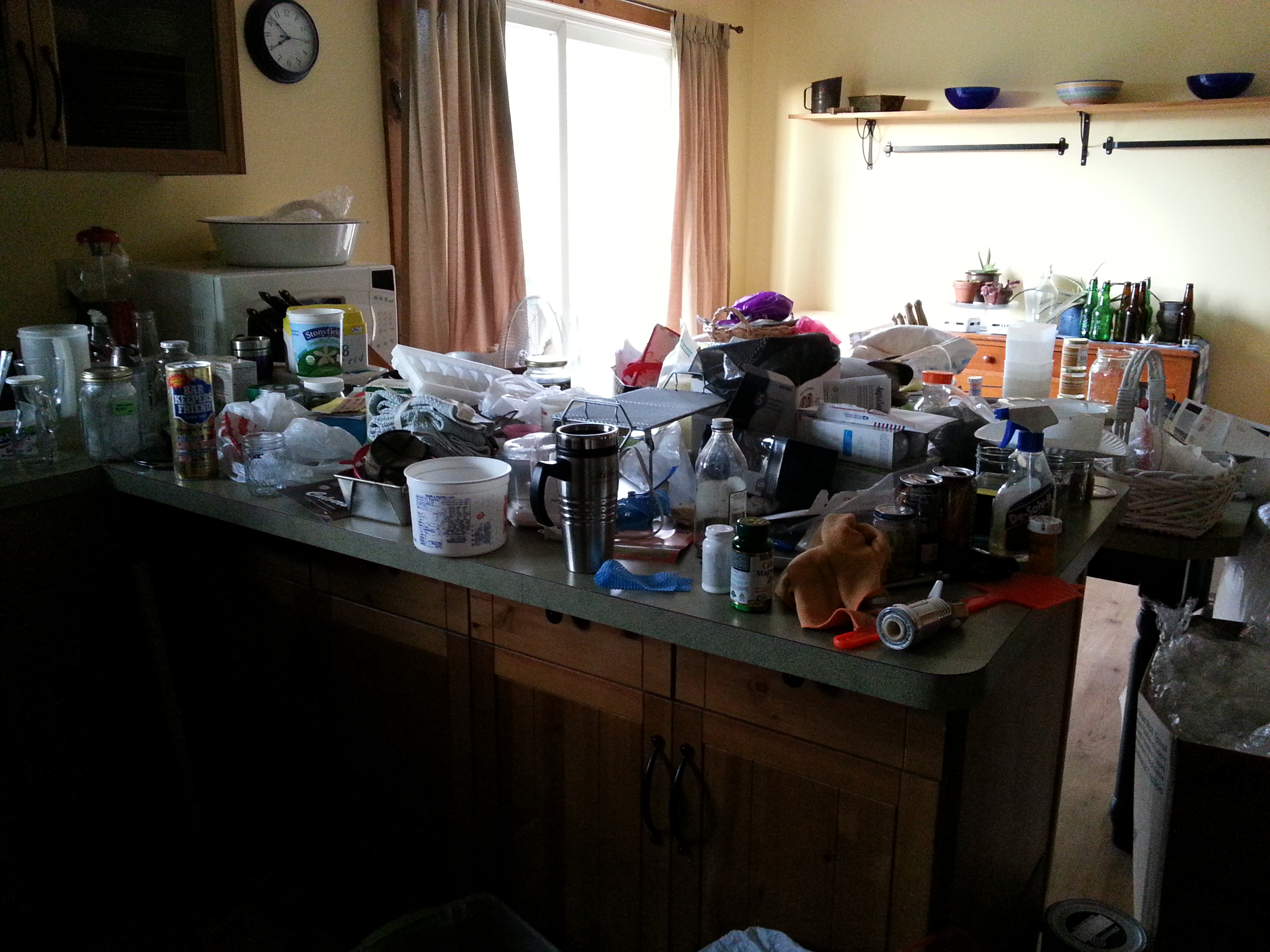 I have a lot of work ahead, and it will be a bit before I can get back to a regular blogging routine. But, I'm looking forward to making this new house our home!