Introducing Make It Myself Monday: Easy Healthy and Homemade Recipes to Help You Save Money and Live Outside the Box! Homemade Soft Scrubbing Cleanser (without castille soap) is my super-easy, natural and frugal Make It Yourself Monday debut recipe!
When you are venturing into a less-processed/less-commercially-prepared lifestyle, it can often be overwhelming. Where do I start? How do I do this? Is it really worth the effort? may be questions running through your mind. The answers are easy, really.
Start with things you use often, gradually replacing things as you run out of their processed counterpart (or just pitch the whole lot and start over, if you have the budget for that!) with homemade versions, using the best quality organic/natural ingredients that you can find and afford. Ideally, everything should be organic-fair-trade-sustainably-produced etc, but sometimes the budget won't allow it or the items may not be easily found in your area. Remember, even making one small change is better than none at all, do the best you can with what you have!
Check in here at Oh Sweet Mercy on Mondays for easy, free homemade recipes!
YES! Your family, health and checkbook will thank you.
I intended this to be just recipes for food items, but while making some homemade cleaners this weekend I realized that it would be silly to limit Make It Myself Mondays to just edible recipes. There are so many everyday products you can make yourself! So, today's MIM Recipe is…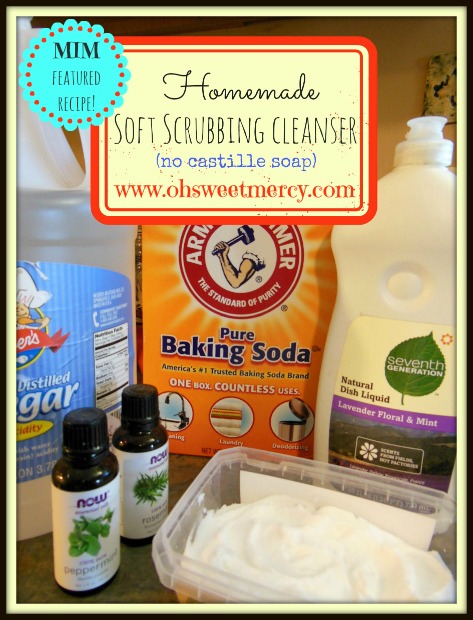 You may have seen recipes around for homemade soft scrubbing cleansers that contain castille soap and vinegar. The first time I made this, that's what I used. I honestly didn't have any problems with it, but I eventually learned you shouldn't mix castille soap and vinegar. You can read about the sciencey reasons here. As much as I love castille soap, I don't always have it on hand, and so I wanted a recipe that could be easily prepared using ingredients that I already have on hand. I had given my mother in law this recipe once and suggested that she try dish soap, since she didn't have castille soap. She said it was a bit too sudsy. So, I decided to see if I could modify it and I'm pretty happy with my results!
INGREDIENTS:
3/4 cup baking soda, heaping
2 Tbs dish soap (I love 7th Generation Lavender Floral & Mint)
1 Tbs water
1 Tbs vinegar
5-10 drops essential oil(s), optional*
METHOD: (Follow the steps in exact order, the vinegar has to go in last!)
Combine baking soda, dish soap and essential oils, if using. Mix in water, then add vinegar, stirring until you have a nice, creamy paste. Store in an airtight container, and resist the urge to make large batches as it dries out easily! If it does dry out, simply add a little water and stir until it returns to a nice, creamy consistency.
*Essential oils are a great way to add antibacterial properties to your cleaners. I chose rosemary for its antimicrobial properties, plus I just love rosemary and mint! Other great options are tea tree oil, cloves, and citrus.
TO USE:
Put a small amount on a wet cloth or sponge and gently wipe area to be cleaned. Rinse with water. I found it did a great job removing water spots on my kitchen faucet and even took the gunk off my sprayer (we have city water, hard city water, and this gross, salmon-colored build up ends up on anything the water comes out of…like shower heads and sink sprayers. Not to mention calcium and lime. Blech.). This isn't a harsh, chemical build-up remover, so you might have to work a bit to get really bad build up off, but it really did a great job shining up my kitchen sink and cleaning my stove top. It also doubles as a dish soap…I just used the remnants in the bowl to hand wash some dishes that couldn't go in the dishwasher. Yes, it has dish soap in it, but it's a great way to streeeeeetch that expensive, organic dishsoap! I think it would also be great to scrub off burnt stuff on the bottoms of stainless steel pans. Not that I would know anything about that since I am not distractible at all and always pay attention to what I'm doing….
When you run out of your famous-brand creamy scrubbing cleanser, whip up a batch of this in under five minutes and you'll be ready to clean with a healthy, chemical-free cleaner that saves you money! Do you already make your own cleaners? I'd love to hear about your experiences….the good and the bad…so please leave a comment below!