If summer has a flavor, it's corn on the cob. It's green and earthy and summer in the midwest would not be complete without those golden, sweet, juicy ears dripping with real butter. Monsanto had to go and make corn all Frankenstein-y, but you can find heirloom varieties that are not genetically modified, at least for now.
While I love to eat freshly picked sweet corn on the cob, I don't enjoy turning my kitchen into a sauna (and waiting forever for a big pot of water to boil) while preparing it! We were blessed with a bag of corn from my in-laws the other day and, while I couldn't wait to have it for supper, I wasn't excited about the preparation. I wondered if it were possible to cook corn on the cob in a crock pot. Well, wouldn't you know it…you sure can! And it's so ridiculously easy I can't believe I didn't think of it myself a long time ago.
There are several recipes out there on the web, and many say shuck the corn, butter it, season it if you want, wrap it in aluminum foil, and add water – or don't…there seems to be differing opinions on that ingredient. I'm all about easy and cooking without toxins as much as possible, so when corn on the cob comes naturally packaged in a wrapper, why go to all that trouble shucking it and wrapping it in aluminum?
After perusing many recipes, I decided on a method of cooking corn on the cob in my crock pot that combined parts of a few different methods, and the whole family was happy with how they turned out. I was happy with how easy it was and how cool my kitchen remained. We all know that when mama is happy, everyone is happy, and a happy household is a very good thing. Read below to find out how you can easily bring some summery, corny happiness to your house….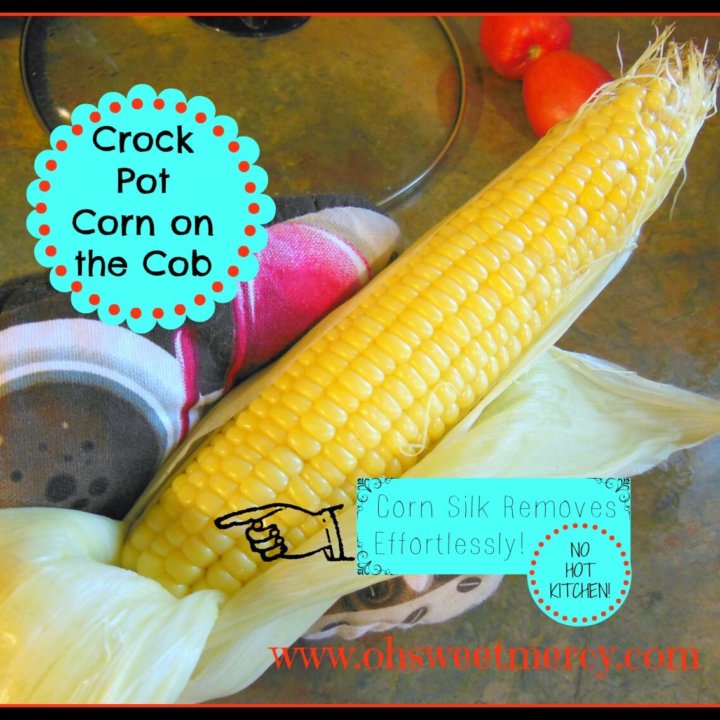 Corn on the Cob - in the Crock Pot: Another Reason to Love Your Slow Cooker!
Yield: 3-8
Prep Time: 5 minutes
Cook Time: 2 minutes
Total Time: 7 minutes
Easily cook corn on the cob in your slow cooker without turning your kitchen into a sauna!
Ingredients
6-8 ears of fresh, organic, non-GMO corn (if you can find it)
1/2 c fresh, filtered water
Instructions
Trim the flappy leaves from the corn, if they are still attached. I just used some kitchen shears and gave my ears a nice trim.
Rinse the ears if you are concerned about dirt or contaminants.
Lay the ears of corn on the cob in the crock pot – it's kind of like a puzzle, I put them in alternating the ends so they fit together nicely and had to move a few around to get the best fit. I also could only fit six ears in my crock pot, so depending on the size of your corn on the cob as well as your slow cooker, your results will vary. Some people use the round crocks and stand them on end.
Once you have them packed in there, add the water, put the lid on and set it on low for 2-4 hours.
Shuck the corn, butter it and do the typewriter thing while you eat it!
Notes
For THMs
Corn is an E food, but not one we should overdo or eat too frequently. Enjoy some fresh ears in the summer but be wise!
Nutrition Information:
Amount Per Serving:
Calories: 0
Cholesterol: 0mg
Sodium: 0mg
Carbohydrates: 0g
Fiber: 0g
Sugar: 0g
Protein: 0g
The benefits to leaving the corn on the cob in its natural wrapper are no aluminum for one, and it is soooo much easier to shuck the ears after they have been cooked. I used an oven mitt to hold them while I peeled off the leaves – the silk just peeled right away with the leaves. The corn itself is also not so hot that you can't hold on to it, like when you cook it in boiling water, so my little one could eat it easily (although he loves to use the little corn on the cob skewer-handle things we have). Besides, I just don't see the need to improve upon Yahweh's design…it's perfect like it is. I wish Monsanto would realize that and stop messing around with our food supply!
This is another one of those "blank canvas" kind of recipes. You could peel back the leaves and butter and season the ears (although some of the seasoning would come off with the silk, but it would still infuse some flavor into those sweet, juicy kernels) with garlic, maybe an Italian seasoning blend or a cajun seasoning if you wanted something hot and spicy. Summer is almost over here and I don't know how much more corn on the cob we'll be able to get, but I'd like to try this again before summer's end and use some seasonings to see how it turns out.
Try this and let me know what you did and how you like it!