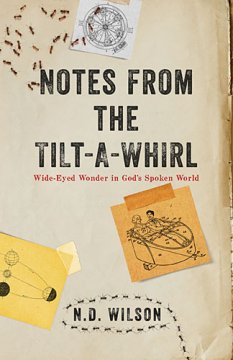 What is this World? What kind of place is it?

"The round kind. The spinning kind. The moist kind. The inhabited kind. The kind with flamingos (real and artificial). The kind where water in the sky turns into beautifully symmetrical crystal flakes sculpted by artists unable to stop themselves (in both design and quantity). The kind of place with tiny, powerfully jawed mites assigned to the carpets to eat my dead skin as it flakes off . . . The kind with people who kill and people who love and people who do both . . .

This world is beautiful but badly broken.

"I love it as it is, because it is a story, and it isn't stuck in one place. It is full of conflict and darkness like every good story, a world of surprises and questions to explore. And there's someone behind it; there are uncomfortable answers to the hows and whys and whats. In the beginning was the Word, and the Word was with God, and the Word was God. Through Him were all things made . . .

Welcome to His poem. His play. His novel. Let the pages flick your thumbs."
Booksneeze is a great place to get wonderful, free books (and they gave me a free copy of this book to review, with my own opinion). I've been reviewing for them for a couple years now, I think. I find myself drawn more to books in the "Christian Living" category than fiction or otherwise. I thought I'd go out on a limb with my next book to review and try something different.
Notes from the Tilt-A-Whirl, by N. D. Wilson, sounded very intriguing. I often think of off-the-wall things so I was anticipating liking this book. However, I have to be honest and say that I just couldn't get into it. It is like an odd stream of consciousness…I can't figure out if the author believes in the God I believe in or not. He makes statements that seem to support that conclusion, but then will trail off into some neverland of thoughts that left me scratching my head.
Even though I don't like giving a less than favorable review,  I have to be honest and say I did not like this book. It just wasn't for me.  If you like a vague, wordy stream-of-consiousness style of writing, you might find this book to be enjoyable. The booksneeze website gives an average rating of 4 out of 5 stars, so there are many people who do like it. There were some, like myself, who just couldn't get into the book or found it very confusing.
Perhaps I should just stick with my usual. But then, I just might miss out on something good! I'll keep an open mind about trying something new again.
======
FTC Disclaimer: Disclosure of Material Connection: I received this book free from the publisher through the BookSneeze.com® <http://BookSneeze.com> book review bloggers program. I was not required to write a positive review. The opinions I have expressed are my own. I am disclosing this in accordance with the Federal Trade Commission's 16 CFR, Part 255 <http://www.access.gpo.gov/nara/cfr/waisidx_03/16cfr255_03.html> : "Guides Concerning the Use of Endorsements and Testimonials in Advertising."