Like this post and don't want to miss more like it? Be sure to sign up for my newsletter at the end!
Do you cringe when you have to throw away leftover food?
If you are a Trim Healthy Mama, you know the pain of wasted food – especially when that leftover dish was made with Baking Blend or organic, grassfed gelatin. I try very hard not to waste food in general, but I'm even more vigilant about my precious THM ingredients!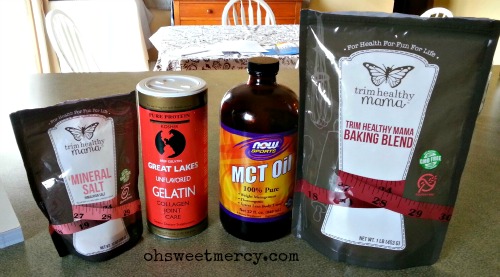 One trash-day morning, I decided to clean out the fridge before the truck came.
As I tossed out shriveled up avocados, forgotten-about organic green onions, and a variety of UFOs (Unidentified Food Objects), I got increasingly angry – with myself. I spent money on those things, money my husband works hard to earn. Then I remembered that a couple of years ago, I had designed a form to help me keep track of the leftovers and  minimize waste.
Obviously, I had quit using it. Painfully obvious!
But, a tool only works if you use it.
My Leftover Tracker is very helpful, but only if you actually use it! I'm very much an "out of sight, out of mind person". So, once that container of beef stew goes in the fridge and the door shuts, unless it's right there in front I probably will forget about it. Writing down what goes in there and when, and sticking it right on the fridge where I'd see it, helped me waste less food.
Using the Leftover Tracker is simple.
When putting leftovers in the fridge, simply jot down a short description of the food and approximate number of servings. Include the date you're putting it in the refrigerator. When you eat those leftovers, cross them off the list.
The hard part of using the Leftover Tracker might be training your family members to use it. But, teach your kiddos to remember write things down and cross them off and it will make life easier! Stress to hubby the money-saving aspect and he'll most likely be glad to help out as well.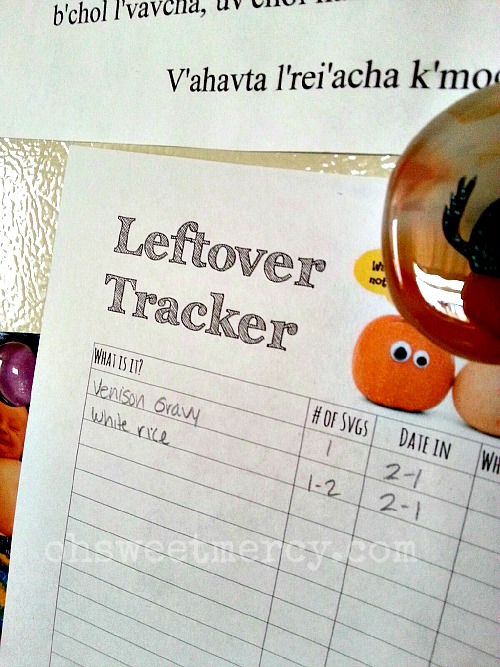 Use the Leftover Tracker to help you plan meals and save money.
Using the Leftover Tracker to plan meals around the food that needs to be used – before it goes bad – can save you money at the grocery store.  When planning your meals and grocery list, check the Leftover Tracker for leftover foods to use. Can you use leftover veggies in a side dish? Maybe leftover meat in a soup, stew or chili?
A couple ideas I love to use are Turkey Hash with Spaghetti Squash using leftover poultry (chicken works, too), and Shredded Beef Tacos with a leftover beef roast. Note: the beef tacos recipe was before I was THM, so  use plan-approved tortillas. If you use leftover chicken, feel free to serve with the rice!
Print it out and stick it on the fridge and be sure to have a pencil nearby.
To save paper, put it in a plastic sheet protector and use a dry erase marker. Either way, you have a handy tool to help you keep track of what goes in the fridge, and your refrigerator doesn't have to become a Bermuda Triangle for leftovers.
Don't Forget to Pin This Post to Your Favorite Pinterest Boards!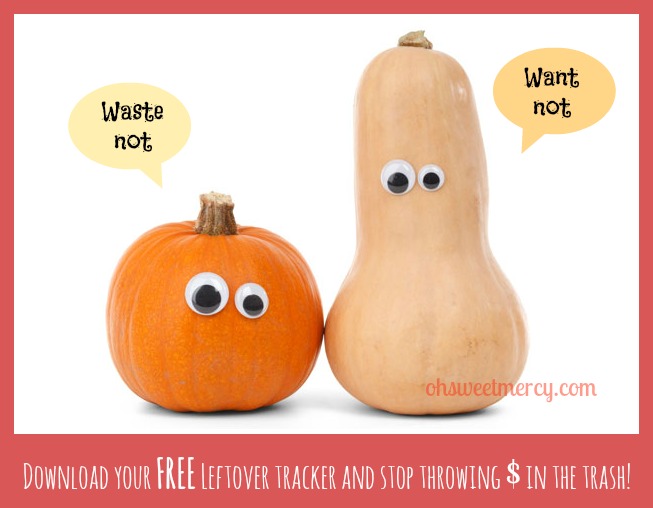 Have you used my Leftover Tracker? I'd love to know if it helps you save more and waste less!