"Wow, that's a huge coffee pot!" I hear that sometimes when people come to my house. Yes, I love coffee, but that is NOT a coffee pot! It's my awesome, wonderful Berkey Water Filter System!
When we lived in town, with a municipal water supply, this guy became my best friend. Seriously. Our tap water was nasty – sometimes it smelled like a swimming pool! I got tired of lugging jugs back and forth to the grocery store to buy reverse osmosis filtered water from the machine. Sometimes I would even forget to grab the jugs.
You'd think $0.39 a gallon for water is pretty cheap, right? But do the math, with a very conservative amount of filtered water purchased:
5 gallons a week x 39 cents x 52 weeks = $101.40
We drink way more than five gallons of water a week! I also use filtered water for cooking and soaking grains. On average, I fill my Big Berkey water filter system at least daily. Sometimes more than once in a day, depending on what I'm doing. That's at least fourteen gallons a week.
Let's do some more math, shall we? I know, I know…bear with me. It's simple!
14 gallons a week x 39 cents x 52 weeks = $283.82
Almost $300 a year! For jug-lugging! That is no fun. At. ALL. And if your store doesn't have a water machine like ours does, then you have to buy gallons of water every week for nearly a dollar a gallon, or more. Let's see how much that is:
14 gallons a week x 1 dollar x 52 weeks = $728
Oh. Sweet. Mercy.
I hope you were sitting down.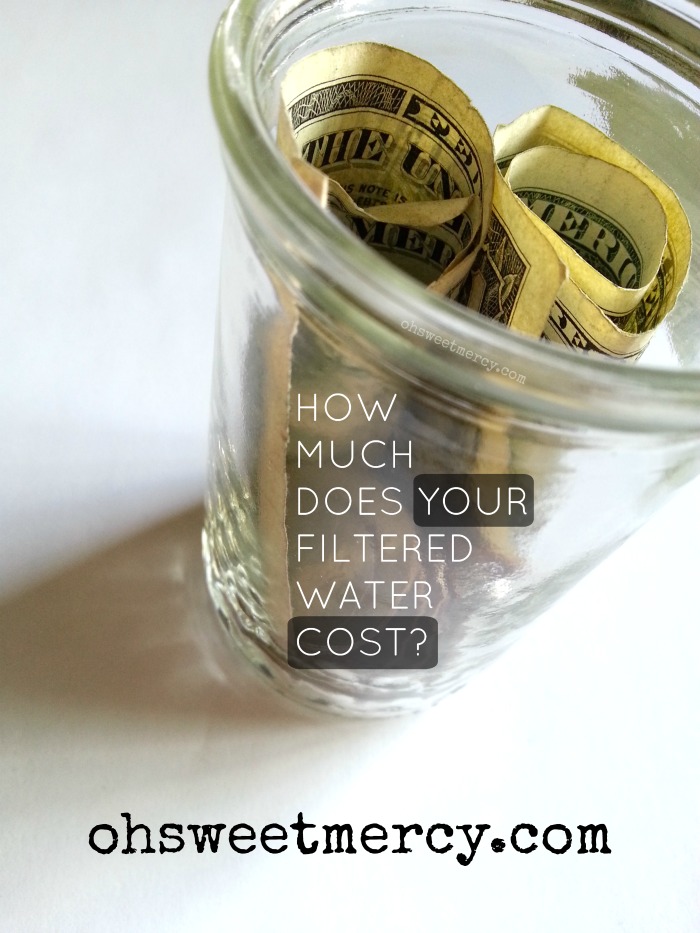 If you didn't spend $283.82 on dragging jugs of reverse-osmosis filtered municipal tap water around, what could you buy with that? A Berkey Water Filter System! The Royal Berkey water filter system is great for two to six people and it is only $283 – the same price as what you pay for lugging fourteen jugs around every week. Except all you have to do is fill it up and let it filter…you can even do that in your pj's!
There's a Berkey Water Filter System for every family size. From the individual Sport Berkey Bottle to the Crown Berkey, you are sure to find a water filter system that suits your needs. The Big Berkey is the size we personally use. It's perfect for up to four people in a household.
What are the advantages of a Berkey Water Filter System?
Clean, fresh drinking water whenever you need it – reducing or removing the following:
The Black Berkey purification elements remove or reduce pathogenic bacteria and cysts (E. Coli, Klebsiella, Pseudomonas Aeruginosa, Giardia, Cryptosporidium, Raoltella Terrigena, Bacillus Atrophaeus, viruses and parasites are reduced to > 99.9999%)
Herbicides and Pesticides, chlorine, detergents, organic solvents, THMs, MTBEs and other VOCs removed to below detectable limits
Corrects cloudiness, silt and sediment
Radiologicals – Radon 222
Nitrates and Nitrites, Selenium and Thalium
Heavy Metals reduced by at least 95%
Iron
Foul tastes and odors
No dragging jugs around each week or running out of fresh, filtered water when you need it most
SAVE MONEY!!! Each Black Berkey element can filter up to 3000 gallons of water! A Big Berkey Water Filter System with two elements will filter water at a cost of less than TWO CENTS A GALLON! And, those filters can last for YEARS [calculate how long here]. 14 gallons of water a week adds up to 728 gallons of water a YEAR. You don't have to be a math genius to get an idea of how long these filters can last!
SAVE WATER!!! Reverse osmosis systems waste a LOT of water. That increases your water bill if you live in town. And, it's just not good stewardship no matter where you live.
It's great for emergency preparedness – It's portable, requires no electricity AND you can filter pool water, toilet tank water, water from a nearby stream or lake, even stagnant pond water! If the power goes out in the winter, you can even fill it up with snow, and as it melts it you will get fresh, clean drinking water. Can your current water filter system do that?
There are also optional Fluoride and arsenic filters available for those who choose to remove fluoride from their drinking water. I'm not a big fan of fluoride and try to avoid it as much as possible, so I was thrilled that they have these filters available. If you have well water, you don't need these. I'm not the only one who doesn't advocate fluoride, either. You can read more about why HERE.
How easy is it to use a Berkey Water Filter System?
When I first got my Berkey, I was deathly ill. Well, it felt that way at any rate. I was still able to assemble the Berkey and use it easily. There are only a few parts to this wonderful thing:
Upper and lower chambers and a lid. They are stainless steel!
Depending on the size of your Berkey Water Filter System, there will be at least two Black Berkey filters. You may use more if you wish. If not, there are "plugs" to block the holes where the extra filters would go
Spigot. I highly recommend the Sight Glass Spigot, so you can easily see how much is in your Berkey. If you add more water to the upper chamber than what the lower chamber can hold, you will end up with water all over!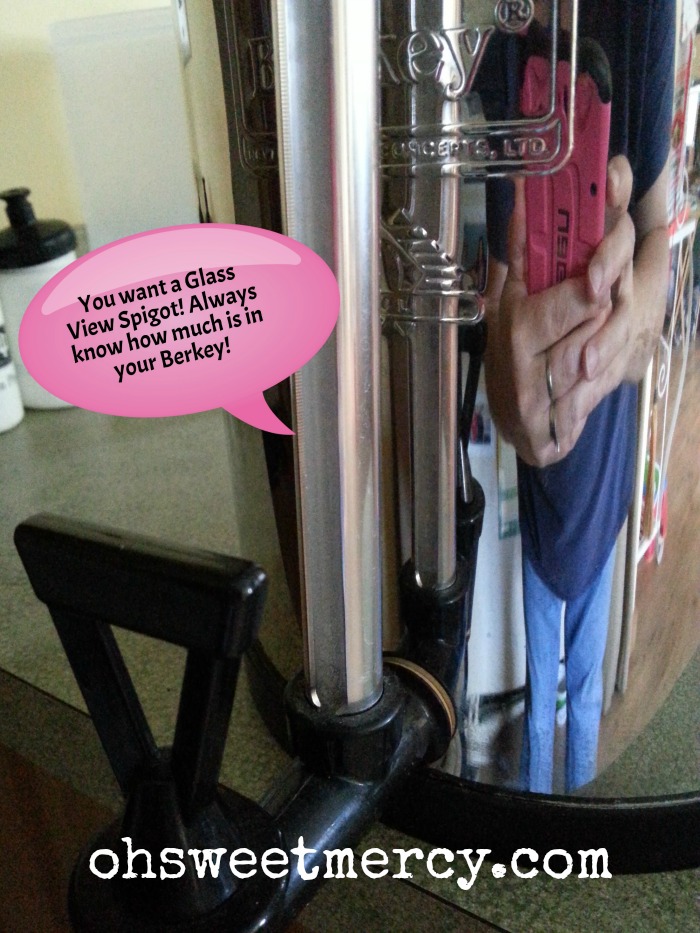 You must "prime" the filters before the first use (and any time the system is not used for more than a couple days). Follow the easy instructions included with your Berkey Water Filter System. After they are primed, you simply affix the filters inside the upper chamber (and the plugs if you aren't using the full amount of filters available for your unit) and put the upper chamber on top of the lower chamber.
You definitely want to do the food coloring test! Red food coloring will not filter through the Black Berkey elements. Other food coloring will, so only use red. If you see any red color in the lower chamber, check to make sure the filters are screwed on tightly (but not overly tight, that can also allow leaks from the upper chamber).
If you also get the Fluoride and Arsenic filters, be sure to prime them properly! I did not let the water run long enough through the filters the first time and blech! The water tasted bitter! Those are attached underneath the upper chamber, to the threads of the Black Berkey elements. Be careful not to over-turn the Fluoride and Arsenic filters or you could ruin them.
Cleaning the filters is easy! Do it once a month to keep your Berkey Water Filter System running smoothly. Simply remove the filters and scrub them under cold, running water with a scouring pad. You'll want to have one like this dedicated to clean ONLY your Black Berkey filters. Be sure to clean the rubber washer too.
Cleaning the rest of the Berkey Water Filter System is easy, too! Just use warm, soapy water to clean the upper and lower chambers. If you have very hard water, you may need to use vinegar from time to time to remove the calcium and lime deposits. Rinse well, or rinse with vinegar and water to remove any residue from your dish detergent. Then put it all back together and fill the upper chamber. It shouldn't take more than 20-30 minutes a month to keep your Berkey Water Filter System clean.
Why do I love my Big Berkey Water Filter System?
It's a no-brainer for me! It saves me money. It saves me time. It saves my back. It gives me peace of mind knowing that our drinking water is safe and clean. For Pete's sake, if I wanted pool water to drink I'd just borrow some from a neighbor. Blech.
I know that plopping a couple hundred Bens down on a water filter system can be tough to justify. It's a big expense up front. But when you consider what you've probably been paying to buy water at the store, you'll see that you will save money in the long run. What we did was buy one when we had the extra money at tax time. It is one of the best investments we've ever made!
OK, you've convinced me. Where can I get one of these wonderful Berkey Water Filter Systems?
Simply click on this link —-> I Want a Berkey Water Filter System! It's my affiliate link, so thank you in advance for purchasing through this link. It helps support this site and my family and we're ever so grateful! I know you will love your Berkey Water Filter System as much as I do!