Like this post and don't want to miss more like it? Be sure to sign up for my newsletter at the end!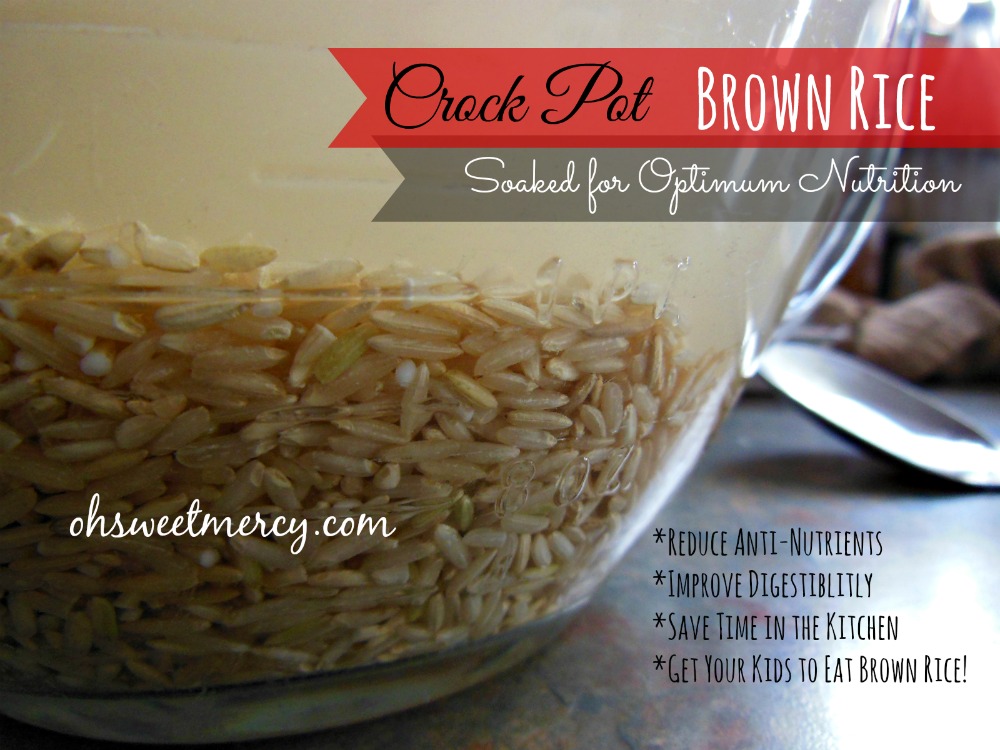 Don't have a rice cooker? No problem! Use your crock pot!
Yes, you can cook rice in your crock pot, and you can make it more nourishing too. I've soaked my grains for few years now (most of the time, sometimes I forget to get it soaking the night before) because they are more nutritious that way. Brown rice has much better taste and texture after soaking, as well. You know brown rice is better for you but if you have trouble getting  your family to eat it, try this Crock Pot Soaked Brown Rice!
Why soak grains?
Grains contain anti-nutrients called phytic acids (among others). These anti-nutrients inhibit your body's ability to absorb the nutrition in the rice. Soaking the grains in an acidic medium before cooking neutralizes these anti-nutrients, making the rice more digestible (read a great article about this here). Soaking brown rice also helps make it more fluffy and less chewy, more similar to white rice. You might be able to fool your family using crock pot soaked brown rice in a casserole and eventually they might even not notice eating it plain. It looks a bit different than white rice though so the very picky discerning ones might be suspicious.
The first time I tried cooking rice in my crock pot, I was skeptical of how it would turn out. I ended up letting it cook a little too long, so the rice closer to the bottom of the crock was kind of mushy. My husband prefers rice mushier so it wasn't a problem. My kids don't care as long as it's rice! The next time I made it, I was careful about the time and it turned out perfectly. Another terrific Sabbath use of my crock pot!
Making Crock Pot Soaked Brown Rice is very easy!
For a six quart oval crock pot, I combine two cups of brown rice in a glass bowl with four cups of warm, filtered water and four tablespoons of something acidic, such as apple cider vinegar, whey, yogurt or lemon juice. You can make more or less, depending on how much you need and the size of your crock pot. Just keep that ratios the same.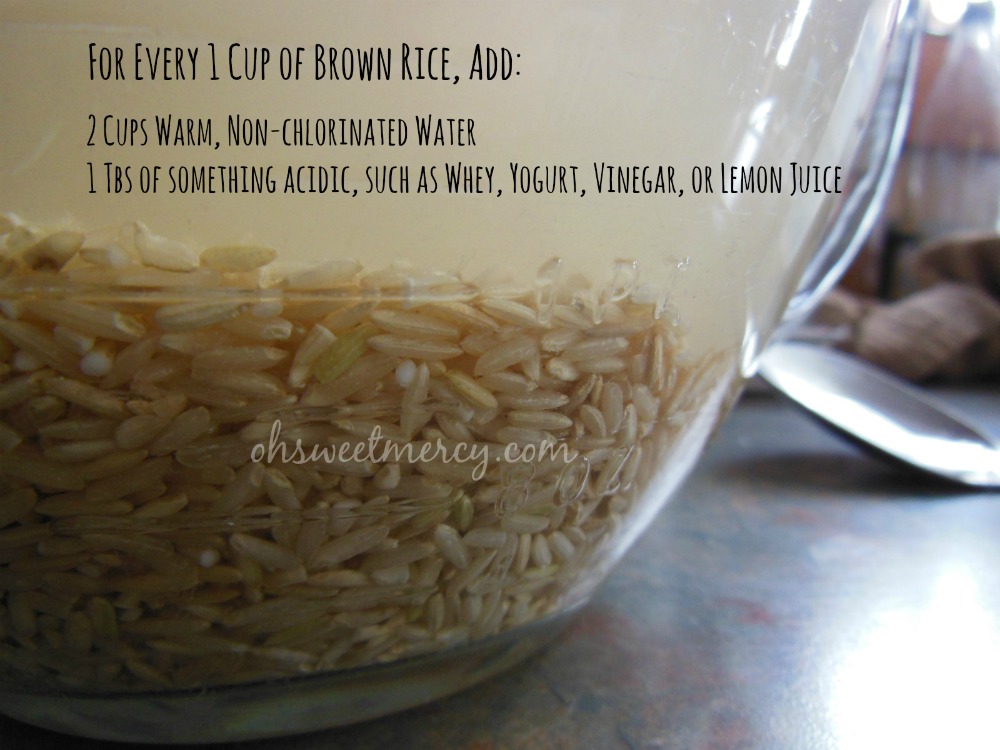 Today, I put the soaking bowl into my crock pot, without the ceramic crock since it was dirty indisposed, covered it with another crock pot lid, and turned the pot on warm to help keep the water warm. I stirred it a few times throughout the day to keep the water temperature somewhat even. I don't always do this, it's just been so cold lately that it's hard to keep the water warm while soaking.
After eight hours (or longer, I've let it soak for up to 48 hours with fine results), I drain the rice. I've also let it soak less than eight hours, because I didn't get it started soon enough. I figure some soaking is better than none, so while letting it soak longer is best, if I can't pull it off I don't stress over it. I aim to have it soak overnight, or at least get it started soaking first thing in the morning, around 5:30-6:00 a.m. Since I'm not much of a morning person, that doesn't happen all that often.
You can cook the rice in the soaking liquid, however, it may have a sour-ish flavor that is unpleasant to some. Others don't mind a sour flavor, but my family is kind of particular about that so I rinse the rice well.
Next, I take some butter and rub it around inside the crock pot before adding the soaked rice.
Then I add salt, butter and 4 cups of water, or better yet, nourishing bone stock. Since I was making this crock pot soaked brown rice to have with Shredded Beef Tacos, I added a little ketchup (tomato sauce would work fine too) and about 1-11/2 teaspoons of sea salt (I like this brand). If I plan on making rice "pudding" for breakfast, I don't add a lot of salt and I don't use a strong flavored stock. A light flavored bone broth would work all right for a sweet dish with the rice. If you find that the rice is too sticky for your preferences after it's cooked, the next time you make it you can increase the water to 21/2 cups per cup of rice.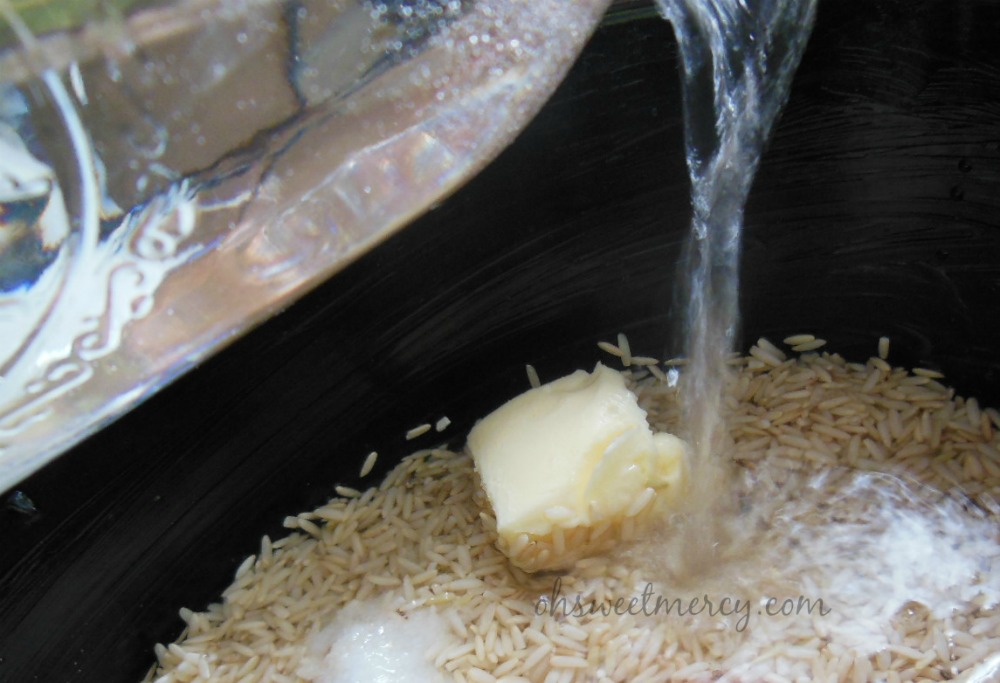 Turn the crock pot on high and set your timer for 3 hours
.
I check it occasionally (DO NOT take off the lid!) after a couple hours to make sure it doesn't get too done My crock pots tend to cook "fast". Please, resist the urge to take the lid off and stir. Just like with cooking rice on the stove, you do not want to lift the lid and let that steamy goodness out. 
After about two hours, you will look at it and think "this will never be done in time."  It will most likely still look like it did when you put the lid on a couple of hours ago. Resist the urge to dump it in a sauce pan and finish it on the stove. Grab a book and go put your feet up while it finishes. Seriously. When the timer goes off, you'll be amazed!
After the timer goes off, fluff it with a fork and it's ready to eat or go into a casserole or whatever.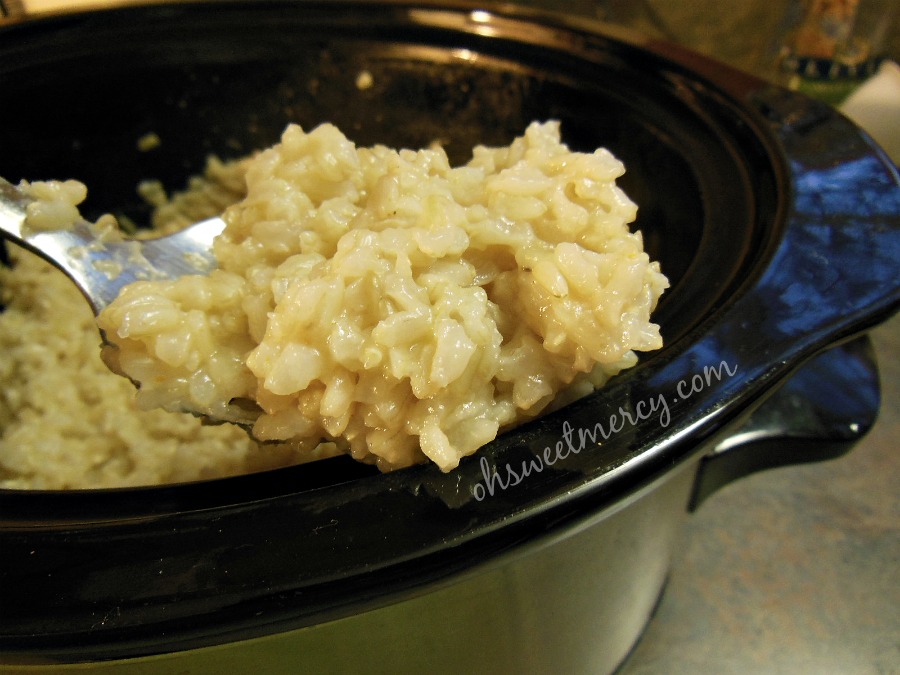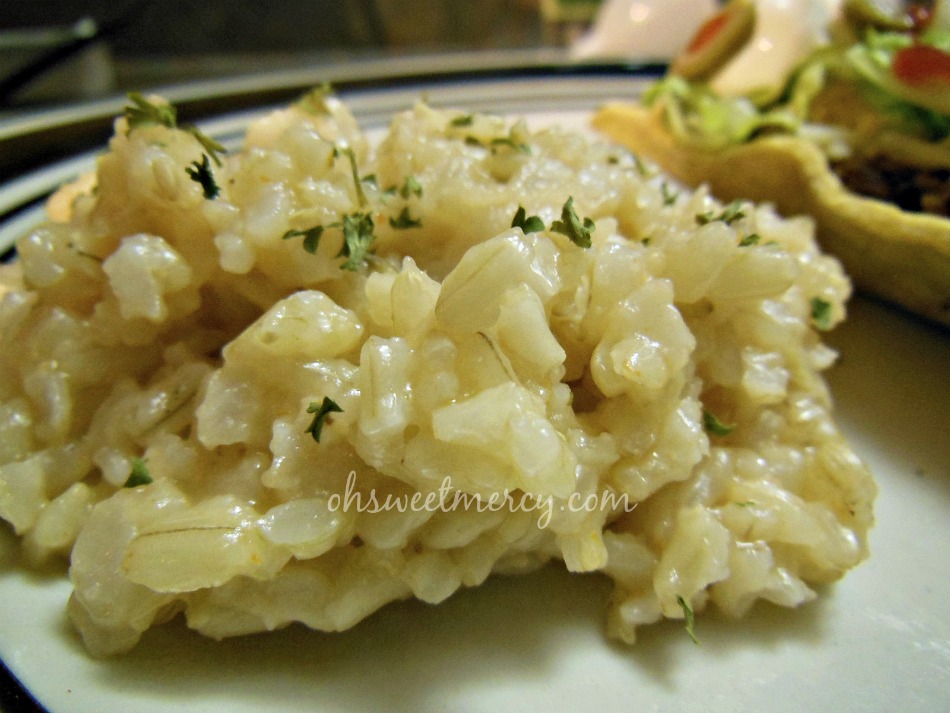 Making crock pot soaked brown rice is also a great way to prepare ahead!
Make a big batch and freeze part of it. I always intend to do that, but the rice monsters I live with don't let me. They really, really love rice! You can freeze in individual portion sizes. This is especially handy if you are following the Trim Healthy Mama plan (affiliate), as soaked brown rice is a very healthy and delicious component of an E meal. Planning ahead to soak and cook the rice is a great idea for making Cowboy Grub, which is a very tasty and satisfying recipe in the new cookbook! Because of copyright, I can't share that recipe with you, but trust me…it's crazy easy and delish! You can get your own copy from my affiliate partner here.
Crock pots are for way more than slow cooking meats!
In my search for how to cook rice in a crock pot, I remember reading someone's comment to a person who asked about cooking rice that way. They said crock pots should only be used for things that need long, slow cooking. I had to chuckle a bit at that, and also feel a bit sorry for them. They're really missing out on a lot. You see, you can do so much more than make soups, stews and roasted meats in a crock pot! You just need to think outside the crock a bit. Having a Pinterest account wouldn't hurt, either…
I have updated the recipe!
A comment from a reader made me realize it was a bit confusing. If you don't care about rinsing the rice to remove the sour-ish taste, you can soak and cook directly in the crock pot. Just turn the crock pot on after soaking to cook it in the soaking liquid. You'll want to soak in water though, not broth.
If you DO want to rinse the rice, then you'll need to replace the liquid with either more water or a nourishing broth of your choice, such as bone broth or vegetable broth. Use double the amount of water per cup of rice. For the recipe below, you will use four cups of broth for the two cups of rice.
Crock Pot Soaked Brown Rice
Easily make nourishing Soaked Brown Rice in your slow cooker.
Ingredients
2 c brown rice
4 c warm, non-chlorinated water for SOAKING
4 c nourishing bone stock or broth for COOKING
2 Tbs acidic medium such as whey, yogurt, apple cider vinegar or lemon juice
1-2 tsp sea salt
1-2 Tbs traditional fat such as butter or coconut oil
Directions
Combine rice with 4 c liquid of choice and acidic medium of choice in a non-reactive bowl
Lightly cover and keep in a warm place for 7-8 hours, or up to 48 hours
**If you do not like a sour flavor much, I suggest rinsing the rice well before continuing**
Lightly grease the inside of a 6 quart slow cooker
Add soaked rice and cooking liquid of choice (you can soak in the crock pot and just cook it directly after soaking if you don't want to rinse the rice first)
Add salt and traditional fat of choice, as desired (Leave out fat if preparing for a Trim Healthy Mama meal)
Cover and set slow cooker on high
Rice should be cooked in three hours, however, check sooner (without lifting the lid!) in case your slow cooker cooks "fast" (hot)
Fluff with fork and serve or use in another dish
Recipe Notes
If this turns out too sticky for your preferences, the next time, increase the cooking liquid to 21/2 cups per cup of rice.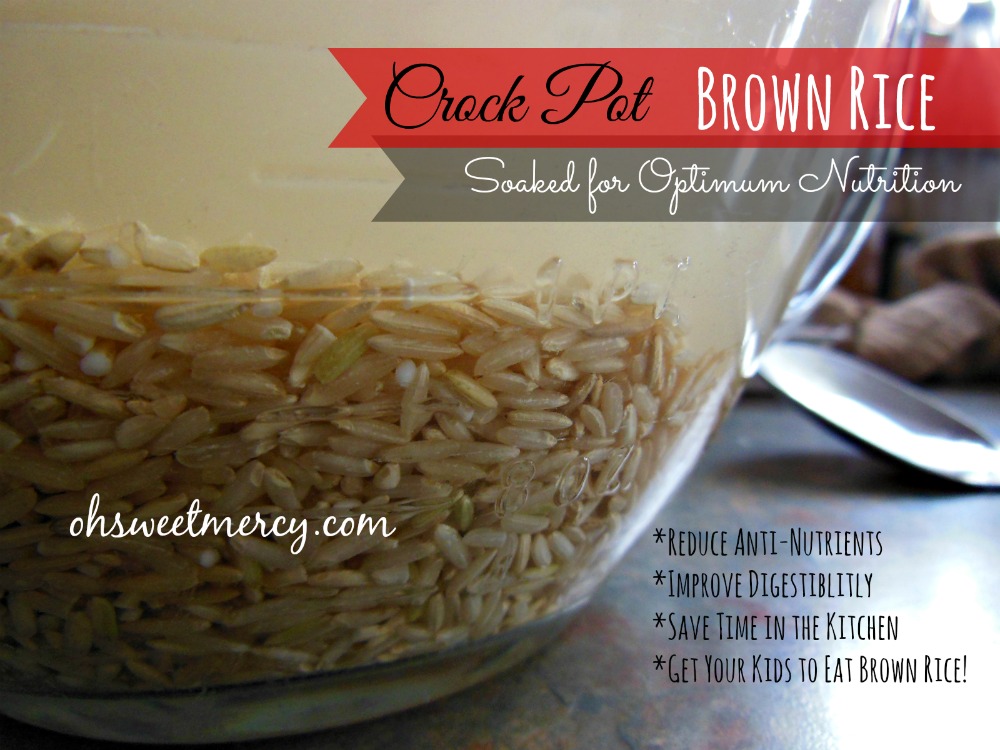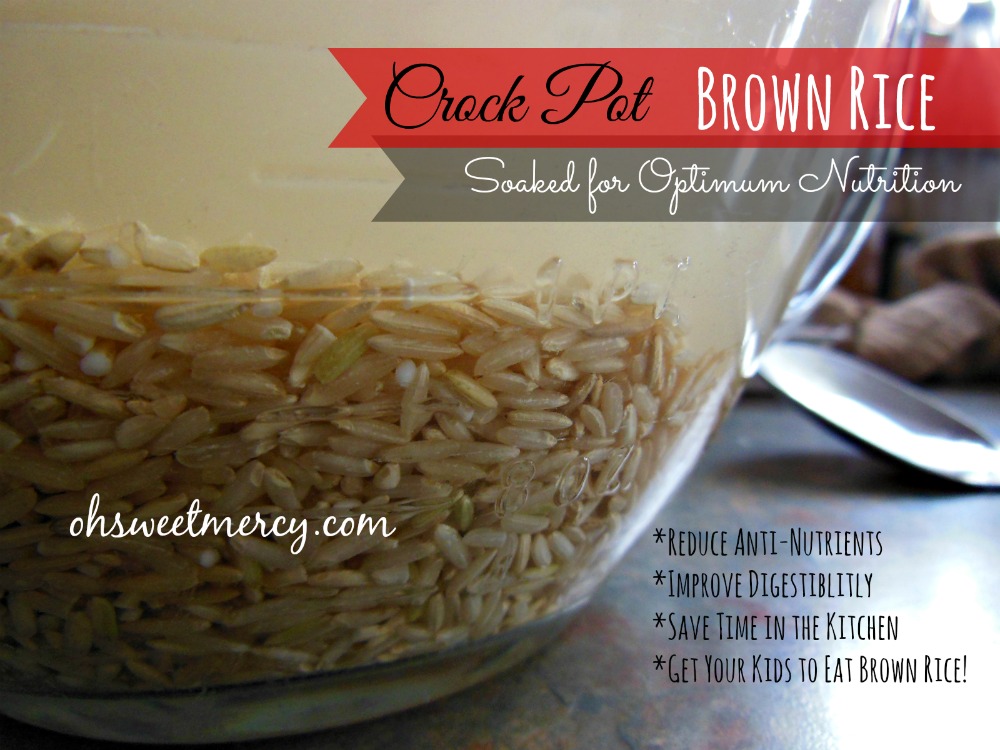 While my recipes are not officially endorsed by Trim Healthy Mama, I do my best to ensure they meet plan guidelines. Always refer to the THM plan book for complete information.
Are you surprised that you can make Crock Pot Soaked Brown Rice?