Remember when credit and debit cards first came out? Waaaaay back when? They were pretty boring. Many of them still are.
Not so with the Prepaid Visa Debit Card from CARD.com. Not only is your cash safe (because it's safer than cash, according to their website!) but you can sport a design that is totally you. They are not gift cards that you toss after spending all the money on them, but reusable and you can even have your paychecks direct deposited on them.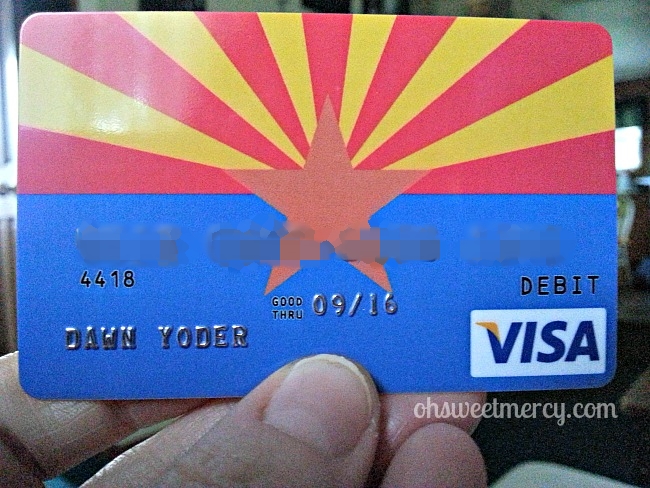 Recently, I was  selected to receive a complimentary CARD to use and review. I was very excited to choose a design that reflected my personality, or otherwise was relevant to my life. There are thousands of designs from which to choose – from TV shows to pets. The one that caught my eye though was the Arizona flag, since I can't wait to move there.
I received the card very quickly and it looked great. It came attached to a card with all the information you need to get it activated and use it quickly. My only problem was that I couldn't decide where to use it! I finally decided to use it online to order some amazing Mocha Mint Yerba Mate tea I had tried recently. I like that I can use this card to securely order items online and not have to worry about someone maxing out my credit card or emptying my bank account.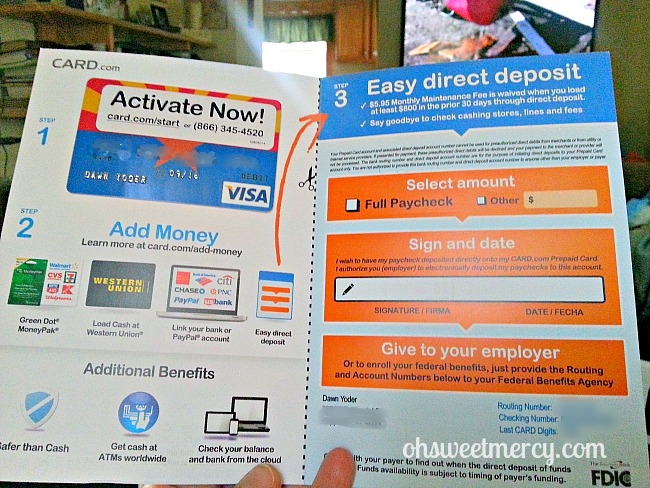 I've used pre-paid debit cards before, from our bank, and had experienced trouble with them working at random places so I was very curious to see if I'd have the same problem with the CARD.com Visa. I'm happy to report that I had no trouble making a purchase online with it.
There are also many great features, such as…
Free to order, activate and load

Free app and check deposits from your smartphone

Free direct deposit

Free card-to-card transfers, any time, anywhere, in seconds

No overdraft fees — never goes negative!

Safer than cash – 24/7 support, Visa fraud protection and 100% FDIC insurance on funds

No debt, financially responsible, no interest/credit/APRs

No credit check and approval in seconds

22,000 in-network ATMs

Thousands of cool, unique card designs to choose from, including brands like: Garfield, Popeye, Betty Paige, James Dean, Care Bears, Walking Dead, Star Trek, Autism Awareness, Breast Cancer Research, Shark Week, Where's Waldo, Doodle Jump, Three Stooges, Nancy Drew, etc.

Small monthly fee ($5.95) is waived when you have  $800 in direct deposits for the month.
Whether you have perfect credit or are starting over and need the convenience and security of using a credit card without the risk of racking up a bunch of debt, CARD.com is a great alternative. And, they really look cool! Here's a few ideas of how a prepaid Visa from CARD.com can help make money management easier for you:
Do you budget "blow money"? Load it on your CARD at the beginning of the month and always be ready to treat yourself to a little something or get some quick cash from the ATM.
Have your holiday fund deduction directly deposited on your CARD each week and be ready for those Black Friday Sales (or super great deals you find throughout the year)!
Have a kid in college that you send money to regularly? Get them a CARD and load the money on there for them. No risk of them getting over their head in debt!
Load it with spending money before heading out for vacation.
I love the design of my CARD! And it was super easy to activate and use. Head to CARD.com now and get yours!