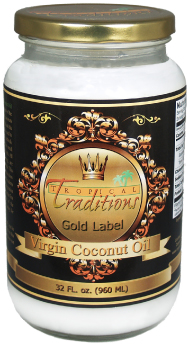 Can I tell you how excited I am about this review and giveaway? Like jumping up and down excited!! I recently received a generous, quart sized sample of Tropical Traditions' Gold Label Virgin Coconut Oil to review plus they're sponsoring a giveaway here on Oh Sweet Mercy! All those exclamation points might be a clue to my level of excitement as well, eh?
Never heard of Tropical Traditions? Well, let me introduce you to them! Watch this short video to learn about their Virgin Coconut Oil:
My sample from Tropical Traditions arrived a short time before we needed to leave for the weekend, so I thought about it the whole time, lots of delicious recipes going through my mind – I couldn't wait to get home and try it!
I expected it to smell more "coconutty", but then when most of the exposure to coconut one has had is the artificial scents in air fresheners and such, it's really a surprise. It smelled like fresh coconut meat, but it wasn't an overpowering aroma.
Tropical Traditions Gold Label Virgin Coconut Oil is their highest-quality organic virgin coconut oil. It is hand-crafted in the Philippines in small batches by hundreds of local family producers who use the traditional method to extract the coconut oil. Family farmers must undergo very strict quality control training as well as facility inspections. They must also adhere to Tropical Tradtions' high quality standards such as how old the coconuts can be, the types of coconuts and equipment used to process the coconut oil. The end result is a delicious, healthy and very high quality product. You can also learn more on their page, What is Virgin Coconut Oil.
Since I could not wait to try some of that coconutty delicousness, I made something that was ready very quickly, and devoured almost as quickly – Coconut Crack Bars. So named because they are highly addictive! However, they will not bankrupt you, destroy your family or your health. They're good for you! There's several recipes going around the web, mine is a bit different.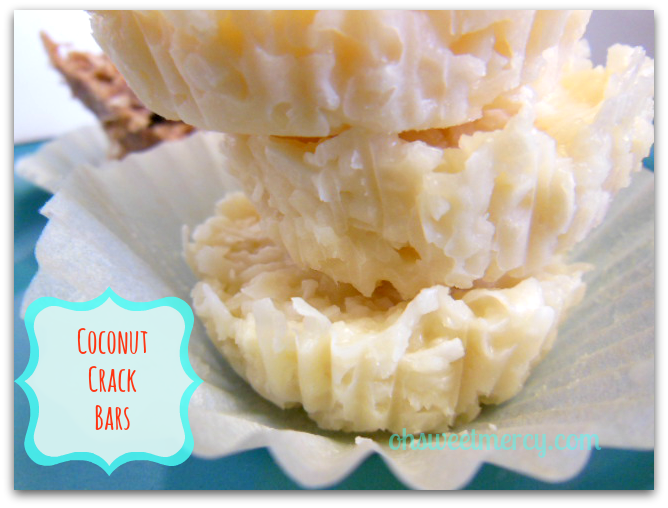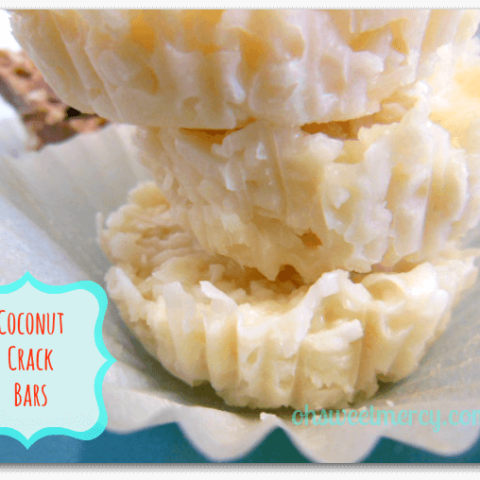 Coconut Oil Crack Bars (NOT THM)
Prep Time: 10 minutes
Chill Time: 1 hour
Total Time: 1 hour 10 minutes
Super easy and highly addictive snack or dessert. One bite and you're hooked for life!!
Ingredients
4 cups shredded coconut
1/2 c virgin coconut oil
4 Tbs softened butter
3/4 c honey
1/2 tsp salt
2 tsp pure vanilla extract
*variation*
Instructions
Place all ingredients into a mixing bowl.
Mix with a spoon until combined.
You could also use a food processor.
Spread mixture into a 9" x 9" baking dish and refrigerate for one hour (or less...)
**variation**
Line a muffin tin with parchment paper baking cups.
Pack as much of this delicious stuff into them as desired.
Refrigerate until hardened.
KEEP REFRIGERATED. They will become very soft at room temp.
Notes
The butter and honey together with the coconut are so delicious! You can leave the butter out to make them dairy free if necessary.
The uses for coconut oil are many! It's solid at under 76 degrees, so it can be used as shortening. It can be gently melted and used in place of vegetable oil. Throw it in the blender with your smoothies. Use it in your homemade granola. It adds a delicious, rich depth of flavor to any dish – we love it in oatmeal. But wait, there's more! You can rub it on your skin, and make natural personal care products such as toothpaste, deodorant and lotions. This stuff is simply amazing! Check out How to Use Coconut Oil at Tropical Traditions for even more uses!
I'm so excited to give you the opportunity to win a quart of their amazing Virgin Coconut Oil! Just use the rafflecopter below for your easy entries to this awesome giveaway! And, if you click on any of the affiliate links in the post and order coconut oil or any of Tropical Traditions' other great products, I'll earn a little too – we both win!
Tropical Traditions provided me with a free sample of this product to review, and I was under no obligation to review it if I so chose. Nor was I under any obligation to write a positive review or sponsor a product giveaway in return for the free product.