We've done a couple experiments with taste this year, and those are right up our alley since we love science AND food. This latest experiment was called Tongue Map (you can find the instructions here) and the results were interesting.
We put salt water, sugar water, lemon juice and cocoa powder mixed with water (which is almost like trying to mix oil and water. For real.) in little cups and got some cotton swabs and glasses of water. Sister made a small chart to record the results of our experiments, Mister wore his bathrobe stylish plaid lab coat and was instructed to not gag his sister with the cotton swabs.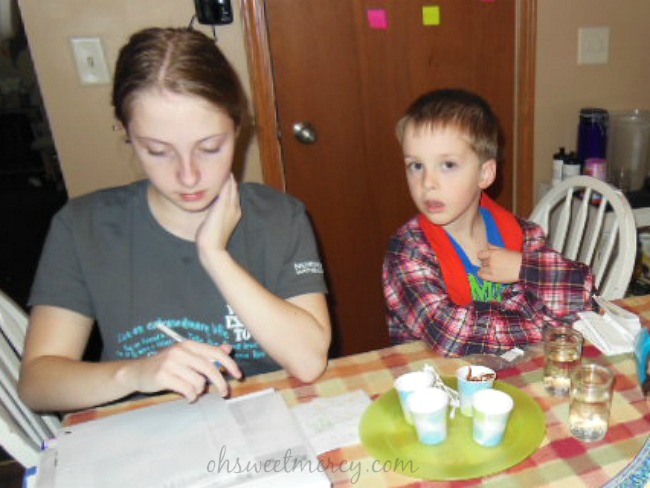 Mister was the first Taster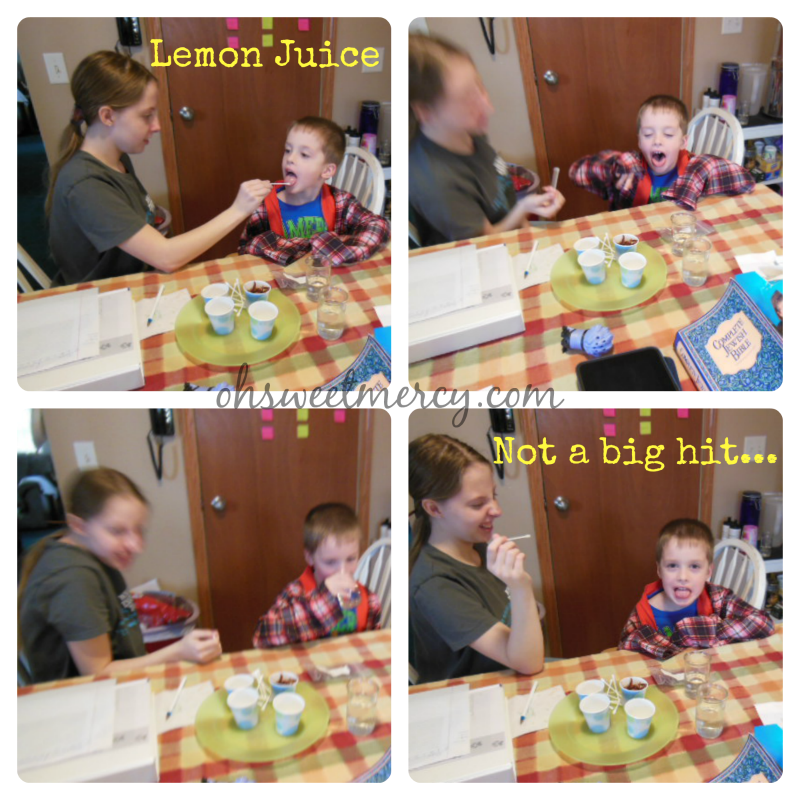 Sister was next. They actually both kind of gagged each other, in spite of admonishments to not do so. They were even so I let it slide. Live and learn, I always say.
They tested each taste on the front, back and sides of their tongues. It's important to remember to drink some water after each "swabbing" to remove any residual material that might interfere with the next taste center being tested. The results showed that they tasted most flavors most strongly either on the back or sides of their tongues, and none on the front.
Sister then wanted to test and see where the umami taste region was. What is umami? It's the fifth basic taste, and is a savory sense that is
imparted by glutamate, a type of amino acid, and ribonucleotides, including inosinate and guanylate, which occur naturally in many foods including meat, fish, vegetables and dairy products. As the taste of umami itself is subtle and blends well with other tastes to expand and round out flavors, most people don't recognize umami when they encounter it, but it plays an important role making food taste delicious. Source:What is Umami?
I used some turkey stock that I'd recently made, and Sister didn't really taste anything although Mister did. Since my nourishing bone stock was made by me, I know there were no artificial glutamates in it. Perhaps since it was a stock and not an actual piece of meat, there wasn't enough umami flavor present for them to detect. Or, they could just be like most people and not really detect it. Sister wants to do some larger scale experiments now. She is currently accepting applications for victims test subjects.
We were surprised by the results, since we had thought that certain regions of the tongue were responsible for detecting different tastes. According to this wikipedia entry, the "tongue map" as it is called is a common misconception. We're kind of weird around here about taste anyway, so either it's a misconception or it's just us.
The Tasters were then rewarded with some homemade mini glazed gluten free donuts. I'm glad they work for food!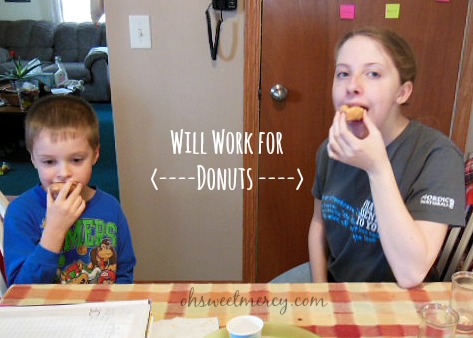 What kind of experiments do you like to do with your kids?