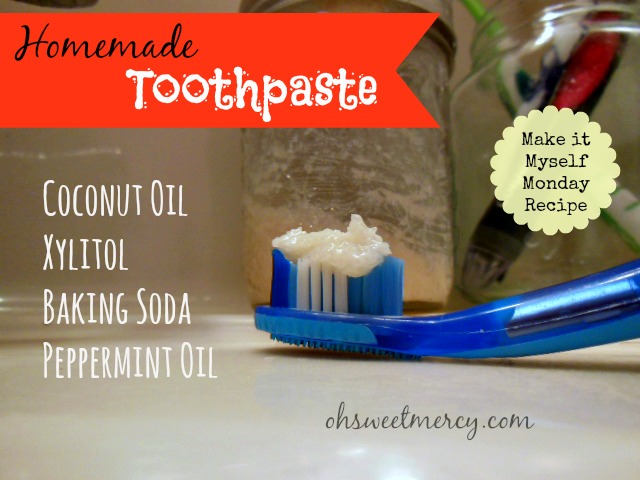 Coconut oil is such an amazing thing! Not only can you make delicious foods with it, but you can also use it for many personal care applications. It makes a terrific skin moisturizer, removes eye makeup, helps wounds heal with less scarring, and you can make your own homemade toothpaste.
Why would you want to make homemade toothpaste? Besides saving money, you will reduce your exposure to ingredients that really aren't necessary and most likely are harmful. Some of these include:
Propylene glycol – a wetting agent and surfactant. Also a component in antifreeze.

Sodium lauryl sulfate – a detergent, cleansing agent. Harmful to eyes and skin.
Triclosan – you can find this gem in many antibacterial products. The EPA lists it as a pesticide. It can react with the chlorine in municipal water supplies and is also possibly an endocrine disruptor.
DEA – (diethanolamine) is found in products that get foamy. Risk of kidney and liver cancer from repeated exposure
There are also many studies showing that fluoride is actually harmful, especially for young children. There are also studies saying it isn't and most dentists really push it. You need to decide for yourself if fluoride is something that will harm or benefit your family's health. Incidentally, my dental hygienist once told me that toothpaste isn't really necessary! Just brushing with a toothbrush and rinsing your mouth well several times a day is just as effective.
I try to reduce the amount of fluoride in our lives as much as possible. One way I do that is by making my own homemade toothpaste and leaving the fluoride out of it. I've made it with expeller-pressed coconut oil before, but organic virgin coconut oil is much better. Xylitol is also great for tooth health. There are some people that think baking soda is too harsh and can harm your teeth, but I have not had any problems with it. You could increase the amount of xylitol and leave out the baking soda if that is a concern for you. Adding essential oil, such as peppermint, gives it a refreshing flavor as well as imparts the antiseptic properties of the oil.
This time of year, at least in my neck of the woods, it's pretty darn cold. Coconut oil solidifies below 76 degrees, so unless you're living in a warm climate or keep your home pretty warm you may need to gently warm your coconut oil to soften it. You can completely melt it but it's not necessary, just get it soft enough to stir in the other ingredients. This can be done by putting the coconut oil in a bowl and setting that bowl in a larger bowl of hot water or by melting in a saucepan on low heat. Or, if you don't mind a little work (and I do mean very little), just start mashing it with a fork until it comes to a soft consistency.
This recipe is super easy, just mix the following ingredients together well:
Homemade Toothpaste
3 Tbs virgin Coconut Oil
4 tsp xylitol (non-gmo hardwood)
1 tsp baking soda
15 drops peppermint essential oil, more or less to taste
Store in an airtight container. Use as you would any other toothpaste, except you don't have to worry about your little ones swallowing it!
I love how clean my teeth feel, it is noticeably different than commercial toothpastes. The first time I made homemade toothpaste, I used a recipe that called for FOUR tablespoons of baking soda and only TWO tablespoons of coconut oil. I loved how it worked, but the taste took some time to get used to. This recipe is much less salty (way, way less baking soda!) and still works just as well.
Of course, the best defense against cavities and poor dental health is a diet with adequate nutrition, especially minerals. The Standard American Diet is sorely lacking in that area, so it's no wonder that so many Americans have cavities. Yes, drinking pop (or soda) and eating sugary foods certainly contributes, but strengthening your teeth from the inside out is still a good idea!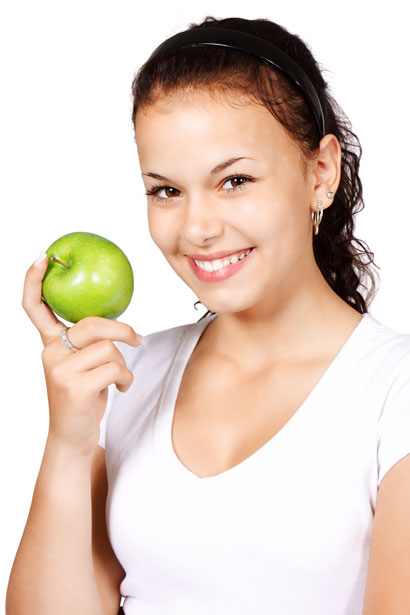 Have you used coconut oil to make your own homemade toothpaste? I'd love to hear your opinions on it, leave a comment below!