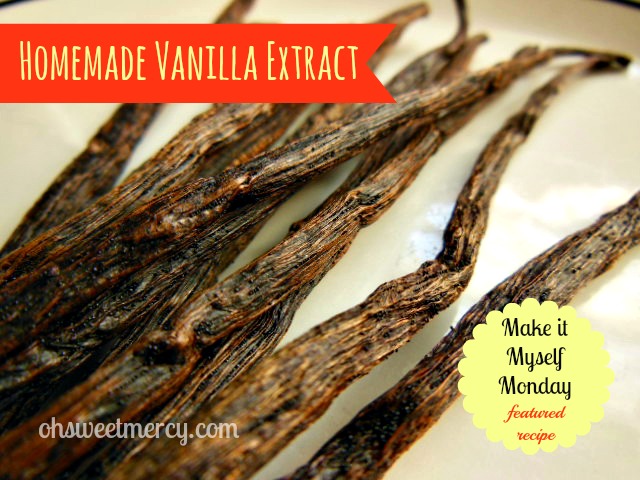 I should have shared this post on making homemade vanilla extract with you about three months ago, but since Oh Sweet Mercy was just in its infancy I did not. So, I can only hope that this post at least inspires you to make your own homemade vanilla extract anyway so you're always prepared. Three months from now, you might find yourself trying to stick to your New Year's resolution of losing weight, and believe it or not, this stuff might help you stick to it! Vanilla, while not sweet, kind of tricks your brain into thinking it's sweet so you don't need to add as much sugar. You can add this amazing homemade vanilla extract to things like smoothies, yogurt and your coffee.
Not only is it amazing, but amazingly easy as well. You only need three things:
Gallon sized glass jar (check your local supermarket deli*)
One gallon of vodka
That's it. Then, you just have to wait a few months for the delicious vanilla to be extracted from the beans. That's the hard part. Because when you open up that package of vanilla beans and inhale its vanilla deliciousness you will want it to be ready right now.
If you use a lot of vanilla, and do some very easy math, you'll discover that you will save a TON of money making your own homemade vanilla extract. Since no one likes to do math, I did it for you…see the picture below for what it costs to buy a gallon of 1 oz bottles from the store (of the generic brand!). Just be sure you're sitting down first. And, if you're a label reader (as you should be!), you'll also discover that making your own is healthier since you're not going to add mysterious and unpronounceable ingredients.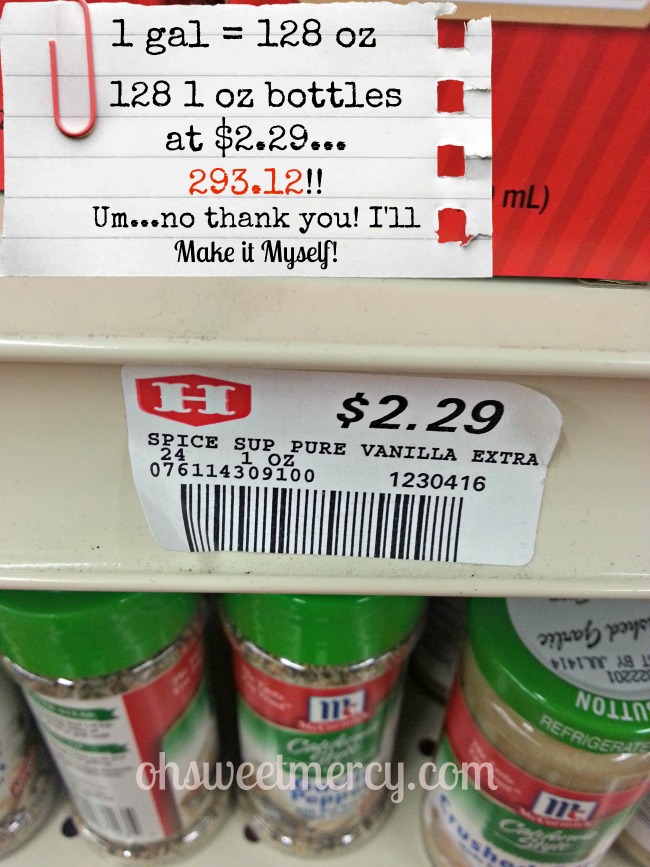 A few quick searches online and I discovered it was ridiculously easy to make homemade vanilla extract. And, by purchasing vanilla beans online instead of in the grocery store (if you ever want some sticker shock just for fun, check out how much 3-4 beans cost at your local supermarket. Unbelievable!), I learned that I could make homemade vanilla extract myself very reasonably. In fact, even though the price of the vanilla beans I bought almost two years ago has gone up about $20 for a pound, it's still a fraction of what you pay buying the itty bitty bottles at the store.
1 gallon of vodka: approximately $20
1/2 pound of vanilla beans: approximately $30
Total cost: approximately $55
Total savings: approximately $240!
So, how do you make homemade vanilla extract? First, you'll need a clean jar. I used a gallon jar that I got from my supermarket deli for free. Those usually have had pickles or jalapeno peppers in them and will smell like that! Run the jar through your dishwasher and let it air out until the smell is gone. The lids especially absorb odors and may take longer to air out. Setting the lid on a sunny windowsill can help speed that along. Or, if you have a lid that fits already use that. You could also just use jars that you already have such as canning jars, and evenly divide the beans between them.
Next, prepare your vanilla beans. Or don't. You can just put the beans right in the jar as is, cut them open and scrape out the seeds first and then put it all in the jar, or you can cut the beans up into smaller pieces. I took a knife and opened my beans up, but didn't scrape the seeds out.
Add the beans to your jar and cover with vodka. Keep your jar in a dark place while extracting if you can. The first four weeks, try to remember to shake it daily. I didn't always remember to and it still turned out well. Let it extract for at least three months, longer is even better. You can start using it after four weeks, however.
After that, you're supposed to remove the beans. I kind of never got around to it. Some websites warned to keep the beans submerged to prevent mold growth, but I never had that happen. I'm not sure how anything could grow on alcohol-soaked beans!
I used a half a pound of beans to one gallon of vodka. There are approximately 100-120 beans per pound, so 50-60 beans for a gallon is fine. I've seen some reports online that using less beans works out very well. I've also read you can re-use the beans, which I will try this time around. I'm wondering if, since I left my beans in the jar instead of removing them, if they'll have anything left to extract from them! I'll update this post to let you know, in case you're like me and forget stuff.
Homemade vanilla extract makes a wonderful gift, so if you're planning on doing that be sure to purchase some amber colored glass bottles in which to put the finished extract. Put a nice label on it and include it in a gift basket with other homemade pantry items and you've got a lovely, and healthy, gift!
That's all there is to it! We use tons of vanilla around here so this is one way to cut costs in my grocery budget. It goes into pancakes, smoothies, oatmeal and of course, all the standard baking fare.
Have you tried making homemade vanilla extract? What's your favorite way to use it?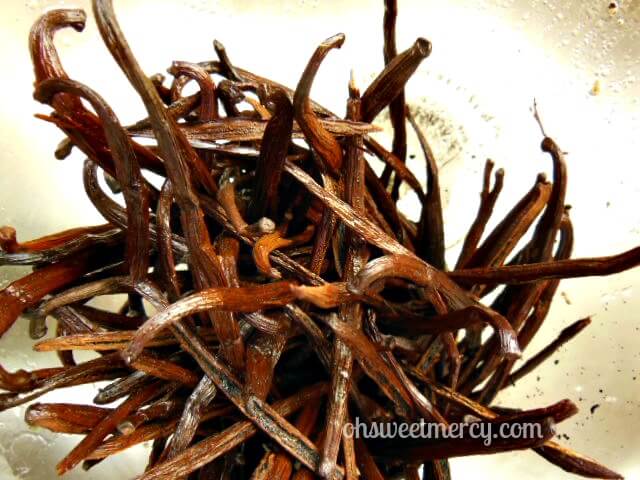 Homemade Vanilla Extract
Ingredients
Vanilla beans
Gallon sized glass jar (check your local supermarket deli*)
One gallon of vodka
Instructions
Place the vanilla beans in the glass jar.
Cover with the vodka and add lid.
Allow to infuse 4-6 weeks before use.