---
Meal and menu planning making your head spin? You just need to find the system that works for YOU. It doesn't have to be complicated, it just needs to help you stick to your healthy lifestyle goals. Check out this simple Post It Notes menu planning method and give it a try.
---
Do You Plan Your Meals Regularly?
Or are you like me, knowing you should but finding yourself flying by the seat of your pants most of the time?
Maybe you get on Pinterest and find all kinds of lovely ideas for planning your meals. You spend so much time on there that you end up having to order out because you ran out of time to make supper.
Ironically, you never get around to actually implementing the thousands of Pins you've hoarded.
Or, perhaps you just don't want something telling you what to do because it makes you feel constrained.
I'm a little of all of the above — except for spending all day on Pinterest! I need a way to do some easy menu planning that doesn't make me feel boxed in and tied down. Something that keeps my creative and capricious free spirit free.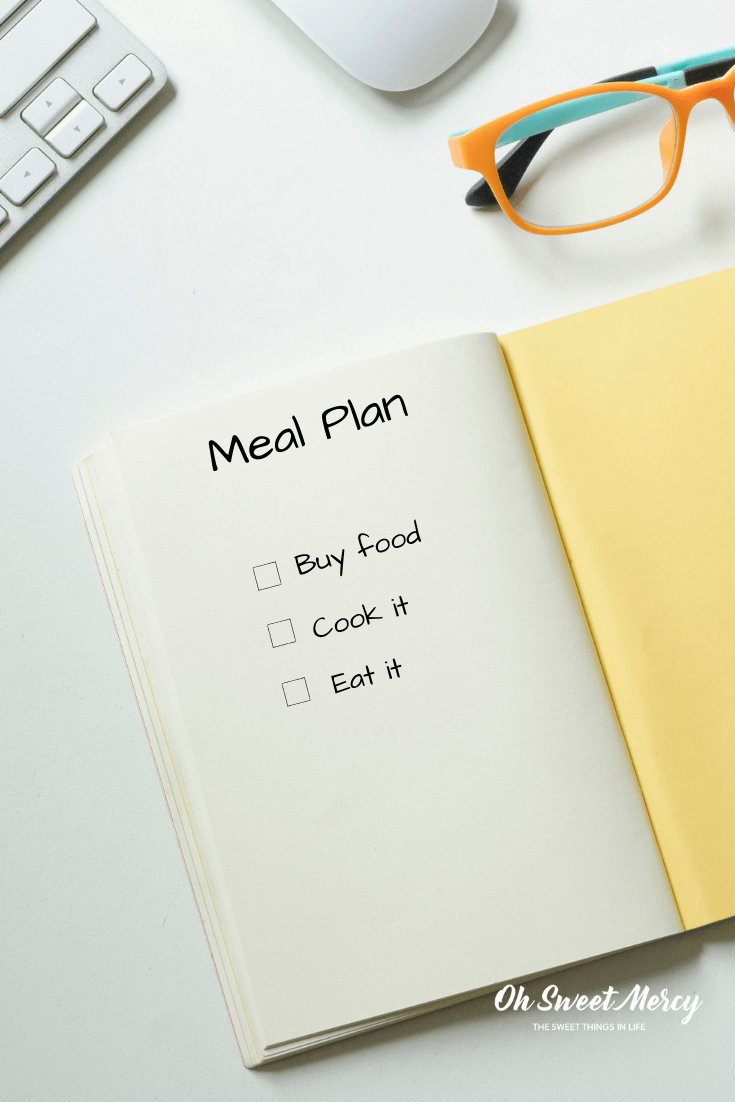 Accurate representation of my meal plan this week
Free Spirited Meal Planning For The Highly Distracted Mind.
I'm very much "out of sight, out of mind" and writing things down on a piece of paper doesn't always work. This is because I inevitably lose it. I'm also easily distracted. Great combo, don't you think?
Smart phone apps are great, but if I don't have the icon on my homescreen, I forget about using it. Calendars…well, I write stuff on them, then forget to look at it.
Plus, my fridge is covered with "artwork" and magnets so there's no room to put something there.
Pinterest also has cute ideas for menu planning. But if you don't have time for clothes pins, cutting fabric, and wielding a hot glue gun it's just not practical.
Hello Post It Notes!
Different colored post it notes are perfect for meal planning, especially for a Trim Healthy Mama. When I first tried this method I hadn't yet heard of THM but it's even more suitable for us!
That's because we can choose a color for each Fuel Type! We can easily see at a glance how much of each Fuel Type we're planning on eating in a day.
In the photo below I have a sample idea for using post it notes for your menu planning. I've chosen the colors pink for S, yellow for E, and blue for FP meals and snacks. I also have some tiny strip post it type things for snacks, but you could also cut the adhesive part of your Post It note off too.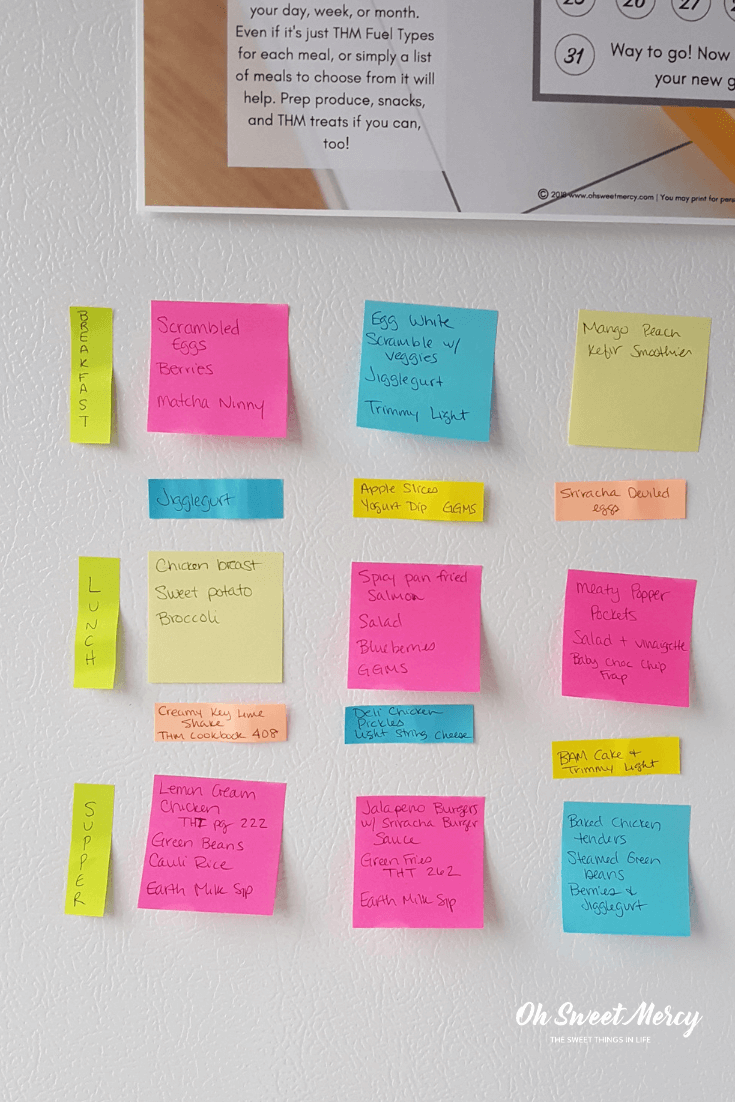 Initially these were stuck on a door in the kitchen of our previous home. Not necessarily the best aesthetic but when you want to stick to your menu planning efforts it helps to have it "in your face" so to speak.
Other places you can stick them are:
On the fridge
Inside a cabinet
In your planner
On the cover of a household binder or cookbook
Flexible Menu Planning Is Essential!
If you're one who likes a very structured meal planning system, this approach may make you feel a little nervous. That's fine! Your approach makes me feel a little nervous 😉 We all must find what works best with our own style, right?
The beauty of this system is that you can easily move things around if you like.
A friend stops by unexpectedly 2 hours before your planned E lunch? You enjoyed a Dark Chocolate Coconut Cake in a Mug (S) with her? No biggie, swap your E lunch Post It with an S or FP instead.
Another reason I love this is because I'm fickle. I can sit down and plan out meals for each specific day. Then that day comes and I don't want to eat what I've planned! Using removable Post It notes means I can change my menu plan around on a whim.
If you like rotating meals you can easily do this by sticking your notes together in a pile. Then when it's time to plan the next bunch of meals just reuse them.
What's YOUR Menu Planning Style? Will You Give Post It Note Menu Planning A Try?