Why dye a shirt in mason jar?
Our youngest son needed a Harley Davidson orange dress shirt for his oldest brother's upcoming wedding. I found all kinds of long sleeve shirts, but no luck with short sleeve in his size, even on Amazon, that either did not cost a fortune or would arrive in time for the wedding.
What does one do when one needs a specific color shirt and can't find what you need…even on Amazon? You do it yourself.
Normally, I find what I need on Amazon, and I love their free 2-day shipping with Prime. If you're not a Prime member, try it out with this 30 day free trial! Try Amazon Prime 30-Day Free Trial
And what if you're one that doesn't like a lot of complicated steps or expense? You search the interwebs (and earn Swagbucks!) to find a cheap and easy way to get it done. I found that you can dye fabrics in a mason jar!
Dyeing fabric in a mason jar…can it be that simple? YES!
How to Dye a Shirt in a Mason Jar
You'll need a few things…
2 quart mason jar with lid…a wide mouth jar is going to be easiest
Salt or vinegar, depending on fabric used
Mild detergent
Gloves
Something to cover and protect your work surface, if you don't want it to get stained
A shirt (or other small piece of fabric) that has been washed – be sure not to use fabric softener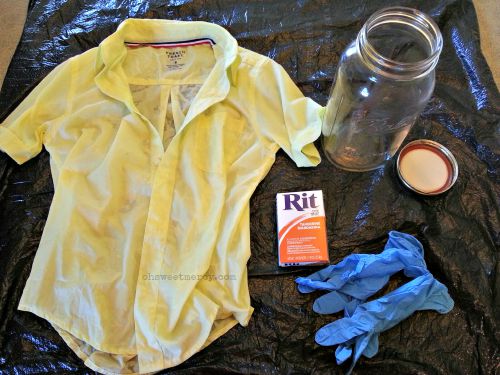 Now, I did not have the fixative, and wish I would have had it. I also did not have 1 cup of salt…in fact, it was not quite half a cup. I do the best I can with what I've got!
I'm going to have to redye it because it's just not quite dark/vibrant enough. I did not realize when I bought the shirt that it wasn't 100% cotton, and the directions in the dye recommend at least 60% cotton for best results…this shirt was 55%.
So…before you start…read the directions completely, make sure you have all your needed supplies and understand what type of fabric you're going to be dyeing. Trust me, this is important!
Thankfully, this process is super quick and easy! Here's how I did it:
1. COMBINE 2 CUPS HOT WATER (140 DEGREES), DYE POWDER, SALT OR VINEGAR AND DETERGENT IN YOUR JAR
Our tap water is 140 degrees, so I just used that (I checked with a thermometer). You can heat it on the stove or zap it in the microwave if you need to.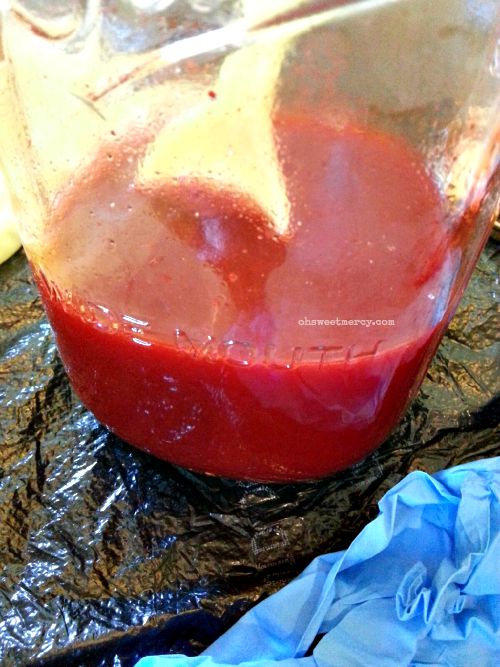 2. ADD 3-4 MORE CUPS OF HOT WATER AND MIX WELL
You want the jar 2/3 full of the dye bath.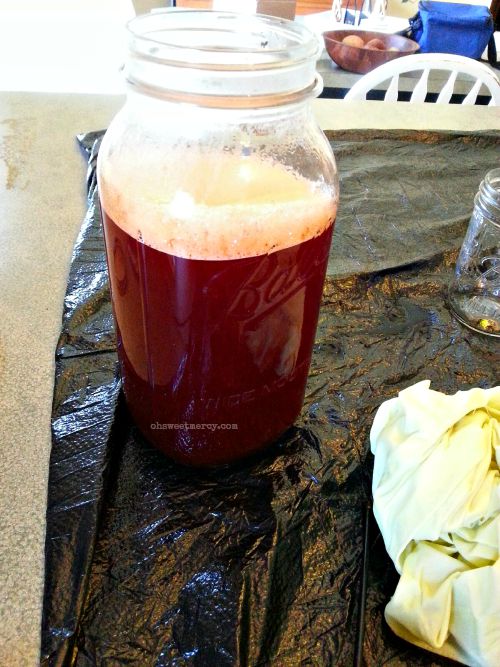 3. WET SHIRT WITH HOT WATER AND CAREFULLY STUFF INTO THE JAR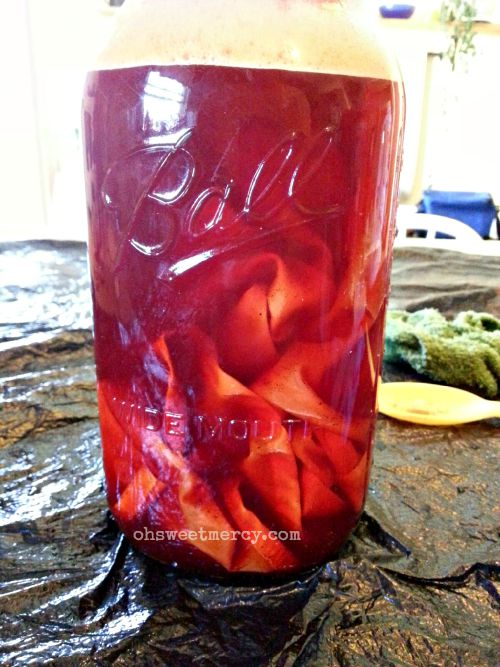 4. TIGHTLY CLOSE THE LID AND SHAKE FOR 10-30 MINUTES OR UNTIL THE DESIRED COLOR IS ACHIEVED
This is kind of a pain, but very important…agitation is part of what makes for successful fabric dying, which is why using a washing machine to dye fabrics is great. But I didn't want to use mine for just a small shirt.
5. CAREFULLY REMOVE THE SHIRT AND RINSE IN WARM WATER, GRADUALLY MAKING THE WATER COOLER, UNTIL THE WATER RUNS CLEAR
6. WASH IN MILD DETERGENT AND DRY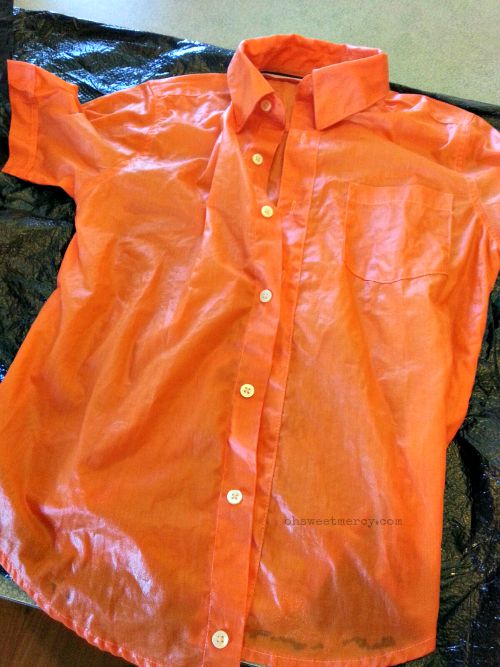 When I first took the shirt out of the jar it looked just right, and while it was still wet (see above photo) I was very hopeful it would be OK.
However, as you'll see in the photo below, after drying it was considerably lighter. But, this easy dye a shirt in a mason jar project was so super simple and easy it's not trouble at all to redye it (keep reading for how I'm going to do this, it's a thrifty crafty tip!).
I'm also going to pick up some Rit Dye Fixative which should make it so more of the dye is retained in the fabric. I might also let it sit longer in the dye bath as well.
I'll update in a few days with the final results.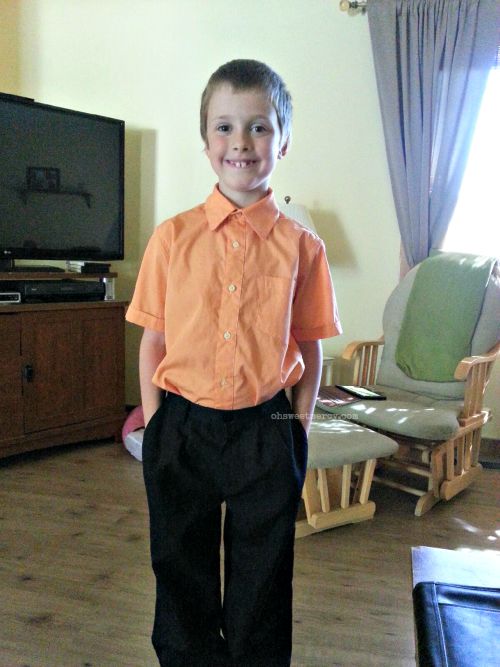 But wait, there's more! Don't throw that dye out!
While I loved that I could dye a shirt in a mason jar, I hated the thought of tossing out whatever dye remained. I'm just thrifty like that. I want to be able to reuse things if possible.
Well good news, thrifty crafty people…according to the Guilty Crafter you can store this dye bath practically indefinitely! Just keep it tightly closed and check for any discoloration or an odor that smells "off."
So, since I need to redye this shirt, I'm simply going to add another packet of powder dye to this prepared dye bath (plus some more salt…since I was short). Then I'll heat it to 140 degrees and repeat the above steps.
Here's the video I found about this technique:
Important Update:
I can not stress how important it is to read that label on your garment, or know what kind of fabric you are dealing with before you dye it. The dye did not hold well in this shirt because it had a higher content of synthetic fiber. Had I known that about dyeing, I would have purchased a 100% cotton shirt instead. I ended up bleaching out the dye, which returned it to its original yellow color, oddly enough. I thought it would end up white! Whatever the manufacturer did to that fabric to maintain the yellow dye is impressive!
It worked long enough for what we needed, though, so I still think this is a great way to dye a shirt. We'll be doing more of this in the future…I'll just be sure to read the label first.
Don't Forget to Pin this How to Dye a Shirt in a Mason Jar Project to Your Favorite Pinterest Boards!