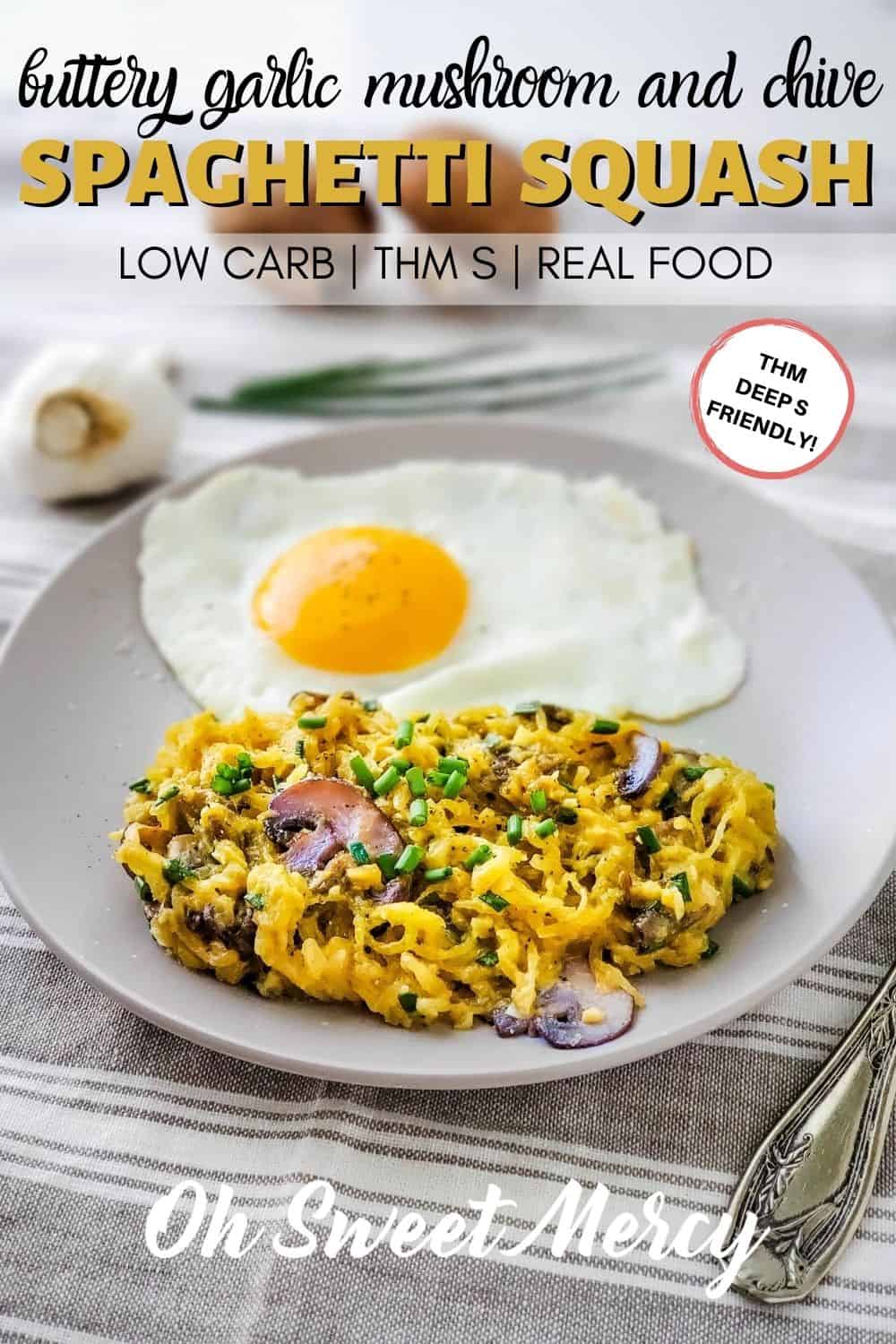 ---
Spaghetti squash is a fantastic low-carb and grain-free substitute for pasta. Similarly, it's a perfect sub for potatoes, too. This simple side dish is flavorful and satisfying, perfect along with grilled or roasted meats and even fried eggs at breakfast. THMs this is also Deep S friendly!

---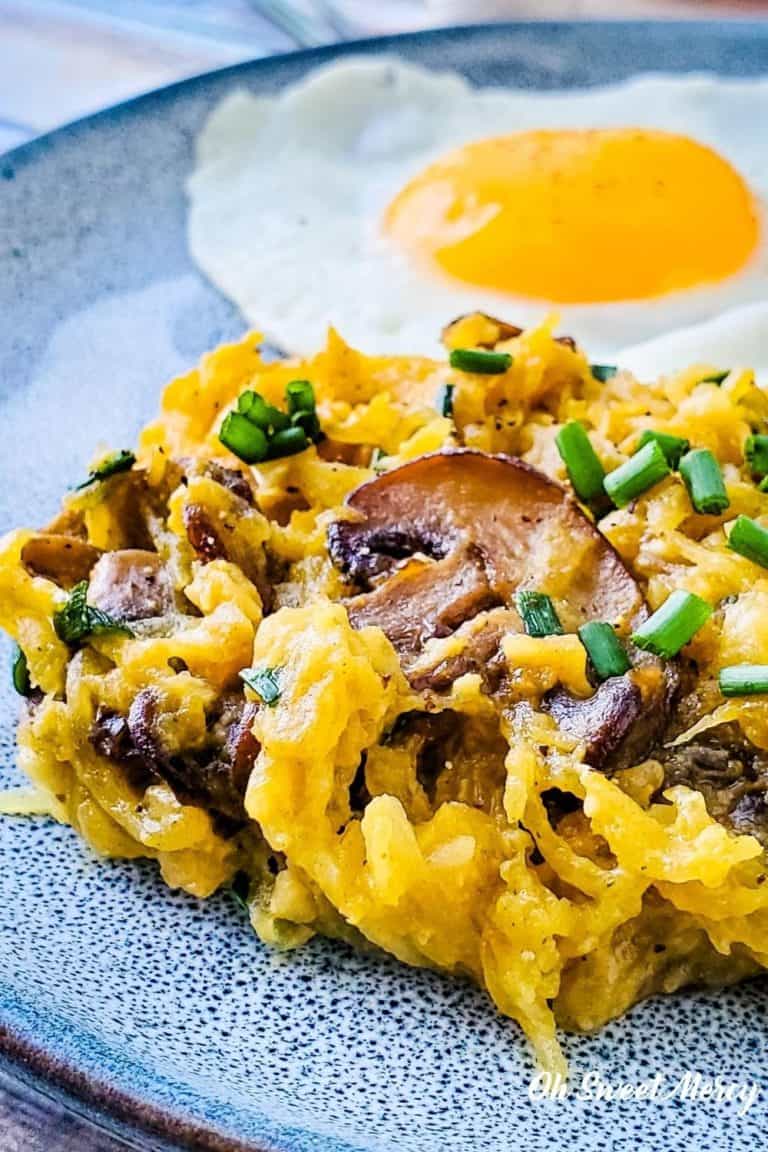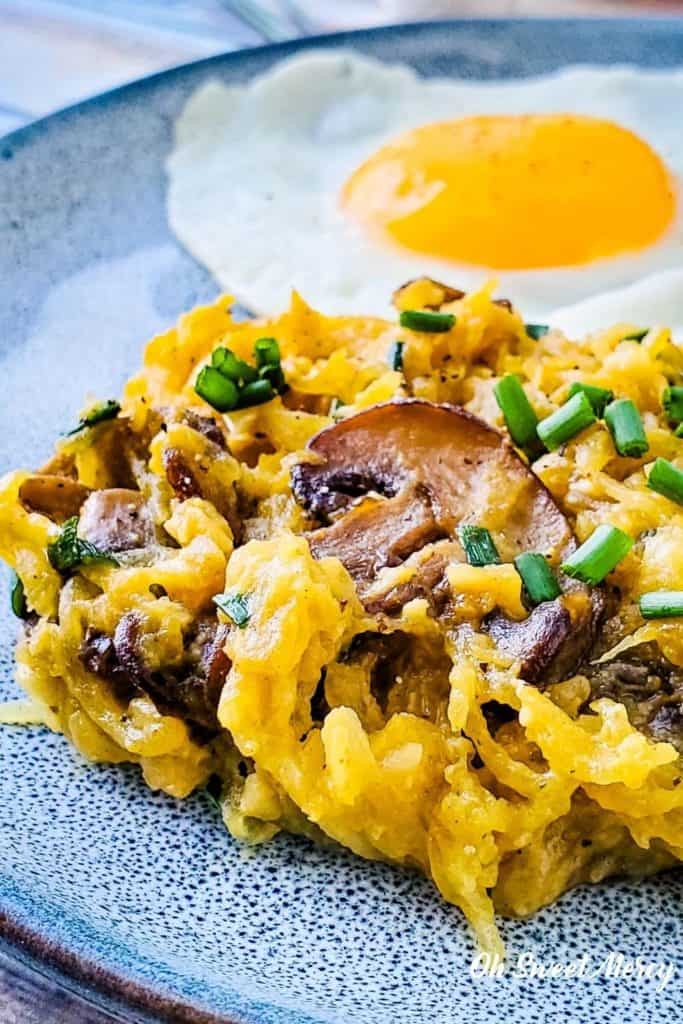 For breakfast this morning, I played a game of What's In The Fridge…
You know…the game you play when you didn't plan ahead and you have no idea what sounds good or what you even have…
I rummaged around in there and found some leftover plain, cooked spaghetti squash. For one thing, keeping this already cooked and on hand makes for easy sides or meals.
Simply by adding mushrooms, garlic and chives freshly picked this morning and cooking it in buttah a delicious and healthy side dish was born.
Oh sweet mercy.
It hit the spot.
It pairs very well with a fried fresh egg from one of our backyard chickens. By the same token, any healthy protein source is enhanced by its presence on your plate.
What's so great about spaghetti squash, anyway?
For one, it's a fantastic, low carb veggie substitute for starchy pasta and potatoes.
It's also considered a Fuel Pull veggie on the THM plan. It's low in carbs and contains no fat, so that means you can eat liberal amounts of this glorious pasta and potato substitute!
Wondering how to cook this wonder squash? I'll tell you how in this post…it's super easy!
How To Make This Easy Low Carb Side Dish.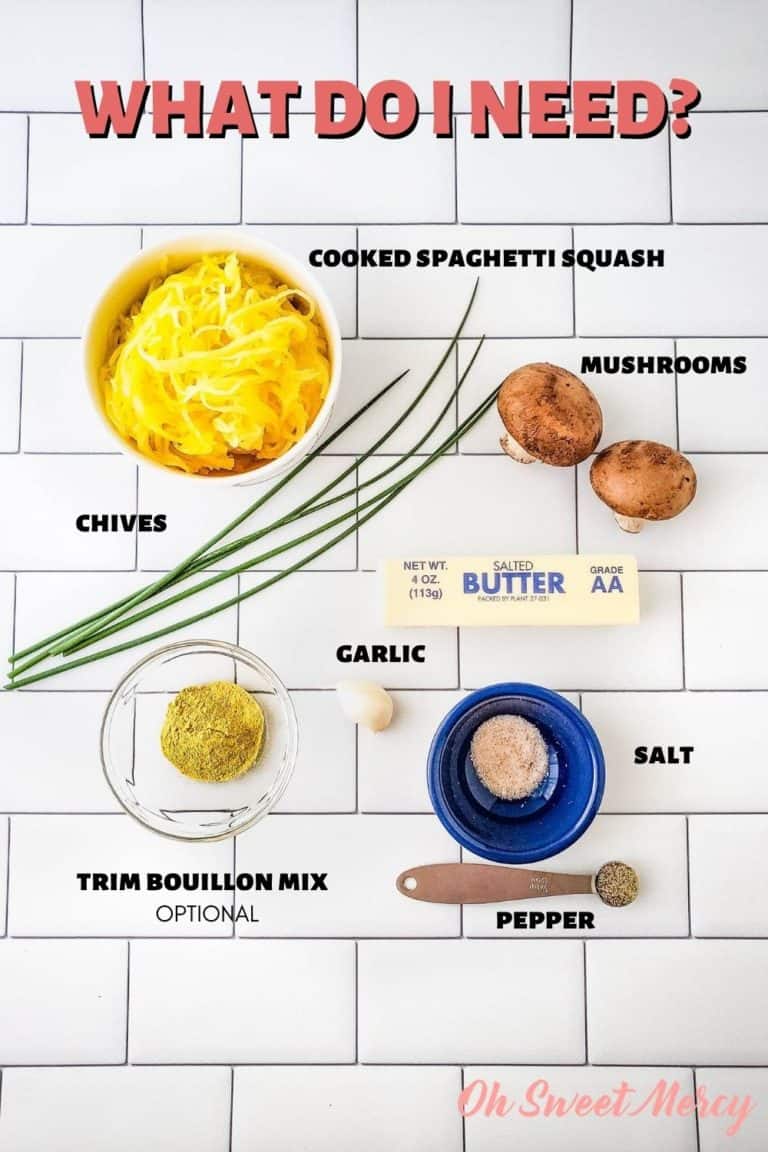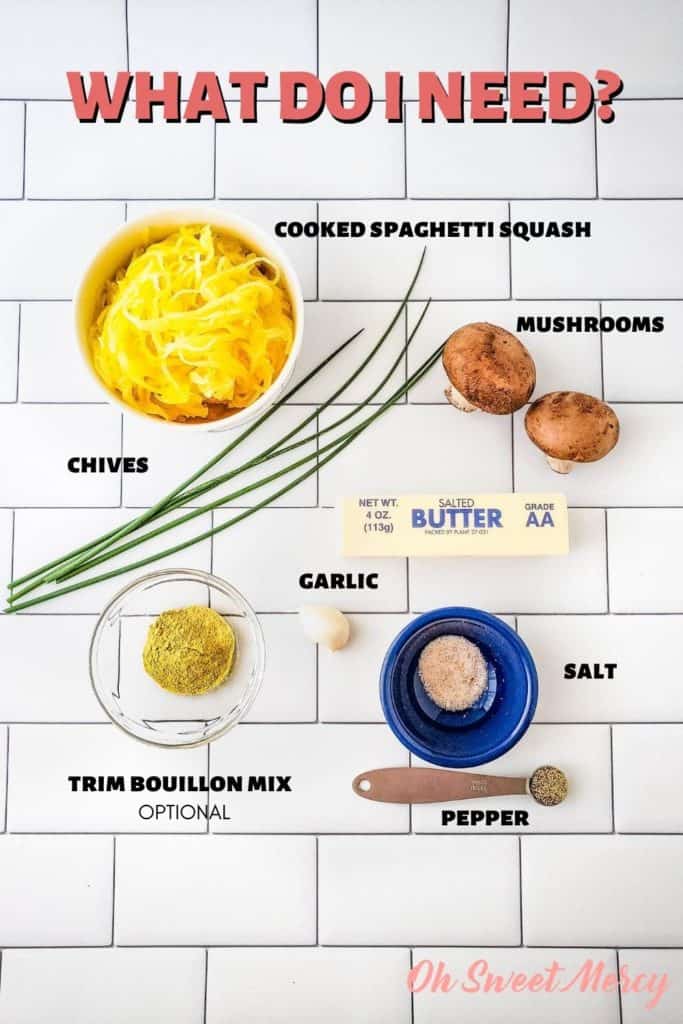 If your spaghetti squash is already cooked, this is such a simple and easy recipe.
If you have the new Trim Healthy Mama cookbook, make a batch of the Trim Healthy Bouillon and sprinkle some in for a single serving. In addition, add up to one tablespoon for a whole squash-sized side dish. It really delivers amazing flavor to this simple side.
Simply saute the mushrooms, onion, and garlic until the mushrooms turn golden brown. Then, add the spaghetti squash and seasoning and warm through.
And, even if you have to cook the squash first it's still super easy. At the end of the cooking time for the squash, start sauteing your mushrooms, onions, and garlic then add your spaghetti squash and seasonings.
You might want to try these yummy spaghetti squash recipes, too.
While this wonder veggie is fabulous for breakfast, it's also suitable for any time of the day. Here's a few of my favorite recipes:
Italian Spinach Baked Spaghetti Squash
Squashbrowns (mock hash browns!)
Mock Baked Spaghetti with Spaghetti Squash
Turkey Hash with Spaghetti Squash (use up those Holiday leftovers!)
Italian Spinach Baked Spaghetti Squash
How To Fit This Easy Side Dish Into Your THM Menu Plan.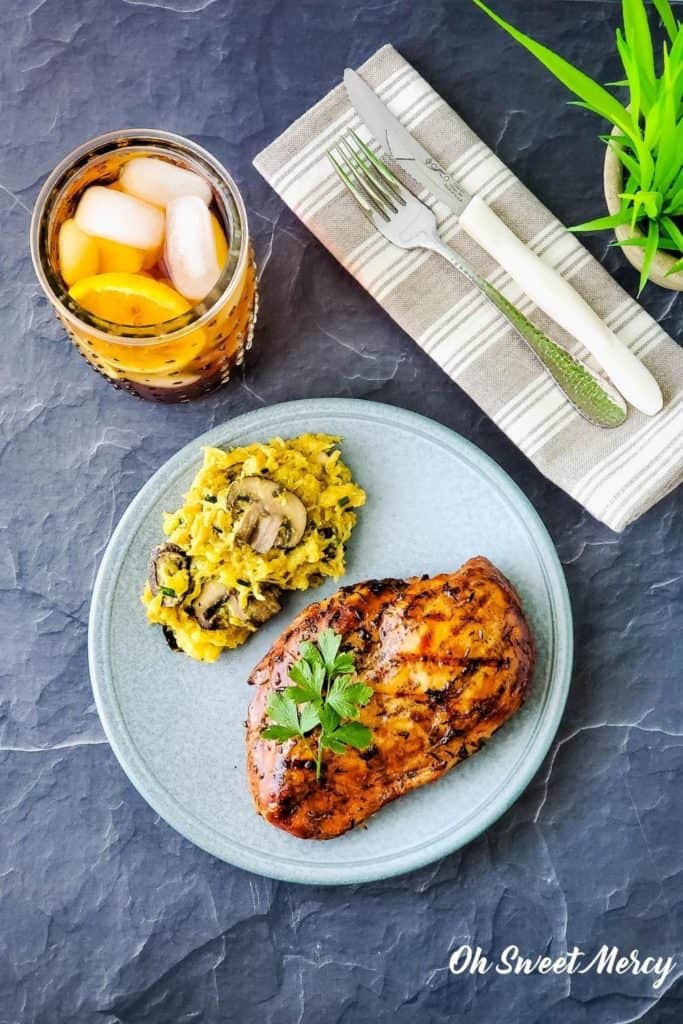 This dish, as prepared, is a very satisfying THM S recipe.
It's also THM Deep S friendly! Just add some protein and ultra low carb veggies for a well-rounded Deep S meal.
Since it's an S enjoy in a low carb setting:
Try with fried or scrambled eggs for breakfast plus a cup of fresh berries
Feel like grilling? Try it with my Low Carb Sweet Tea Grilled Chicken. Add some steamed or grilled non-starchy veggies like green beans or asparagus, or a nice fresh salad.
And, while I haven't yet tried this you could make it a THM FP (Fuel Pull) by just using 1 teaspoon of butter. This would count as your added fat for a FP or E meal.
Finally, I have to tell you that this recipe converted Mister to loving spaghetti squash! He'd decided a while back he didn't like it.
I talked him into giving it a try. His eyes widened and he said "MOM, this is SO good! You can make this all the time!"
Isn't it awesome when your kiddos love healthy food?
PIN IT!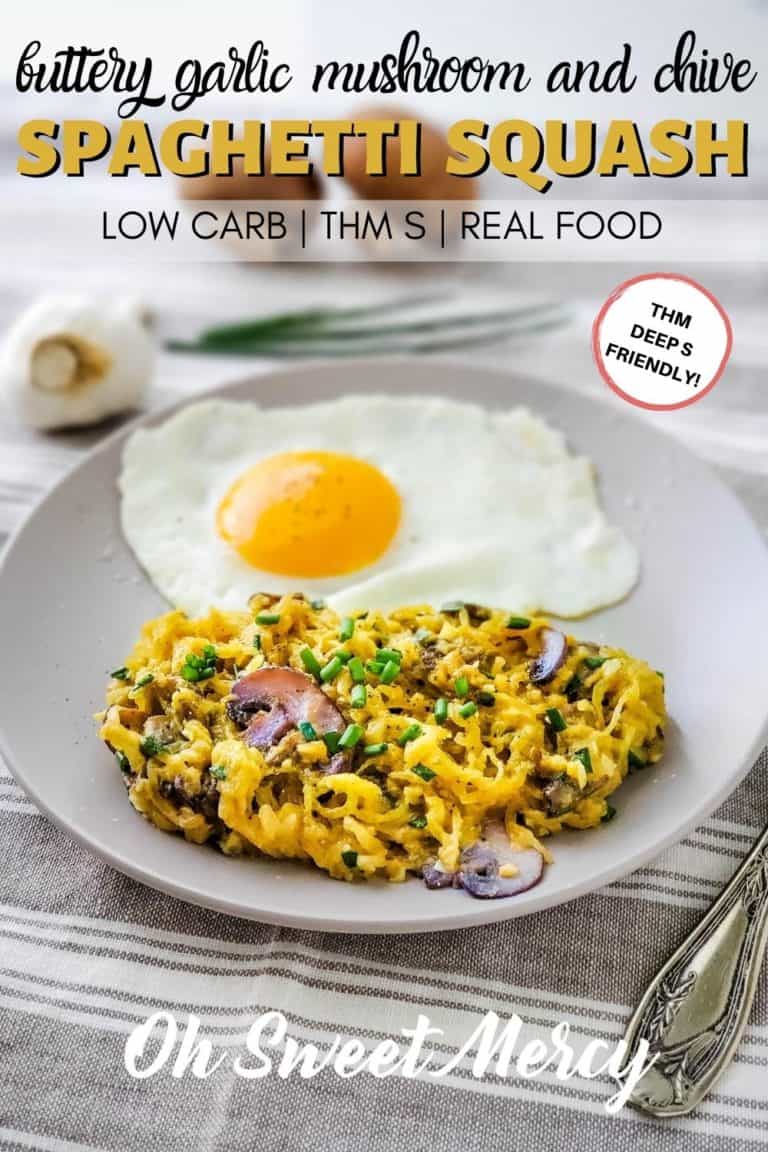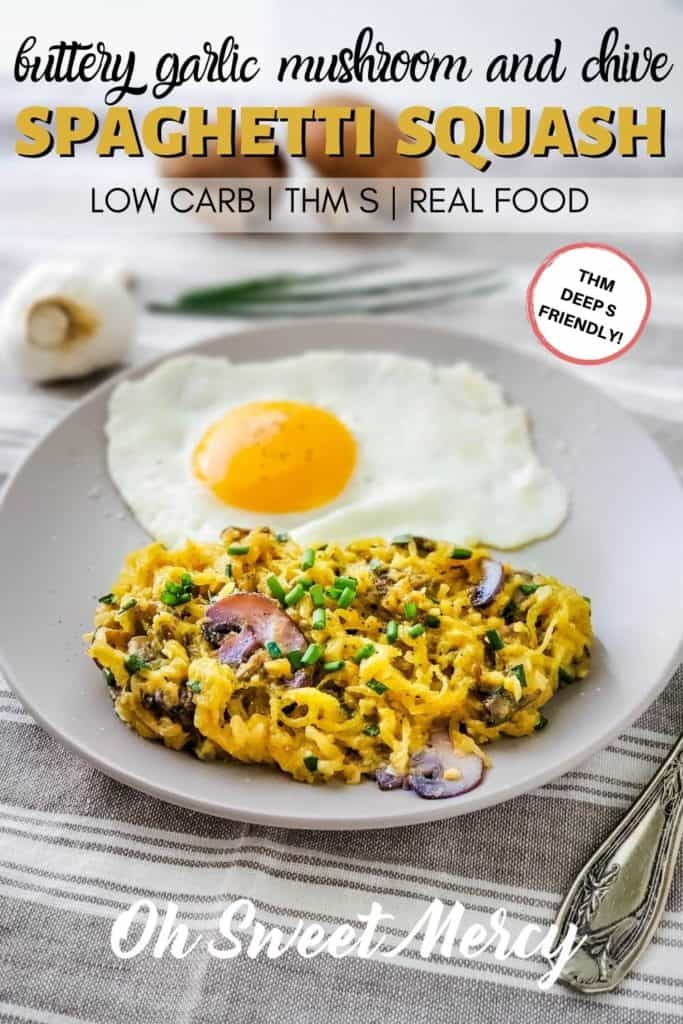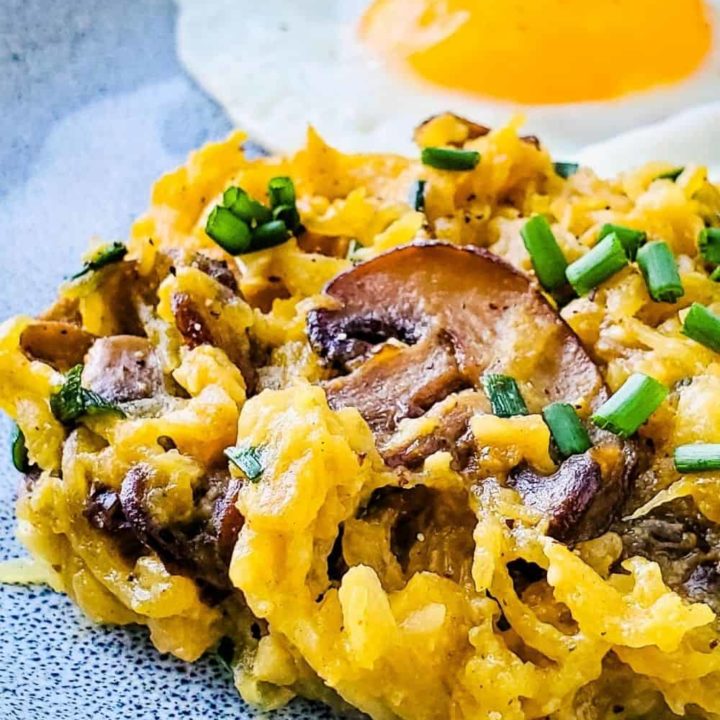 Buttery Garlic, Mushroom and Chive Spaghetti Squash
Yield: Single/Mutiple
Prep Time: 10 minutes
Cook Time: 10 minutes
Total Time: 20 minutes
A quick, easy and simple low carb and gluten/grain free side dish that's perfect for a family meal, potluck or holiday feast. Trim Healthy Mama S and Deep S friendly too!
Ingredients
Single Serving
1/2 c cooked spaghetti squash
1-2 Tb butter
1-2 mini Bella mushrooms, or mushroom of choice, diced or sliced OR more if you're a big mushroom lover
1 small clove of garlic
1 Tb fresh, snipped chives
Salt and pepper to taste
For a whole spaghetti squash
1 medium spaghetti squash, cooked and shredded
1 stick butter, plus more if desired
1 - 8 oz package of mini Bella mushrooms, or mushrooms of choice, diced or sliced
1/2 c fresh snipped chives
4-6 cloves garlic, pressed or minced (more or less to taste)
Salt and pepper to taste
Up to 1 tablespoon of Trim Healthy Bouillon
Instructions
Melt butter in a cast iron skillet or large pot if making multiple servings and add mushrooms
Saute for a few minutes, until they start to brown
Add garlic and stir about 30 seconds (garlic burns quickly!)
Add spaghetti squash and stir well to coat all the squash with butter
If necessary, add more butter
Cook a few minutes until squash is warmed through
Add chives and mix well
Season with salt and pepper
If adding Trim Healthy Bouillon, add a teaspoon at a time until it tastes like you like
Notes
Prep and cook time will vary depending on if you're making a single serving or using a whole squash. Time given is for single serving.
Does not include initial cooking time for the spaghetti squash itself, it's assumed that you already have some cooked spaghetti squash on hand. Baking a spaghetti squash in the oven takes 60-90 minutes so plan accordingly if you're making a whole spaghetti squash for multiple servings.
Trim Healthy Mamas, this is an S recipe because of the butter. Enjoy with low carb options and protein for a complete meal.
Nutrition Information:
Yield: 1
Serving Size: 1/2 cup
Amount Per Serving:
Calories: 280.10
Total Fat: 23.7g
Saturated Fat: 15g
Unsaturated Fat: 8.4g
Cholesterol: 62mg
Sodium: 415.9mg
Carbohydrates: 10.5g
Net Carbohydrates: 7.6g
Fiber: 2.9g
Sugar: 3.1g
Protein: 6g
I partied at Motivation Monday with this post!