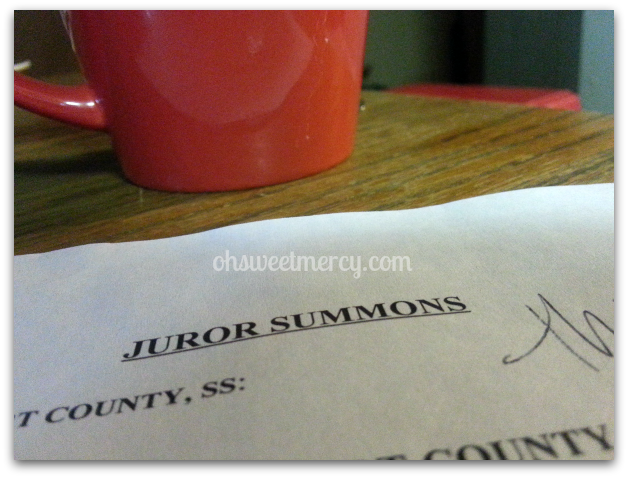 Have you ever received a summons to appear for jury duty? I just got one last week. It had been sent to our old address, and fortunately we know the person who lives there or I probably never would have known about it. Getting arrested for failure to appear to something you didn't know you were obligated to appear for doesn't really sound too fun.
When planning your day of jury service, it is always wise to make sure your calendar is on the correct month. I glanced at the day on my calendar and noticed my scheduled date of service fell on a day when I would be several hundred miles away – at the fabulous Green Moms Meet WOW Summit. So, I called to find out about being excused only to learn that the 10th is actually Thursday, not Tuesday. Because I hadn't flipped my calendar to October yet. Boy did I feel dumb!
I had mentioned my summons for jury duty to a few people and everyone told me how they had gotten out of it. It hit me that it seems like, in our society, the first thing people think of when receiving a summons for jury duty is to find an excuse to get out of it. Like it's on par with taxes. I'm no fan of taxes, believe me! But, I believe that serving on a jury is an important right – one that is taken for granted.
Call me an old fuddy duddy, I guess, because I still believe in the Constitution (what our founding fathers intended, not some of the ridiculous interpretations our modern judges have concocted) and the freedoms we have as Americans (at least, what's left of them). Shouldn't we be glad to live in a country where we can even have a trial of our peers instead of just getting lined up in front of a firing squad or thrown into prison for life for any old reason? Justice is a rare thing in many parts of the world, we are fortunate to have a system that allows for it.
Our justice system isn't perfect, of course. There are so many laws and loopholes and so much twisting of the Constitution and Bill of Rights that we end up with the those guilty of serious crimes getting off Scott free, while some who are guilty of far less serious offenses spend years in jail. Even worse, the innocent even end up punished as guilty.
I can't help but think that if we, as a nation, had more civic pride and took the duties that are rights many other nations don't have to begin with more seriously, perhaps our system of justice could work better. It may be too little, too late, of course but how can we know unless we try? I found this short video, Jury Service: It's Your Duty, while looking into jury duty.
The last time I was summoned for jury duty was 20 years ago. I was working three jobs at the time and I honestly didn't want do it. This time, however, I'm actually looking forward to the experience (although I hope it's not some long, drawn-out affair!), so I can see what it's like. And to experience a freedom that is taken for granted before it, too, goes the way of so many freedoms before it – in the shredder.
Have you served on a jury before? I'd love to hear your experiences!