The idea of backyard hens is quaint and cute, but reality often is not.
When you think about a little flock of hens in your backyard, what comes to mind? Fresh, healthy eggs nestled in golden straw filled nesting boxes…fluffy chicken fannies up in the air while they peck for bugs and worms…maybe them coming running to you to get treats when you step outside amid sunshine and flowers?
Sure, that's nice. It makes you feel all warm and fuzzy. I've had the same thoughts actually. But sometimes reality doesn't always line up with those dreamy visions in our heads. Because life isn't actually fair all the time.
Let me tell you a little story about keeping backyard chickens…
It's been a month since my last blog post, I don't know where the time has gone!
The last several weeks have been busy with "getting through the holidays," fellowship gatherings, and adjusting to life with a black lab puppy. Well ok, that last one is probably where the time has gone. She is pretty high-maintenance…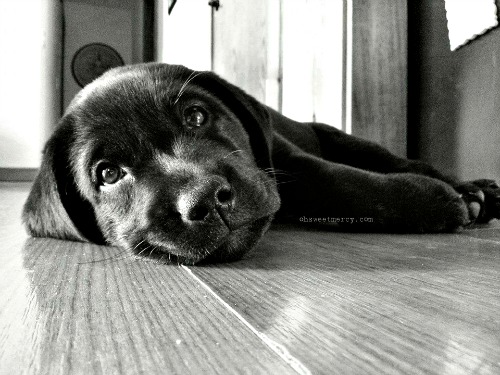 Unlike my chickens.
In a bizarre twist of events, our little high-maintenance pup became an inadvertent hero.
I've been quite exhausted from not sleeping all night without interruption, since puppy has to go out at least twice to potty. She also thinks she needs to eat or play at 2 am.
I've complained a bit about that. My baby is now almost eight years old and I've enjoyed at least five years of uninterrupted slumber…and I like it. A lot.
At 2 am on Wednesday, January 6 our little turd puppy woke me up to go out. As I was attaching her to her tie-out lead, I heard something outside and was a little afraid to open the door. When I opened it to let her out, I noticed that our chicken coop, that is built right on the side of our shed, was on fire!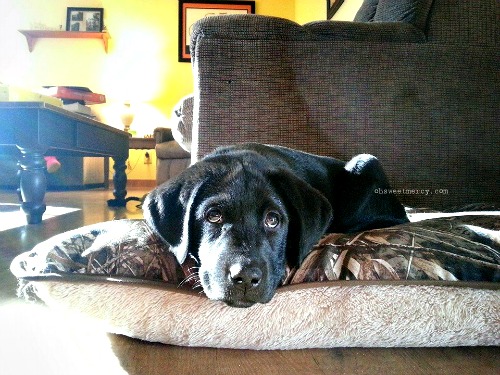 In times of crisis what's important to us becomes evident.
I woke hubby up and we rushed outside.
He goes straight to the shed to rescue his motorcycle. I start dumping buckets of water on the fire.
You know, to save the chickens.
It took us half an hour but we finally got the fire fully extinguished. It was hard to tell the extent of the damage in the dark, but miraculously, the shed itself did not burn, only the one end of the coop floor, door and some of the framing attached to the coop.
If our puppy hadn't needed to go out at that exact moment, the entire coop, the shed and its contents would have probably burned to the ground. Not to mention the possibility of it spreading to our home as we slept.
I'm not going to complain about her waking up in the middle of the night anymore, believe me!
Sadly, it was too late to rescue my poor hens.
A few were still alive, but severely struggling to breathe from the smoke. Most were already dead. The ones that were alive, hubby humanely put out of their misery. We thought we lost all the chickens, including our two noisy roosters.
We stayed up for several hours to make sure the fire did not flare up again. I was just absolutely devastated. My poor girls! They had all just started laying very well, too, so the loss of our egg-layers also hurts the grocery budget.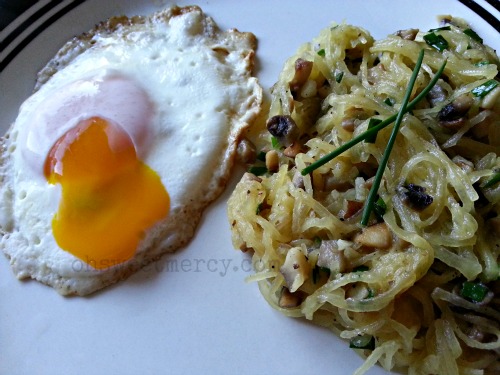 A fresh dippy egg and Buttery Garlic, Mushroom and Chive Spaghetti Squash for breakfast!
As morning began to dawn, we heard crowing.
Hubby and I looked at each other with looks of absolute surprise. Those darn roos survived! I had visions of them cowardly fleeing the coop and hiding under the deck while their hens perished in smoke and flames. And I just kept asking…why? Why couldn't two hens have survived? We've been planning to butcher the roos because they are just so noisy. And they don't lay eggs, which is why I have chickens in the first place.
So unfair.
I was dreading breaking the news to my kids.
We loved our little flock, especially the famous sassy bantam Hendini. We all just loved that little chicken. I planned on butchering older hens, but letting her live out her little chicken life until she peacefully passed away. I had no idea she would die like this, and it just broke my heart.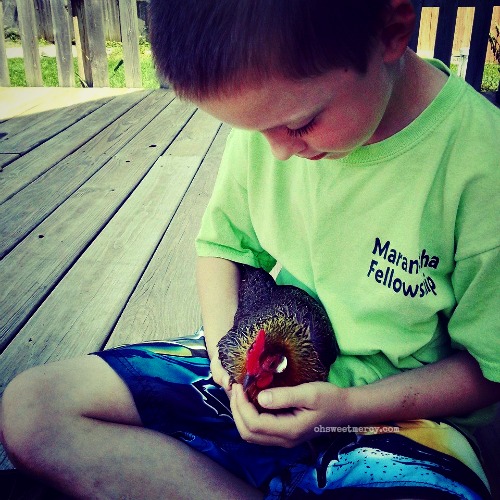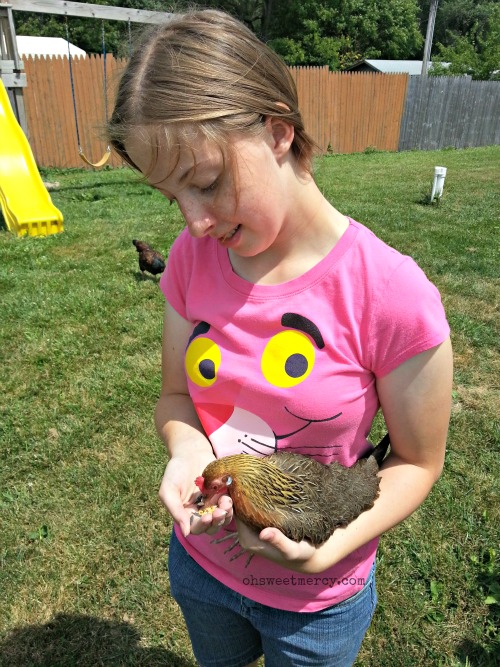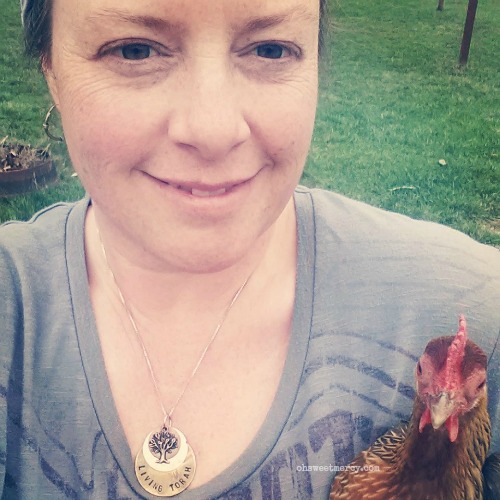 Prayers were answered, however – the kids took it way better than I have, to be honest. The puppy was even pretty good that day…unlike the day before when she was a little terror…again. I just wasn't up for that, so I'm very grateful YHWH helped ease the pain of that day by helping my children not to be devastated and calming that little puppy beast.
Many people may think "they're only chickens, get over it" but it's not that simple for me.
Part of it is that yes, I was attached to those silly little hens. I loved their quirky personalities and how they would come running to me when I went outside. Their soft clucking and chuckling brought joy to my heart.
That sassy little bantam's antics always brought a smile to my face, if not laughter to my lips. I loved caring for them and collecting their yummy, healthy eggs.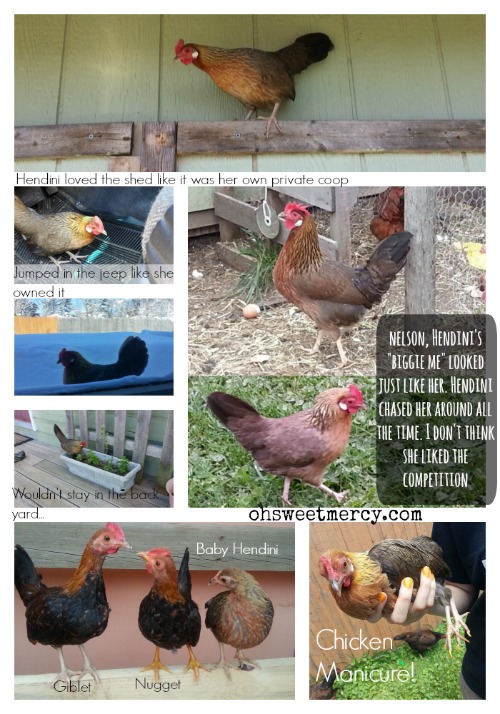 I realized however, that the heaviness and pain I feel is not just from my attachment to them, but because they are YHWHs creatures, and I had a responsibility to care for them. I fed them, made sure they had water, kept their coop clean, talked to them…but they died a horrible death, on my watch. Under my care.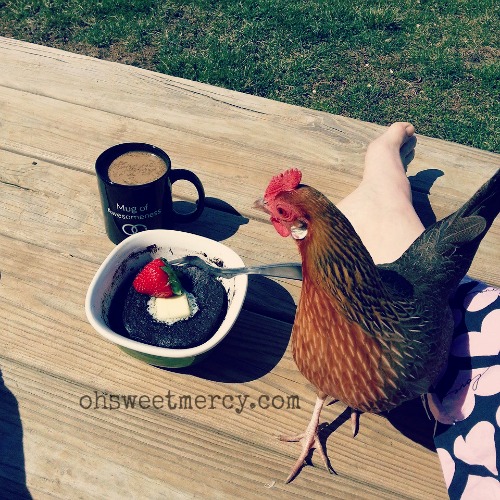 This sassy hen thought she'd snatch the strawberry right out of my bowl.
We think one of the lights in the coop got knocked off and landed in the nesting box, starting the fire.
I should have been more diligent about inspecting the lights.
I shouldn't have bypassed the timer so the lights stayed on all night, but it's just been so cold.
I just wanted to keep them warm, not roasted. Epic fail.
As I've been processing this tragedy, one thing keeps coming to mind.
I will give you beauty for ashes.
That kept repeating itself in my thoughts. I can't comprehend why this had to happen, surely YWHW can give me beauty any old time he wants to, right? But I can't shake that statement. I keep thinking about it over and over.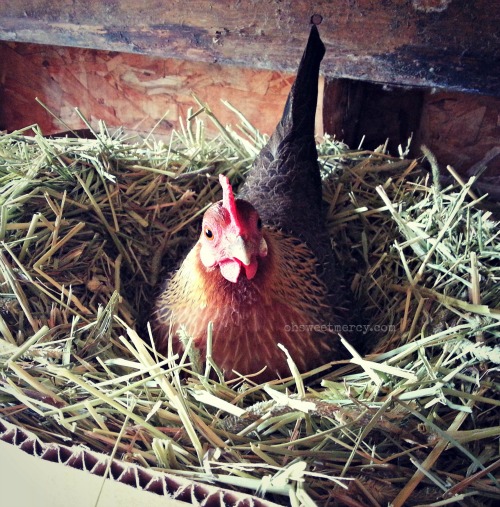 Sweet, sassy Hendini. In a box of hay in the shed, which she decided was her own personal nesting box.
So, what are you trying to tell me, YWHW?
I knew that beauty for ashes is from a scripture somewhere, so I looked it up. Turns out it's from Isaiah 61, under the heading YEAR OF THE LORD'S FAVOR.
1The Spirit of the Sovereign Lord is on me,
because the Lord has anointed me
to proclaim good news to the poor.
He has sent me to bind up the brokenhearted,
to proclaim freedom for the captives
and release from darkness for the prisoners,[a]
2 to proclaim the year of the Lord's favor
and the day of vengeance of our God,
to comfort all who mourn,
3 and provide for those who grieve in Zion—
to bestow on them a crown of beauty
instead of ashes,
the oil of joy
instead of mourning,
and a garment of praise
instead of a spirit of despair.
They will be called oaks of righteousness,
a planting of the Lord
for the display of his splendor.
As I read through this portion of scripture, I also remembered how the oil of joy was so meaningful to me. I had struggled for years with depression and Hebrews 1:9 was a verse that often spoke to me, but I couldn't understand why.
You have loved righteousness and hated wickedness;
therefore God, your God, has set you above your companions
by anointing you with the oil of joy.
How could I be anointed with the oil of joy if I was depressed?
Then one evening at church, during a time when an evangelist was speaking, I was miraculously healed of depression. I actually felt the sensation of warm oil flowing from my head down to my feet. Suddenly I knew I had been believing a lie – believing that I was depressed and living accordingly.
So I went home and threw out my antidepressant medication and have never had another depressive episode again. I was healed and set free from the bondage of depression.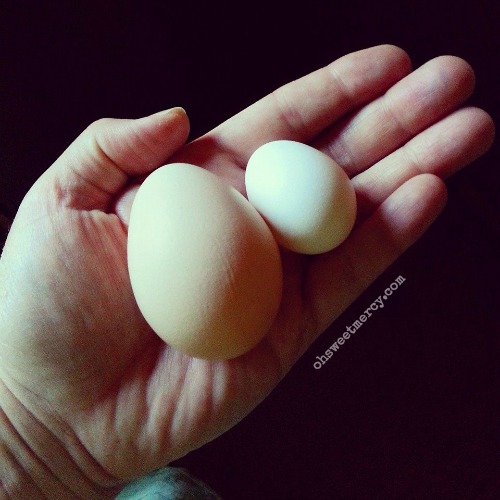 Hendini's first little bitty egg
I'm going to spend some time meditating on this Isaiah passage. Praying and seeking whatever YHWH wants to show me or have me do. There's a lot of action in there…proclaiming, helping the brokenhearted, setting captives free…sounds like he has something specific in mind for me to do.
Maybe YHWH wanted to get my attention and I haven't been listening. I've sensed that this year ahead will be…interesting. A turning point, perhaps. A no-turning-back point even. That events will transpire, either in my life specifically or the world that will leave things shaken and changed forever.
Whatever the future holds, it is held in my heavenly Father's hand.
Apparently, I need to be able to find the beauty amidst the ashes.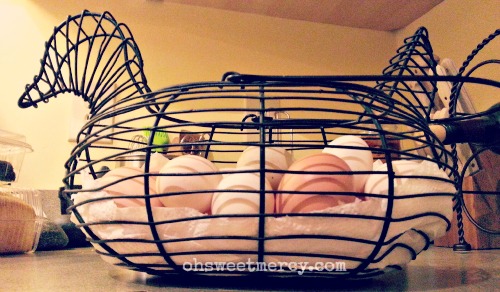 A friend of mine reminded me that sometimes we need times of darkness to appreciate beauty.
When there is no distinction between things, it's easy to take them for granted. When we go through dark times, it's easier to see beauty – it's such a stark contrast to darkness and pain.
I don't know why my poor chickens had to die, and I am absolutely brokenhearted about it. But there was still a bright spot in that dark day – not only did two roosters survive, but we also discovered one hen made it! I'd much rather have hens instead of roosters, but I'm happy that at least three of the lives entrusted to my care are OK.
I cried today when I went out to feed the chickens. My tiny flock of survivors. They are still rather freaked out by the whole thing, understandably of course. They don't run to me when I go out there…they run from me. It's a reminder that I was entrusted with protecting them, and I let them down.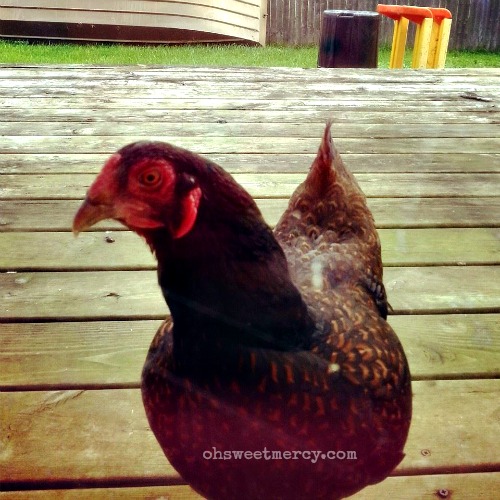 The girls would file by the patio door, clucking and pecking at the door. I always thought it seemed like some kind of chicken drive-through…and they weren't happy about how fast their orders were ready!
It's too quiet now.
There's no more soft clucking. Pepper isn't there anymore to "laugh" and Hendini isn't chittering and clucking and demanding to be let into the shed.
But I did find a bit of hope in the nesting box. One egg. From my one hen. It's probably fertilized, and if I was set up for incubating eggs and hatching chicks, I could start hatching a new flock. We need to redesign our chicken setup, which won't happen until at least spring.
For now, I'm content with knowing that despite tragedy, life does indeed go on…and there can be found beauty among ashes.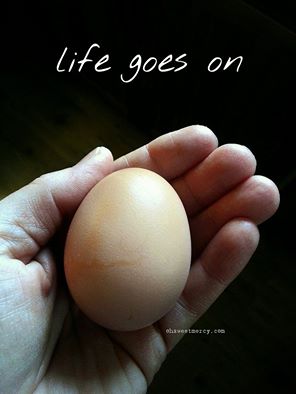 Update 1: I had trouble finishing this post. Editing photos of my sweet chickies made me terribly sad and I just stopped. I'm still sad, but they are after all just chickens. The days right after this tragedy were filled with raw emotion for sure.
We were blessed with six Rhode Island Red hens from a family in our fellowship. They have settled in well and everyone is getting along! The boys are happy to have more girlfriends, especially ones that are much more docile than some of my other flock. Not so much sass in the backyard anymore. Sniff…
Update #2: Life indeed is harsh and cruel (we lost 3 hens over the past few weeks to an unidentified predator) but new life brings promise and hope. We bought some cute fluffery baby chickies and so far they're doing well. We also were given 3 new hens from some dear friends – a beautiful, gentle Blue Brahama, a Silver Laced Wyandotte, and an Americauna.
Life still goes on, and we learn from every hard lesson!