We don't do Christmas.
And no, we're not atheists. We took a serious look at the traditions in our Christian faith and didn't like where some of them started. Particularly Christmas and Easter, which have roots in paganism.
I'm not going to go into all that in this post, but if you're curious you can read the post I wrote a while back titled A Clear Picture of Christmas. We also don't "do" Hanukkah, but do take that time of year to reflect on Yeshua as the Light of the World as well as our dedication to YHWH and His ways and word.
You can read why we haven't traded traditions in this post.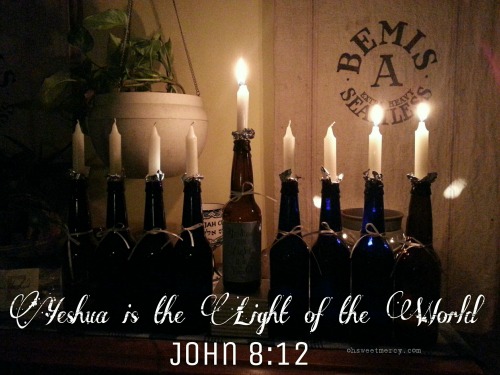 If you think I'm crazy I encourage you to do your own research. Then prayerfully consider if "what it means to you" is more important than what these traditions mean to your Creator.
Because of what we discovered, we made a choice to quit taking part in those traditions.
As you can probably guess, that was not wildly popular with our families.
My mom LOVES Christmas. She loves the tree and the lights, giving gifts to the grandkids, the baking of holiday goodies and having family over for a big traditional Christmas meal. You know, the kind with a lovely Christmas ham.
We also don't eat unclean meats, as defined in Leviticus 11. Which also wasn't a big hit with the family.
I know, we're weird. But that's ok with me, because I'm quite happy to be a part of a "peculiar" people. I don't care what others do or think, I care about what my Creator said to do and what HE thinks.
Because He clearly tells us not to do what pagans do…and Yeshua was not born on December 25 (but every pagan sun god's "birthday" is that day), I have no desire whatsoever to participate in those traditions.
But our families celebrate Christmas.
That makes this time of year particularly difficult for me. I've gotten to where I dread the time between Thanksgiving and the new year and can't wait for the holidays to be finished.
How sad is that, really? At a time of year traditionally reserved for family-togetherness…or at least in generations past, anyway, I don't want to spend time with my family.
Not because I don't love them, because I do! I just have this awful internal struggle going on. Because the trappings and traditions of Christmas are offensive to me, I don't want to be around them. But spending time with our families during the holidays often means we can't avoid that. It's not like we can say "take all your Christmas crap down and we'll come over."
This year, the question that has really been weighing heavy on my heart has been…
How do we honor time with our family and remain true to our convictions?
What is the better witness?
My husband's side of the family decided to host a combination Thanksgiving/Christmas get together. This is the extended family with cousins, aunts and uncles so there were a lot of people. They decided to have this on a Saturday, starting at 1 pm.
We also observe the seventh-day Sabbath…which is on Saturday. And you guessed it, not real popular with the fam. It's so…Jewish.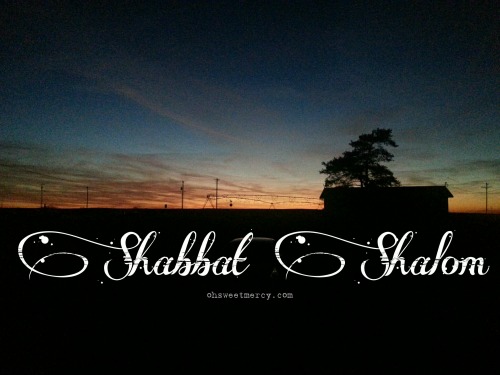 So this family get together was scheduled during what could be called our "church" time, as we attend a weekly fellowship gathering for worship and study on the Sabbath. It starts in the early afternoon and we often don't get home until late in the evening.
This meant we essentially had to choose between "going to church" and "spending time with our family."
As I struggled with this choice, I began to wonder – what is the better witness in this situation?
We have chosen to take a very narrow path, to do what the Bible says to do in the ways the Bible says to do them. We say that YHWH and His ways are first and foremost in our lives, and then to skip "church"…what message does that send to those watching us walk this Torah walk?
Many of these family members are what you'd consider Good Christian People. They go to church regularly and generally wouldn't skip going.
And if we choose not to participate in a family gathering, because they do Christmas and we don't, what message does that send? Considering the family's conservative heritage, which is fraught with legalism and bondage, chances are the message would be received not as our attempt to be faithful to our convictions but one of condemnation and shunning.
What kind of message is that? Is that the light of Yeshua shining to our family?
Ugh.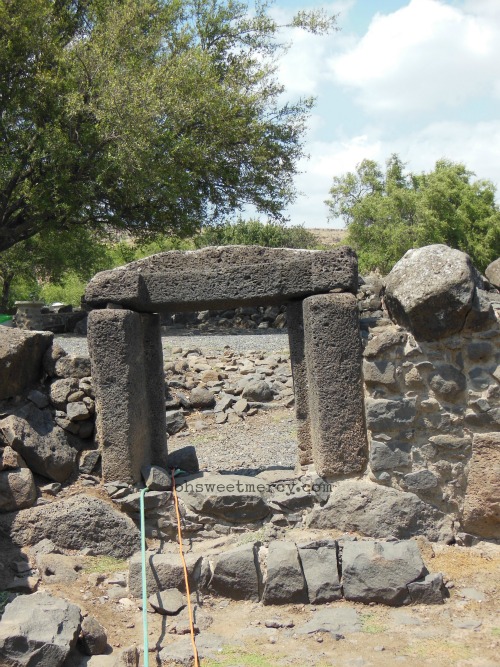 This is a narrow gate at Korizin, in Israel. In order to get through this gate, one had to bend down – symbolic of humbling oneself – before entering the community. It was a community of of YHWHs people who kept the Torah and kept themselves set-apart, not following the ways of the culture around them. I memorized the 5th, 6th and 7th chapters of Matthew before going on this trip. I will forever see this gate, and remember going through it, when ever I hear, read or think of this passage in Matthew 7: "13 "Go in through the narrow gate; for the gate that leads to destruction is wide and the road broad, and many travel it; 14 but it is a narrow gate and a hard road that leads to life, and only a few find it." (CJB)
What would the Torah tell me to do?
I listened in on a webinar the week before this family gathering from Repairing the Breach called Oy, It's that Time of Year Again. It was for people like us…Messianics I suppose you could say…who don't do the traditional holidays and need encouragement for getting through them. It gave me a lot to think about and what came to mind is that Torah upholds life.
Relationships can either be life (good, supportive, mutually respectful) or death (dysfunctional, divisive and painful).
Sometimes, it's necessary to cut ties with family. If relationships are dysfunctional, divisive and painful often the best thing is to end those relationships. But if you have a good relationship, one that is mutually loving and respectful in spite of differing beliefs, wouldn't YHWH want you to nurture that relationship? Especially if you can do it in a way that doesn't break Torah?
We are to love YHWH with all our heart, mind and strength and love our neighbor as ourselves. That is what Yeshua said, and He was quoting what His Father YHWH established at Sinai thousands of years ago with His people, Israel. So how do we do that this time of year?
Every family dynamic is different.
We are fortunate to have families that, while at the least they think we're weird and may even possibly worry that we're becoming heretics, respect our differing beliefs. For the most part they don't plan things on Saturdays. During the Christmas season, they typically do their gift-giving early, then we come later for dinner and enjoy time together as a family.
I really appreciate that, and I know many people have families that are unsupportive and even hostile about their differing beliefs. Yet, I am often uncomfortable around all that Christmas stuff. I don't want to be around it.

Some people will not go into homes with Christmas trees and completely avoid family that celebrates Christmas. That may be harsh, or it may be what is necessary for that family dynamic. It can push people away or protect people from already painful relationships.
Compromising doesn't necessarily mean that you are compromising your convictions. I honestly did not want to go to the family get together because I didn't want to miss our fellowship time. That time each week is so important to me, and also to our kids. My husband's solution was that we would read the Torah portion in the morning and we'd have discussion and prayer time as a family before going.
Because the family gathering did not include gift giving or other traditional Christmas things, I felt this was an OK compromise. His family reads the "Christmas Story" out of scripture, what we now refer to as the Savior's "Birth Story", and even though they call it something it really isn't, it's reading scripture and there is not a thing wrong with that.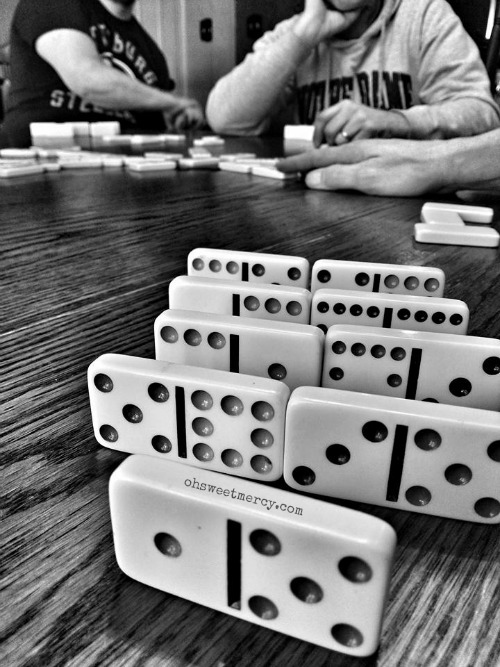 One family tradition during the holidays is playing dominoes. I am not very good at it, but it's always fun!
That stuff in my heart though…
As I pondered and prayed about how to deal with the Christmas season this year, YHWH revealed some stuff in my heart. It wasn't really pretty. He showed me that I was:
Resentful – because I knew they would NEVER schedule something like this during THEIR church time
Self-righteous – because I know the truth
Sad – because it makes me sad to see people that I know love God and our Messiah following man's traditions instead of YHWHs ways
I knew that I had to go to the family get together and there was only one way to do it – with joy. Being there with these things in my heart that could potentially come through in my words and actions certainly would not be shining the light of Yeshua to our family.
Knowing that I was choosing to uphold life in our relationships helped me to put aside my differences and just enjoy the time with family.
Yes, there was a decorated Christmas tree but that was not the focus.There was ham, but we skipped that and had the turkey. I believe this is a good example of being in the world but not of it. I can't control what goes on in the homes I visit, but if I can be in that home without being a part of those things and nurture a relationship, that is being in the world…but not of it.
That is loving people where they are. That is letting the light of Yeshua shine through me. It is the witness that can draw someone to Torah, because it's not condemning. It's not saying "something is wrong with you", but rather showing joy and love that can potentially make someone want to know just where that comes from…and affording an opportunity to share what YHWH has revealed to me about His Torah and His ways that has brought me so much freedom and joy.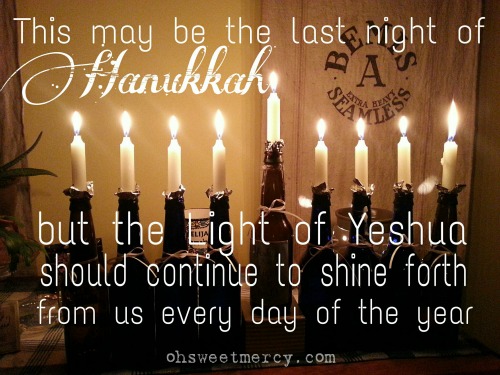 To my family, who may read this…
I truly hope that you take away from all of this that I do love you and value time with you. I know that Christmas is important to you and our dropping out of family Christmas traditions was probably painful for you. I realize you don't understand where we're coming from because in your hearts, it's all about Jesus and you believe that makes it OK.
I hope that you can, however, appreciate and understand my desire to follow my convictions, even though the struggle is far to real far too often. Our Savior said we must put our Heavenly Father above all, and I think you'd agree with that. Walking that out in a world full of darkness, with people we love who are choosing another path, is hard. Yes, it's easy for me to walk away from traditions, but it's not so easy to walk away from family. Trust me, this is not easy, even if I make it seem that way.
I want to do what is right in YHWHs eyes…if I didn't, there would be no struggle. I would just do what I wanted to do.
That is easy.