Ketchup. Catsup. Tomato. Tomahto. However you say it, Ketchup is probably the most well-loved condiment in most homes. For many kids, especially, it's practically a food group. Unfortunately, most ketchups contain HFCS – high fructose corn syrup. This copiously-used ingredient has been shown to contribute to diabetes, high blood pressure and increased belly fat. Making your own ketchup means you control what goes into it, and ultimately, what goes into your family's bodies.
I only recently made my own ketchup, because all recipes I found usually called for allspice or cinnamon…something that really doesn't belong in ketchup, in my opinion. I always bought ketchup made without HFCS, and organic as often as my budget allowed, but lately it's been very difficult to find ketchup without HFCS in the local grocery stores in my town.The other day, I needed ketchup for a recipe, but we were all out. Not wanting to run to the store just for that, I decided to bite the bullet and make my own.
I found a recipe and made a few adjustments (like leaving out the allspice!) based on the ingredients I had on hand and my taste preferences. My uber-picky daughter said she liked it better than regular ketchup. My son thought it was too spicy, but said if I made some that wasn't spicy he would like it. I'll cut back on the cayenne pepper next time. I was very happy with how it turned out. It's not as thick as regular ketchup (since I used juice and cooked it down but not long enough since I was impatient). Next time I will use tomato sauce.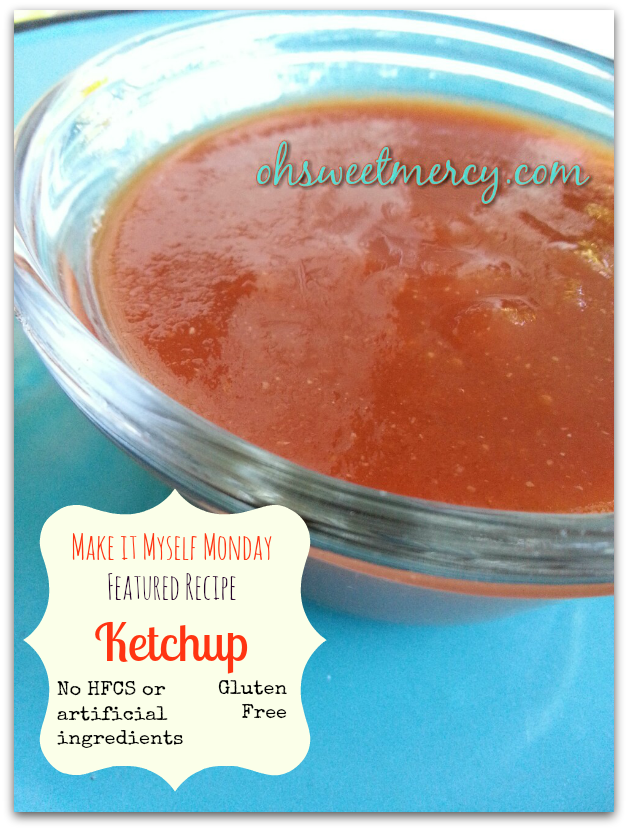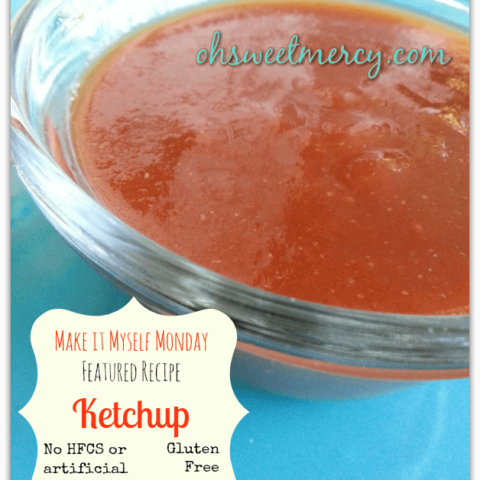 Easy Homemade Ketchup
Yield: Varies
Prep Time: 5 minutes
Cook Time: 30 minutes
Total Time: 35 minutes
Easy homemade ketchup recipe. No HFCS or artificial ingredients, and you can control the amount of sweetness!
Ingredients
2 c tomato juice
2-4 Tbs sucanat, or healthy sugar of your choice
2 Tbs cider vinegar
1 1/2 tsp sea salt
3/4-1 tsp garlic powder
3/4-1 tsp onion powder
1/8 tsp cayenne pepper
1/4 teaspoon celery salt
Instructions
Combine all ingredients in a sauce pan. Bring to a simmer and cook down until as thick as you like.
Add more seasonings if desired.
Yield will depend on how much you cook it down.
Recommended Products
As an Amazon Associate and member of other affiliate programs, I earn from qualifying purchases.
Nutrition Information:
Amount Per Serving:
Calories: 0
Cholesterol: 0mg
Sodium: 0mg
Carbohydrates: 0g
Fiber: 0g
Sugar: 0g
Protein: 0g
I can't wait to share the recipe for which I used this ketchup! Keep your eye out for a makeover recipe where I show how easy it is to substitute your own homemade versions of ingredients to make your recipes healthier and save you money!
Is ketchup a food group in your home? Do you already make it yourself?