Like this post and don't want to miss more like it? Be sure to sign up for my newsletter at the end!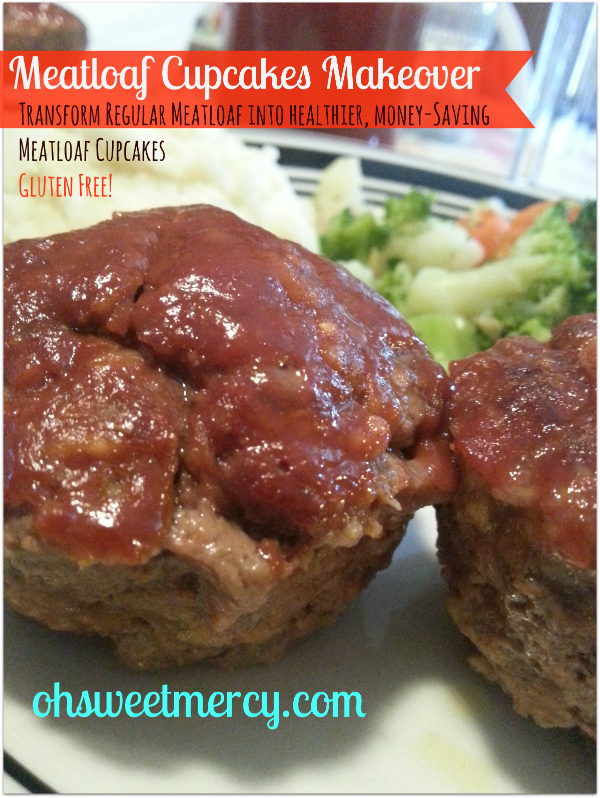 So, you've decided that you want to venture into the world of real food. Where do you start? If you're like most people, you need to start with some baby steps. As I've shared in my Make it Myself Monday posts on Taco Seasoning and Ranch Dressing Mix, one easy way to start eliminating processed foods is by making your own seasonings and seasoning mixes. And, another great motivator for making your own is when you run out of a crucial ingredient, such as when I discovered I had no ketchup. You can find my Homemade Ketchup recipe here.
If you saw my Make it Myself Monday post about making your own Dry Onion Soup Mix, perhaps you need a recipe in which to try it. My new friend Doree from Top Notch Mom shared her Meatloaf Cupcakes recipe with me. As I was making the meatloaf mixture, I realized that this recipe would be perfect for demonstrating how to take a "normal" recipe and make it over by using your own homemade ingredients. You can find the original recipe here, and while you're there be sure to take a look at her other delicious recipes. Challenge yourself to makeover something!
Meatloaf Cupcakes Makeover
A super easy and delicious recipe using homemade ingredients instead of processed! Gluten free. Original recipe courtesy of Doree from topnotchmom.com.
Ingredients
2 lb grass fed ground beef
2-4 Tbs Dry Onion Soup Mix*
2 eggs, from free-ranging hens
1/2 c homemade ketchup
1/3 c homemade bbq sauce*
1 c gluten-free breadcrumbs*
1 Tbs Italian seasoning blend
Glaze
1/2 c homemade ketchup
1/4 c mustard
1/3 c sucanat
Mashed Potatoes (if desired)
Directions
Preheat oven to 350. Lightly grease a muffin pan (optional*)
Combine meat, eggs, ketchup, bbq sauce and breadcrumbs and mix well. Use your hands and really squish it all together.
Fill each muffin cup, packing the meat mixture down as needed to fill the whole pan.
Combine the glaze ingredients, then coat the top of each meat muffin with glaze. There will be some left over.
Bake in a preheated oven for 25 minutes, or until done. They will pull away from the sides of the muffin pan when they're done.
Remove from the pan and "frost" with mashed potatoes, if desired.
Recipe Notes
*I used one Udi's gluten free hot dog bun, crumbled up. You can also use leftover oatmeal, cooked millet, or other gluten free "binders"
*I only had about 2½ Tbs of Dry Onion Soup Mix left and used that. It was plenty, and actually I think I would cut it back to 2 Tbs.
*I used ⅓ c glaze in place of bbq sauce, as it has a similar flavor
*For the glaze, I did not use ¼ c mustard, more like 2 Tbs. If you're not a big mustard fan, add a little at a time until it tastes like you like it.
*I forgot to grease my muffin pan and they turned out fine. I don't use cooking spray, so I would have used either butter or coconut oil to grease the pan. Next time, I think I will try using parchment paper liners to make cleaning up a little easier.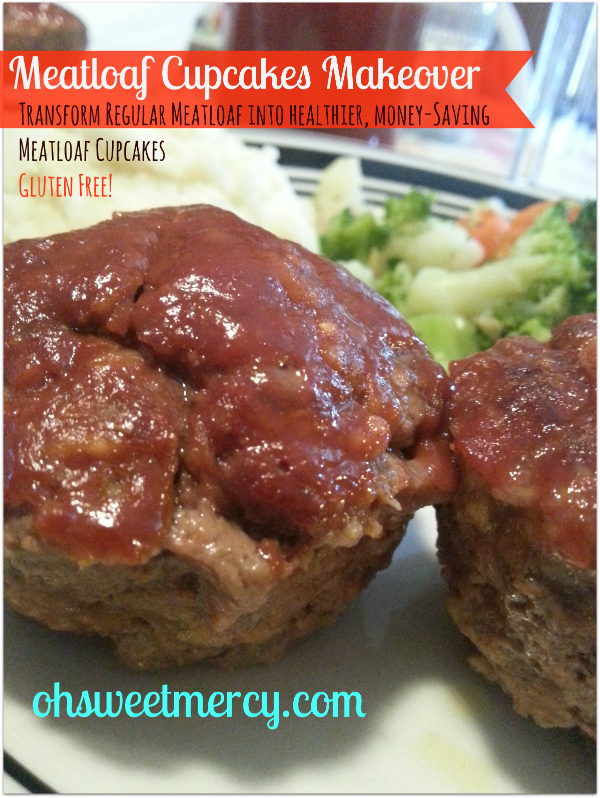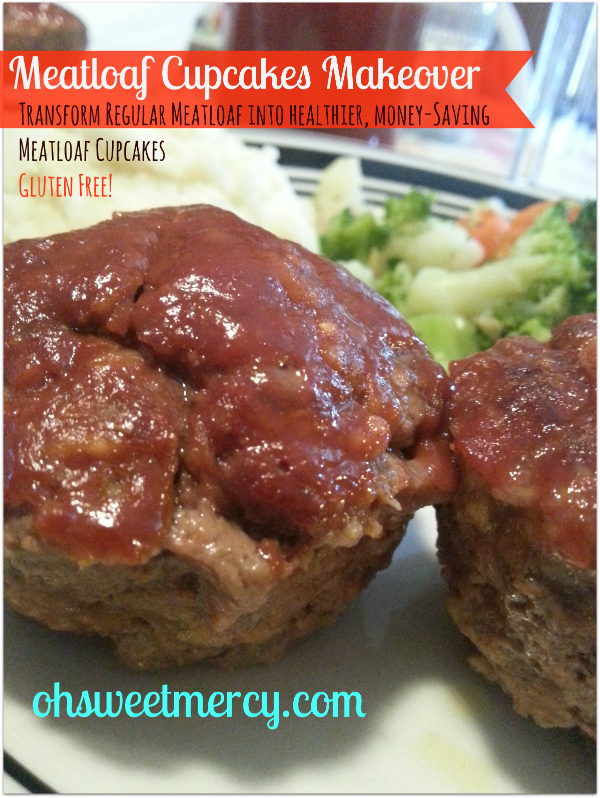 While my recipes are not officially endorsed by Trim Healthy Mama, I do my best to ensure they meet plan guidelines. Always refer to the THM plan book for complete information.
My family gave this 3 out of 4 thumbs up, but only because my husband isn't all that enthused about meatloaf in general. My thumb was holding the camera, but it would have been up otherwise, I loved it! I didn't have time to frost them like Doree, but she used a cake decorating bag and tip and it looked super cute.

It's very easy to makeover most "normal" recipes that call for prepackaged, processed ingredients. Simply replace those ingredients with homemade versions. Spending a little time to make up seasoning blends and other ingredients ahead of time will save you time and money in the long run. Not to mention you are reducing your family's exposure to unnecessary and often harmful artificial flavorings, colorings and preservatives. 
Be sure to keep checking back here at Oh Sweet Mercy for more easy and money-saving recipes to help you replace the processed foods you have in your pantry with healthy homemade versions!
Are you a meatloaf lover? Do you have a favorite recipe?