Making your own dry onion soup mix not only saves you money, but it also helps you eliminate unnecessary (and often harmful) chemicals from your family's diet. My baby step in this area originally included using bouillon, but most commercial bouillons include MSG. I was delighted to find this recipe that does not use bouillon. One caution, however…the turmeric in the recipe means a very yellow color!
This does not taste exactly like commercially prepared dry onion soup mixes. If you can find an affordable bouillon (or know how to make your own) that doesn't contain MSG or other nasty chemicals, then feel free to add some in if you like. I only use this as a seasoning, I don't actually make soup with it. If I wanted onion soup, I'd make it with broth and fresh onions.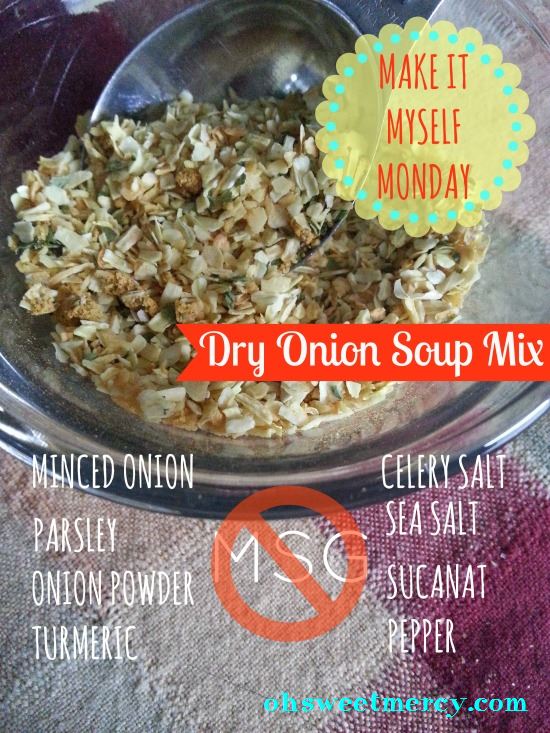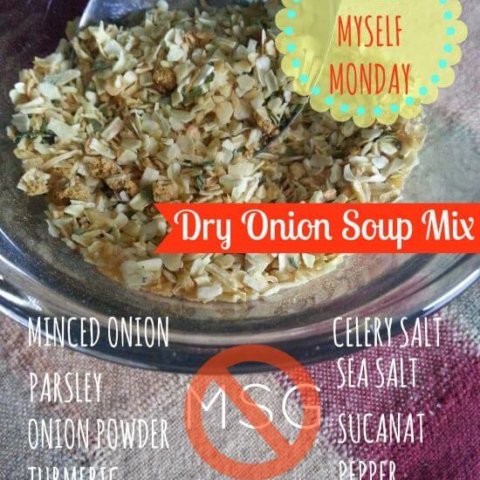 Dry Onion Soup Mix
Yield: 2/3 cup
Prep Time: 5 minutes
Total Time: 5 minutes
Easily make your own Dry Onion Soup Mix to use in recipes calling for name-brand processed onion soup mixes. This recipe contains no artificial ingredients or MSG, it is also vegan and kosher.
Ingredients
2/3 c dry minced onion
2 tsp onion powder
1 tsp celery salt
1/4 tsp paprika (optional)
2 tsp turmeric (use less if you prefer)
1/2 tsp THM Gentle Sweet or other granulated stevia
1/2 tsp pepper
3 tsp dry parsley
Instructions
Combine all ingredients in a jar and store in a cool, dry place. Stir or shake the jar before each use to ensure even distribution of ingredients.
To use, in any recipe calling for a packet of dry onion soup mix, (add up to) four tablespoons of Dry Onion Soup Mix. I typically use two tablespoons, depending on the recipe.
Notes
The turmeric will produce a very distinct yellow color, such as with curry, this is natural.
**If you want to add an MSG-free bouillon to this mix, you should cut back on the salt**
Recommended Products
As an Amazon Associate and member of other affiliate programs, I earn from qualifying purchases.
Nutrition Information:
Amount Per Serving:
Calories: 0
Cholesterol: 0mg
Sodium: 0mg
Carbohydrates: 0g
Fiber: 0g
Sugar: 0g
Protein: 0g
I like to use this in all kinds of recipes, especially when slow cooking a roast or stew in my Crock Pot. I have not, however, tried this in a dip (aside from adding a teaspoon or so) although I may do that some day.
What is your favorite recipe using Dry Onion Soup Mix?