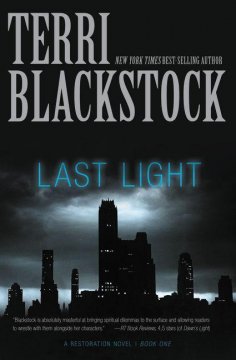 Mostly, I read nonfiction books but every now and then I love a good, made-up story. I'm not really into romance novels, I like mysteries and apocalyptic, survival style stories. Last Light, by Terri Blackstock, fit the bill there! I'm still thinking about this story even days later.
This was a quick read – partly because it wasn't super long to being with, but mostly because I had to know what happened next! I sacrificed some sleep to read it and finished the book in under two days. If I could have lounged around on the couch eating bon bons while reading, I would have finished it the same day. That absolutely never happens here. It's on my bucket list though.
The story begins with an unexplained, catastrophic event in which everything electronic just quits working. Planes fell out of the sky and cars quit where they were. Cell phones wouldn't work, and even new mechanical things would die within seconds of being turned on This left Doug Branning and his daughter, Deni (who had just arrived from Washington, D.C. for a visit to plan her wedding) stranded at the airport.
The Brannings are a Christian family who live what seems to be a somewhat affluent lifestyle. The story is told through several family members' points of view. Deni, the oldest, is a 20-something with an inflated ego and completely unrealistic view of how the world works (read "spoiled brat who thinks the world revolves around her"). Needless to say, she had a little trouble adjusting to not being able to use her flat iron, make up mirror, or get back to her  very important fiancee and her very important new job she was starting in a week. 
Doug and his wife find themselves completely unprepared – both for basic survival needs and for the shock of seeing the people around them come completely unglued. How were they going to survive and take care of themselves and their family while also being the hands and feet of the Messiah?
The whole scenario brought out the worst in everyone, including Doug and his family. I had to chuckle at the scene at Wal-Mart, and made a mental note to continue my boycott of Wal-Mart even if the world fell apart and I needed supplies. That's the LAST place you'd want to be in an EOTWAWKI situation! To make matters even worse, there was a murderer on the loose killing people and looting their homes. Everyone began to suspect everyone else. And when Deni runs off with a man who promised to take her to D.C. so she could get to her fiancee, Doug takes off to find her.
Through it all, God is shown to be merciful and kind. Blackstock does a great job of showing how He can use our rebellious choices to turn our hearts back to Him, and how even in our darkest, most stubborn moments, He still cares for us and shows us mercy. It's His kindness that leads to repentance.
I really enjoyed this book, but wish that there would have been a bit more character and story development. It was just too short! I keep wondering what happened next, how did the world recover from the catastrophe. What caused it? And the one thing that I keep thinking about is what would we do in that situation? Are we truly prepared for a disaster – either like the one in the book or something else?
I'll be keeping my eye out for a sequel, because I sure would like to see the story continue. UPDATE: This is the first in her Restoration series! Can't wait to read the rest!
Disclosure of Material Connection: I received this book free from the publisher through the BookSneeze.com® <http://BookSneeze.com> book review bloggers program. I was not required to write a positive review. The opinions I have expressed are my own. I am disclosing this in accordance with the Federal Trade Commission's 16 CFR, Part 255 <http://www.access.gpo.gov/nara/cfr/waisidx_03/16cfr255_03.html> : "Guides Concerning the Use of Endorsements and Testimonials in Advertising."