Spending almost three weeks in the Holy Land will teach you things.
Things about yourself. Things about others. Things about YHWH. Things about life.
You'll find yourself, later on, in situations where those lessons learned prove to be insightful.
We visited there on our trip, and it was not one of my favorite places. When we first walked in, there was this marble slab on the ground where people were bowing down to kiss it and rub scarves or cloths on it. It is supposed to be where the body of the Messiah was anointed. As we walked through the place, it just felt dark and creepy. There was incense burning somewhere and it had a sickeningly sweet smell to it, not pleasant at all.
When we got to what is supposedly the "tomb of Jesus" I was seriously just shocked.
This huge, garish monstrosity was blackened by soot and like everything else in this place, covered with pagan symbolism. I could not wait to get out of there!
That's why I don't have pictures to share, I didn't want to take any! Visit the link above to see it.
Many people obviously revere this place, and many other "traditional" sites in the Holy Land. I personally am not necessarily convinced that they are the actual sites. Why? Because Constantine's mother, Helena, went around the Holy Land and wherever she had a "vision" about a place that's where they decided something happened and they built a church over it.
Maybe it's the right place, maybe not. I had to wonder if the reason so many places in the Bible where something significant happened are obscured today is to try and prevent people from worshiping the place instead of the Creator of the place. But they do it anyway.
Yet all around us were people obviously having a completely different experience there.
They were ecstatic about being in a place that they considered to be holy. Perhaps they thought some magical substance was upon the stone of anointing that could be carried with them.
It just amazed me that two people could be in the same place, at the same time, and have completely opposite experiences. One feeling some kind of holy euphoria, the other almost crushed by feelings of darkness and oppression.
No wonder there is so much conflict in the world.
So when I recently experienced this "dual reality" again, it brought back memories of that place.
I was witness to a conversation where one party got very offended. I heard the same words spoken, but the other person heard a tone in the speaker's voice that I did not. The offended party was unbelievably upset while I was just scratching my head trying to figure out what in the world just happened.
One comment. Two people. Two sets of ears. Two completely different experiences.
How do you reconcile that? One person is certain the experience was as they experienced it. One person is certain it was as they experienced it. They can't both be right, because the experiences are as far on the opposite ends of the spectrum as they possibly could be.
The heart of the matter is the heart, of course.
Wounds, disappointments, anger and hatred all have their own opinions and filter what we experience. They distort reality to justify themselves. And the enemy of our souls wants nothing more than to foment conflict. He loves using those tools to distort our experiences in a way that reach the wounded parts of our hearts, because he knows that more often than not, we will lash out and hurt those around us.
Scripture says out of the abundance of the heart, the mouth speaks (Luke 6:45). In times of conflict with others, it is so easy to let emotions fly unrestrained. Yet if we can control ourselves and listen to what is being spoken, we can perhaps identify what is in the heart of the person speaking. And when we know that, we can wisely minister in love to the hurt.
When you are caught off-guard, however, it is not always easy to remember that.
I would love to say that I wisely listened and was able to minister in love to the hurt. I really would. Because that would mean I didn't get into a screaming match. I was caught off-guard. In a moment of reflecting on how blessed I was…feeling very happy…the rug was viciously yanked out from under me.
I was not prepared. I let my emotions run wild and free. My own hurt and anger filtered that experience and blocked out any wisdom from YHWH.
We hurt each other. Just like HaSatan intended. I hate feeling like a pawn.
The experience at that creepy Church of the Holy Sepulchre keeps running through my mind.
Interestingly, that church is controlled by six groups, and they all hate each other! Our leader told us of one time they were there and they had walked on the wet floor where someone was mopping and onto a dry area. The person mopping yelled at them not to walk over there because they would contaminate that other group's area.
There's also a ladder that has remained outside for over a hundred years. Why? Because when they made the official agreement on who controls what there, nothing was said about who has control over the ladder! I couldn't help but think how petty.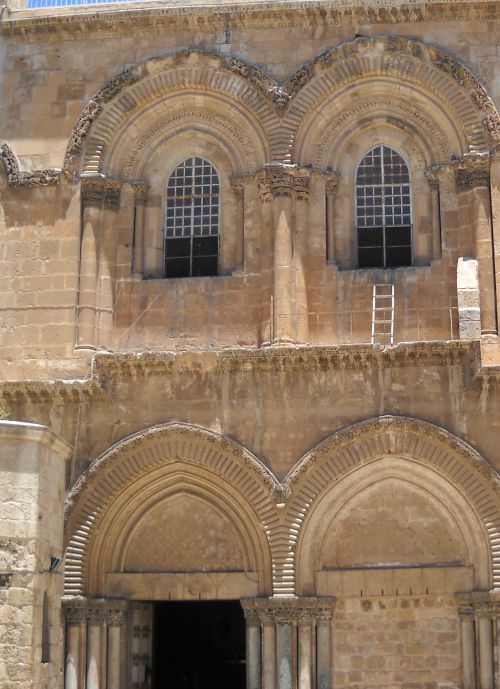 This "holy" site signifies, to me, that division breeds conflict.
Going our own way instead of YHWHs leads to destruction. It also reminds me that each one of us sees and experiences life through lenses which are often twisted and faulty and only the wisdom and guidance of the Ruach HaKodesh can help us in times of conflict with others.
May we always be ready…
…for whatever that crafty serpent throws our way. May we always be prepared to respond in love and kindness and soft words and not react harshly out of our own hurt. YHWH help us to see others as you see them and help us to experience life unfiltered.