Like this post and don't want to miss more like it? Be sure to sign up for my newsletter at the end!
Combining the flavor of caramel apples with the protein-packed probiotic goodness of fat-free Greek yogurt makes this Caramel Apple Yogurt Parfait a perfect low-fat snack for the Trim Healthy Mama (without all the sugar).
Ever since my recent trip to the Middle East, I've been struggling a bit to stay on plan. I chose not to stay on plan 100% on my trip, and that's really been working against me.
And, I let one disappointment really get to me.
But, I may never get a chance to go back and I wanted to enjoy some Authentic Middle Eastern dishes. My choice to make, but now I'm struggling with the consequences.
Or, maybe you feel like things just aren't fair?
Fortunately, this on-plan Caramel Apple Yogurt Parfait is perfect for when I'm wanting something sweet and caramely and appley.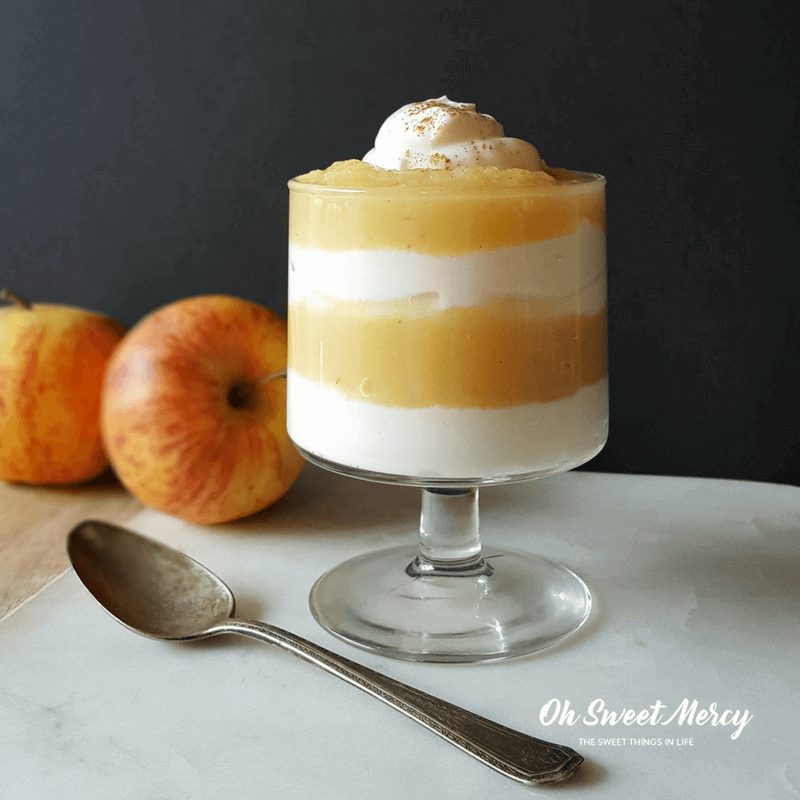 Caramel apples are always traditionally eaten in the Fall, which is my favorite time of year. Maybe that's why it sounded good today on this hot, humid July day! I'm longing for autumn…
A Caramel Apple Yogurt Parfait Is A Quick And Easy Snack (Or Dessert).
Es are the most difficult for me since I prefer those super satisfying S meals. But to follow this plan as intended, you really need to mix up those fuels – even if they're not your favorite.
I took the An E-a-Day Challenge and conquered my carb fears!
You also need to start with a decent amount of protein, so the base of this Caramel Apple Yogurt Parfait recipe is non-fat Greek yogurt which has more protein than regular non-fat yogurt.
Just add a few more ingredients to this yogurt parfait and you have a quick and easy snack that will help satisfy that sweet tooth.
You CAN make this totally fat-free, which is perfect for a dessert after an E meal (such as baked chicken breast, steamed veggies with a teaspoon of butter, and Sweet Potato Kale Tots with Balsamic Dijon Dipping Sauce) where you already have your added fat grams. I'd also recommend just half a recipe, unless you need that much protein with your E meal.
For an extra special touch, make the caramel syrup in this Cinnamon Apple Cheesecakes recipe from Nana's Little Kitchen.
If you're going to have this just as a snack though, if you have MCT oil on hand do add it. That bit of fat helps keep your blood sugar in balance!
And, should you find yourself out of caramel extract, try making this with hazelnut extract and sprinkle a bit of cinnamon on top. Totally not a caramel apple, but amazingly delicious!
Caramel Apple Yogurt Parfait
Ingredients
1 cup plain, fat free Greek yogurt
1/2 teaspoon pure vanilla extract
1/4 to 1/2 teaspoon caramel extract
1 teaspoon MCT oil (optional)
2 to 3 doonks THM Pure Stevia Extract (OR 2 to 3 teaspoons granulated stevia, such as Sweet Blend or Pyure, or to taste)
1/2 cup UNSWEETENED applesauce
Caramel Syrup from Nana's Little Kitchen Cinnamon Apple Cheesecakes recipe, optional
Directions
In a bowl, combine Greek yogurt, flavorings, optional MCT oil, and stevia.
In a parfait glass, layer half the yogurt, 1/4 cup of applesauce, and repeat.
If desired, drizzle with the caramel syrup in this recipe from Nana's Little Kitchen.
Recipe Notes
Trim Healthy Mamas:
Make sure you use unsweetened applesauce! This is an E recipe so enjoy as an E snack, or make half a recipe for a dessert after an E meal (unless your E meal didn't have quite enough protein, then feel free to enjoy a whole recipe).
Loading nutrition data...
While my recipes are not officially endorsed by Trim Healthy Mama, I do my best to ensure they meet plan guidelines. Always refer to the THM plan book for complete information.
Don't Forget To Pin!