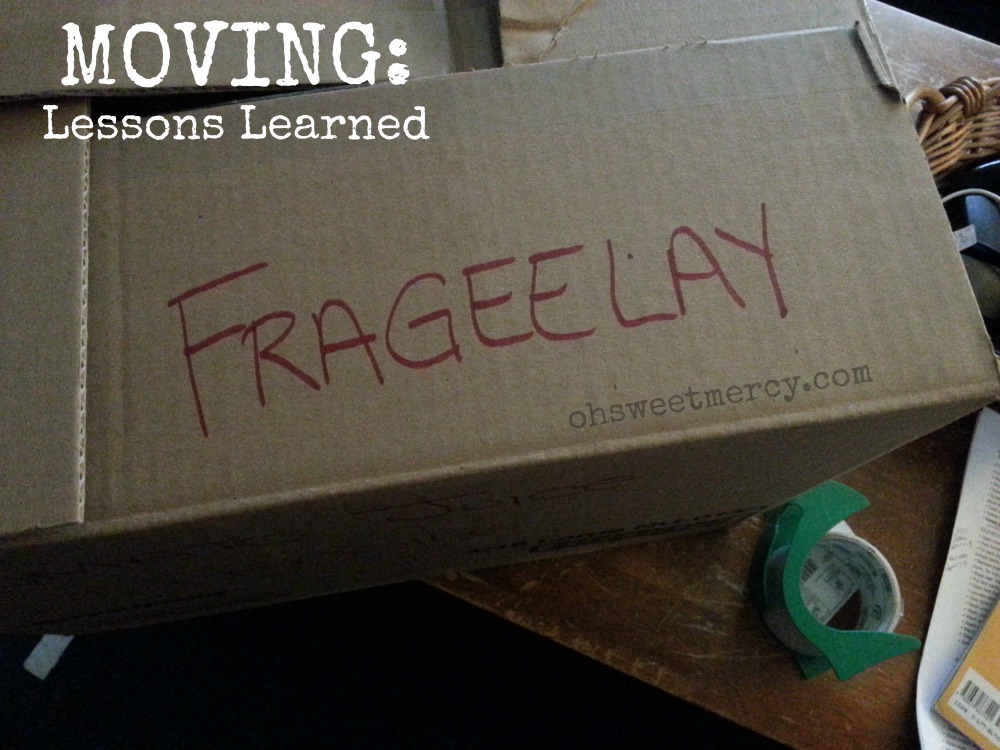 Blogging has certainly taken a back seat for me these last several weeks. Moving has disrupted my normal routine and I've missed it! We finally have internet here at our new home (yay!), I've gotten the major stuff unpacked and put away and we're now functioning fairly well (we have clean clothes and I can find the dishes). I did learn a few things from this move and I'd like to share what I've learned with you.
Moving – Always a Lesson or Five to Learn
1. No matter how organized you are before you move, after you get there it's chaos. Ok, maybe not for those uber-organized people that alphabetize their pantry contents and have a color-coded arsenal of cute little pinteresty chalkboard labels for everything. But for the rest of us, yeah. This was by far the most organized move we've had. Ever. And yet, the new house still ended up looking like the FBI had showed up and tossed the place. In spite of your best organizational efforts, the fact remains that you now have an entire household stuffed into boxes and sitting in various rooms. If you didn't do what's in tip number two, some of those boxes could be in the wrong rooms. And as much as you wish, Box Fairies are not going to stop by in the middle of the night and unpack that crap for you. They should, but they're not going to.
…even after a week of "settling in":
2. Label, label, label! Fortunately, my anal retentive meticulous labeling of boxes meant that they all got to the proper rooms.  I put the room and/or contents on all four sides of the box as well as the top. That really helps when moving as no matter how the box is stacked in the truck (or room) you can still see the label. For some boxes that contained things I really wanted to find quickly later, I jotted down a short list of what the box contained on the top. For the really important stuff (like contact solution, phone chargers and books I need to finish reviewing ASAP) I put a giant star on the sides as well (and instructed our helpers to make sure those boxes were put somewhere easily seen in the room). Yes, this can be a little time consuming, but it's worth it later on. Because of tip number three.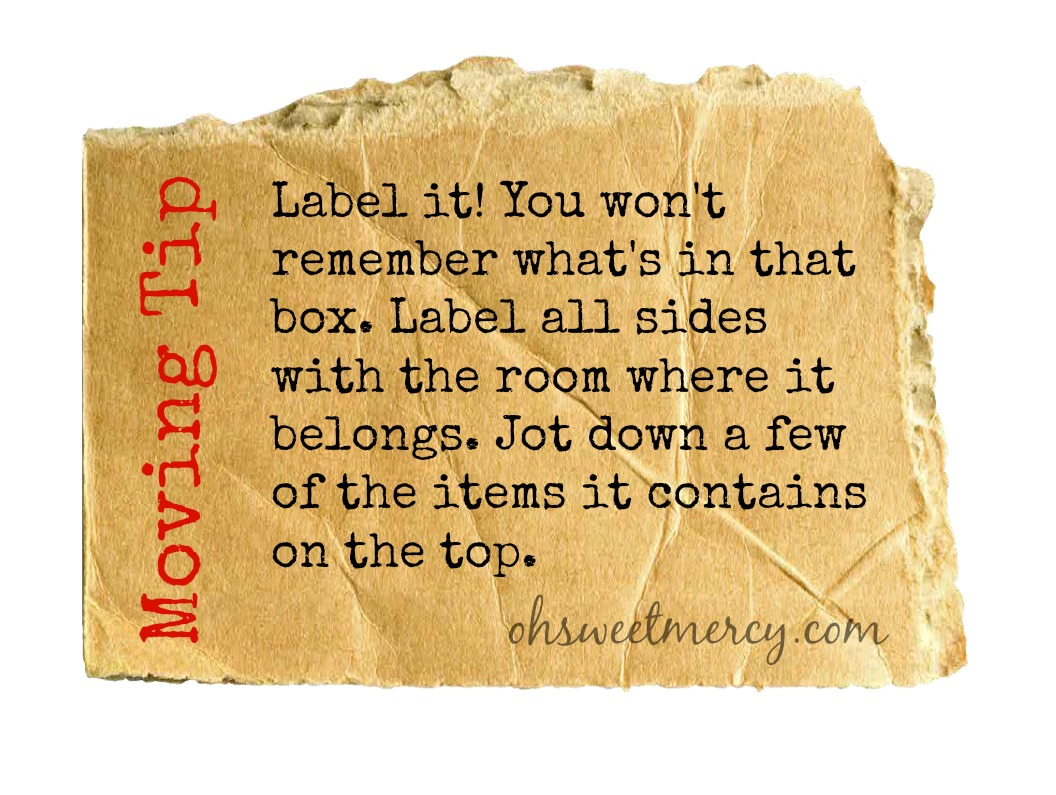 3. You will not remember what is in that box. Trust me. As you're putting stuff in that box, you  make little "mental notes" about what is in it. You think you've got a photographic memory, or x-ray vision, and you'll know by looking at a box what it contains. If you're cheap thrifty like me you get boxes from free sources like local stores. Or, if you're also blessed like me, you get them from family members who work at places where boxes are in abundant supply. So, you might have a box that looks different than the rest and you think "I'll remember what's in this box" simply because it stands out. But you won't. After moving tons of boxes, they all start to look the same. That's why I wrote on some of the boxes specific things that are in them. I still had many "Man, where IS [whatever I'm looking for]? I could have sworn I put it in THIS box!" moments and consequently spent too much time looking for whatever it was. I thought about using these handy labels, but I didn't want to take the time or use the paper and ink. Maybe not the best decision.
4. You have way more stuff than you think you do. And, it will take longer to pack than you think it will. We just moved from a tiny (1014 square feet) house, in which we lived just one year. Prior to that we lived in a ginormous five bedroom, two story house for seven years. I got rid of TONS of stuff when we moved out of there, and in the year we lived in the tiny house, I didn't think I had accumulated much. I really thought it wouldn't take long at all to pack. In the back of my  mind I was actually thinking we could pack up the house in a day or two. Fortunately, I didn't wait until the day before to pack. This time, I started packing everything that was non-essential a couple of weeks before we moved. I couldn't pack as much as I wanted simply because there was just no room in our tiny house, but it did help tremendously when it came down to crunch time and packing was in full swing. Once we got it all in the new house, I could not believe it all came out of that teeny, tiny house. I was absolutely amazed. What is all this stuff? Where did it come from? Why do I have it?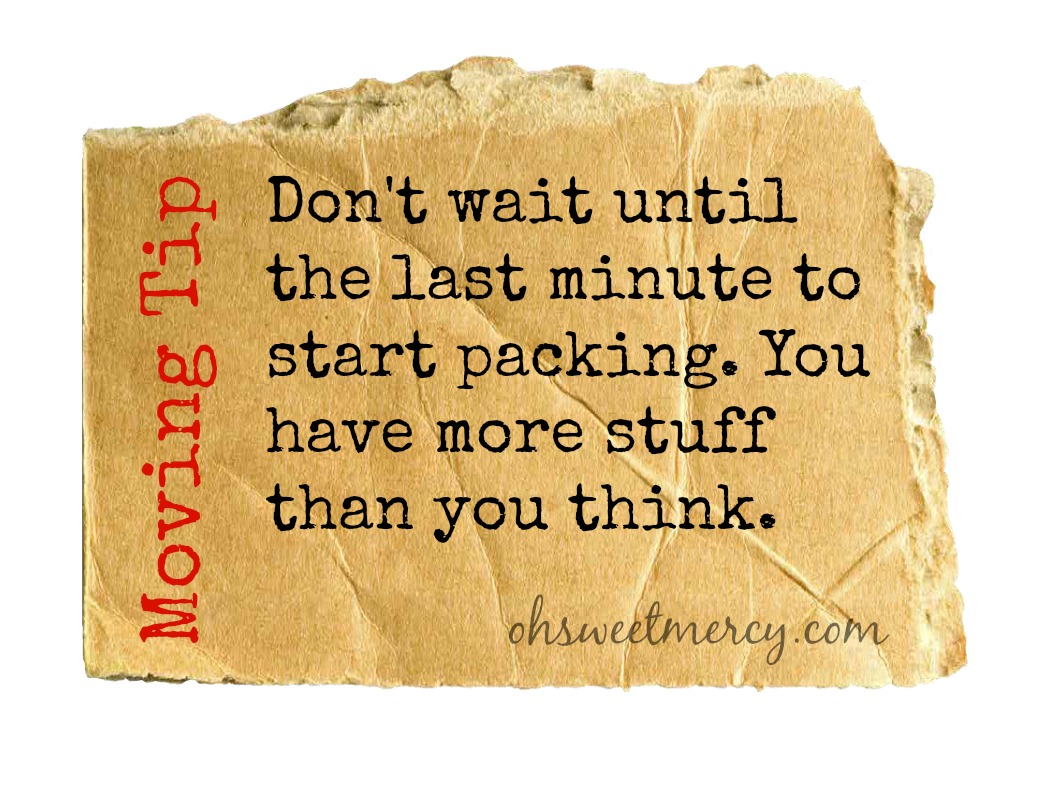 5. My husband and family are awesome! While I have had the task of packing and unpacking, for the most part, my husband's job was moving all this stuff. I have problems with sciatica occasionally (usually at the worst possible times). Flare-ups usually occur after picking up heavy objects, moving furniture or doing a lot of bending, all common when moving! I can't tell you how thankful I am that my husband worked so hard loading the truck and trailers (most of which he did by himself), as well as for the family members who helped load and unload so I didn't have to. My sciatic nerve thanks them as well.
6. Be sure to provide food for your helpers, just don't get lost in your new town when you pick up the pizza. Yeah, that was me. First, I went the wrong way into town. I stopped and asked a guy and his kid picking up cans on the side of the road how to get to town. Then, I had to wait 15 or 20 minutes for the pizza to get done. I had a great time chatting with the lovely lady there, who so kindly gave me directions home (including drawing a map) and carried the pizzas out with me to point me in the right direction. Then, I made a wrong turn somewhere and drove around forever until I stopped an elderly couple at an intersection and asked for directions. Eventually, I got home and fed our hungry helpers. Why didn't I call someone you ask? Because I forgot my phone. Even though my wise father reminded me to make sure I had everything before I left.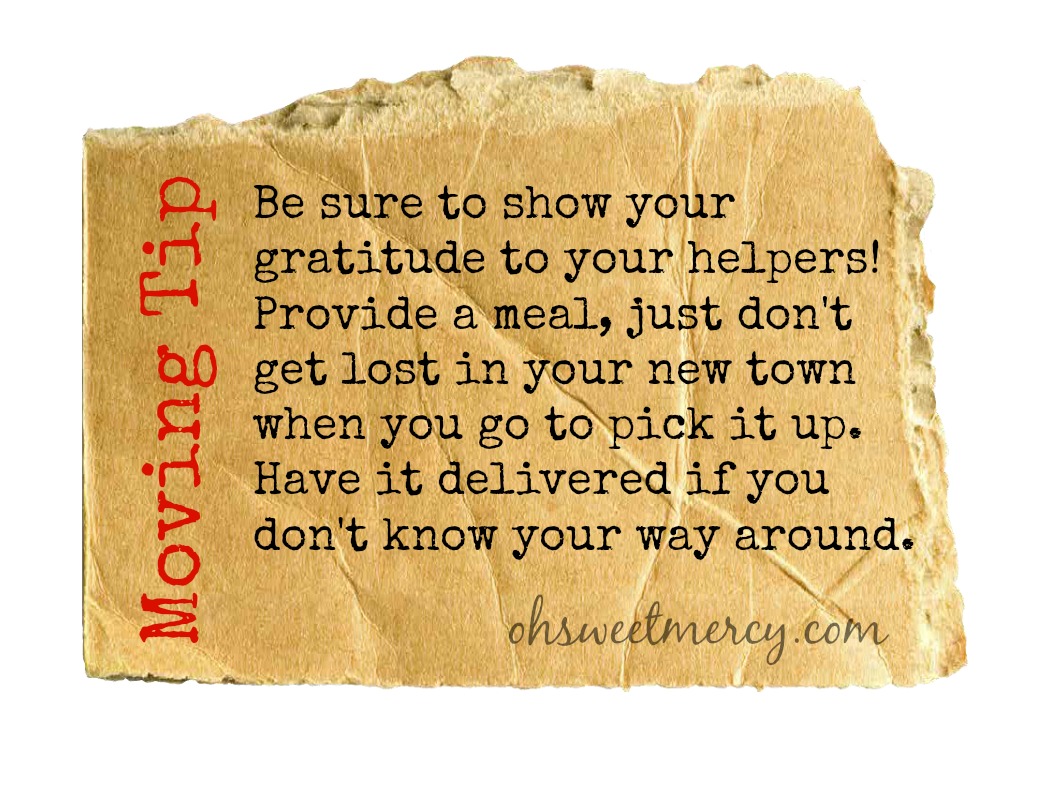 Above all, do your best to relax and try to enjoy it. Moving isn't necessarily fun, but it becomes far more unpleasant when tempers flare. Try to have fun, even when things go wrong, and remember that before you know it things will be unpacked, the dust will settle and you realize a year or several have gone by.