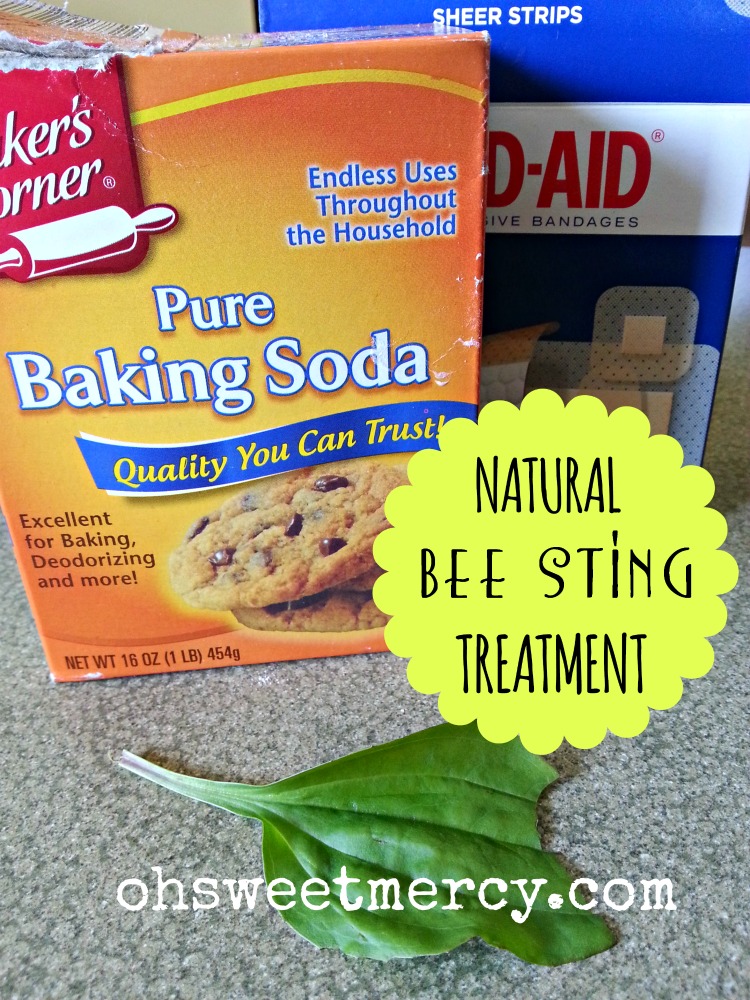 If you've ever been stung by a bee, then you know how important it is to quickly alleviate the pain. This natural bee sting treatment is easy and effective, and you most likely have these two natural ingredients handy, one of which is probably growing in your back yard. Unless, of course, you go to great lengths to eradicate weeds.
I was walking in my yard the other day, minding my own business (and wearing sandals) when all of a sudden I felt this hot, searing pain throbbing in my toe. It didn't register completely that it may be an insect sting, I thought maybe I had stepped on a thorn. In the middle of a clover-y, grassy lawn. Apparently, bee venom quickly affects the brain.
Looking down and investigating, there was something smallish and darkish-colored trapped between my toe and the top of my sandal, which I brushed away. The intense pain and throbbing continued and I swiped at my toe again and felt something I can only assume was a stinger. Researching bee stings a bit later showed I might have gone about this the wrong way, but hey – I was almost blinded by pain and hopping up and down on one foot. This article, however, says that the commonly held belief that "squeezing the stinger to remove it pushes the venom into the victim" is actually a myth.
Either way, I was stung and hurting and needed relief. Plus, I prefer a natural and chemical-free bee sting treatment made from stuff I have on hand. What to do?
I've known for years that making a paste of baking soda and water is supposed to be an effective bee sting treatment so I quickly made some and applied it. The verdict? OUCH. It really hurt, but then probably anything touching my stung toe would have hurt! After a few minutes of throbbing pain, I decided that wasn't going to cut it and quickly searched for some other remedy.
There's a lot of interesting bee sting treatment ideas out there, such as peanut butter. I really did not want to slather my toe with peanut butter. Honey, ironically, is also supposed to help but the thought of sticky honey on my toe was just as unpleasant.
Baking soda paste just was not a quick enough bee sting treatment. I then thought of soaking my foot in water with the baking soda dissolved in it. It just sounded soothing, so I dumped the baking soda paste into a bowl of water and submerged my foot. After the initial shock of cold, there was quite a bit of relief. Aaaahhh.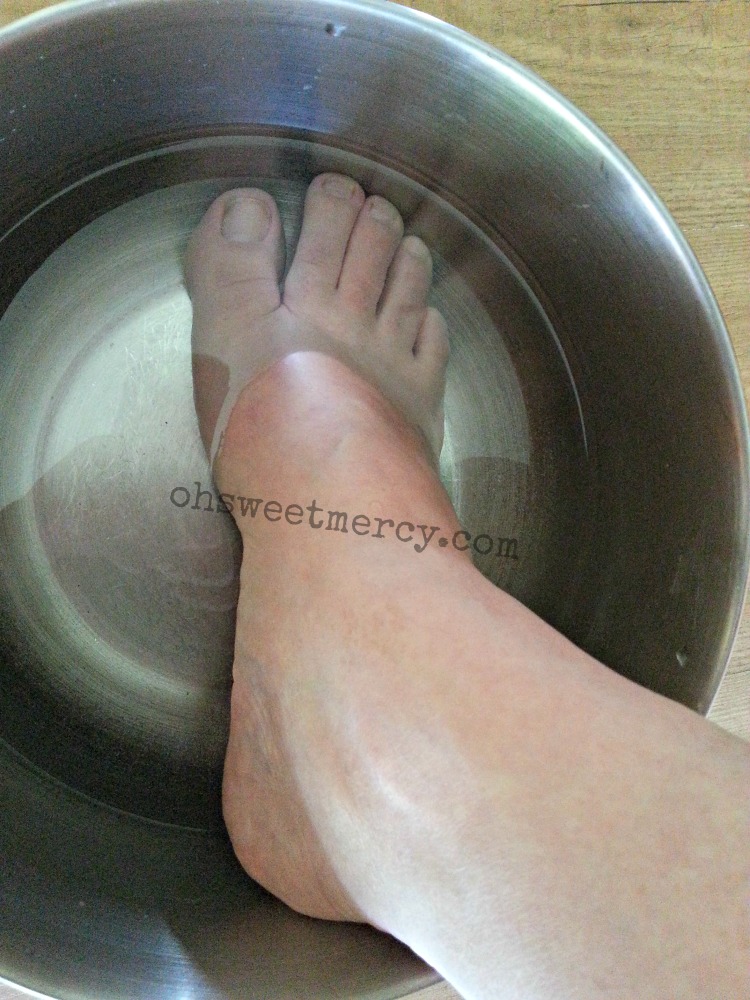 Plantain was also listed as a natural bee sting treatment and fortunately, I have plantain growing plentifully in my yard. Ironically, it was growing right next to where I got stung! I sent my daughter out to retrieve some. She is such a wonderful help to have.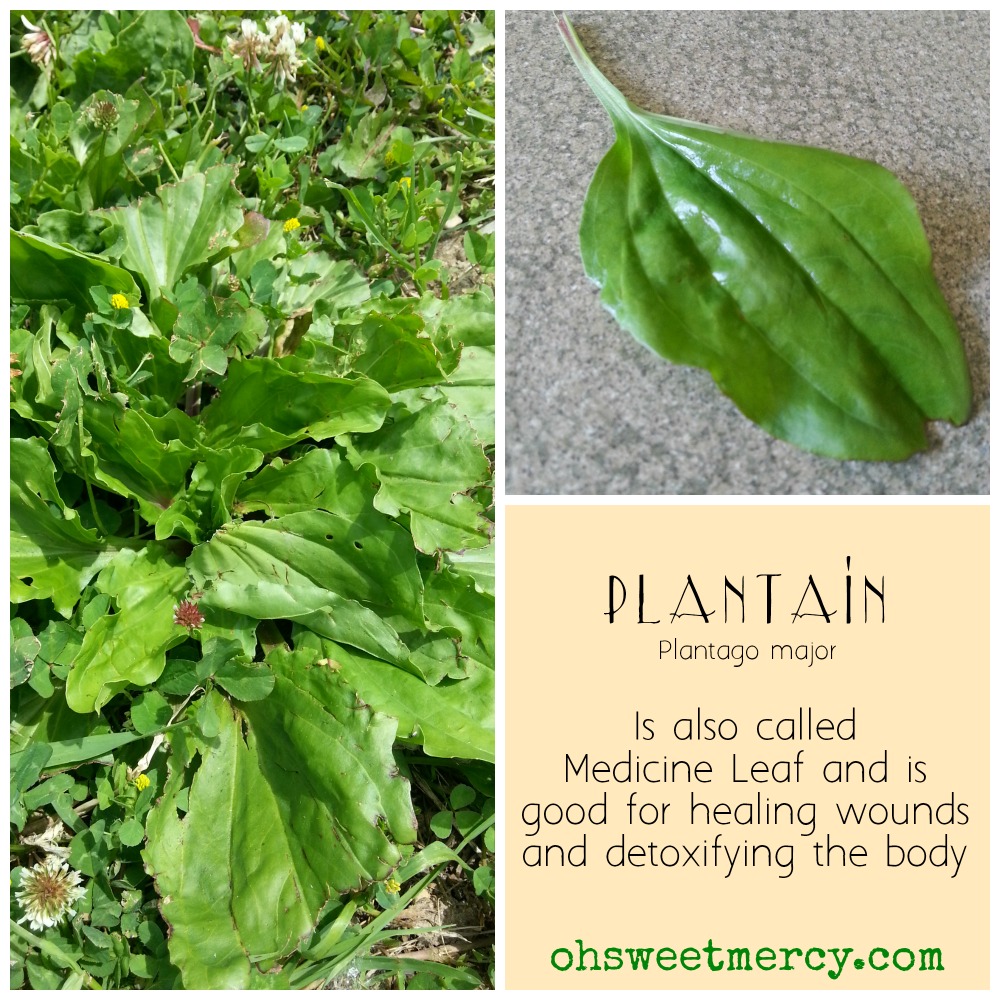 After drying off my foot, I bruised some plantain leaf and put it on the sting site then covered it with a bandage. Well, actually, I kind of chopped at the leaf with my fingernail, but either way it bruised the leaf. Next time I need to use plantain (good heavens I hope there isn't another next time with the bee sting though!) I will try chewing it I think.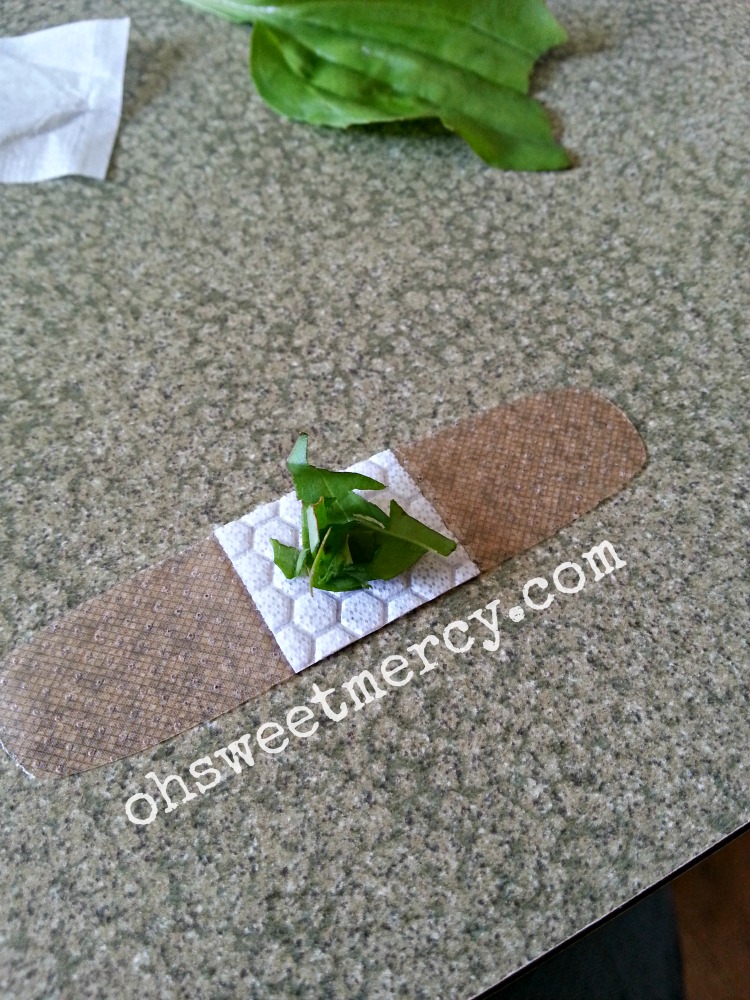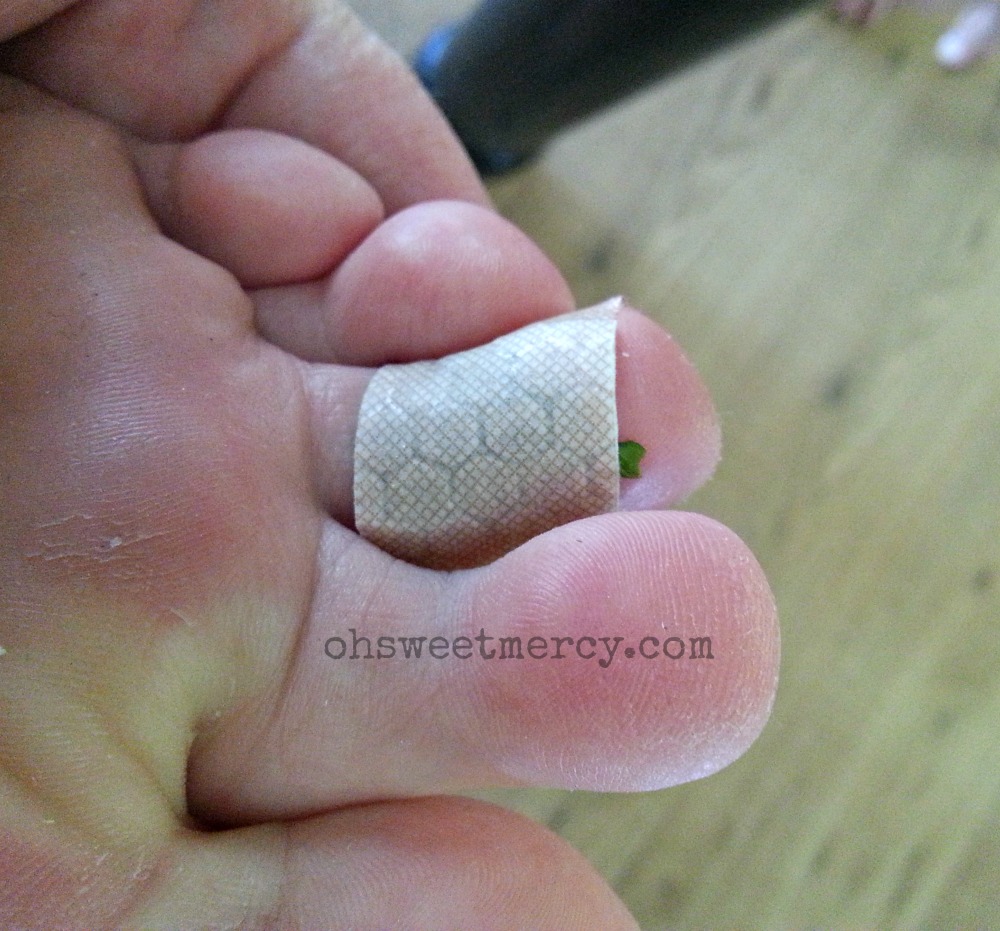 There was some swelling in the sting area, of course. After applying the plantain as a natural bee sting treatment I noticed that the swelling seemed to diminish and the pain had definitely subsided. I'd say that within half an hour at the most the majority of the discomfort was gone.
The next day, there was no swelling or redness and I could barely see where the stinger had got me. There was only a tiny bit of pain when walking, not even enough to cause a limp – just a little annoying more than anything.
I'd been wanting to try plantain, which is also known as Medicine Leaf, for some time so I was glad to have a chance to try it out. Getting stung by a bee was not really what I had in mind, but I'm glad to know that plantain really is useful. It can be used for a variety of healing applications, not just a bee sting treatment:
Fevers, infections and skin diseases
Asthma, colic and stomach ache
Cough impulse
The astringent tannins present in plantain have been used to treat tuberculosis as well as digestive problems such as diahrreah and colitis
Hay fever, colds and bronchial congestion
source: herbs2000.com
Interestingly, I did not scream or yell or cry out at all when I got stung. There was a moment where that was welling up inside [AAAAHHHHH OH MY WORD I GOT STUNG BY A BEE I'M GONNA DIE!!!!] but I didn't let it out. It was really kind of a surreal experience. Thankfully, I also learned that I'm not deathly allergic to bees. This was the first time in my 42 years of life that I've ever been stung!
Have you ever used plantain for a natural bee sting treatment or anything else?