It just hit me today that it's the first Monday of the month.
That means it's Reality Check Monday time again. And it also hit me that I didn't post one for LAST month. Yikes…how does an entire month just get away from me?
Time is like that for me. I can go into a store, feel like it's just been ten or fifteen minutes, only to discover I've been in there for an hour and a half. Or, I can actually pop in and out of a store in like five minutes, and not be able to remember where I parked the car.
I aggravate myself on a daily basis.
Why is the apocalypse near?
Have you ever found yourself wanting to do something you swore you'd NEVER, ever do? And even more shockingly, find yourself actually doing it?
It's a strange sensation…like you've been invaded by some alien life form and have no control over yourself. Except you do, actually.
And yet there you are…eating mushrooms, having kids, driving a minivan…go ahead, fill in the blank…I'd love to know what you said you'd NEVER do: _____________.
My husband, a week or so after I revealed my Thing You'd Never Catch Me Doing In A Million Years, said "Surely the apocalypse is nigh unto our doorstep." Because I was still doing it. And talking about the future of doing The Thing I Said I'd Never Do.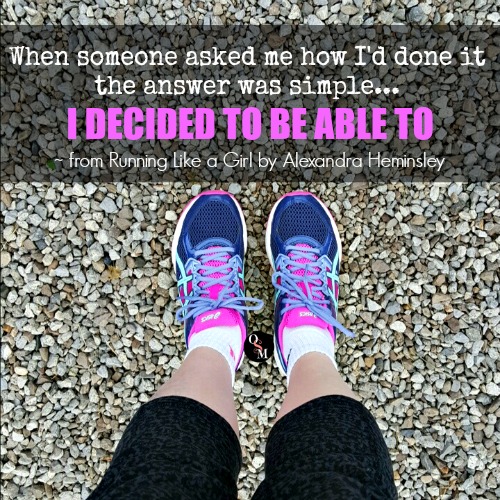 I swore you'd never catch me running unless there was a bear chasing me.
Can you guess what I decided to do last month? Start running.
There are no bears chasing me. Or anywhere in the surrounding area.
My husband asked me if I'd lost my mind.
My mother in law felt my forehead to check if I was feverish.
My brother flopped around on the ground (or so he says, it was a text conversation so I didn't actually witness that. But, news of this magnitude is sure to elicit such an extreme reaction).
I haven't told my parents yet, because I'm afraid of what news like this might do to them. It's truly that shocking!
As a lifelong couch potato and avid sports hater, this is not the sort of thing you'd expect from me.
The concern of my family members is not surprising, really. Running is the last thing you'd ever expect me to do. I've often also said "I don't even run to the mailbox". So I really do need to check my reality, right?
Reality: I'm [still] out of shape. I still have too much weight to lose. I'm not getting any younger. My life-long loyalty to Couch Potatoism is not helping one bit.

Check: Do something different. Step outside your comfort zone. Go all the way and do something that will make your family members' jaws drop to the floor. They could probably use a good shaking up as well.
I'll be writing more about running as I continue this crazy journey. I started doing the Couch to 5K program 4 weeks ago yesterday, so I've completed three weeks. Here's a photo comparison I did yesterday…I don't see a whole lot of change, but others have commented that my belly is shrinking.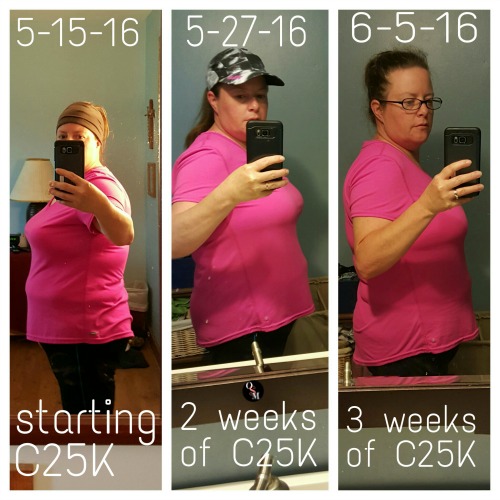 My husband said, when I asked what he thought of this photo comparison, that he thought it was "a loaded question." It wasn't, truly. It bothers me more that he would think that than not seeing any changes…because I don't see much change either! But bless his heart anyway.
I'll post the shocking evidence of my running on Instagram from now until the apocalypse hits, follow along…if you dare: @ohsweetmercywatchmerun #osmirun
How's YOUR reality looking this Monday? What do you need to check? And what's your NEVER? I'd love to hear about it, please leave a comment!