---
This quick and easy Garden Fresh Pepper Salad is a delightful side to your summer meals. Cool, refreshing, healthy, and delicious — it is lightly dressed so Trim Healthy Mamas can enjoy it in any Fuel setting.
---
Gardening is hard work, and many people don't have the skills (or room) to plant and maintain one. You need delicious, flavorful recipes like this Easy Garden Fresh Pepper Salad to showcase your skills…be they coaxing produce out of the ground, finding good deals at farmer's markets or the store, or rocking it in the kitchen. This recipe is sure to do that!
Smart gardeners with agreeable weather got their gardens planted sooner than I did, so it will be a bit before my peppers are ripe, but we just saw two itty bitty green bell peppers forming in our garden. It's always so exciting to see those first vegetables emerging! And to be able to walk outside and pick your lunch is so amazing.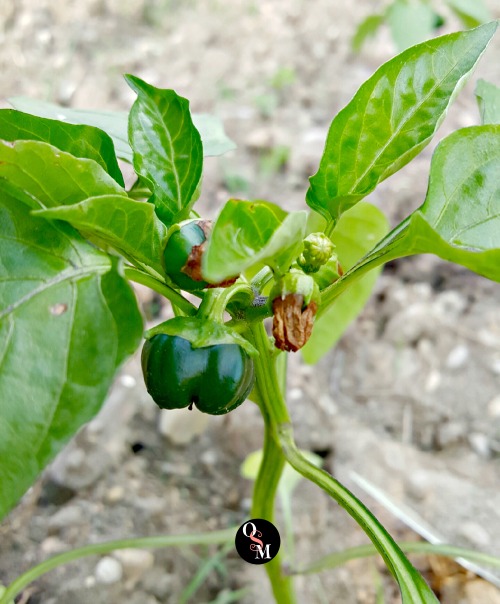 Fresh herbs make this salad pop, so be sure to include those if you can.
Even though dried herbs have a more concentrated flavor, nothing beats the taste of fresh herbs, especially if you've just walked out to your garden and pinched off a few leaves or sprigs. Or to your windowsill or balcony, if you don't have room for a garden.
Many culinary herbs can be easily grown indoors, providing fresh, flavorful herbs year-round for your recipes. Consider chives, basil, oregano and parsley for starters.
Dried herbs can always be used, just remember the ratio is 3:1. If your recipe calls for 1 tablespoon of fresh herbs, use one TEASPOON of dry. Dry herbs are more concentrated in flavor, generally, so you need less. Pin this handy graphic to your cooking boards to help you remember: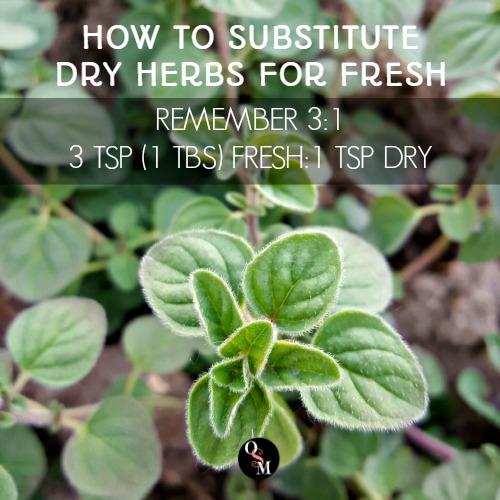 This fresh pepper salad is simply seasoned and lightly dressed.
You can use any combination of fresh peppers. The recipe below lists what I used from what I had on hand. When I make this again, I'll likely add fresh jalapeno peppers too, just to spice it up a bit.
My family is not nearly as in love with peppers of any kind as I am. I love them! Sweet or spicy matters not – just give me peppers, please.
Using fresh, flavorful herbs and the best quality fresh peppers you can find will make this salad taste its very best. Homegrown peppers tend to be sweeter, while store-bought peppers can often have a bitter taste. But, use what you have available!
A simple, light vinaigrette rounds out the flavors of this salad. Again, using the best quality ingredients you can find and afford really does make a huge difference. There's just nothing that compares to a high-quality olive oil and balsamic vinegar.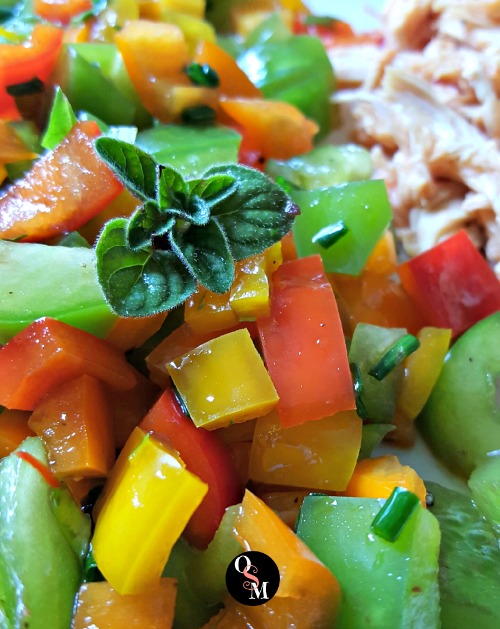 Peppers contain essential vitamins and minerals to keep you healthy!
You may be surprised to find that peppers contain such nutrients as:
Vitamins A, B1, B6, B9, C and K
Minerals such as Iron, Magnesium, Phosphorous, Potassium, Calcium and Manganese
Protein – a one-cup serving of green bell pepper has 3 grams
Spicy hot peppers are also known to help rev up the metabolism, too. These nutrients are great for your cardiovascular health, as well as supporting your metabolism and blood sugar.
Trim Healthy Mamas, here's how this fresh pepper salad will fit into your healthy eating plan.
This salad will make about three one-third cup servings. One tablespoon of olive oil equals three teaspoons, so you'll have your fat grams for an E or Fuel Pull meal and should limit to one serving in those settings. Have as much as you want for an S style meal or snack!
Try this salad with my Fuel Pull Chicken Florentine Wonders for a Light S meal, with Tuna & Capers for an S meal, or a baked chicken breast and baked sweet potato with nonfat Greek yogurt for an E style meal.
Want to learn more about the Trim Healthy Mama lifestyle? Read my review here, or order the plan book and cookbook and get started today!
The next time you need a quick, easy and flavorful salad make this Easy Garden Fresh Pepper Salad.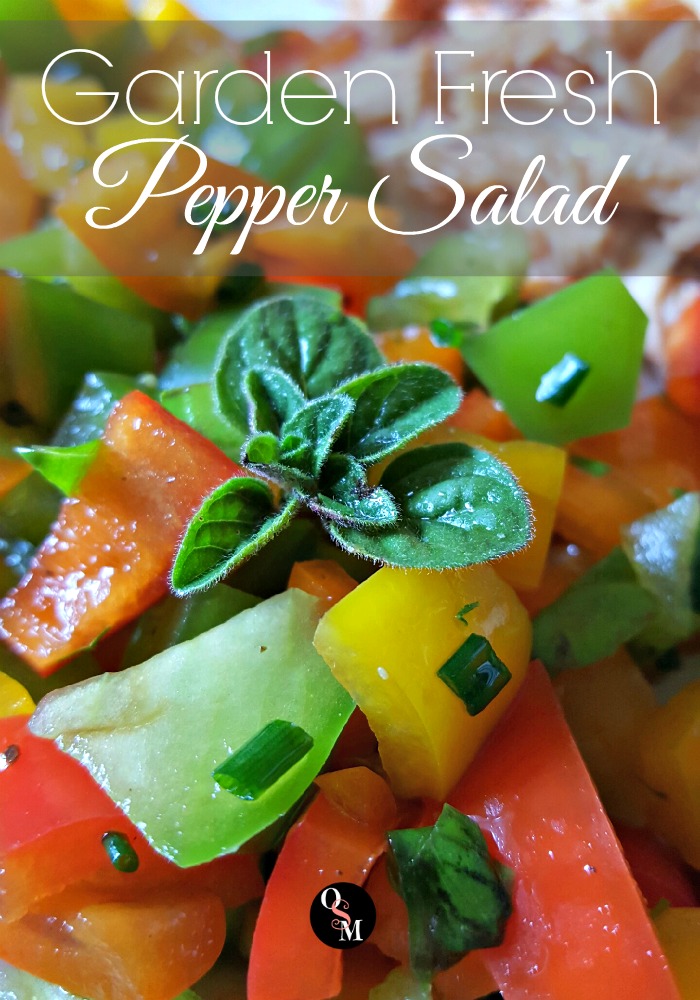 Mix it up on Sunday and serve it alongside your lunches or dinners. Double or triple the recipe and take it to a potluck. If it starts to lose its freshness, toss it into a chili, mix it in with shredded chicken for tacos or even as a topping for tacos. Try making a pepper and cheese omelette. There's a multitude of ways to use this versatile pepper salad.
Now, head on out to your garden (or market) and pick the freshest, most flavorful peppers and herbs you can find and rock it in the kitchen today. You don't have to tell anyone how simple it was to make, I promise to keep your secret.
Brighten up your meal with this easy pepper salad!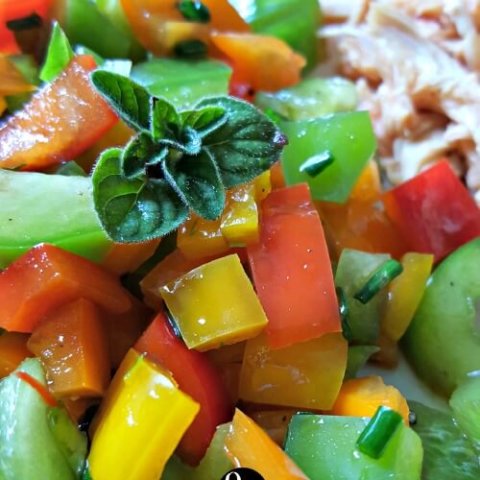 Easy Garden Fresh Pepper Salad | THM S or FP
Yield: 1 cup
Prep Time: 10 minutes
Total Time: 10 minutes
Fresh herbs make this colorful, fresh salad pop. Perfect with grilled meats, light lunches or just a snack.
Ingredients
1 green bell pepper
2 red mini sweet peppers
2 yellow mini sweet peppers
2 orange mini sweet peppers
3-4 fresh basil leaves, chopped or torn into bite-size pieces
1 tsp chopped, fresh Greek oregano
1 Tbs chopped, fresh chives
1 Tbs olive oil
1.5 tsp balsamic vinegar
Pinch or two of salt
Black pepper to taste
Instructions
Seed and chop peppers
In a bowl, combine peppers, herbs and remaining ingredients
Mix well and serve, or refrigerate until serving
Notes
Trim Healthy Mama Notes
One serving (1 cup) will contain 15 grams fat so enjoy this with an S meal.
1/3 cup has 5 grams of fat and would be fine for E or FP but keep in mind that contains all your added fat grams for an E or FP.
Nutrition Information:
Yield: 1
Amount Per Serving:
Calories: 0
Cholesterol: 0mg
Sodium: 0mg
Carbohydrates: 0g
Fiber: 0g
Sugar: 0g
Protein: 0g

Like this recipe? Your friends will too! Feel free to share and pin to your favorite Pinterest boards.