We are oddballs.
We purposely live on one income in a society that says you just can't make it unless both parents work outside the home. It's a choice we made for our family, because we felt it was best for this momma to be home with the kiddos.
We do without a lot of things. Never necessities, and I'm so blessed that we lay down to sleep at night in comfortable beds in a safe home, with full bellies and decent clothing. And so thankful for a hard working husband who makes that possible! Some things we forego are brand new vehicles, vacations, a big fancy house, new name brand clothing and shoes, cable/Dish/Satellite TV and trips to the mall. My kids don't notice much or care, and in general we are all content with what we have.
One of the ways we make this work is by MDWWWH…
…Making Do With What We Have. Also known as repurposing or using what you have to make what you need. The best repurposing projects cost zero dollars, because you have all that you need to finish the project. But even projects that require the purchase of additional materials are helpful because you spend less than if you had either bought the finished product outright or purchased all new materials. Here's a few repurposing projects from around our home…
Repurposing Project #1: Making a new "Poultry Palace" (chicken coop) from an old playset
When we first moved here, I was in a big hurry to get chickens.
My husband wanted to build a coop first, of course. I went ahead and brought home chickens anyway, convinced that we could build something real quickly. My sweet husband, bless his heart, built me a chicken coop. It wasn't really what I had in mind, but since I didn't listen to him…well, I got what I got. It served its purpose, but this summer we built a new and better one.
Our original coop, built on an old pallet: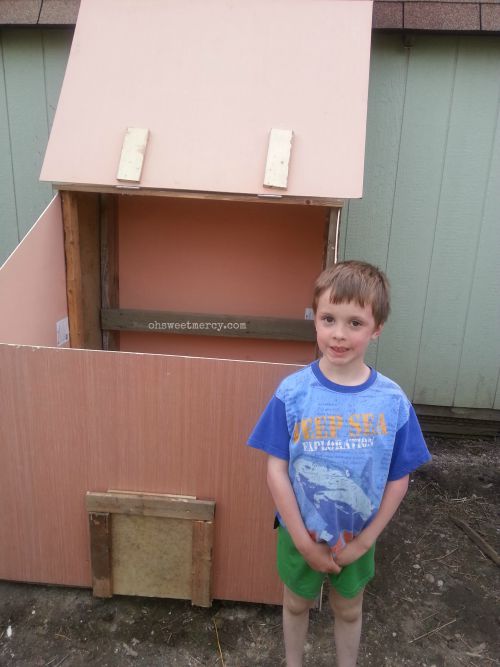 When we first started discussing building a new coop this year, I had in mind something like this:
And since we're big fans of Dr Who and Lord of the Rings (and I'm prone to dreaming) I'd also hoped either number 6 or number 15 of this list of 21 Awesome Chicken Coop Designs and Ideas might grace our backyard.
I also thought we'd spend a little time in researching coop plans.
However, hubby declared "I don't want to build somebody else's coop, I want to build my own." He planned on the fly and started building. I was a little unsure of how it would turn out, since we didn't really discuss it much. I had mentioned that I wanted outside access to the nesting boxes and I wanted it up off the ground since that area of the yard gets swampy when it rains. Also, it would make it easier to clean. I knew he probably wasn't as concerned with the aesthetics as I was.
But, it turned out very well! I really wanted a window in the coop, but had to be realistic – finding the right one and getting hubby to put it in now that the coop is all put together probably would not be easy. I decided that the blank, white wall of the coop is the perfect canvas for my daughter's artistic talents, and she is planning a design to paint on the side.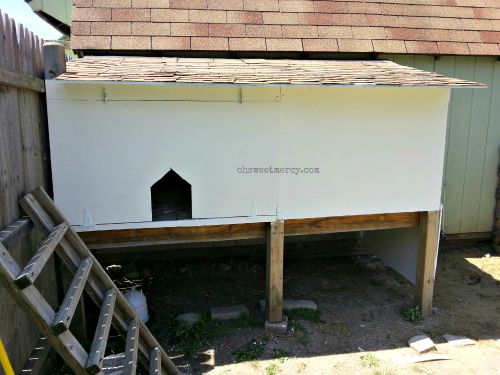 The "ladder" leaning up against the side there is now positioned by the entrance to the coop. The paint was drying in this picture.
The front panel with the entrance swings down for easy access to the roost area. We used some of the wood from the old coop as well as wood from the playset, not to mention utilizing the shed wall.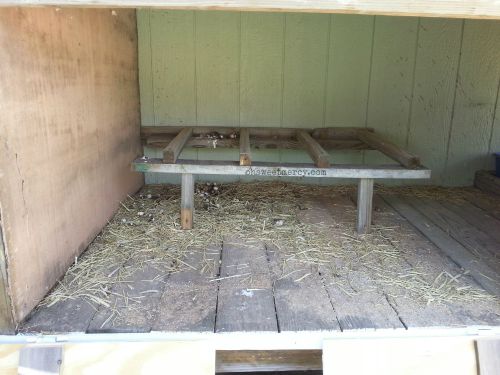 The other end also opens the same way for access to the nesting boxes. One of the girls was roosting there. I have since added some straw to the open areas behind the nesting boxes and she has decided to roost with the rest of the flock. Our little bantam likes to nest there, but she's not laying her eggs in the coop. Not sure where she is doing it this summer! She will lay fairly consistently in the winter and spring, but in the summer she gets some wild hair and lays them somewhere else, or not at all. She's lucky she's so darn cute.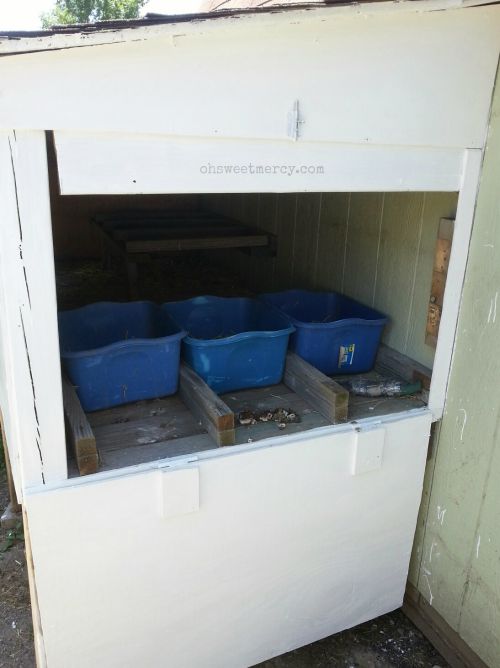 It was also a great opportunity to teach Mister some valuable work skills. He loves to paint!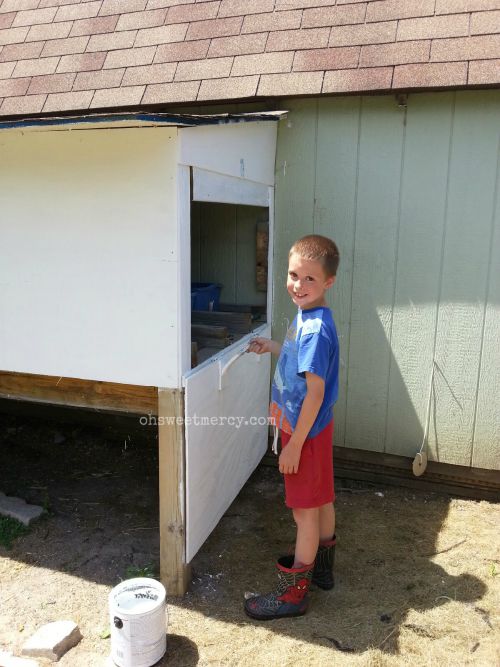 We did buy some plywood, paint and hardware, but the skeleton of this coop was built from this old playset: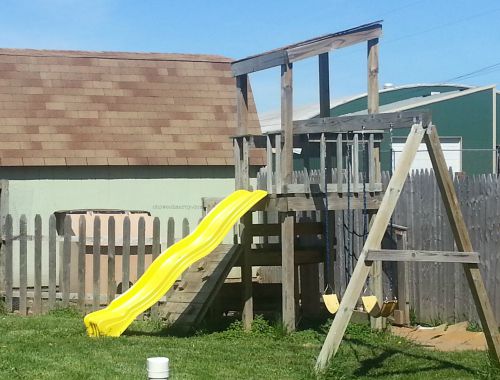 The day I was painting the coop, I kept eyeing the roof of the old playset. We had discussed seeing if the shingles would come off and be usable. The weather had been very nice, but I didn't know how long that would last and I really wanted to get this coop protected from the elements. I decided to see if I could remove the shingles, and they came off fairly easily and were definitely usable. So, I decided to roof the coop.
Now, I'm not a roofer by trade.
I paid attention to how they were put on the roof of the playset and put them on the coop like that. There wasn't enough to cover the whole coop, but fortunately there was a pile of old shingles left out by our shed and I had just enough to finish the coop. When hubby got home I said "come outside and see what I did today…with tools!" all excited-like.
He expressed some concern…
But, he was then duly impressed with my handywomanness. I had something called "drip lines" lined up properly for the most part, which is a good thing apparently. I felt pretty darn good, to tell the truth! He was happy, of course, because now he wouldn't have to roof the chicken coop himself. And remember that "ladder" in the picture above? I think it was a railing on the playset. The chickens use it to get up into the coop and I used it to roof the coop, because we don't have a ladder.
I have to hand it to roofers…you guys have a hard job! I definitely have no plans to start moonlighting as a roofer any time soon!
Repurposing Project #2: Using old fencing as outside decor
There was a section of picket fence left from the chicken coop area leaning up against the fence in the back and when I was out puttering around in the yard one day, inspiration struck. I can't say landscaping and outside decor are my forte, really. Just ask the plants in my yard. Or the weeds.
I'd like to add a few more things to this but I thought it looked pretty cute on our deck.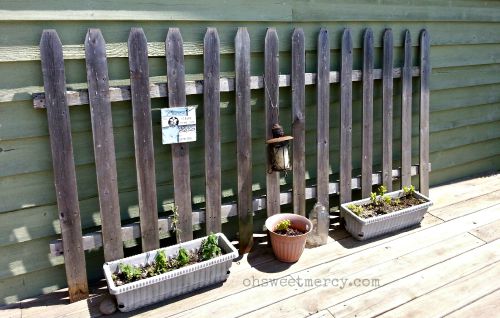 Someone on a social network suggested little plants or lights. I think, in the interest of horticultural safety and decency, I will stick to lights. The plants there in the picture are lemon balm and catnip, two herbs which defy my scatterbrained attempts to kill them by drought.
They also make a great place for our sassy little bantam to scratch. Because I sure don't mind a sassy little chicken tossing dirt out on to the deck one bit. Like I said before, she is super lucky that she's so darn cute.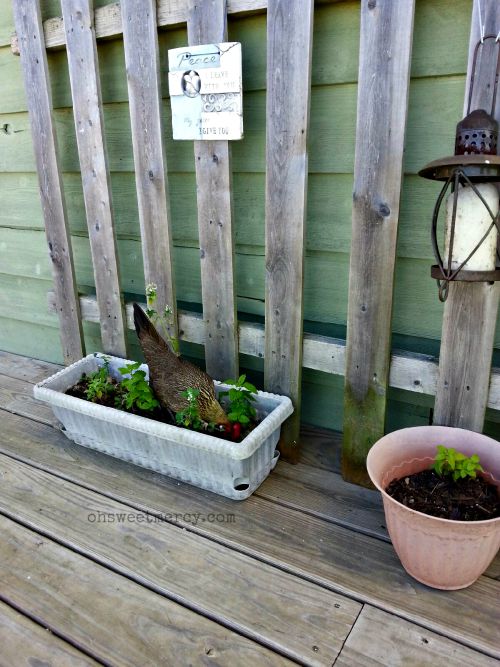 Repurposing Project #3: Turning a dead stand mixer into a decorative planter
My final repurposing exhibit is this stand-mixer-turned-planter. I was super sad that this mixer died. It was one of several victims in a year long appliance massacree for me. At any rate, I hated to just throw it out. I kept the stainless steel mixing bowls for, well, mixing, and used this white glass bowl I had found at Goodwill ages ago (which may have been a stand mixer bowl anyway) as home for one of the few plants I have managed not to kill. It was a gift when Mister was born, so I've had this plant for over seven years now!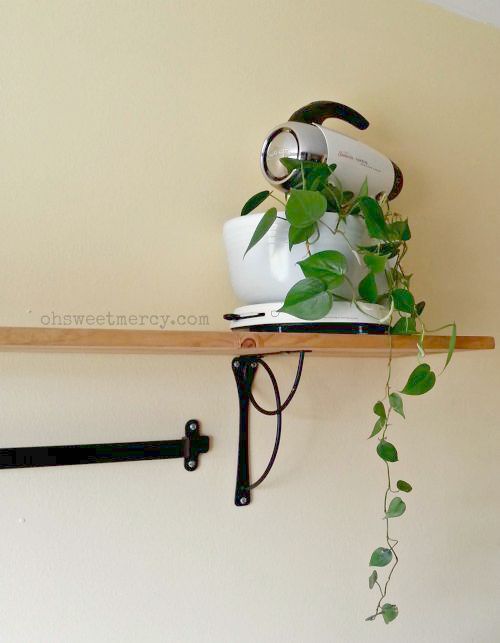 I think it looks great in my kitchen/dining area. Look how much it's grown in just one year: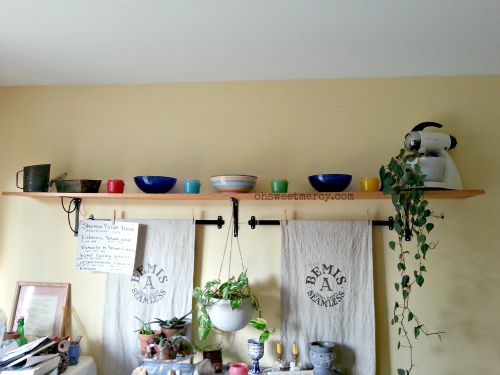 I've also used an antique flour sifter, pastry cutter and bread pan that my grandma gave me, my favorite bowls, some old spun honey jars a friend gave me, and old feed bags that belonged to my husband's great (or great-great) grandfather as part of my kitchen decor. I honestly have not spent much money on anything in my home, either it's passed on from family members or I find a good deal at thrift shops. I don't think my home will ever be photographed for a magazine, but it's comfortable and works for us! Plus, I like to have visual reminders of our ancestors as part of our home that are beyond photographs. Something they used or touched has so much more meaning for me.
Pinterest is a great source of inspiration. I see cute ideas on there all the time, but then never actually get around to doing them. I always keep my eyes open for freebies but have been trying to think of repurposing ideas for things we already have. I don't want piles of things with "potential" cluttering up my space!
The bottom line for this mama is that if I want to beautify my home or yard, I need to be thrifty and creative. I love a good challenge, don't you?
What is your favorite repurposing project that you've done? How much money did you save by repurposing instead of buying new?
BE SURE TO PIN THIS TO YOUR FAVORITE PINTEREST BOARDS!